Mozambique grill/ or roast chicken  with a spicy coconut creamy sauce  – So good, easy and tasty ! You're going to want to make it all the time! 
Is there any more perfect way to cook than with the grill? Not according to me. As soon as the grill is fired up, everyone starts moving outside on the patio
There is something about the environment, everyone in anticipation of…. the aroma wafting through the air, your mouth salivating, and it all makes you just want to dive in, even before the meat is has reached it's desired Doness.
Ok, confession time. I can't tell you how many times, I have eaten steak that is barely cooked- I just can't wait, not to talk of vegetables. I never do a sit down when it has to do with grill food. Unfortunately, when it comes to chicken you can't afford to do that. And that arouses my appetite even more.
 This Mozambique grill peri peri chicken would that to you. I had previously made peri peri chicken – but this one is totally different from the other one. It's got one secret ingredient that makes all the difference – coconut milk. This would be something totally different from your everyday grill chicken- I promise.
This is how to go about it –you need some fresh chili and it is totally up to you on how many to want to use. I only added one tiny chili pepper, I wanted the flavor not the heat (grilling for the kids too) 2 medium chili peppers works just perfect. Jalapeno peppers, fresh garlic, red pepper, basil, onions and oregano also are part of the spice blend. Blend everything together with some olive oil and coconut milk as needed.
Then add some paprika, salt, lemon and it works out just fine. All these ingredients come together to form one complex and versatile sauce that you can use on almost anything.
The good thing is you can adjust the pepper to suit your heat level. If you are a heat seeker then double the peppers!!!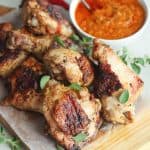 Mozambique Peri Peri Grill Chicken
Ingredients
3 1/2

– 4 pound chicken cut up

Salt and pepper to taste

1-

teaspoon

chicken bouillon

optional

¼

cup

olive oil or more

¼

cup

chopped onions

¼

medium red pepper

1

fresh jalapeno peppers

coarsely chopped, seeds removed

1

fresh chili pepper or more coarsely chopped

1

teaspoon

smoked paprika

½

teaspoon

salt plus more to taste.

3-4

garlic cloves

Juice of I medium sized lemon

adjust to taste

4

large basil leaves

1-2

tablespoon

fresh oregano

½

cup

coconut milk
Instructions
Blend red pepper, jalapeno pepper, chili pepper, garlic, basil, oregano, and onions in a food processor or blender. Add olive oil, coconut milk to facilitate blending. Then mix in smoked paprika, lemon juice black or white pepper and coconut milk. Adjust for salt and seasoning. Refrigerate and use when ready. You may make this a day or more ahead of time.

Trim chicken of excess fat and pat dry with a cloth or paper napkin. Rub with lemon, and season with salt, chicken bouillon and pepper

Drench the chicken with peri- peri marinate, place in a zip lock bag, or sealed containers and refrigerate for at least 2 hours, preferably overnight.

When ready to grill. Using a tong remove chicken from the peri peri marinade and remove excess marinate. Reserve the marinade

Preheat grill to medium- high heat.

Place chicken on the grill and grill for about 10-15 minutes an each side you may need to turn the chicken occasionally on each side until it is cooked all the way. Do this in batches if you have a small grill.

In a small saucepan simmer the remaining peri peri marinade and the one from the chicken for about 7 minutes. Serve with chicken or mix with chicken
Oven Baked
When ready to bake, preheat oven to 425°.

Line a baking pan with foil; top with a wire rack. Arrange chicken pieces out in a single layer.

Bake chicken until cooked through and skin is crispy, about 45-50 minutes-rotate half ways through-roughly 20 minutes.
Nutrition Facts
Mozambique Peri Peri Grill Chicken
Amount Per Serving
Calories 240
Calories from Fat 936
% Daily Value*
Total Fat 104g 160%
Cholesterol 420mg 140%
Sodium 695mg 29%
Potassium 1225mg 35%
Total Carbohydrates 5g 2%
Protein 105g 210%
* Percent Daily Values are based on a 2000 calorie diet.