Enhancing both color and flavor, BLACKENED SEASONING is a mildly hot natural additive made of paprika, oregano, parsley, cayenne pepper, and other spices. This will surely give your simple dish an extraordinary blaze. It's so easy to do, you can do it with your eyes closed. Just kidding, keep your eyes wide open to see the magic happen.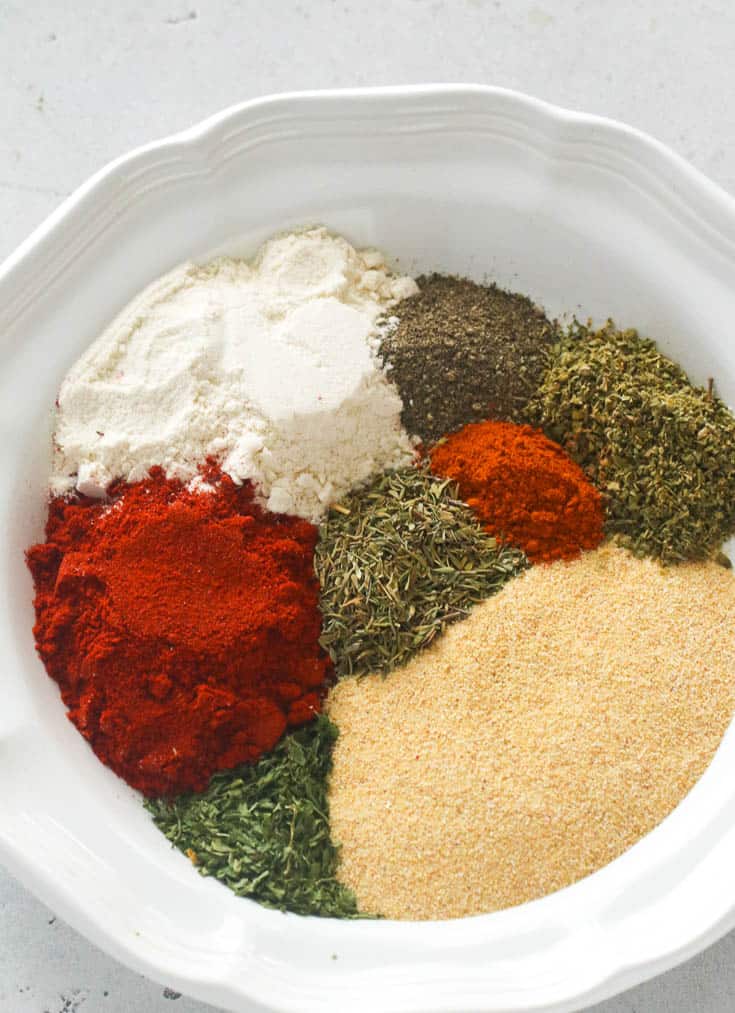 I know that steamed fish and chicken are tasty, but it just tastes too plain, right? Now, how do we make it better?
Well, lucky you, I just happen to have the right blackened seasoning recipe to make any bland dish a meal to remember. If you're a home cook like me, you probably already have all the ingredients in your kitchen, if not, it's readily available in your local grocery store.
I love using this as a quick fix for bland white meat, just rub rub rub and you're all set! 
Blackening a Dish
Blackening is a cooking technique where protein, usually fish or chicken, is drenched in melted butter and dredged in a mix of flavorful herbs and spices before being cooked in a hot pan. The blackened color comes from the burning of both the butter and the seasoning mix. 
 
It's a good culinary technique to know if you want to have a smoky and earthy flavor in your dish. If the blackened seasoning is applied perfectly, the taste can penetrate the meat to its core.  

What is Blackened Seasoning?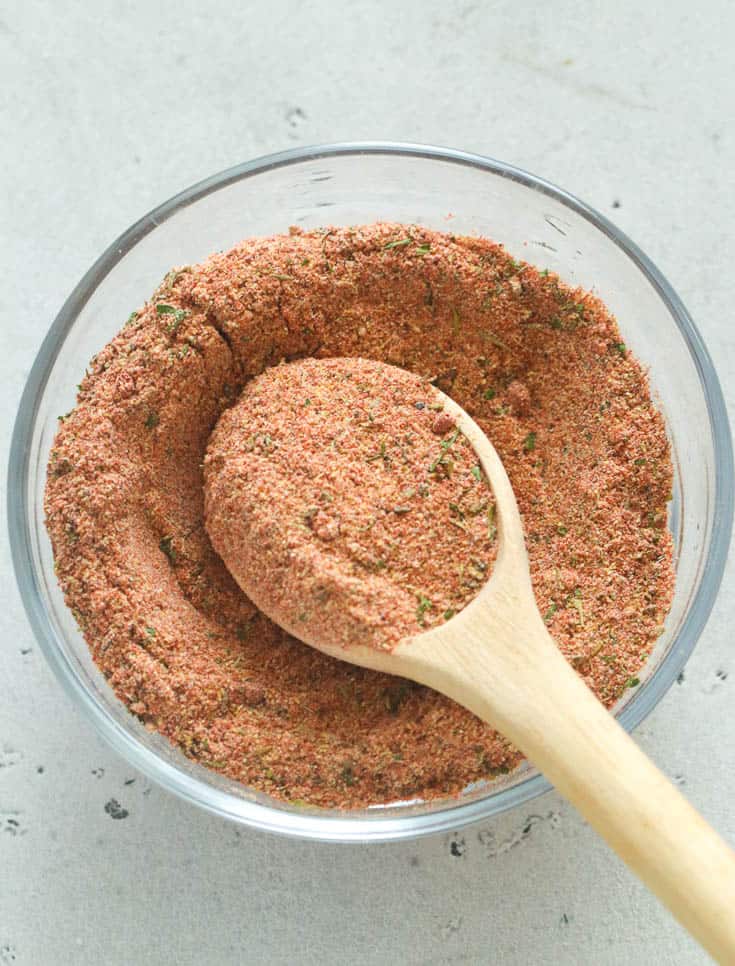 Blackened Seasoning is basically a mix of aromatic and flavorful dry spices often used to add flavor to white meat such as fish and chicken. This is why it is often referred to as Fish Seasoning. 
Not to be confused with Cajun Seasoning with its iconic hot flavor, Blackened seasoning is made up of dried spices with just a dash of heat. The prevailing flavor comes from the combination of the earthy spices plus the charring effect when cooked on high heat.  
But don't be limited to just fish and chicken. You can also apply this to your favorite steak cuts or pork chops or to whatever floats your boat.  
Blackened Seasoning Ingredients
The ingredients are simple and easy to find. So if ever you're planning your next trip to the grocery store, make sure to take note of these ingredients: 
Paprika – talk about adding hue to your dish, paprika is a natural ingredient that adds heat both visually and in flavor. It makes your food look more appetizing by adding a warmer tone of red while giving it a smoky flavor. 
Dried Thyme – it's time to bring thyme into the spotlight. That earthy tone you're looking for that usually makes chicken meat irresistible is from this spice. Definitely an essential herb for our recipe. 
Oregano – this aromatic herb hits you with a lingering sensational after taste that would make any dish memorable. Now you have another way to use oregano outside delicious meatballs and pasta. 
Garlic and Onion powder – speaking of aroma, you'd know the smell of garlic and onion from a mile away even if it's mixed in Blackened Seasoning. These powdered ingredients easily penetrate the meats by drawing out some of the moisture.  
Crushed parsley – of course, any dish deserves a touch of freshness. That's the great thing about parsley, even if dried and crushed, the flavor itself brings an instant freshness to any dish. 
Ground Black Pepper – this precious spice is used in almost any dish. It gives our mixture a fleeting kick of heat. The familiar flavor also helps anyone who hasn't tried blackened seasoning to settle in with the taste.  
Cayenne pepper –Let's talk about heat. This last, but most certainly not the least, spice is definitely one for the books. It is the main source of heat for our mixture. But don't worry, the spiciness is tolerable, to be more accurate, it gives a distinct smoky barbecue-ish taste. 
Storing your Blackened Seasoning

 
If you mix the ingredients right away in a jar, you won't have any problems with storing your blackened seasoning. Because mason jars are already airtight containers. If you don't have that, you can use a Ziplock bag for storage. Make sure to place it away from any source of moisture to have a longer shelf life. 
Ways to Use Blackened Seasoning
Already thinking of ways to use this magical homemade spice blend? Well, you can start with any of these recipes below and you'll be raking in all the good reviews from your family and guests.
More Homemade Spice Blend to Try
How to Make Blackened Seasoning  
This Blackened Seasoning is so easy to make that it only takes one step, yes you heard that right, just one step – mix all the ingredients together! However, I'm going to show you three techniques on how to mix dried spices.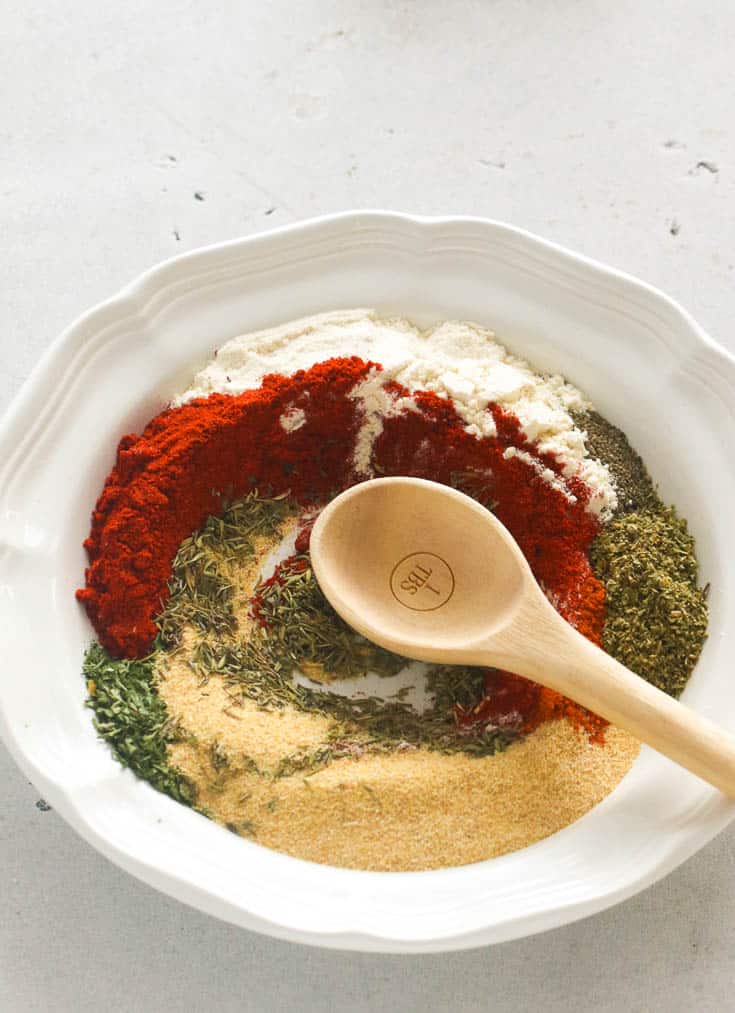 The first way is to use a whisk or a fork to mix it by hand. Just stir until you can't see any partition from each ingredient or until completely mixed. 

The second technique is for when you have whole herbs or spices you want to be pulverized so you can easily mix it together. Simply put all the whole herbs into a food processor, once it's in powdered form, add the other ingredients to be thoroughly mixed in.

The last technique is the most fun. Get a small jar, a mason jar with a handle would do great. Place everything inside, close the lid, and start to shake shake shake! And you'll have your blackened seasoning in seconds!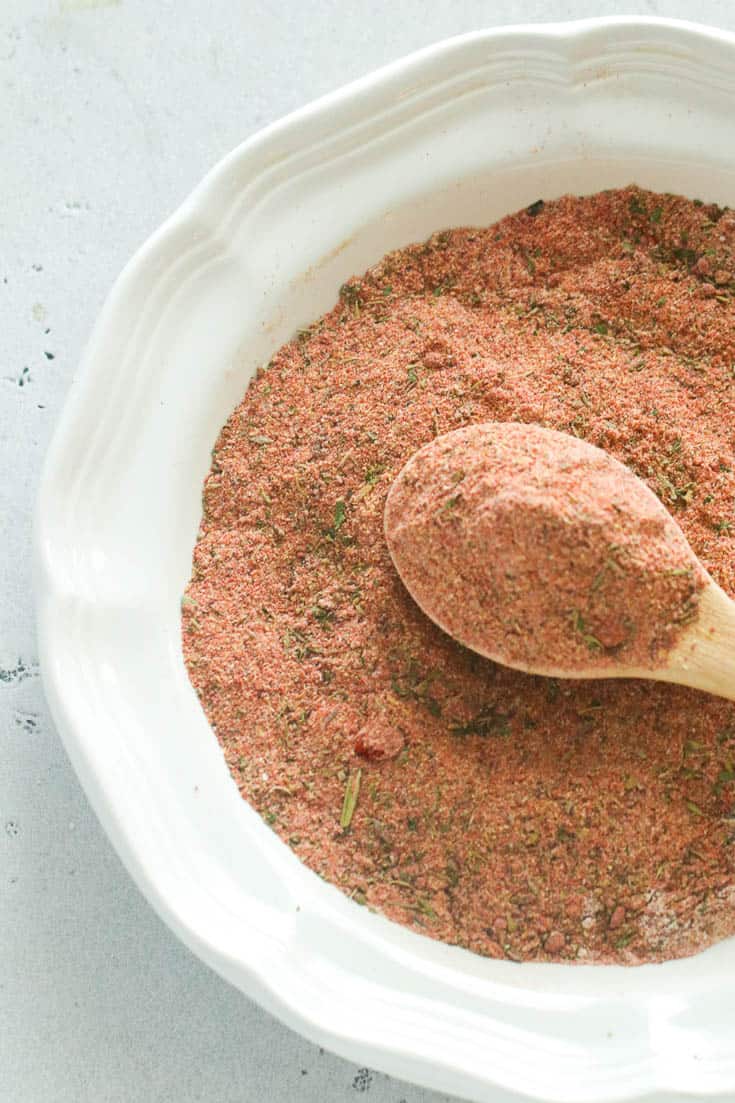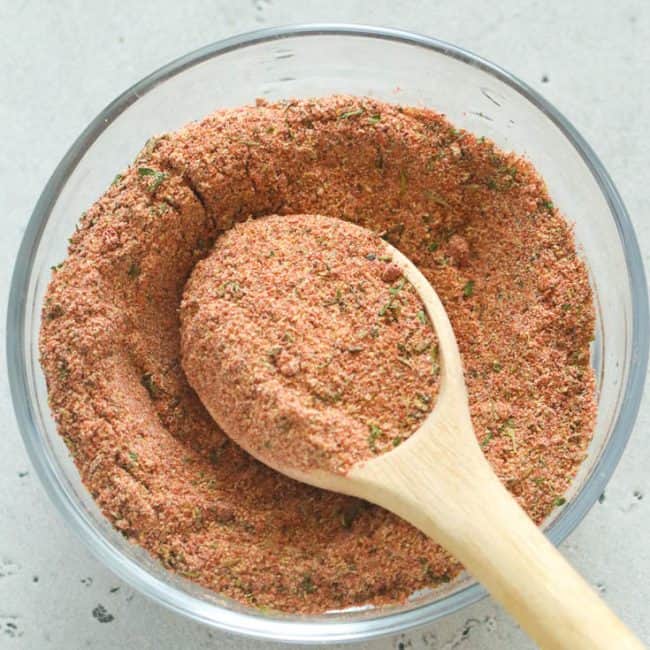 Print
Blackened Seasoning
Enhancing both color and flavor, BLACKENED SEASONING is a mildly hot natural additive made of paprika, oregano, parsley, cayenne pepper, and other spices. This will surely give your simple dish an extraordinary blaze. It's so easy to do, you can do it with your eyes closed, just kidding, keep your eyes wide open to see the magic happen. 
Prep: 5 mins
Total: 5 mins
American
Ingredients
2 tablespoons paprika 
2 teaspoons dried thyme 
1 ½ teaspoons oregano 
2 tablespoons garlic powder 
2 tablespoons onion powder 
½ tablespoon parsley , crushed 
½ -1 teaspoon ground black pepper 
½ - 1 teaspoon cayenne pepper 
Instructions
Combine all the ingredients in a bowl, or jar and stir so that all the ingredients have been fully combined. 

Store in any airtight container (or zip lock bag) and use as needed.
Tips & Notes:
Please keep in mind that nutritional information is a rough estimate and can vary greatly based on products used.
Nutrition Information:
Serving: 1tbsp| Calories: 40kcal (2%)| Carbohydrates: 9g (3%)| Protein: 2g (4%)| Fat: 1g (2%)| Saturated Fat: 1g (6%)| Sodium: 8mg| Potassium: 187mg (5%)| Fiber: 3g (13%)| Sugar: 1g (1%)| Vitamin A: 2110IU (42%)| Vitamin C: 2mg (2%)| Calcium: 46mg (5%)| Iron: 2mg (11%)
Nutrition Facts
Blackened Seasoning
Amount Per Serving (1 tbsp)
Calories 40 Calories from Fat 9
% Daily Value*
Fat 1g2%
Saturated Fat 1g6%
Sodium 8mg0%
Potassium 187mg5%
Carbohydrates 9g3%
Fiber 3g13%
Sugar 1g1%
Protein 2g4%
Vitamin A 2110IU42%
Vitamin C 2mg2%
Calcium 46mg5%
Iron 2mg11%
* Percent Daily Values are based on a 2000 calorie diet.