Plantain fritters – Crusty on the outside and dense inside made with overly ripe plantains,  brown rice and spices. Gluten free, paleo and vegan side dish.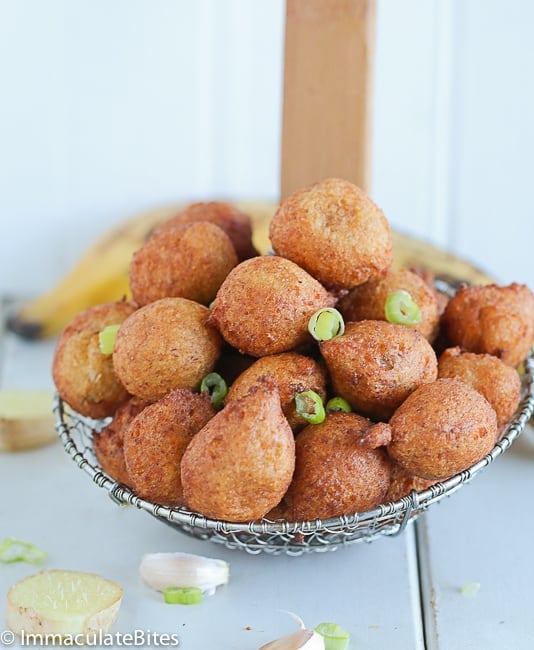 I just hate throwing away food, but sometimes I have to, I wish recipes would just work out on the first try, Surprise Surprise, they don't!
It takes a couple of tries to get it perfect. However, if there is one food that I hate throwing out is plantains, I just love it- one of my all time favorite side dishes. I know you have heard me say this a lot, but I just do- Fried, grilled and baked are my favorite ways of enjoying them.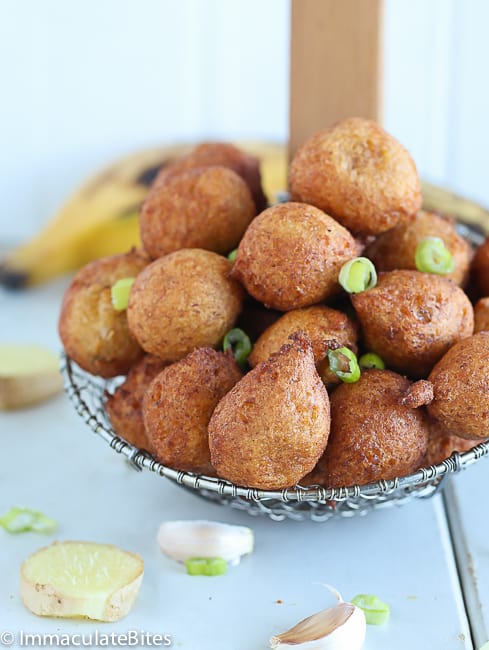 So, I can't help it when shopping for plantains, I pile them on – especially when I see the big, round, plump ones (yes, you do have skinny plantains).  
I'm always certain of what I would love to use them for, then I get forgetful, before I know it, the plantains are dark, start looking ugly and squishy– sometimes even start to give off a funky smell. Recently, I have been on the look out for ways to use plantains.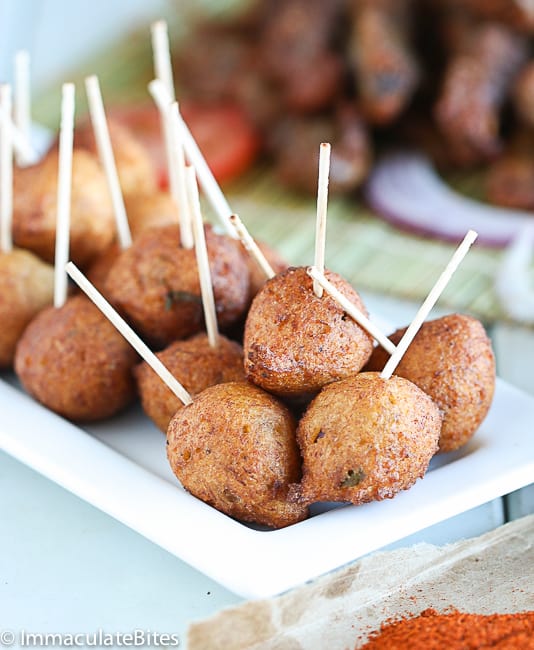 Here is really good  way to make use of it. It doubles up as side dish or snack and can be savory or made into a sweet treat. 
In the recipe, I used brown rice. Why? Because I wanted to use up a 25-pound bag of brown rice hubby bought because he read some watched a report on the news about consuming brown rice.
After giving it a try he says, it doesn't taste quite right.  What's a girl to do?
Adding the rice in this plantain fritters gives it texture and makes it somewhat sturdy enough to withstand the frying- it makes for a crusty on the outside and dense inside fritter.  For a light plantain fritter you can use oatmeal flour, corn meal and any other flour or trying using less flour.
 When am making a sweet snack, I usually go for oatmeal or whole wheat flour, then add nutmeg, cinnamon and about a ½ teaspoon of vanilla. 
This one is more of a side dish that you can pair with any meal or as a snack –savory and sweet. Flavored with garlic, onions, cayenne pepper, and parsley. You can make your own ground rice by using a coffee grinder. Do not over do it with the coffee grinder it will burn the engine. I let my son help me with the grinding and he killed the coffee grinder.
 Luckily, I can pick up another one online and get it in less than no time.  
Make sure to test out the fritters by frying one, and then adjust ingredients to taste, before frying the remainder of the batch. You may use a spoon or your hands if the balls are too soft to form a ball.
Serve this with this pepper sauce here or with these beans here. 
These are crunchy on the outside and chewy inside. Fresh off the pan, the crunch is crackling – it fades as it cools down. So best enjoyed hot or warm
Enjoy!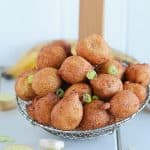 Plantain Fritters (Klako)
Plantain fritters - Crusty on the outside and dense inside made with overly ripe plantains, brown rice and spices. Gluten free, paleo and vegan side dish.
Ingredients
3

large overly ripe plantains or bananas

1

cup

or more rice . oatmeal or whole wheat flour

2

teaspoons

baking powder

¾

teaspoon

salt or more adjust to suit preference

1

teaspoon

minced garlic

½

teaspoon

grated fresh ginger

1/8

cup

2 tablespoons finely chopped onions

2

tablespoons

green onion finely chopped

1

tablespoon

parsley chopped

1/2 -1

teaspoon

cayenne pepper or pepper sauce (depending on your tolerance level
Instructions
If using rice- grind in a coffee grinder until finely ground or use any flour.

Mash plantains with a potato masher or spoon until puree or use a food processor to blend.

In a medium bowl add rice, baking powder, salt, garlic, ginger, cayenne pepper to the mashed plantains. Stir in green onions, onions and parsley until fully combined.

Adjust seasonings.

You may have to do a test taste first.

Using your hands roll about a tablespoon of mixture in the palm of your hand into little bite size balls or use spoon to scoop it out.

Heat oil to 350 degrees in a skillet or saucepan. You may also use the oil test by dropping a 1-inch square of bread into the oil. If it takes 60 seconds to brown, then the oil is at around 350 degrees

Carefully place spoonful of the batter into the hot oil and fry for 3-4- minutes, or until the fritters are crisp and golden-brown (you may need to do this in batches).

Remove from the pan with a slotted spoon and set aside.

You may drain on paper napkin to remove any excess oil
Nutrition Facts
Plantain Fritters (Klako)
Amount Per Serving
Calories 273
Calories from Fat 9
% Daily Value*
Total Fat 1g 2%
Sodium 445mg 19%
Potassium 980mg 28%
Total Carbohydrates 66g 22%
Protein 5g 10%
* Percent Daily Values are based on a 2000 calorie diet.