Liberian chicken gravy- African Stew with lots of flavor, chicken, and seafood. Oh, refrain from eating the whole thing.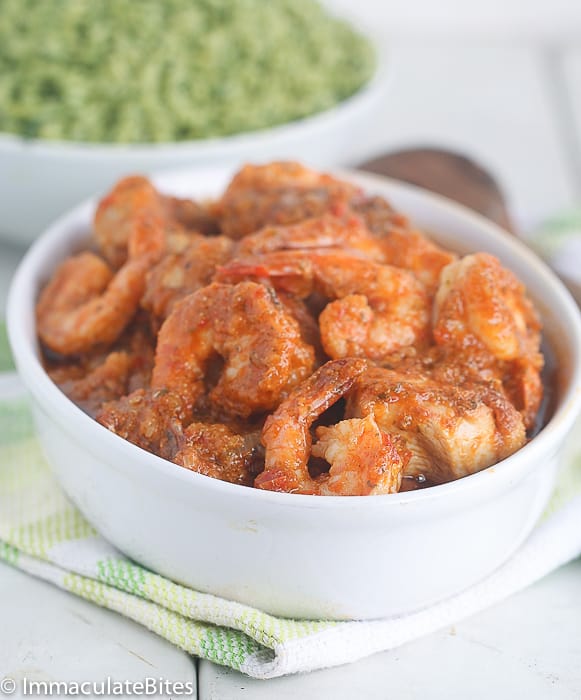 I love stews!
And I have sure made a lot of them.
This scrumptious stew right here, will awaken your taste buds and make them fall in love; What's not to love?
It is loaded with chicken, fish and shrimp – yet another variation of stew. However, the bell pepper makes all the difference here, adding another layer of flavor. You seriously need to make this.
This variation, with its fragrant combination of garlic, bell pepper, tomatoes and herbs is a classic African stew combination.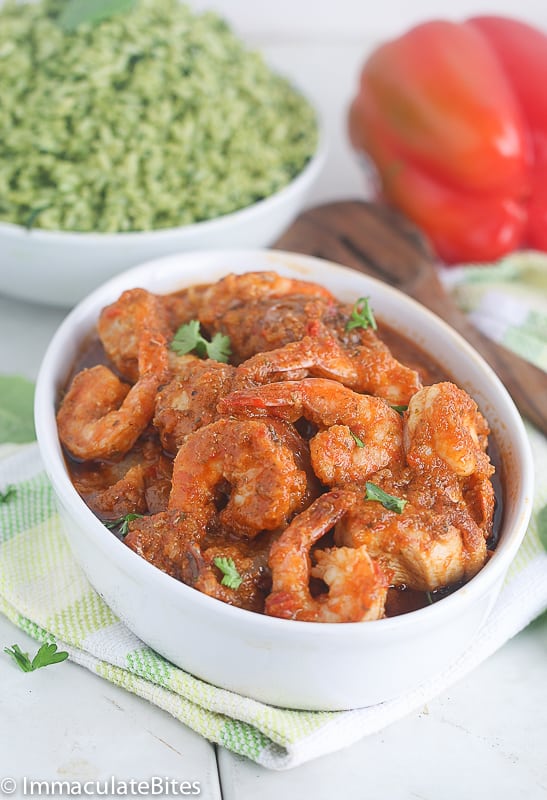 This Liberian way of cooking stew, is utterly flavorfully (both green and red bell pepper) are coarsely grounded and cooked down, until most of the water is gone. Then stock is added to boost flavor and give it moisture.
You know what? Chicken, fish and shrimp comes together quite naturally in this recipe, however, they are fully cooked independently, before incorporating them in the stew.
If you want to omit the fish, the chicken and shrimp stand well on their own.
As with most African stews quite a lot of oil is used to cook the stew often use to fry the tomatoes for a period of time to reduce the amount of acidity present in tomatoes. Here only a few tomatoes are used because of the use of red bell pepper. So you do not have to go crazy with oil- (adjust according to preference) or drain after cooking. You know what when am really trying to cut back on calories I use little oil and still enjoy it.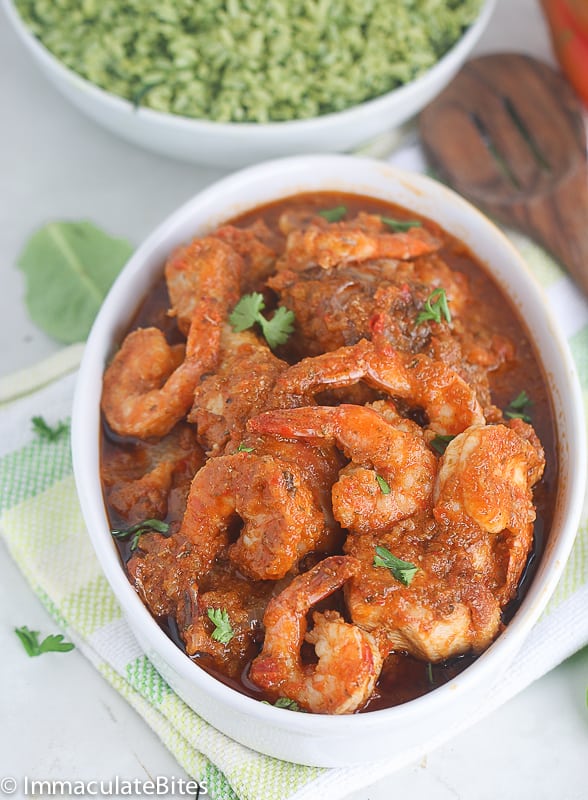 The basic ingredients for this stew are some sort of protein (chicken, fish, beef shrimp) tomatoes, tomato paste and spices according to taste.
I often don't go to the trouble of frying the fish at home, to include in stew I buy fish from the fish market and have them do the work. Cuts down on cooking time. You may do the same. Or omit completely. Of course you can't serve this without check rice.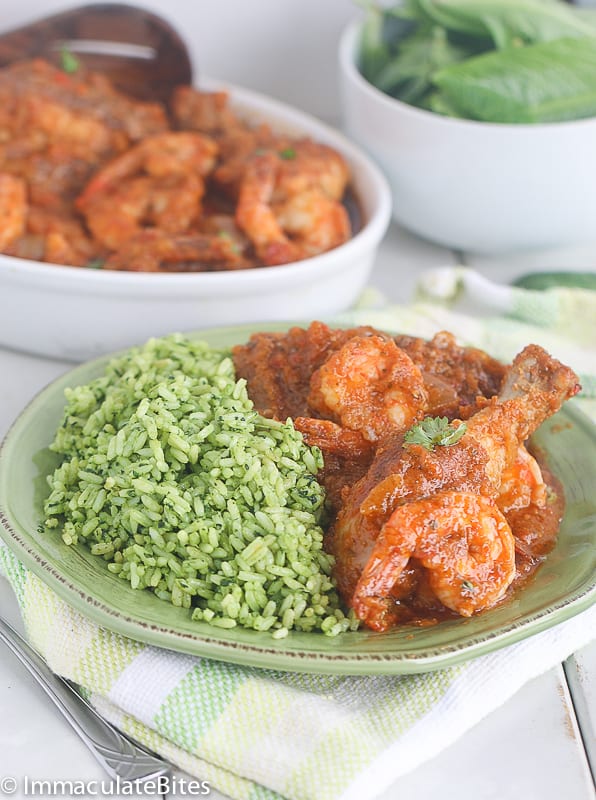 Stew lovers you have to got to make this
Enjoy!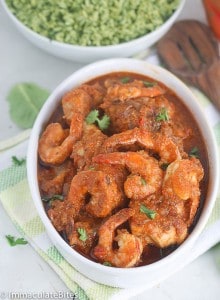 Print
Liberian Chicken Gravy
Liberian Chicken Gravy - African Stew with lots of flavor, chicken and seafood. Oh, refrain from eating the whole thing!
Ingredients
¼ -1/2

cup

cooking oil

vegetable, canola, corn

2- 3

pounds

chicken cut up

1 ½-2

pound

fried fish steaks

any firm fish

1

pound

large shrimp cleaned and deveined

2 -3

large red bell peppers

1

green bell pepper

1-2

Tablespoons

tomato paste

2 -3

fresh tomatoes

1

medium onion chopped

5

garlic cloves

½

teaspoon

ginger chopped

1

or more scotch bonnet or habanero pepper

¼

cup

basil and parsley

1

Tablespoon

chicken bouillon

optional

1/2-

teaspoon

cayenne pepper

Salt and pepper to taste
Instructions
Boil chicken with salt, pepper, paprika, chicken bouillon and some chopped onions in a medium pot until tender. Cooking time varies according to chicken.

Reserve the stock for later use.

In a food processor or blender, blend tomatoes, bell pepper, onions, garlic and herbs.

Add ½ cup oil to heavy-duty pot/pan, and then add the bell pepper blend followed by tomato paste.

Sauté for about 10-15 minutes, to blend all the flavors reduce acidity of the tomato sauce. Stir the pot frequently, as the sauce simmers. You may add reserved chicken stock or water to

Next add chicken, fried fish with about 2 cups of stock-let it simmer for another 10 minutes

Throw in shrimp if using any – cook for another 3-5 minutes

Finally. Adjust seasonings, soup consistency with water/chicken stock, maggie and seasonings
Tips & Notes:
The basic ingredients for this stew are some sort of protein (chicken, fish, beef shrimp) tomatoes, tomato paste and spices according to taste. You may omit the fish if you want to.
Ingredient Selection
1. Tomatoes: you can use canned tomatoes , fresh tomatoes or both. Roma tomatoes is preferable because of its dry skin, it's more flavorful and makes for a thick stew with less acidity
Onions: you can use any variety, couple with green onions. Chopped or puree together with tomatoes.
2. Spices: There are few spices that are often used in stews depending on ones preference - curry, white pepper, paprika, garlic, bay leaf and ginger.
3. Herbs: Commonly use herbs are basil, parsley, celery, and thyme.
Vegetables: use any vegetables like carrots, green beans, green
Nutrition Information:
Calories:
428
kcal
(21%)
|
Carbohydrates:
6
g
(2%)
|
Protein:
58
g
(116%)
|
Fat:
17
g
(26%)
|
Saturated Fat:
2
g
(13%)
|
Cholesterol:
344
mg
(115%)
|
Sodium:
933
mg
(41%)
|
Potassium:
938
mg
(27%)
|
Fiber:
1
g
(4%)
|
Sugar:
3
g
(3%)
|
Vitamin A:
1260
IU
(25%)
|
Vitamin C:
64.4
mg
(78%)
|
Calcium:
158
mg
(16%)
|
Iron:
3
mg
(17%)
Nutrition Facts
Liberian Chicken Gravy
Amount Per Serving
Calories 428
Calories from Fat 153
% Daily Value*
Fat 17g26%
Cholesterol 344mg115%
Sodium 933mg41%
Potassium 938mg27%
Carbohydrates 6g2%
Protein 58g116%
Vitamin A 1260IU25%
Vitamin C 64.4mg78%
Calcium 158mg16%
Iron 3mg17%
* Percent Daily Values are based on a 2000 calorie diet.