Jamaican Curry Powder- Perfect blend of homemade Curry Powder. Quick, easy, no additives or fillers AND it tastes way better than your store-bought brands.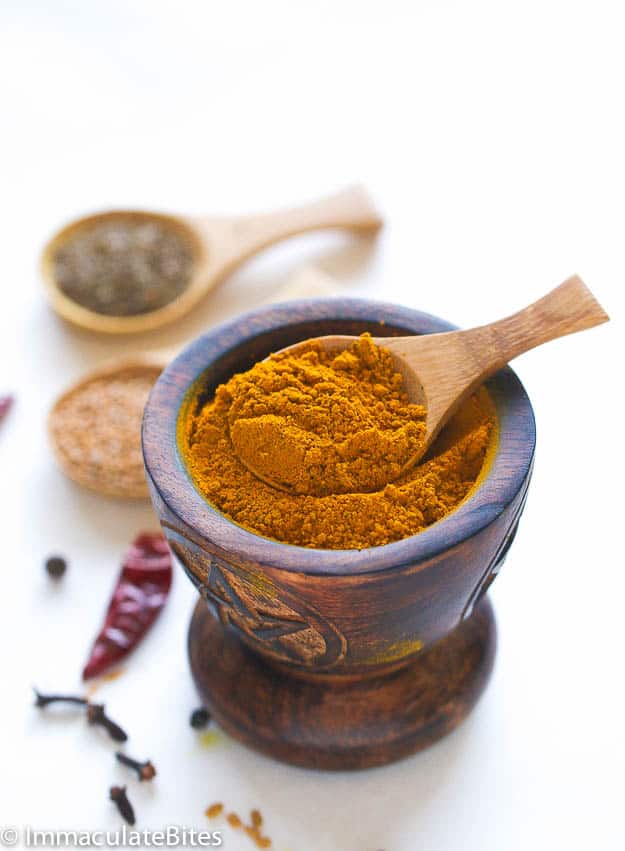 Looking back at my life there has never been a time when I did not have a curry jar in my pantry. It's always been a pantry staple and something that I use more often than not. My sister and I knew the magic ingredient to make a disastrous stew somewhat edible- Curry spice.
Just a little would evade the awkward glances from everyone at the table. I was petrified when it came to my turn, I would check, double-check and triple-check, to make sure there was enough in the jar before turning on the gas stove.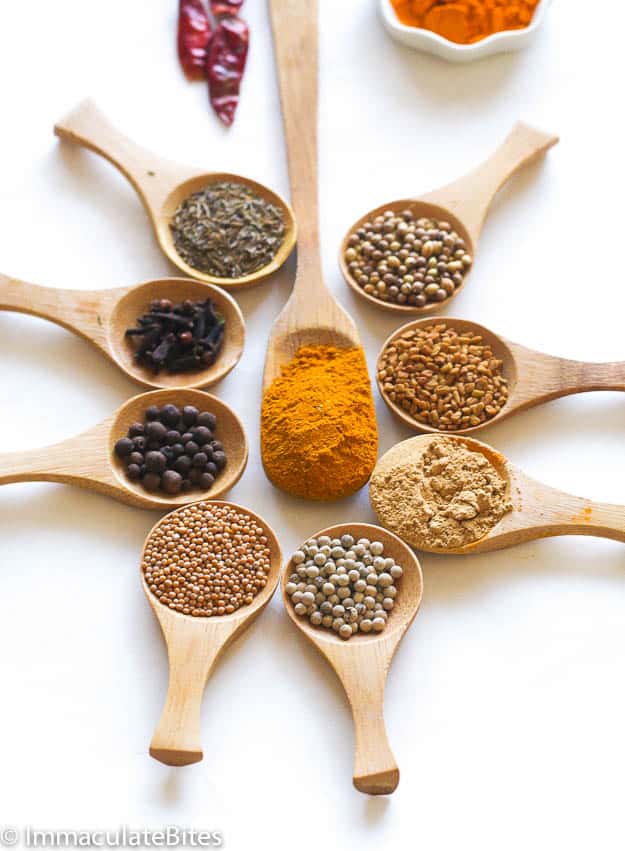 Curry is not a single spice, but a unique blend of spices. Which differs greatly in intensity, flavor and heat level from region to region. I have been meaning to make mine now for a while but just kept putting it off. What gave me the extra push is a curry competition I attended. You had a group of participants from different Caribbean Countries with jamming Curry Chicken. I mean lip-smacking, finger-licking curry chicken that would awaken all the sensations in your body. Yes! They were that good.
But the winner had a secret; she made her own curry spice blend. As soon as I tasted it, I knew this was it for me! The seasonings were perfectly balanced- not one overpowering the other. Since it was a competition and I was a Judge I had to be very respectable and hold the moaning and groaning.
Curious about curry powder. I want to know the difference between Jamaican curry powder and Indian curry powder. Well, say no more.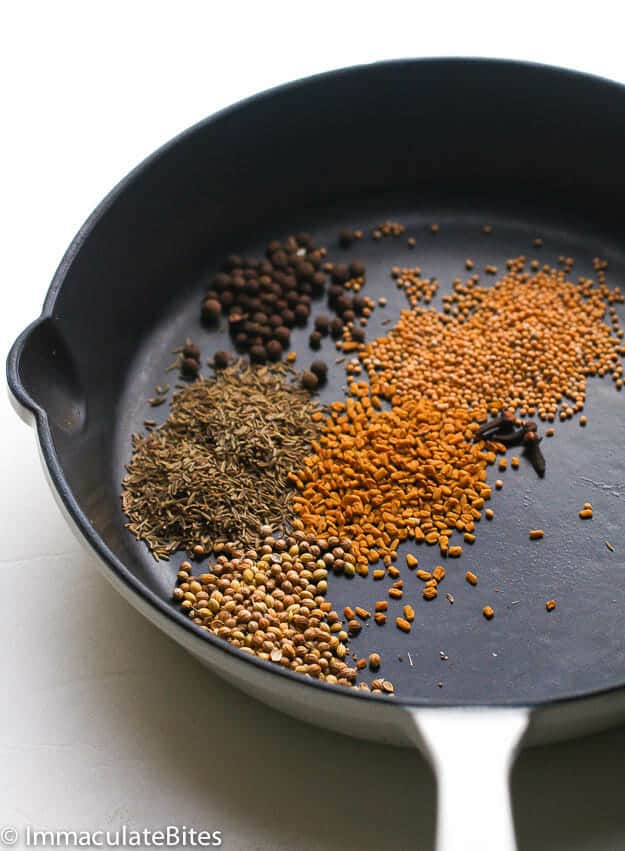 There are a few differences between the two. After doing side by side comparison and some digging. You would notice that most Jamaican, not all Jamaican curry powder tho, are bright yellow from lots of turmeric, dried scotch bonnet pepper (a childhood favorite) and it always includes allspice, also known as pimentos.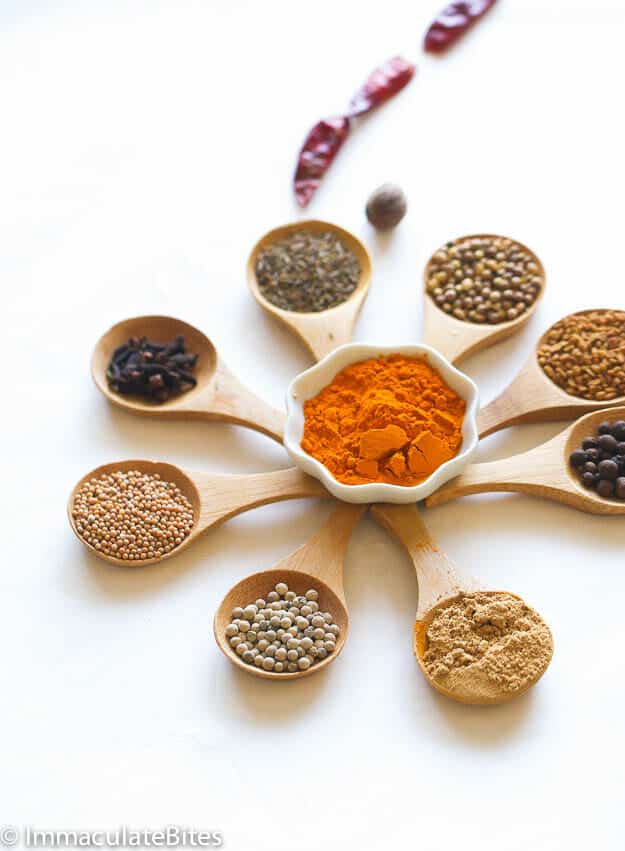 Here, I used cayenne pepper because dried scotch bonnet pepper is not readily available. Since this is homemade I took the liberty of adding nutmeg, which is not typical feel free to leave out or adjust.
This is just my interpretation of this curry spice so switch it up if desired. Making your own homemade spice blend means you control how much of spice goes in your blend.
Also, do you want it to be salty or no salt at all? Spicy or Less Spicy? I always leave out the salt. So feel free to adjust it to suit your tastebuds.
Make it yours!!!
Recipes Using This Curry Powder
More Homemade Seasonings To Try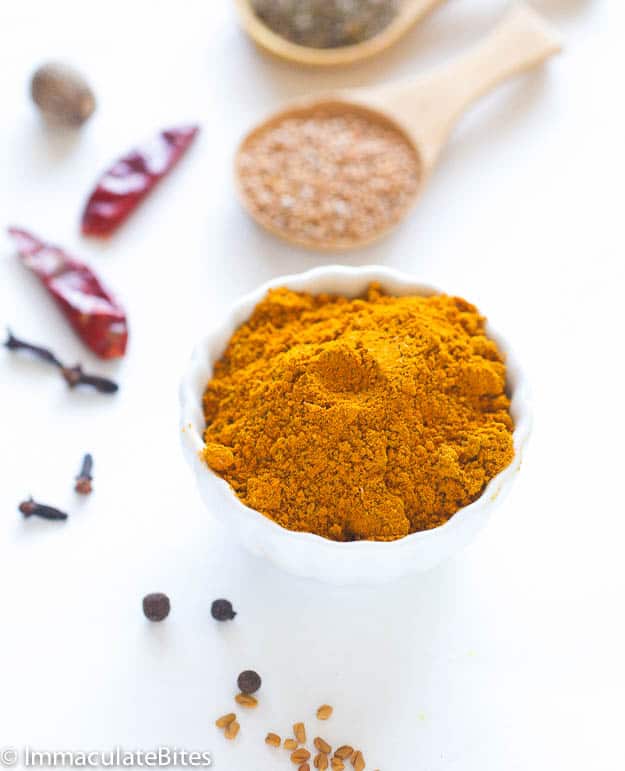 Watch How To Make It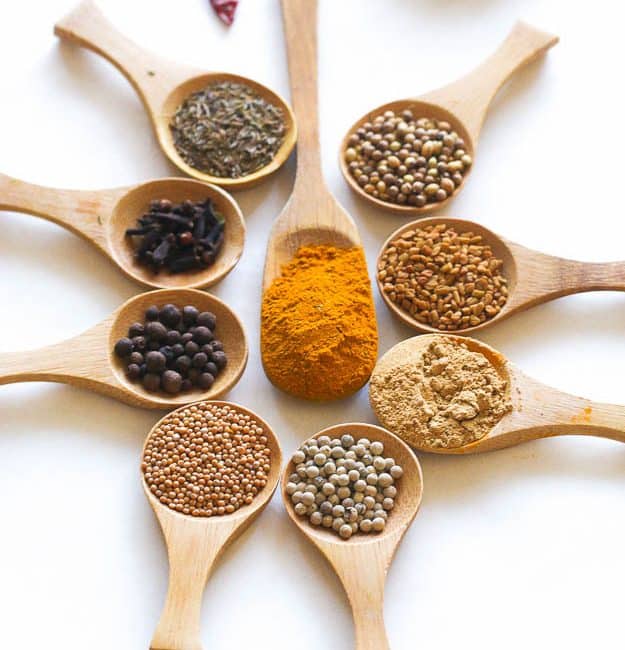 Print
Jamaican Curry Powder
Jamaican Curry Powder- Perfect blend of homemade Curry Powder. Quick, easy, no additives or fillers AND it tastes way better than your store-bought brands.
Ingredients
2 1/2

tablespoon

turmeric

ground

1

tablespoon

coriander seeds

ground

1

tablespoon

cumin seeds

2

tablespoon

all spice

2

tablespoon

ginger

ground

2

tablespoon

yellow mustard seeds

dry

2

tablespoon

fenugreek seeds

ground

1 1/2

teaspoon

black pepper

(you can use white pepper)

1

whole

clove

dried, (use about 1/4 teaspoon ground)

1

teaspoon

nutmeg

ground, (optional)

1/2

teaspoon

scotch bonnet peppe

ground, (you can use cayenne pepper)
Instructions
If using whole grain, lightly toast, on low heat, in a fry pan, for about 3-5 minutes, before grinding, just until the spices smell nice and toasty. Then grind in a coffee grinder.

You may skip the toasting and just grind all the spices. Store in an airtight container for up to 6 months.
Nutrition Information:
Serving:
1
serving
|
Calories:
7.5
kcal
|
Carbohydrates:
0.85
g
|
Protein:
0.8
g
(2%)
|
Fat:
0.8
g
(1%)
|
Saturated Fat:
0.8
g
(5%)
|
Fiber:
0.8
g
(3%)
|
Vitamin A:
5.5
IU
|
Vitamin C:
1
mg
(1%)
|
Calcium:
8.9
mg
(1%)
|
Iron:
1
mg
(6%)