Caribbean Corn Beef and Cabbage – An aromatic stir fried cabbage and corn beef cooked the caribbean Style with aromatics . Easy peasy weeknight meal.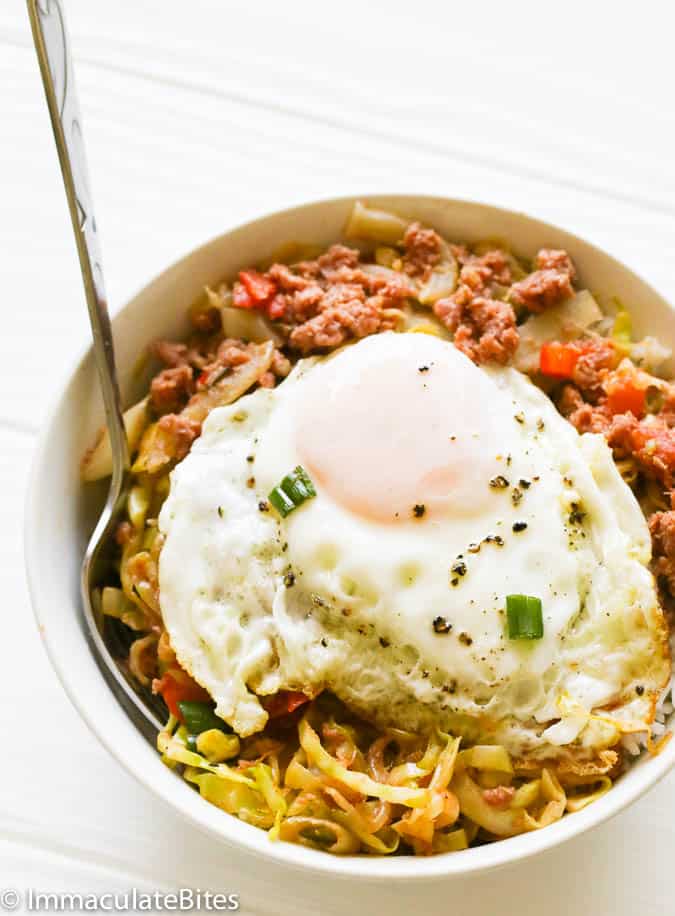 Caribbean food is all about creating robust flavors with the help of distinct spices and herbs like thyme, garlic, and scotch bonnet pepper , which are readily available in the region. These flavors easily spice up a dish without hours of cooking .
Corned beef (also called bully beef) in the some parts of the Islands and cabbage is one of those meals that these spices come in handy . Quickly permeating every inch of it with it's lovely aroma and leave you wanting to eat right out the pot -Guilty!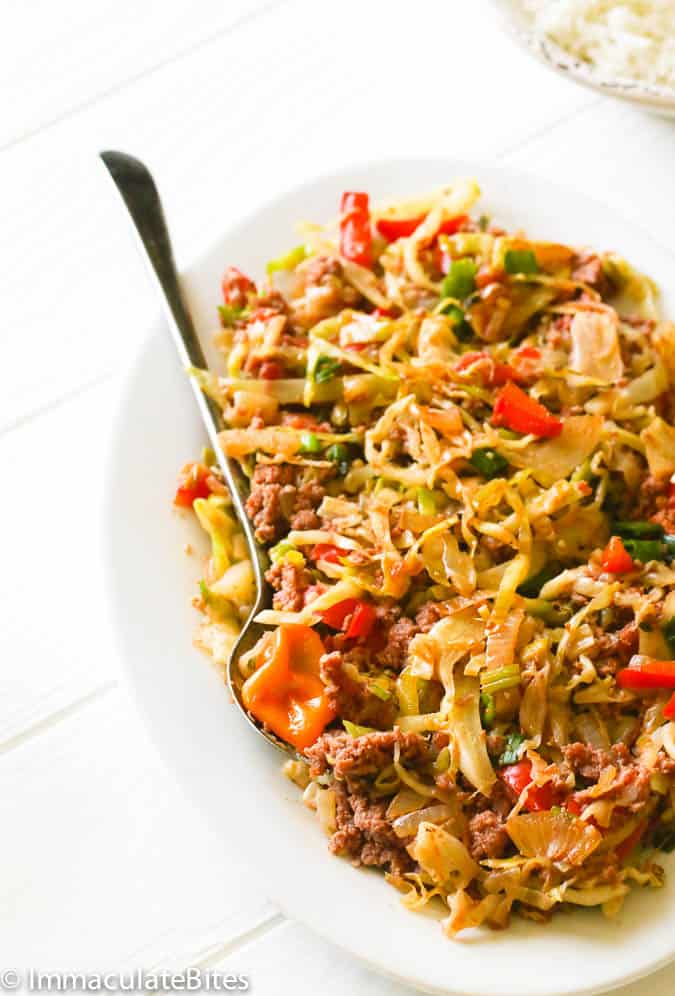 You may be hesitant about the use of canned corned beef but is extensively used in African , Caribbean and South American Countries . I remember as a child, we always had a can or two readily available for a quick meal.
One of those meals that not only does it satisfy but always brings back tons of memories .
Every once in a while I like to go down memory lane … I'll admit I don't make this as much.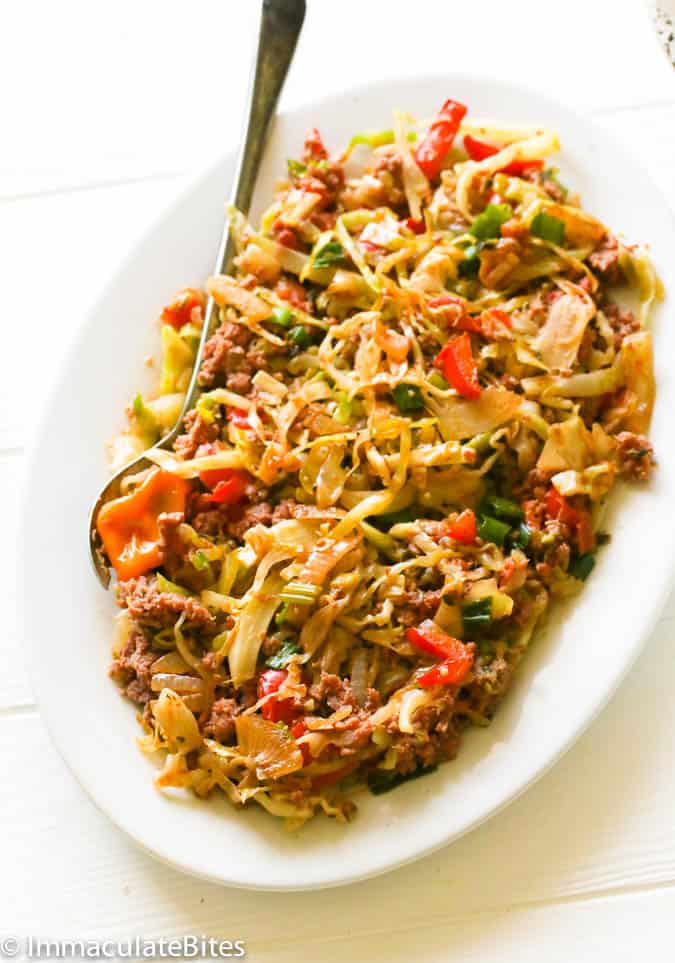 Just pick a brand of canned corned beef that offers a quality product. It should have a good beefy flavor, shouldn't be overly salty and the right meat to fat ratio is a must for that signature melt in your mouth factor.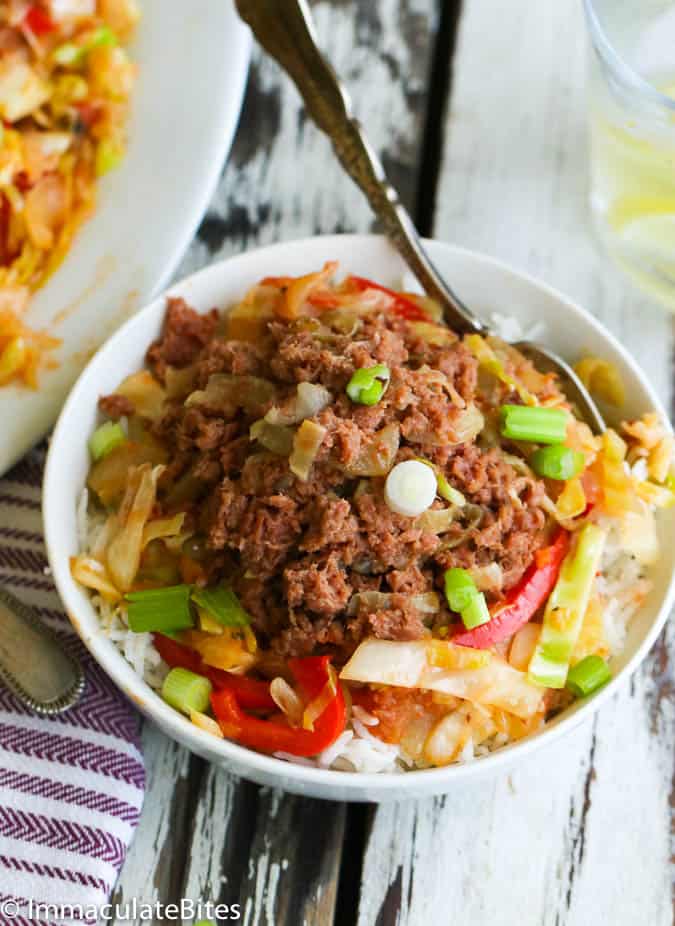 After taking care of the beef selection, this recipe is almost too easy. Since the protein is cooked, all you have to do is shred the cabbage, add it to a hot skillet with the other additions, sauté until tender yet crisp, incorporate the beef and you're done. The result is a one skillet dish with enticing aromas, mouthwatering textures, and simple yet robust flavors. The cabbage is tender with just the right amount of crunch while the meat is expectedly beefy and melts on the tongue. On top of that, the dish's heat level is just right.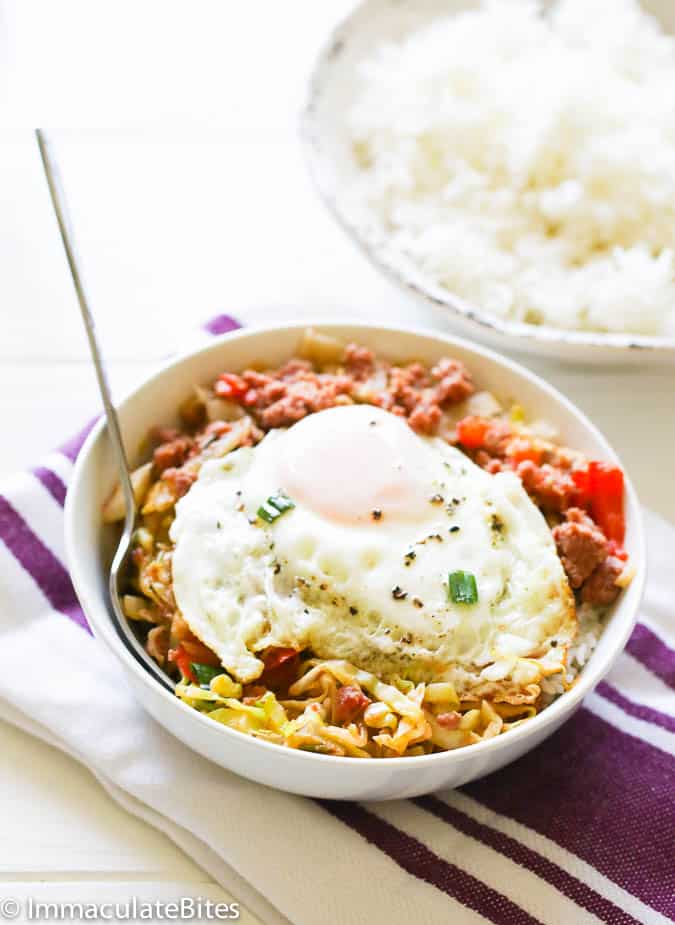 Rice is the perfect base for the dish since it provides some balance, prevents the canned beef's salt level from overwhelming and controls the pungent aroma of cooked cabbage.
Add some fried egg sunny side to the mix to make it more enticing .
Enjoy!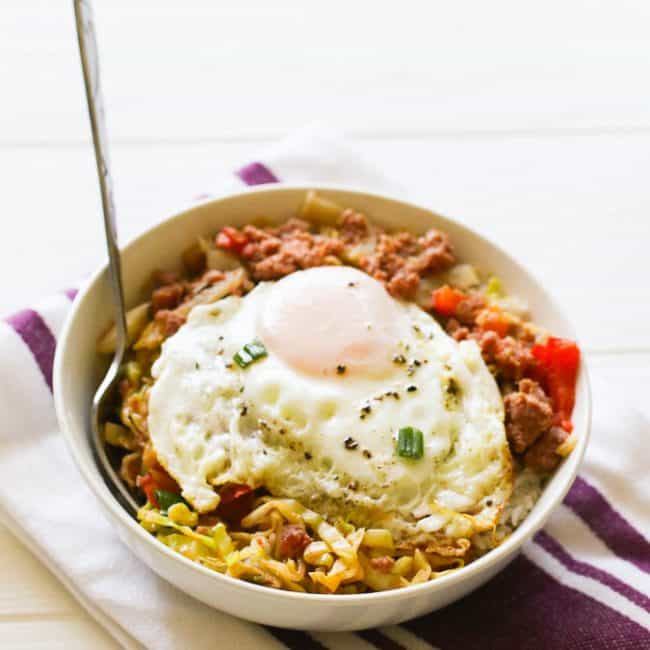 Print
Caribbean Corn Beef and Cabbage
Caribbean Corn Beef and Cabbage - An aromatic stir fried cabbage and corn beef cooked the Caribbean Style with aromatics. Easy peasy weeknight meal.
Ingredients
1

canned Corn beef

(12 ounce )

3

tablespoons

or more cooking oil

1

medium onion chopped

2

teaspoons

fresh thyme

1

teaspoon

allspice

2

teaspoons

minced garlic

1

whole scotch bonnet pepper

2

green onions chopped

1-2

tomatoes

, chopped

½

medium bell pepper

, chopped

1

teaspoons

paprika

1

small head cabbage

, chopped (about 5 to 6 cups)

Salt and white pepper to taste
Instructions
Slice or chop cabbage then set aside.

Heat a large skillet over medium heat, then add about 3 Tablespoons or more oil to skillet. Followed by onions, garlic, thyme, allspice and scotch bonnet pepper. Saute for about 2-3 minutes until fragrant , stirring occasionally to prevent any burns.

Toss in green onions, tomatoes , bell pepper , paprika and white pepper , cook for an additional 2-3 minutes .

Then add cabbage, stir to incorporate all the ingredients. Cook for about 5-7 minutes . Add a small amount of water as you go. (see notes ). Adjust for seasoning with salt and pepper .

Add chunks of corned beef to the cabbage . Cover and let it cook until cabbage has reached desired doness depending on preference .

Serve with rice, dumplings and or/ boiled bananas
Tips & Notes:
When cooking with cabbage it's important to note that it naturally contains water in its leaves. So start by adding just a small amount of water. And add more as cabbage cooks, add more or less as you cook. You do not want too much liquid in your dish.
Be mindful of the fact that Corn beef is salty so air on the side of less salt . You may add more as you go.
If you like chunks of corn beef , do not stir after you add.
Nutrition Information:
Calories:
339
kcal
(17%)
|
Carbohydrates:
11
g
(4%)
|
Protein:
21
g
(42%)
|
Fat:
23
g
(35%)
|
Saturated Fat:
6
g
(38%)
|
Cholesterol:
69
mg
(23%)
|
Sodium:
1591
mg
(69%)
|
Potassium:
700
mg
(20%)
|
Fiber:
4
g
(17%)
|
Sugar:
5
g
(6%)
|
Vitamin A:
755
IU
(15%)
|
Vitamin C:
100.5
mg
(122%)
|
Calcium:
74
mg
(7%)
|
Iron:
3.1
mg
(17%)
Nutrition Facts
Caribbean Corn Beef and Cabbage
Amount Per Serving
Calories 339
Calories from Fat 207
% Daily Value*
Fat 23g35%
Cholesterol 69mg23%
Sodium 1591mg69%
Potassium 700mg20%
Carbohydrates 11g4%
Protein 21g42%
Vitamin A 755IU15%
Vitamin C 100.5mg122%
Calcium 74mg7%
Iron 3.1mg17%
* Percent Daily Values are based on a 2000 calorie diet.