Pineapple Ginger-Glazed Carrots – Sweet, flavorful and tender, with a tropical twist – nutmeg, coconut oil and topped with almonds…the perfect side dish for your holiday dinner!
Growing up, glazed carrots was never in my lexicon and when I moved to the U.S. I never cared much for it, had so-so feelings about it. It's okay and all, but it never really did that much for me. Until I started experimenting at home with it, adding some flavor and spicing it up with a boat load of tropical flavors.
Sometimes I almost want to forget about dessert and eat this instead…almost!
This ginger and pineapple glazed carrot should make an appearance on your holiday table. No, it deserves an appearance on the table. It's a vegetarian side dish that is simple to put together yet so flavorful even at the very last minute. Aaand…Look at it.
The vibrant color, the texture, the ginger infused brown butter (yum), and the hint of nutmeg flavor (heaven) the sweetness from the pineapple and coconut oil make it utterly delicious. And to top things off, throw in some candied almonds – can I get a yes?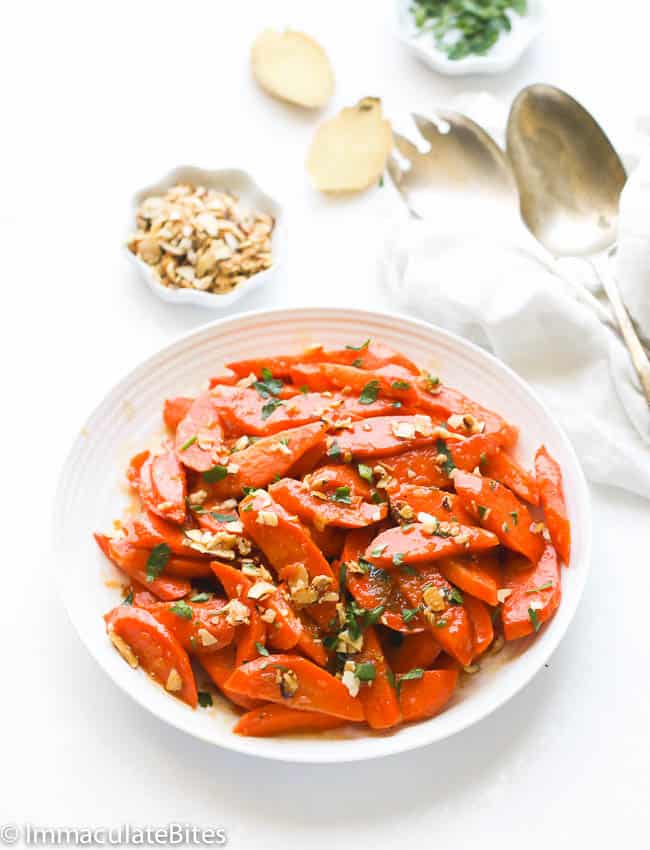 Notes.
Any cuts of carrots would work for this, make sure they are evenly sliced; you can even skip the cutting and go with the baby carrots.
You can replace pineapple juice with orange juice and omit any spice you are don't really care for.
To add sweetness you may switch or play around with various sweeteners maple syrup, brown sugar and coconut sugar.
Make the candied almonds by stirring together sliced almonds about ½ cup sliced almonds and about 1/4 cup sugar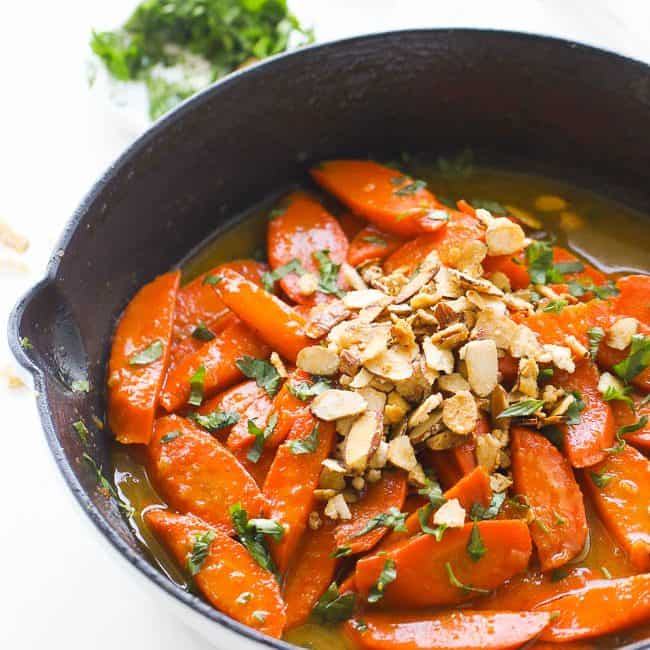 Print
Pineapple Ginger-Glazed Carrots
Prep: 10 mins
Cook: 15 mins
Total: 25 mins
American
Ingredients
1 Pound 453.6 grams Carrots Sliced
1 Tablespoon butter
1 Tablespoon coconut oil
1 teaspoon minced ginger
½ cup Pineapple Juice
½ Tablespoon sweetener
¼ -1/2 teaspoon nutmeg
1 Tablespoon apricot preserve optional
Instructions
Make the candied almonds by stirring together sliced almonds about ½ cup sliced almonds and about ¼ cup sugar for about 7 minutes or more

In a medium saucepan heat the butter over medium heat until melted, then add coconut oil together with ginger, stir for about 30 seconds

Then add carrots and sprinkle with salt and sauté over medium-high heat for 5 minutes stirring occasionally or until slightly brown

Stir in the pineapple juice, sweetener and nutmeg. Bring to a boil. Once boiling turn heat to medium and let cook for 5 minutes or until it has slightly thickened

Remove from heat and mix in apricots preserves Serve warm top with almonds and or parsley
Nutrition Information:
Calories: 173kcal (9%)| Carbohydrates: 26g (9%)| Protein: 1g (2%)| Fat: 8g (12%)| Saturated Fat: 6g (38%)| Cholesterol: 10mg (3%)| Sodium: 141mg (6%)| Potassium: 537mg (15%)| Fiber: 4g (17%)| Sugar: 14g (16%)| Vitamin A: 25375IU (508%)| Vitamin C: 13.7mg (17%)| Calcium: 55mg (6%)| Iron: 0.6mg (3%)
Nutrition Facts
Pineapple Ginger-Glazed Carrots
Amount Per Serving
Calories 173 Calories from Fat 72
% Daily Value*
Fat 8g12%
Saturated Fat 6g38%
Cholesterol 10mg3%
Sodium 141mg6%
Potassium 537mg15%
Carbohydrates 26g9%
Fiber 4g17%
Sugar 14g16%
Protein 1g2%
Vitamin A 25375IU508%
Vitamin C 13.7mg17%
Calcium 55mg6%
Iron 0.6mg3%
* Percent Daily Values are based on a 2000 calorie diet.