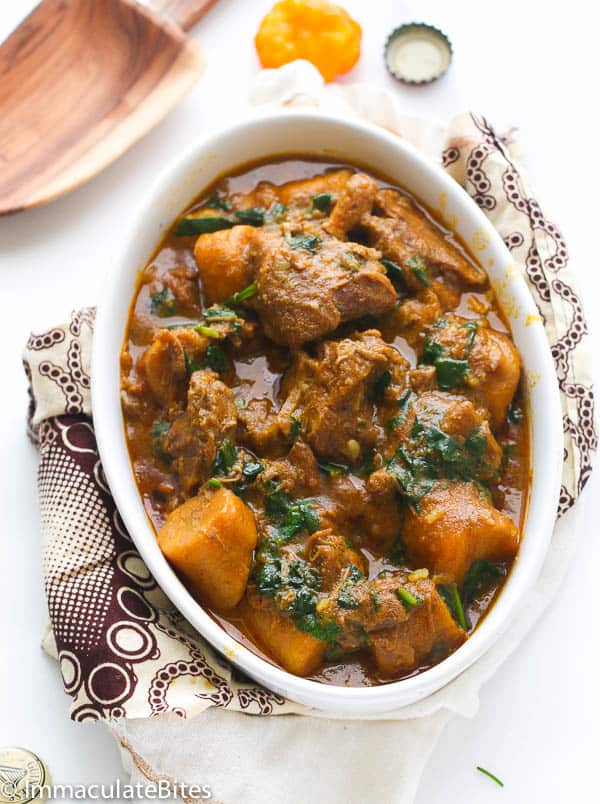 Sese plantain is one of my go to lazy meals to make around the house because you dump everything in the pot, and then you let the flavors slowly blend. This everyday one-pot meal is frequently dished- up in most households in Cameroon and throughout West Africa. It is sometimes called turning plantains in other parts because some stirring is involved during the cooking process, to prevent the plantains from sticking to the pot.
It can be simple with only plantains, palm oil, salt and crayfish or elaborate with fish, meat (any variety) and vegetables. Washed bitter leaves are usually used for this recipe (I replaced the bitter leaves with kale).
Sometimes people omit the oil which is OK, when cooking pepper soup plantains (another kind of plantains soup). However, Palm Oil adds an interesting and authentic flavor to the dish, as well as an intense red color from the high beta-carotene.
If using a tough cut of meat- like goat meat or shank meat, you have to boil the meat first, before starting the dish. Then, the plantain is slowly cooked in the meat stock until a tender and succulent meal.
Sese Plantains( Turning Plantains)
Ingredients
2 pounds of meat ( goat meat, shank meat )
1 medium onion chopped
4 pounds of unripe plantains
½ Crayfish
½ cup of Palm Oil
2 Maggie
Cayenne Pepper (optional)
1 bunch of fresh kale chopped
Salt and pepper to taste
Instructions
In Large –sized sauce pan boil meat seasoned with salt, cayenne pepper, onions until tender depending on the meat. You can shorten this process in half by using a pressure cooker
Using a sharp knife cut both ends off the plantain. This will make it easy to grab the skin of the plantains. Slit a shallow line down the long seam of the plantain, peel only as deep as the peel. Remove plantain peel by pulling it back.
Cut the plantains into thick round shape.
Place the plantains into the pot of boiled meat, add the Maggie, crayfish red oil and remaining onions
Bring to a boil and low the cooker to medium and let it cook slowly for about 20
Finally add the kale and cook for an additional 10 minutes
Remove fro m heat and serve warm.