Red Red Recipe- A hearty tasty and no fuss vegetarian black-eyed peas stewed beans- African Style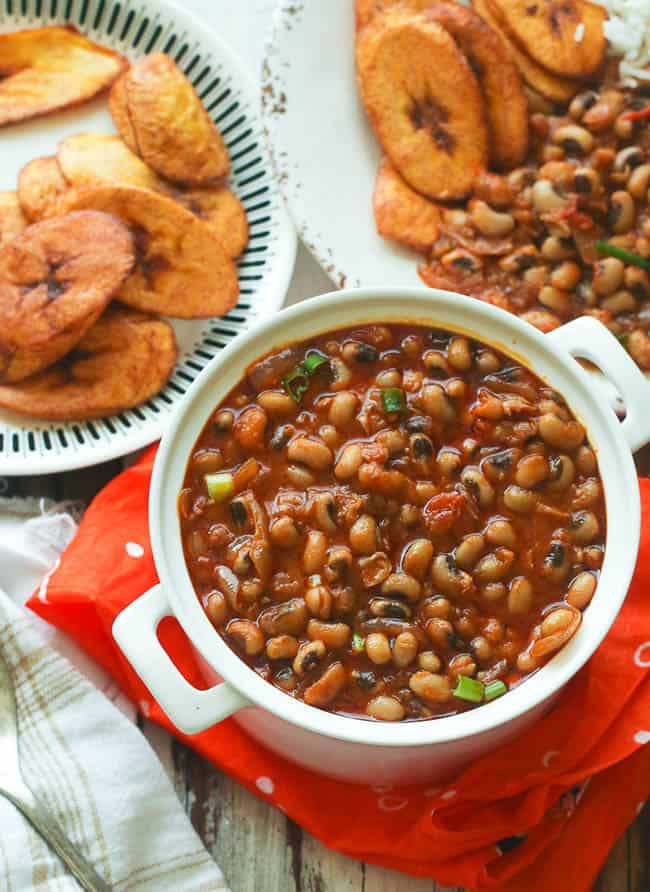 Here, in the United States, black- eyed peas are best known, especially in the south, as a good luck and prosperity meal. In Africa, it is an everyday, year round meal, used in all forms- ground, dried, fresh and a good source of protein. And may I add it is very affordable .
If you are unfamiliar with black-eyed beans, they are delicious little white beans with a mild taste and smooth texture- what I like most, is their meaty flavor and texture-they really do have a bite to it, compared to other beans.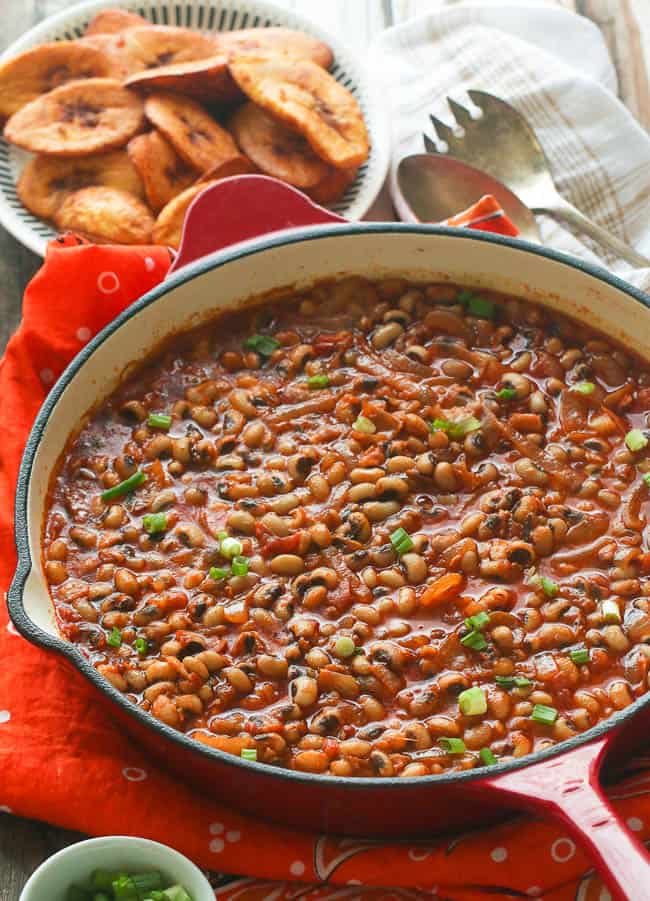 Lately, there has been more interest in them and so many home cooks and chefs are making use of these beans transforming them into exquisite meals.
Here is a variation on this rustic yet flavorful use of these beans- known as Red Red. Red Red is a simple tomato stew that is enjoyed widely through out Ghana.
Don't quote me on this, rumor has that, it's name is derived from combining red palm oil and tomato sauce. You see, these beans always make everything better for me- especially after a rough week. I make them eat for breakfast with puff puff(one of my all time comfort breakfast) and serve it with fried plantains for lunch. When am on a health kick, I grill or roast plantains.
I so wasn't on one this weekend, ANYTHING greasy I just had to have.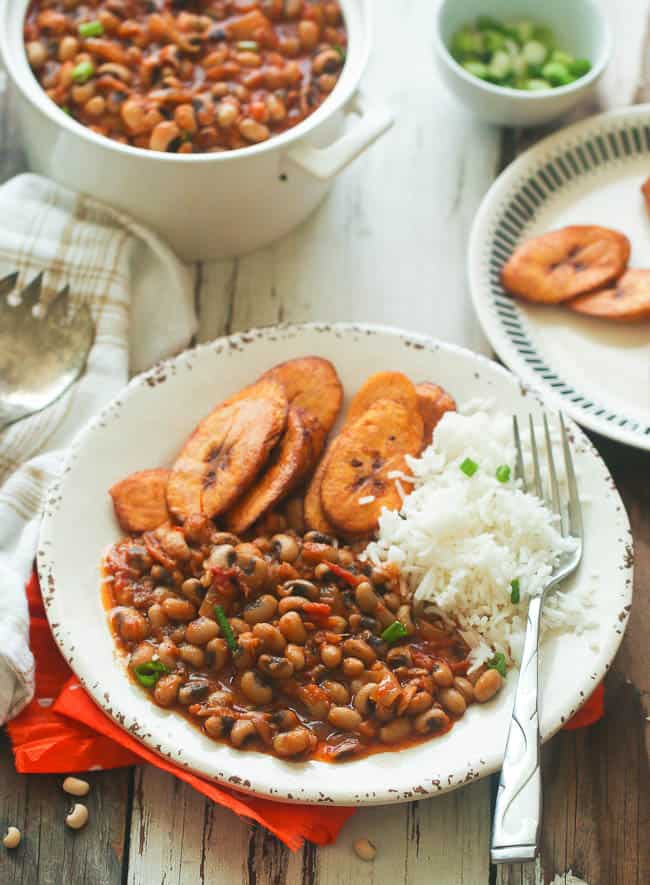 While I absolutely love smoked meat or fish in my beans; Yes, truly do- most often is more about the flavor these proteins add to the meal rather than the meat itself. I thought it would to a good idea to make this without any smoked meats, which is customary.
However, if you have crayfish (dried shrimp) do include them to make up for the loss of the smoky flavor. A trick I do all the time is to use smoked paprika to add that smoky flavor to my food, when I can't get a hold of smoked meat.
Believe me, sometimes getting a hold of smoked meats is like searching for a needle in a haystack or paying with an arm and a leg. Ah! I am not willing to shed out that amount of money all the time ! Just for special occasion .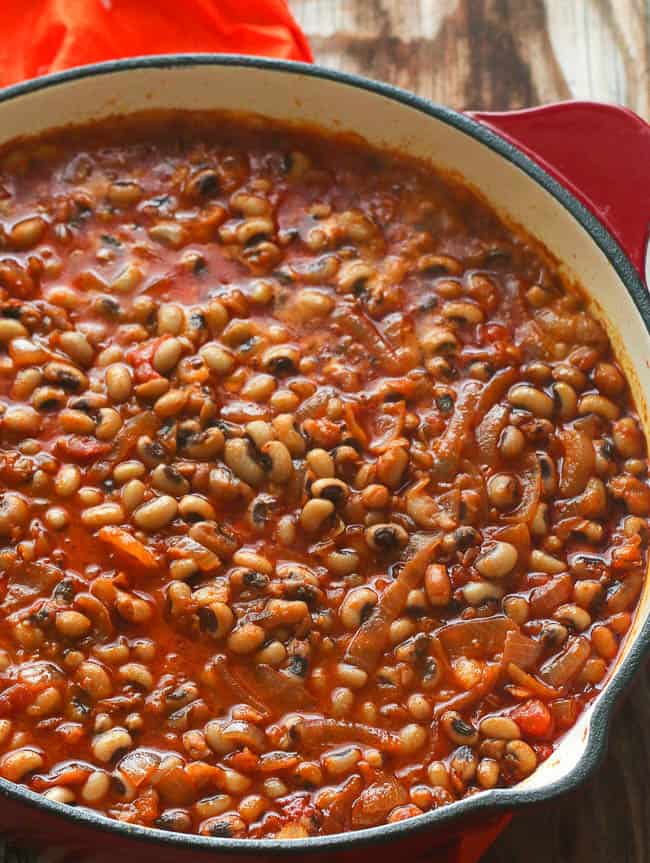 Can't find or don't like Black eyed peas? No worries, you could make these with black, red or any other types of beans. Don't forget to adjust cooking times and flavors. Enjoy!!!
Watch How to Make It
[adthrive-in-post-video-player video-id="25KfoV5l" upload-date="2019-04-25T14:02:31.000Z" name="Red Red" description="Red Red Recipe- A hearty tasty and no fuss vegetarian black-eyed peas stewed beans- African Style."]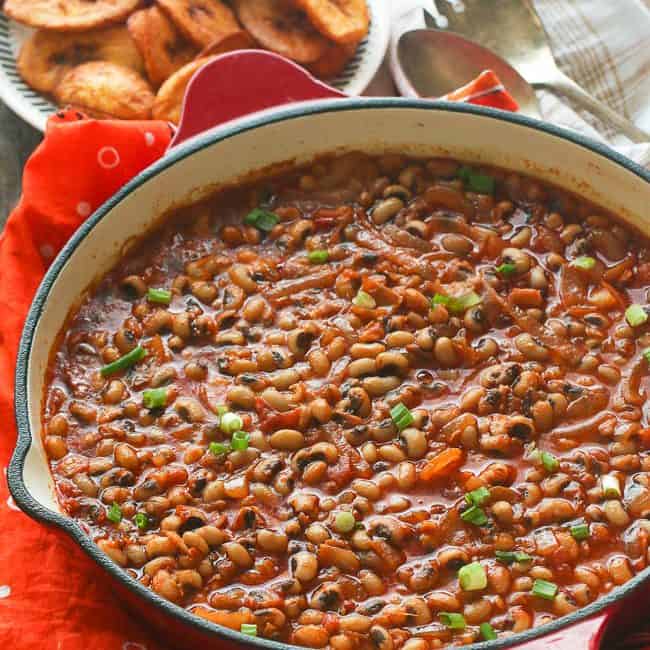 Print
Red Red (African Stewed Black-eyed peas)
Red Red Recipe- A hearty tasty and no fuss vegetarian black-eyed peas stewed beans- African Style.
Ingredients
4 -14.5

ounce

canned beans or 1 pound dried beans

1/2

– ¾ cup palm oil or Canola oil

1

medium Onions

1

Tablespoon

ginger

½

tablespoon

garlic

2

Tomatoes

2

Tablespoons

tomato paste

1

Tablespoon

paprika

1/3 cup crayfish

optional

2 cups – 3 cups stock/ water

1-tablespoon bouillon powder

vegetarian, chicken (optional)

2-3

green onions chopped

Salt and pepper as needed

1

habanero pepper or sub with hot pepper or sauce

optional
Instructions
Rinse dry black-eyed pea beans and pick through and discard any foreign object. (I did not have to do this because I used the package beans,). Add beans to a large pot covering with 3-4 inches of cold water.

Cover and let sit overnight or 6 to 8 hours

Drain the soaked beans, rinse, and place the beans in a Dutch oven or pressure cooker. Follow instructions for cooking beans in your pressure cooker. It takes roughly between 8 to 12 minutes to cook. If not using a pressure cook, cook the beans for about 50- 60 mins or until tender

Drain the cooked beans and set aside

If using canned beans you should start from here.

Heat oil (palm and canola) in large saucepan over medium heat until hot. Sauté the onions in the oil for 3-4 minutes, stirring often and scraping any browned bits off the bottom of the pot.

Add tomatoes, tomatoes paste , ginger, garlic, paprika and bouillon powder/ cubes. Cook while stirring for about 60 seconds,

Through in the Cray fish and let it simmer, for about 10-15 minutes, add water/ stock if needed to prevent burns. Continue to cook the sauce, stirring occasionally

Finally add the beans, green onions and the remaining stock/water and bring to a boil and simmer for another 10-15 minutes.

Adjust for seasonings, and beans consistency with water and serve.
Nutrition Information:
Calories:
293
kcal
(15%)
|
Carbohydrates:
6
g
(2%)
|
Protein:
1
g
(2%)
|
Sodium:
56
mg
(2%)
|
Potassium:
258
mg
(7%)
|
Fiber:
1
g
(4%)
|
Sugar:
3
g
(3%)
|
Vitamin A:
1265
IU
(25%)
|
Vitamin C:
13.8
mg
(17%)
|
Calcium:
19
mg
(2%)
|
Iron:
0.7
mg
(4%)
Nutrition Facts
Red Red (African Stewed Black-eyed peas)
Amount Per Serving
Calories 293
% Daily Value*
Sodium 56mg2%
Potassium 258mg7%
Carbohydrates 6g2%
Protein 1g2%
Vitamin A 1265IU25%
Vitamin C 13.8mg17%
Calcium 19mg2%
Iron 0.7mg4%
* Percent Daily Values are based on a 2000 calorie diet.