Puff Puff — A very popular West African street food that's quick and easy to make with different variations. Dangerously delicious and addicting!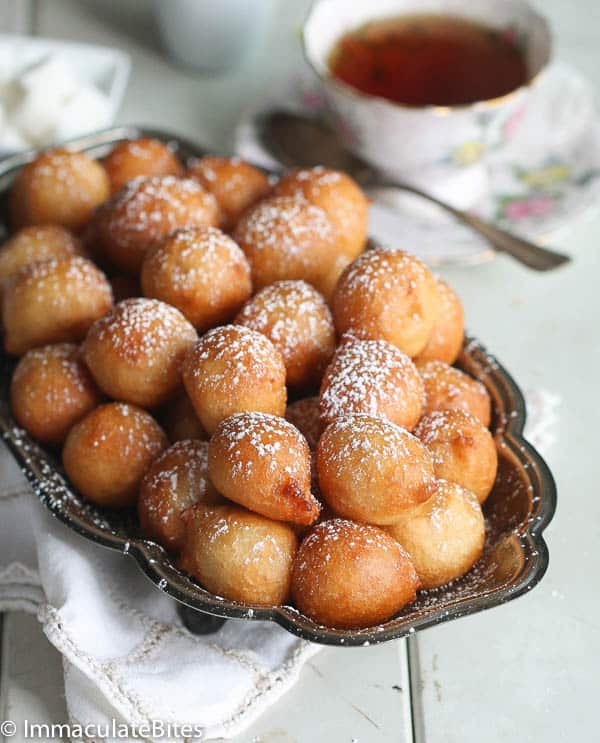 What is Puff Puff?
Most West African countries are familiar with the popular street food Puff- Puff,  which is known by different names depending on the country. Ghanaians call it Bofrot (togbei), Cameroonians and Nigerians call it Puff-Puff (Puff) or beignet in French. The basic ingredient consist of: flour, sugar, yeast, water, salt and oil for deep frying.
It is an easy and quick recipe to make with different variations. This recipe is the one I have been making for years and the one that takes me back to my hometown. It brings back memories of late night snacking on the street.
As a child, I would often watch in amazement how the women selling the puffs would grab the mixture with the tip of their fingers place it in the palm of their hands and drop the mixture in oil.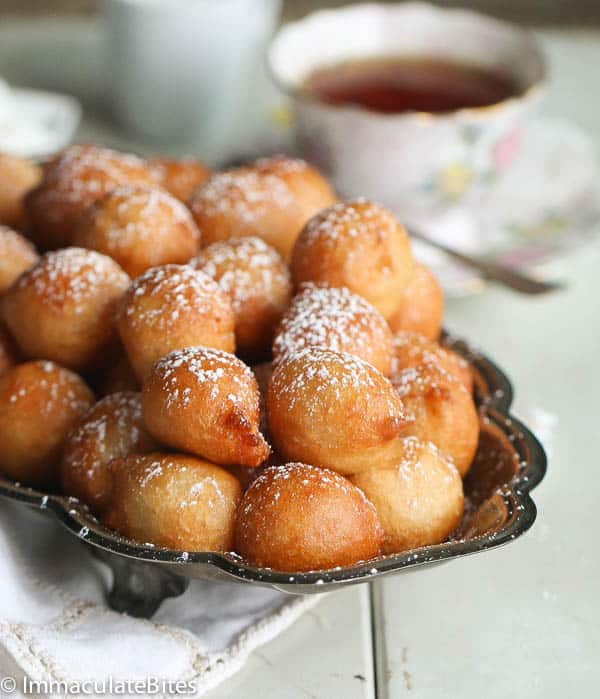 I was fascinated by this process, and would go home and practice this act with any mixture I had on hand. But it never came out as proportional or as visually appealing as the women did it. After years of practice as an adult, I think I can proudly say that I finally got the hang of it.
Puff-puff is usually eaten for breakfast, as a snack or as a side dish. Regardless of when you eat them,  they are enjoyable with or without a side dish. A must-have for me – pepper sauce. Use a spoon instead to scoop the dough into the oil  if you do not want to use your hands. It still tastes delicious!
Notes
For a softer puff puff, add about 1-2 tablespoons more water. Some people find it a little bit hard after it stays  out.

Do not over crowd the frying pan, it will absorb excess oil and sometimes make it soggy.

You may cut back on the salt, if you are watching your salt intake, about 1 teaspoon salt will do.

If your house is too cold, turn on the stove  for about 2-3  minutes until warm . Then turn it off and let the puff puff rise next to it. Or heat up the oven, turn it off when hot, and wait until it cools down. You want it warm but not hot, then let it rise in the oven. Check after 30 minutes to ensure it's rising.
Watch How to Make It
Print
Puff-Puff
Puff Puff -- A very popular West African street food that's quick and easy to make with different variations. Dangerously delicious and addicting!
Ingredients
2

cups + 1-2 (480) tablespoons

warm water

(See notes)

2 1/4

teaspoon (7grams)

active dry yeast

(1 packet)

3 1/2

cups (440grams)

flour

1/2- 3/4

cup (100-150grams)

sugar

1/2

Tbsp (8-9grams )

salt

Oil for deep frying
Instructions
Mix salt, sugar, water, and yeast . Set aside for 5 minutes.

Add flour and mix.

Let the mixture rise for approximately 1- 2 hours

In a large,

sauce pan

pour vegetable oil into a pot, until it is at least 3 inches (or about 5 centimeters) high (too little will result in flatter balls), and place on low heat.

Test to make sure the oil is hot enough by putting a 'drop' of batter into the oil. If it is not hot enough, the batter will stay at the bottom of the pot rather than rising to the top.

Using your hands grab a little bit of mixture at time and drop in the oil.

When the oil is hot enough, use a spoon to dish up the batter, and another spoon or spatula to drop it in the oil, sort of in the shape of a ball.

Fry for a few minutes until the bottom side is golden brown.

Turn the ball over and fry for a few more minutes until the other side is golden brown.

Use a large spoon or something like that to take it out of the oil. I usually place them on napkins right away to soak up some of the excess oil.

If desired, you can roll the finished product in table sugar or powdered sugar to make it sweeter
Nutrition Information:
Calories:
397
kcal
(20%)
|
Carbohydrates:
72
g
(24%)
|
Protein:
10
g
(20%)
|
Fat:
6
g
(9%)
|
Sodium:
9
mg
|
Potassium:
119
mg
(3%)
|
Fiber:
3
g
(13%)
|
Calcium:
18
mg
(2%)
|
Iron:
4.4
mg
(24%)
Nutrition Facts
Puff-Puff
Amount Per Serving
Calories 397
Calories from Fat 54
% Daily Value*
Fat 6g9%
Sodium 9mg0%
Potassium 119mg3%
Carbohydrates 72g24%
Protein 10g20%
Calcium 18mg2%
Iron 4.4mg24%
* Percent Daily Values are based on a 2000 calorie diet.
How to Make Puff Puff