Most Popular African Snacks and Appetizers you can easily make at home – Africa has a number of wonderful and scrumptious snacks derived from it's eclectic mix of Cultures and Traditions.
Here's a list of the most loved African snacks and treats that are an Absolute Must-try!
Mandazi- These are one of my favorites , and a favorite among many readers. If you are having a party, make these. They will fly off the the table . Mini Beignets made with with grated coconut, spiced with cardamon, nutmeg and fried to perfection. Light, fluffy and addictive! Need I say more? Get the recipe

here

.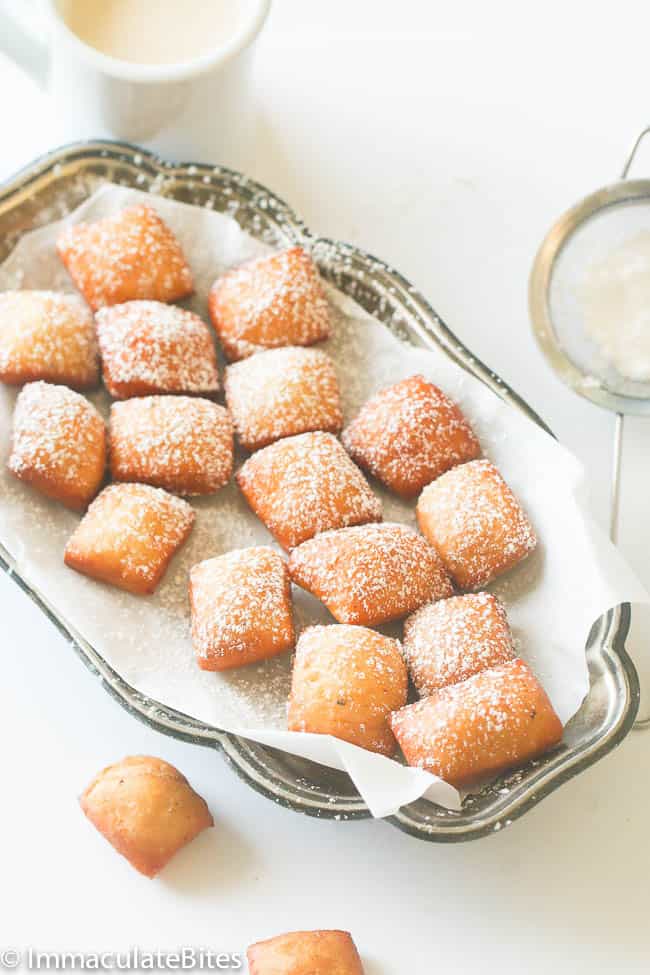 Suya(Chicken)- Who doesn't love anything on a stick ? Well if you don't…. make em and send it to ME ! Seriously , you are going to love this SUPER POPULAR African beef on skewers. It's spiced with pantry staple ingredients and Peanuts . A must make ! Get the recipe

here

.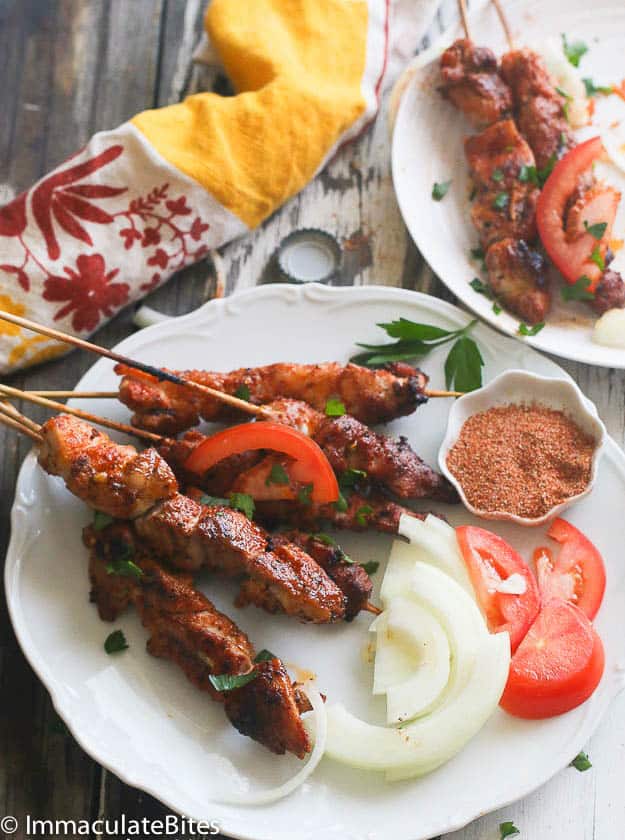 Koeksisters-Traditional koeksisters from South Africa -Deep fried braided dough drenched in lemony syrup. Sticky , Spicy and Sweet – Just like me . After the first bite you would start craving it more and more . Get the recipe here.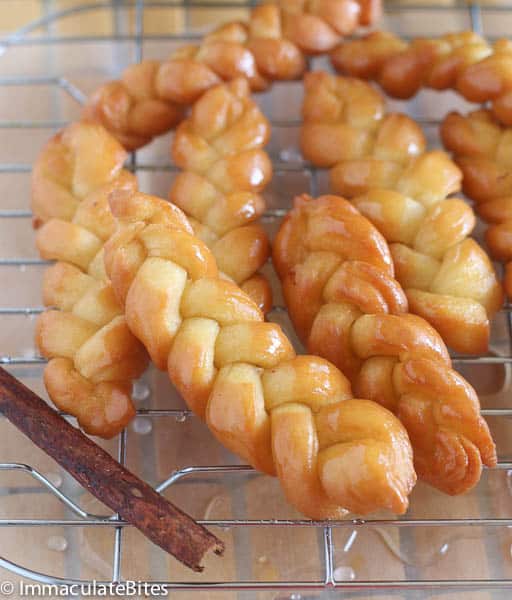 Chin Chin- Christmas wouldn't be the same without these West African pastry. – Once I pop I can't stop eating . Guess where I keep mine? In the trunk of my car. Why? Cause I eat the whole thing. No Kidding!!! My weakness! Get the recipe here .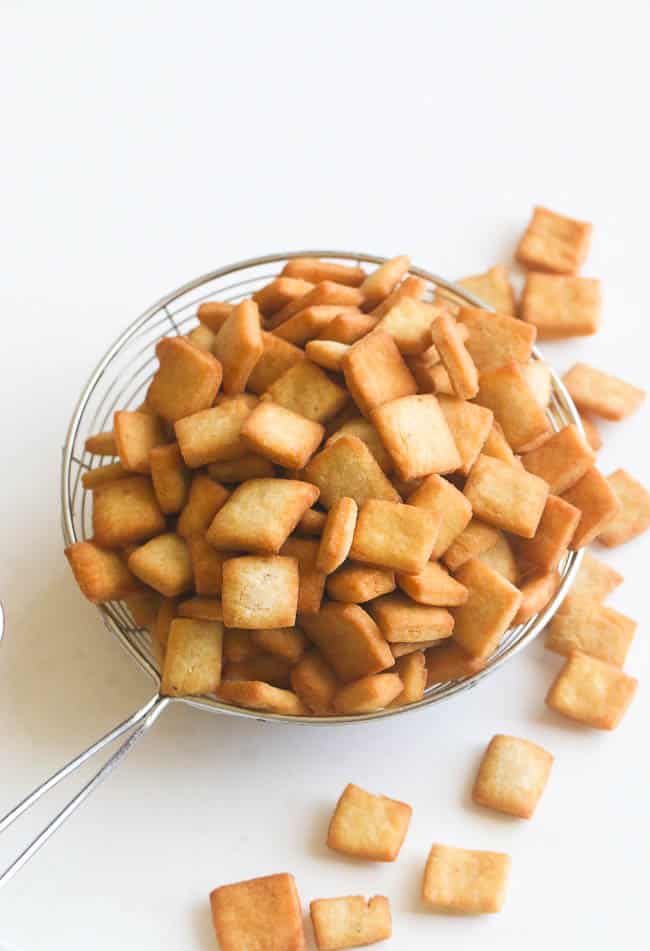 Crunchies- South African Oatmeal bar – SO GOOD , SO NUTTY. They are great for an on-the-go breakfast. Ditch the store brand and make yours ! Get the recipe here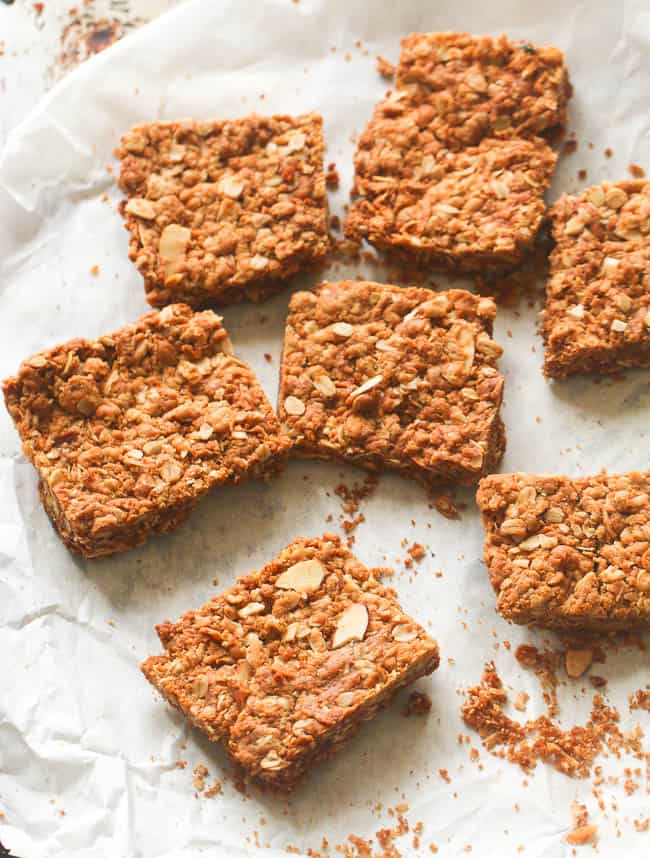 6 . African Meat Pie – Slightly Sweet, flaky and crusty with a succulent filling. These beef Pie are just incredible. A flaky, buttery crust surrounding the most amazing, fragrant beef filling! Get the recipe here.
Vetkoek aka Fat Cake- These are Calling my name …Crispy on the outside -warm and fluffy inside, filled with minced curry. Get the recipe here.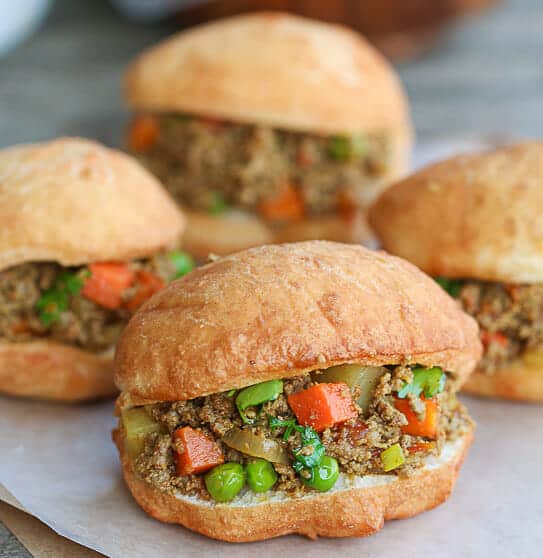 Puff-Puff (Deep fried dough)- The Quintessential West African Snack . Loved by kids and adults too! Get the recipe

here

.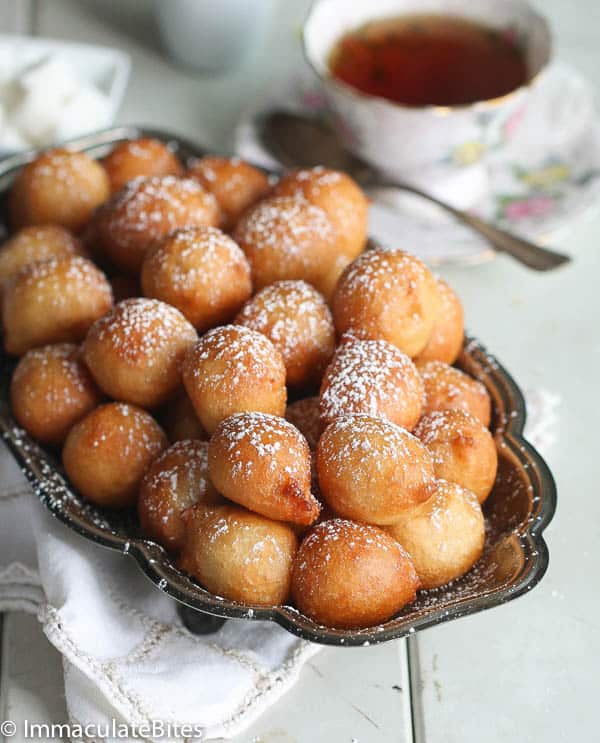 African Fish Roll(Fish pie)- These are always the first to go. Trust me ! You can't say no to these Delicious Fried fish rolls. They conjure so many childhood memories for many. Be sure to seal them tight with water and flour. and double or triple the recipe when entertaining . Thank me later. Get the recipe here.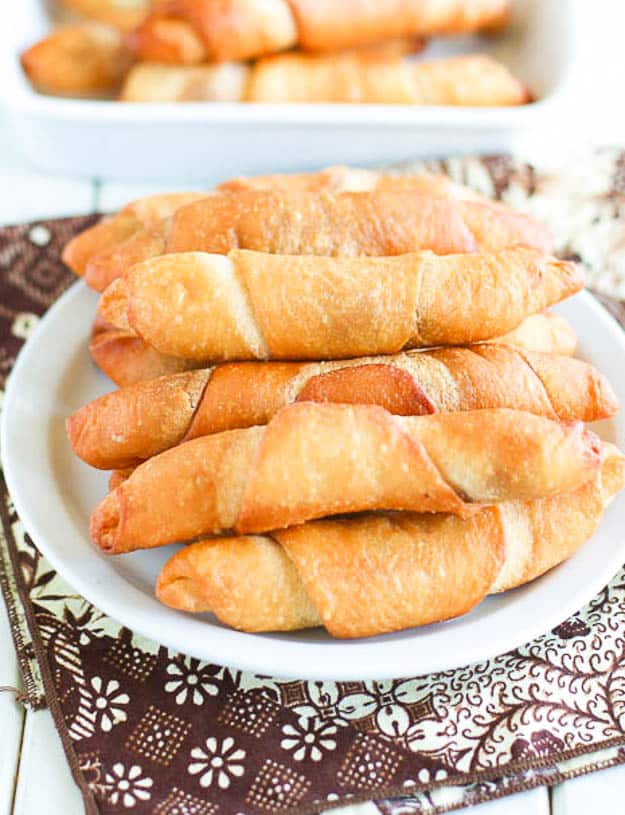 Black Eyed Peas Fritters (Akara)- Spicy , Crispy and crunchy, irresistibly Fritters made with fresh black eyed peas, onions, hot pepper and salt. Get the recipe

here

.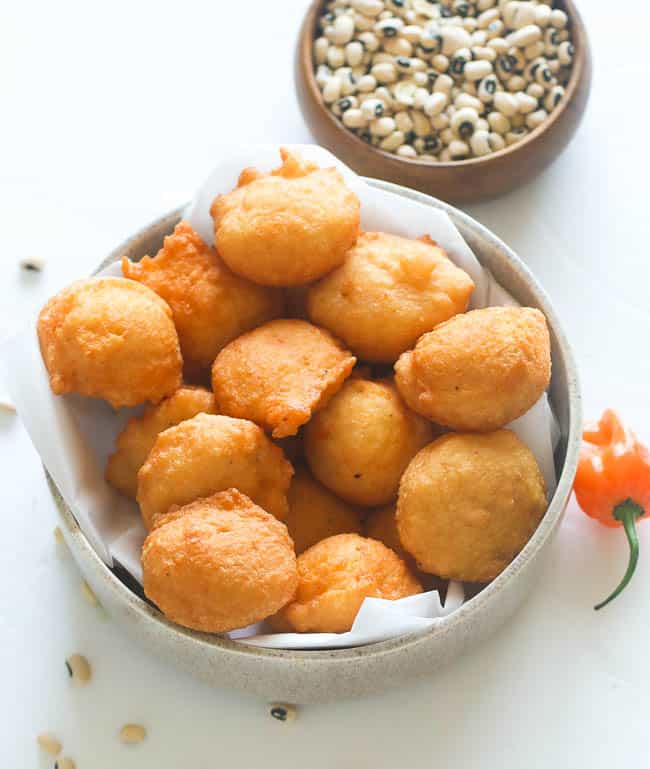 Plantain Chips- Guilt free plantain chips is a great healthy alternative snack. Spicy, sweet, salty, exotic, and crunchy. These chips are baked with very little oil and deliver a very satisfying toasty crunch. Get the recipe here.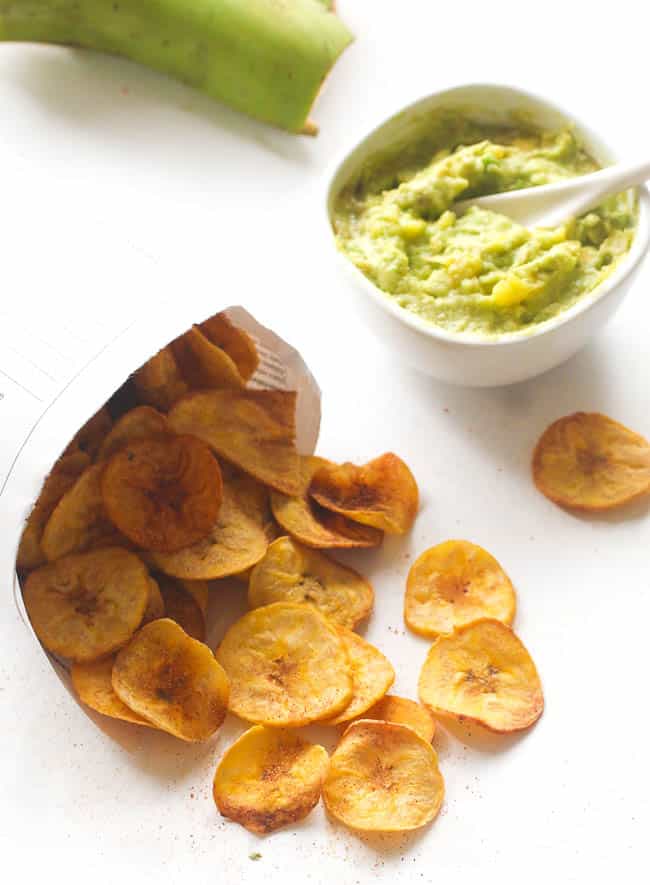 Accra banana aka Kouti – These popular fritters are made with only 3 ingredients- Gluten free, Vegan and Delicious – Ready in less than no time. Get the recipe

here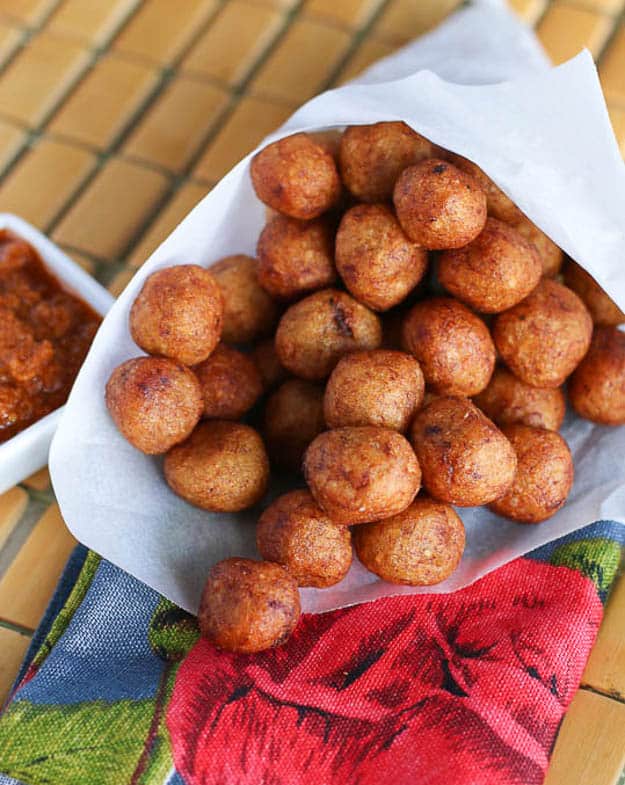 Groundnut Sweet( Sugar Peanuts aka Candied nuts)- These highly addictive candied peanuts are color free (no added color to make it bright), egg free ( vegan) but still have that crusted crunchy layer of sugar. Get the recipe here.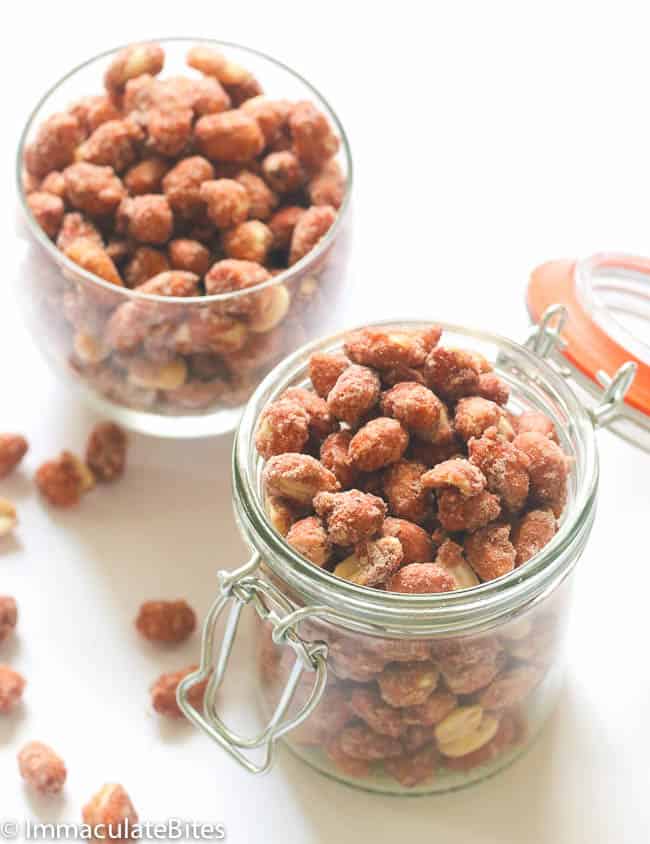 Kelewele or Aloco(Spicy Fried Plantains)- Spicy plantain and peanuts – YES PLEASE ! Get the recipe

here.
African Egg Roll- Meatless Scotch Eggs – A snack enjoyed throughout West African. Get the recipe

here

.
15. Bhajias- East African Snack, enjoyed especially in Kenya and Tanzania, a cultural import from the Indians dipped in a thick gram flour paste of spices, herbs – Fried until crispy. YUM! Get the recipe here.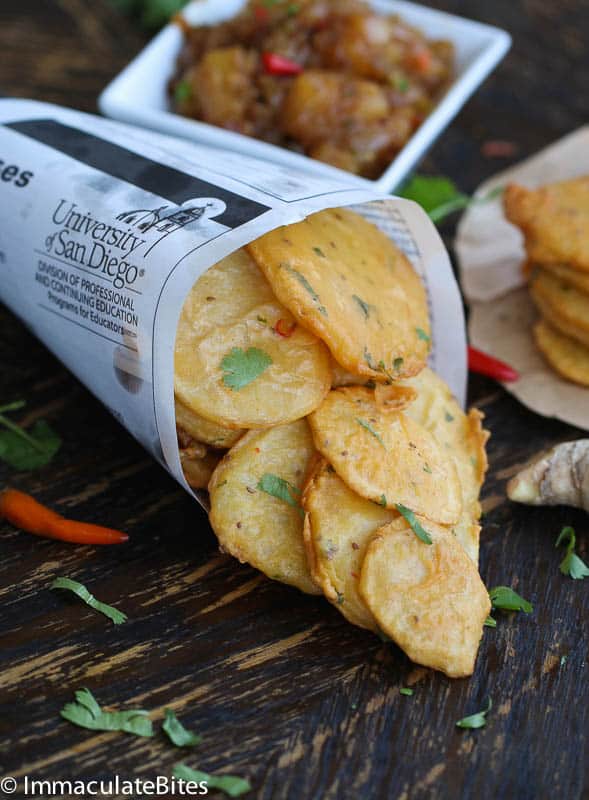 Do you have a favorite African Snack? Please share! The more the merrier. Happy Cooking !!!