Crunchies- South African Oatmeal Bar- Nutty, buttery, Sweet, and Crunchy – quite a treat these little wonders.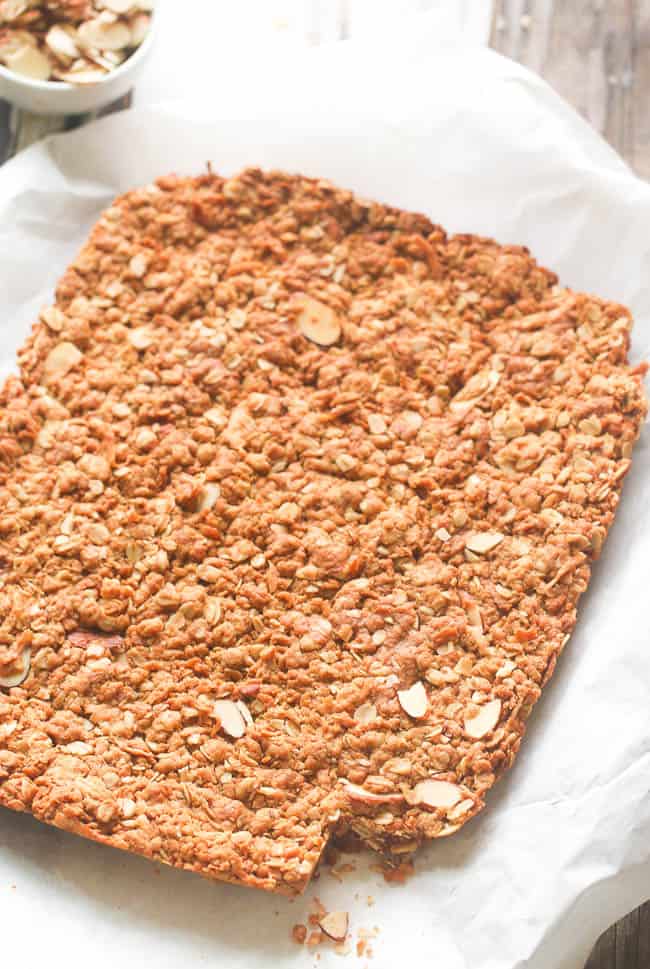 If you are one of those that dislike granola bars – I am going to say give this will make you a convert. They beat granola bar hands down. What sets them apart is the flavor- they are sweet, salty, crunchy, spicy, buttery and Naughty- How about Coconuttty?
Do you fall under the 1% that's not addicted to sugar but still try some of my sugary recipes, guess what? This crunchy bar is for you, too! Yes, a sweet oatmeal   bar that appeals to both the sugar addicts and the healthy peeps! My kind of peeps – just so you know, I fall under both categories.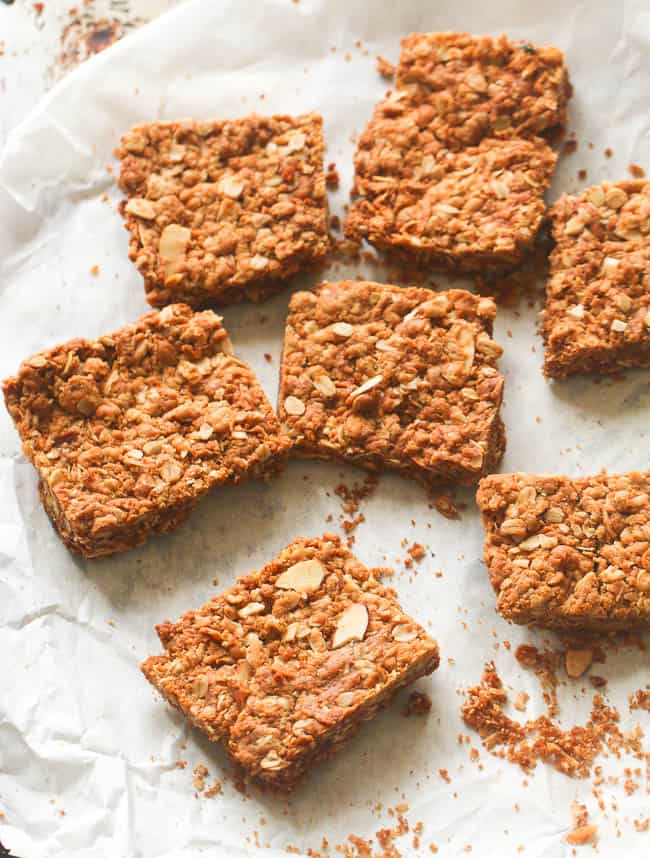 They are also very adaptable for the healthy peeps- throw in some pumpkin seeds, sunflower seeds, and raisins. I have been playing around with gluten free flour and made a batch with rice flour and it worked out great- so if you want a gluten free snack, switch up the flour with rice flour.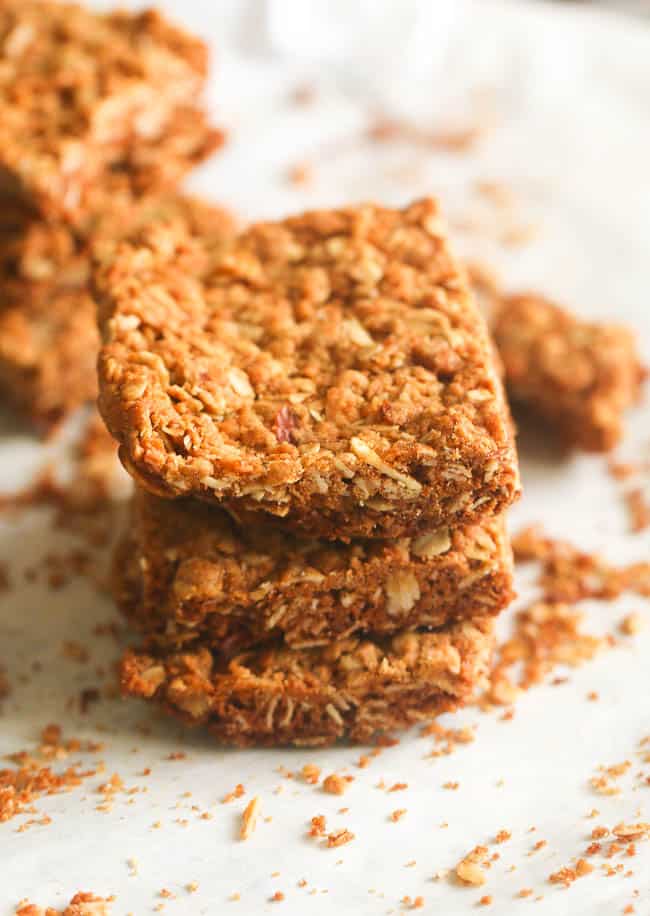 All the guilt of these crunchies could be off set the   by using some of the afore mentioned ingredients. Double up on these during this valentine season and pass it on.
If you want super crunchy bars make them slightly thinner and bake until they are golden brown.
Store in an airtight container for up to a week.
Enjoy!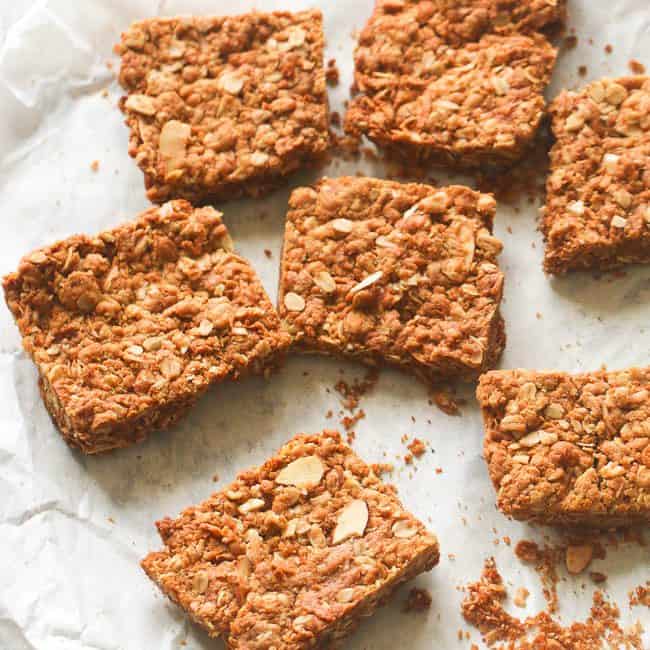 Print
Crunchies
Crunchies- South African Oatmeal Bar- Nutty, buttery, Sweet, and Crunchy – quite a treat these little wonders.
Prep: 10 mins
Cook: 30 mins
Total: 40 mins
African
Ingredients
6 ounce 170grams butter
11/2 tablespoon golden syrup or honey
1 teaspoon baking soda
1/2 cup 100grams granulated sugar
1/4 cup 50grams brown sugar
1/2-1 teaspoon salt
1 cup dry shredded coconut
1/3 cup sliced almonds
1 1/2 cups of oats
1 1/4 cup flour
1 teaspoon cinnamon spice
1 teaspoon nutmeg spice
Instructions
Prepare a 8x8 or 9x13 baking pan/sheet if you want a thin crunchies - grease or spray with cooking oil. Set aside

Melt butter, syrup, brown sugar, sugar and salt in a saucepan, until completely melted. You may do this in a microwave safe bowl. Then add baking soda. Mix.

combine all the other ingredients in a large bowl – oatmeal, flour, coconut, sliced almonds and spices. Thoroughly mix.

Pour butter mixture into the bowl of oatmeal mixture , mix well.

Press mixture into a greased baking pan. You may use parchment paper to smooth it out.

Start baking at 325 degrees F for about 10-15 minutes , then finish at 300 degrees for another 10 minutes or until golden brown ,depending on your oven. Start checking after 20 minutes. Remove let it cool completely, then cut in to squares and serve. You may store in an airtight container for up to a week
Tips & Notes:
Recipe update from 8 ounce butter to 6. I have tried it several times with less butter and it works great.
You may increase the baking time , adding about 10 more minutes to get it really crunchy.
Nutrition Information:
Calories: 233kcal (12%)| Carbohydrates: 22g (7%)| Protein: 3g (6%)| Fat: 15g (23%)| Saturated Fat: 9g (56%)| Cholesterol: 24mg (8%)| Sodium: 234mg (10%)| Potassium: 103mg (3%)| Fiber: 2g (8%)| Sugar: 7g (8%)| Vitamin A: 285IU (6%)| Vitamin C: 0.1mg| Calcium: 20mg (2%)| Iron: 1.2mg (7%)
Nutrition Facts
Crunchies
Amount Per Serving
Calories 233 Calories from Fat 135
% Daily Value*
Fat 15g23%
Saturated Fat 9g56%
Cholesterol 24mg8%
Sodium 234mg10%
Potassium 103mg3%
Carbohydrates 22g7%
Fiber 2g8%
Sugar 7g8%
Protein 3g6%
Vitamin A 285IU6%
Vitamin C 0.1mg0%
Calcium 20mg2%
Iron 1.2mg7%
* Percent Daily Values are based on a 2000 calorie diet.