So you've heard that ekwang is tedious, time consuming to make but still crave it… long for it …and want to make it.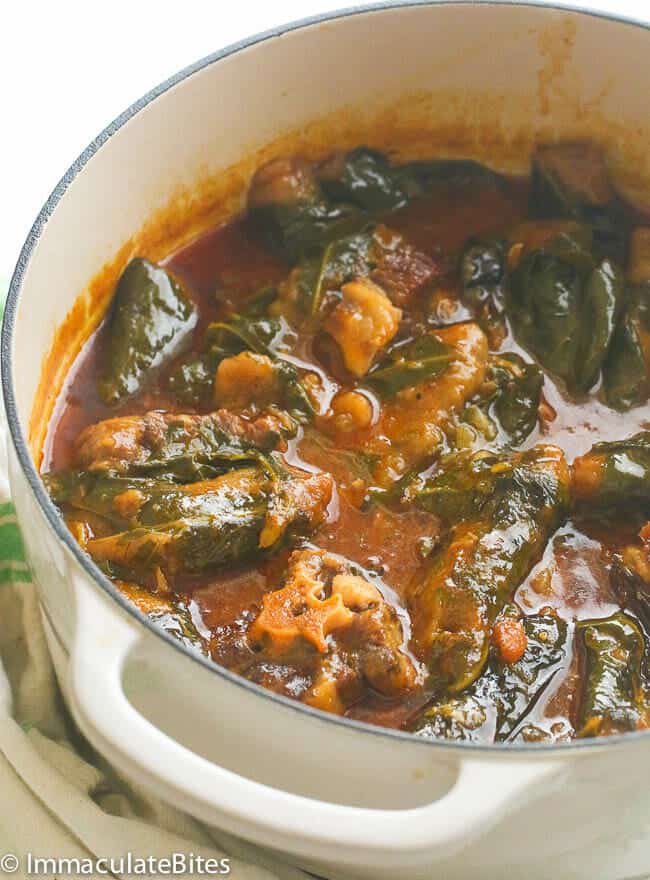 You are not alone!
I am going to show you how to make it and a few pointers and short cuts to satisfy your craving.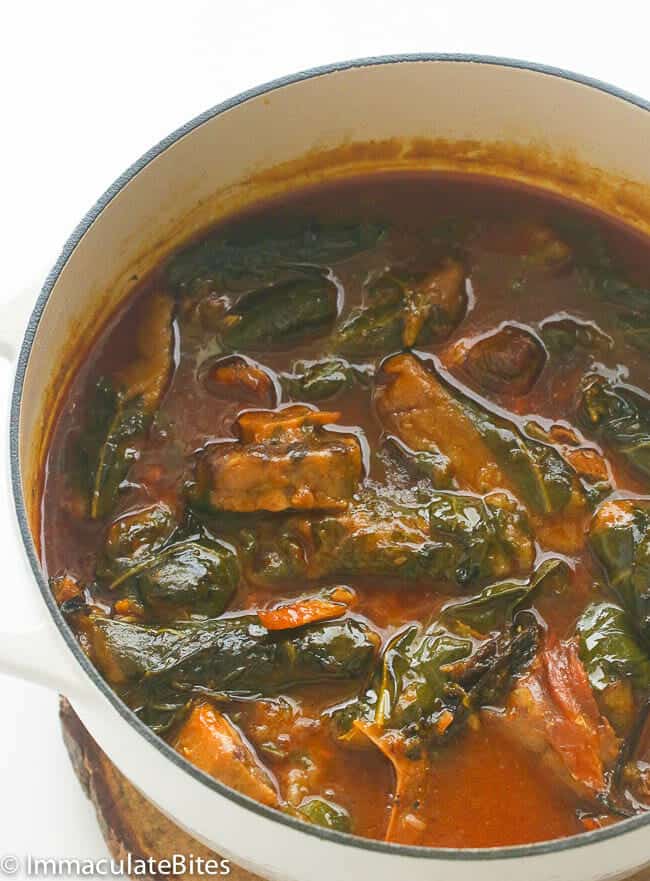 It's pretty popular in the southwest part of the country.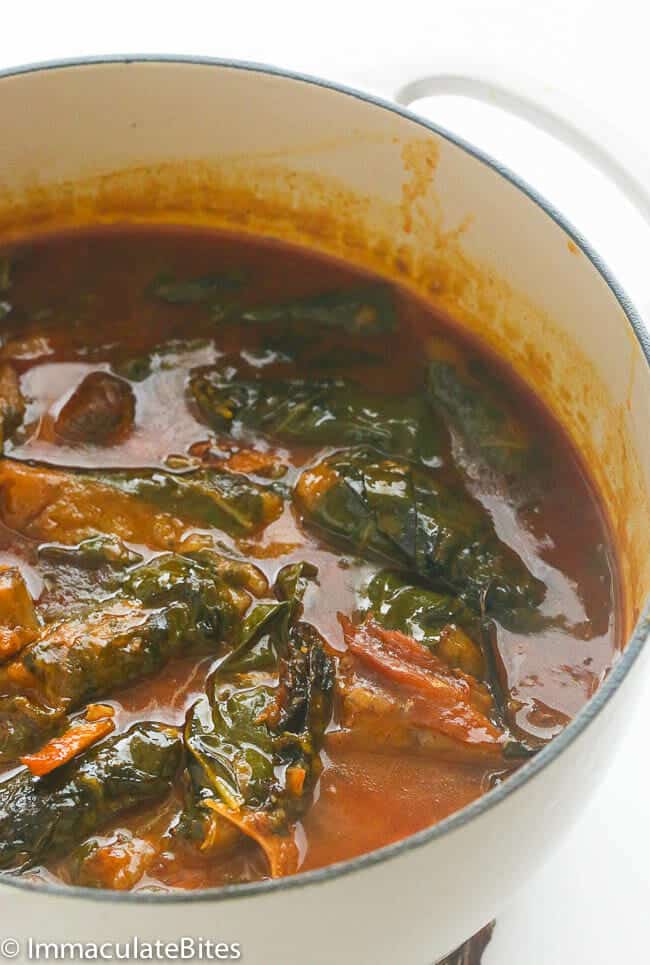 Ekwang also known as ekpang nkukwo is a traditional Nigerian and dish native to the Efiks and Ibibios. It is also widely enjoyed in Cameroon and very popular with the Bakweri tribe in
It is made of freshly grated cocoyam, then wrapped in leafy greens and slowly simmered with various types of fresh or smoked meat, fish, crayfish, red oil and other spices depending on the cooks preference until cooked to perfection.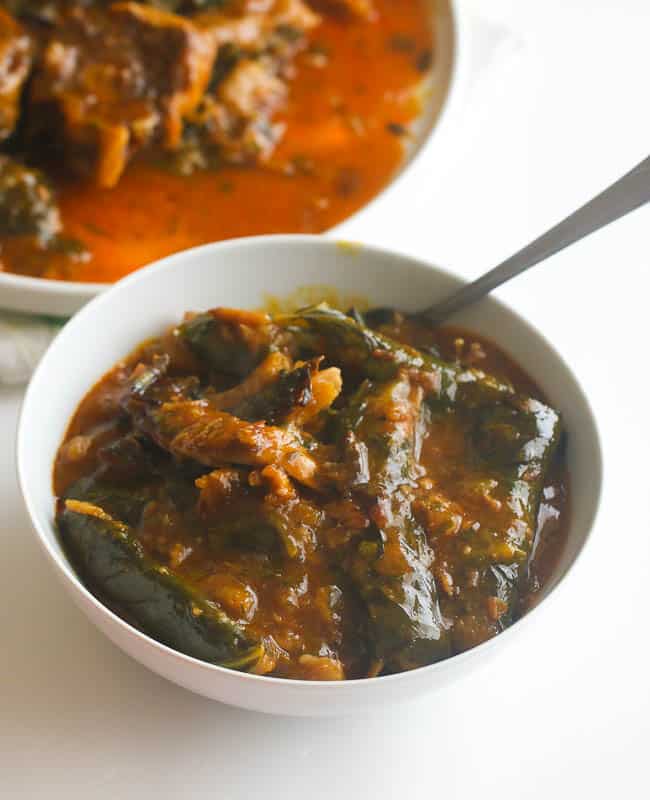 Keep this in consideration when making ekwang.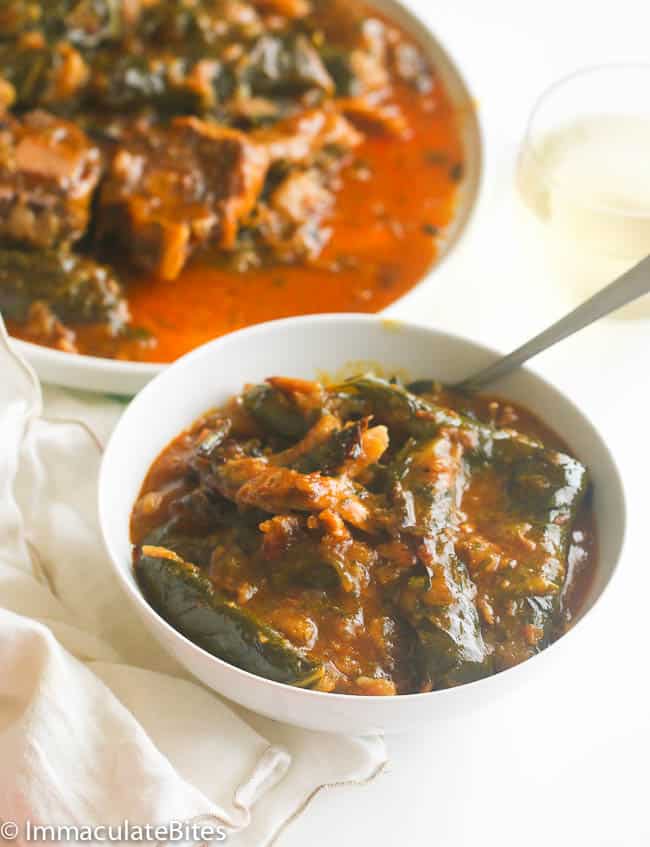 There are many varieties of cocoyam, for this recipe, the red cocoyam is best. However, you can use white ones with good results, but you have to dry it out. Buy it a couple of days before using it and let it dry out before you clean and use it.
Although it is traditionally made with cocoyam leaves or sweet bitter leaves, you can use any fresh leafy greens available such as collard greens, spinach, or even romaine lettuce, or a combination. What I use depends on what is available. Pick the ones without holes or tears.
If you have a grater and are up for it, then, by all means, use it. But the majority of us don't have the time to grate the cocoyam, so to shorten this process you can use a food processor to grate the cocoyam.
Keep the stirring to a minimum to prevent the ekwang from becoming mushy.
Watch How To Make It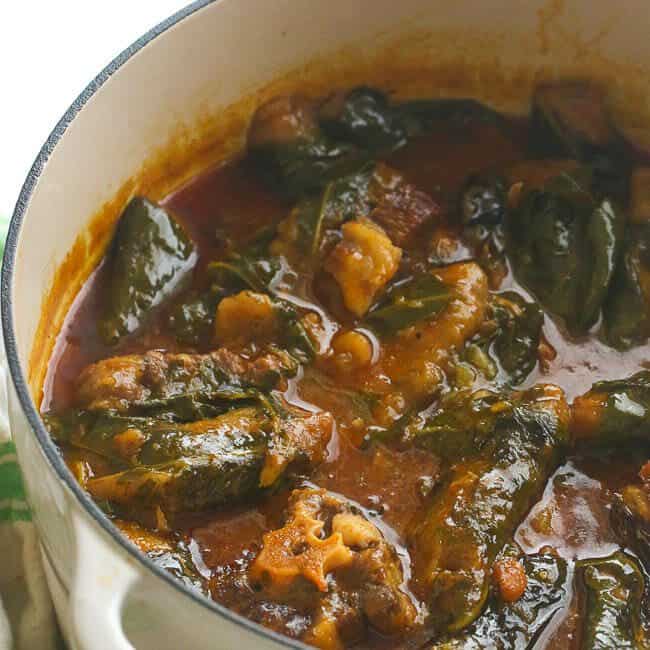 Print
Ekwang ( Ekpang Nkukwo )
Prep: 1 hr
Cook: 1 hr 5 mins
Total: 2 hrs 5 mins
African
Ingredients
4 pounds cocoyam
4-5 bunch leafy greens cocoyam leaves, collard greens, spinach, romaine lettuce
½ pound boiled meat beef
1-2 cups dried fish
½ cup ground crayfish
½ medium onion chopped
1 1/2 -2 cups palm oil /red oil
1 tablespoon bouillon granules / Maggie
1 tablespoon ground country onions optional
1 teaspoon white pepper
1 scotch bonnet pepper or any hot pepper optional
1 teapoons bitter leaf optional
Salt and pepper to taste
Instructions
Cut the beef in bite size chunks, season with salt, Maggi, and onions and cook until tender. make sure you have at least 2 to 3 cups of stock from the beef. to use in cooking this dish.

Peel Coco yam with a sharp knife, peeling away from your body carefully draw the paring knife down the body of the yam, being careful not to remove too much of the yam in during the process.

Look for any spoiled spots, such as bruising and discoloration, in the Cocoyam as you peel. Remove the spots away with the tip of the knife.

Cut into large chunks and wash immediately to prevent discoloration and leave them in cool water until ready to use.

Pulse the cocoyam in a food processor with until puree or use a grater to grate the cocoyam. Lightly salt and set aside.

Wash leaves and tear them into medium pieces, making sure there are no tears or holes in the leaves.

Oil a large pot with about ½ cup of palm oil. Set aside

Scoop a tablespoon or so of grated cocoyam mixture onto a leaf and wrap tightly (to form the shape of fingers) making sure the cocoyam is not sticking out.

Arrange wrapped cocoyam fingers in the oil pot in a circle leaving a hole in the middle. Repeat until cocoyam mixture has been completely used up.

In a separate pot bring about 7 cups of water to a boil.

Add chopped onions, crayfish, fish, meat, salt, pepper, bouillon cubes, palm oil, and country onions to the pot.

Let it simmer for about 10 minutes, there should be no stirring at this point until most of the ekwang firms up- add about 1/2 cup of beef stock to prevent any burns.

Then after ekwang firms up add about all the beef stock if you have any with about 3 cups water or just use 4-6 cups of hot water or more to the pot and let it cook on medium heat for about an hour until fully cooked. You may add more water to prevent burns.

Stirring should be kept at a minimum- to prevent the ekwang from becoming mushy.

Adjust for ekpang consistency with water, salt and pepper.
Nutrition Information:
Calories: 534kcal (27%)| Carbohydrates: 128g (43%)| Protein: 34g (68%)| Fat: -13g (-20%)| Saturated Fat: -8g (-50%)| Cholesterol: 110mg (37%)| Sodium: 439mg (19%)| Potassium: 4123mg (118%)| Fiber: 18g (75%)| Sugar: 3g (3%)| Vitamin A: 665IU (13%)| Vitamin C: 82.4mg (100%)| Calcium: 111mg (11%)| Iron: 4.3mg (24%)
Nutrition Facts
Ekwang ( Ekpang Nkukwo )
Amount Per Serving
Calories 534 Calories from Fat -117
% Daily Value*
Fat -13g-20%
Saturated Fat -8g-50%
Cholesterol 110mg37%
Sodium 439mg19%
Potassium 4123mg118%
Carbohydrates 128g43%
Fiber 18g75%
Sugar 3g3%
Protein 34g68%
Vitamin A 665IU13%
Vitamin C 82.4mg100%
Calcium 111mg11%
Iron 4.3mg24%
* Percent Daily Values are based on a 2000 calorie diet.