Green Bean Casserole is a classic holiday dinner staple. Made from scratch with  tender crisp Green Beans  and  fresh mushrooms. Watch it fly off the table !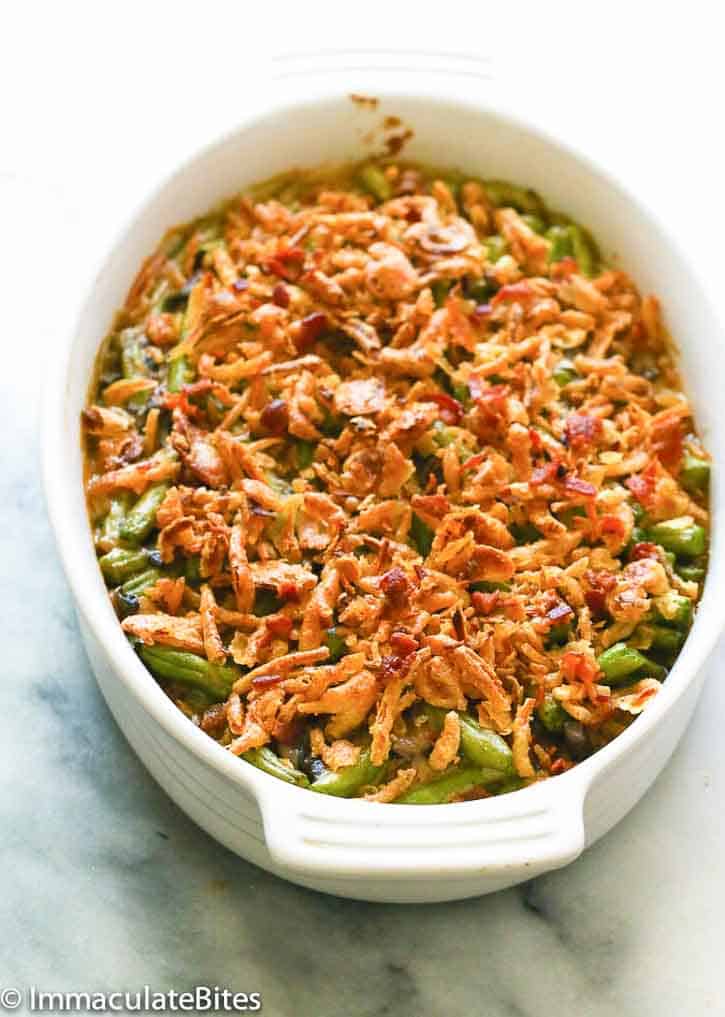 No matter what you're serving, this casserole will pair well with it. The green beans combined with the creamy scratch-made mushroom sauce (yes, no canned cream of mushroom soup here) creates a nice balance.
The beans have a subtle flavor and tender texture. That flavor and texture are accompanied by the earthiness of fresh mushrooms as well as the onions and bacon drippings used in the delicious sauce. It coats the beans perfectly while keeping the casserole moist and delicious.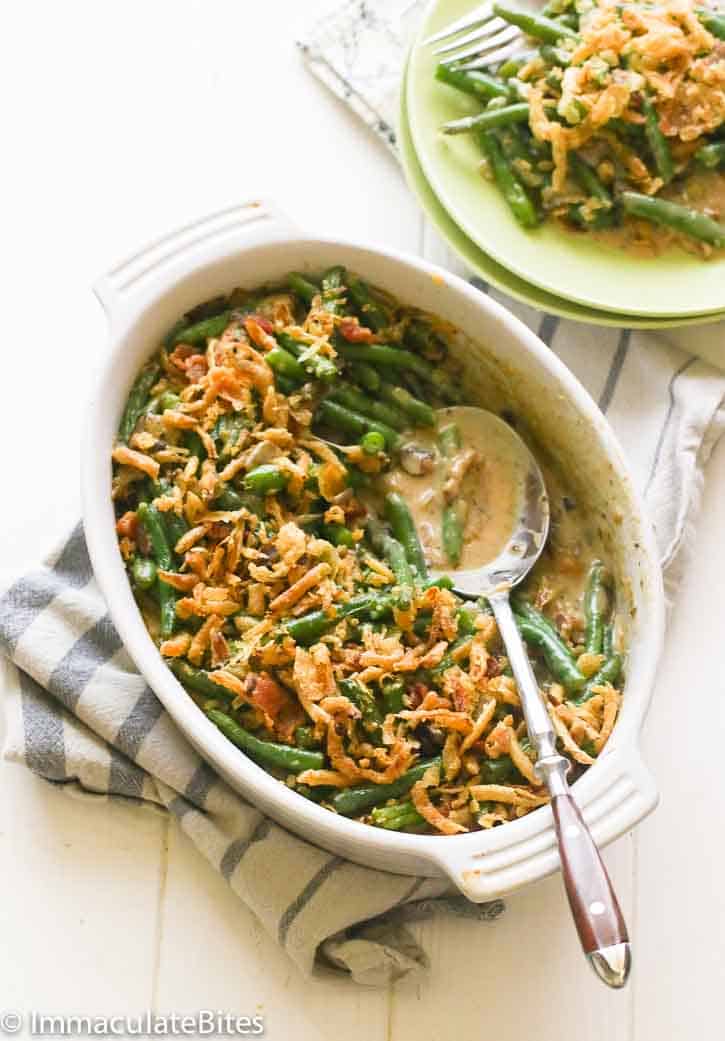 We've talked about the main components of the casserole but let's not forget the spices and seasonings used to enhance those natural flavors as well as the crispy onion topping. Cayenne pepper is used as well as creole salt which is basically salt enhanced with common creole seasonings like paprika, thyme, and more cayenne.
Below is the main component of this creamy Green Bean Casserole – a fail proof dish that anyone can whip up in no time.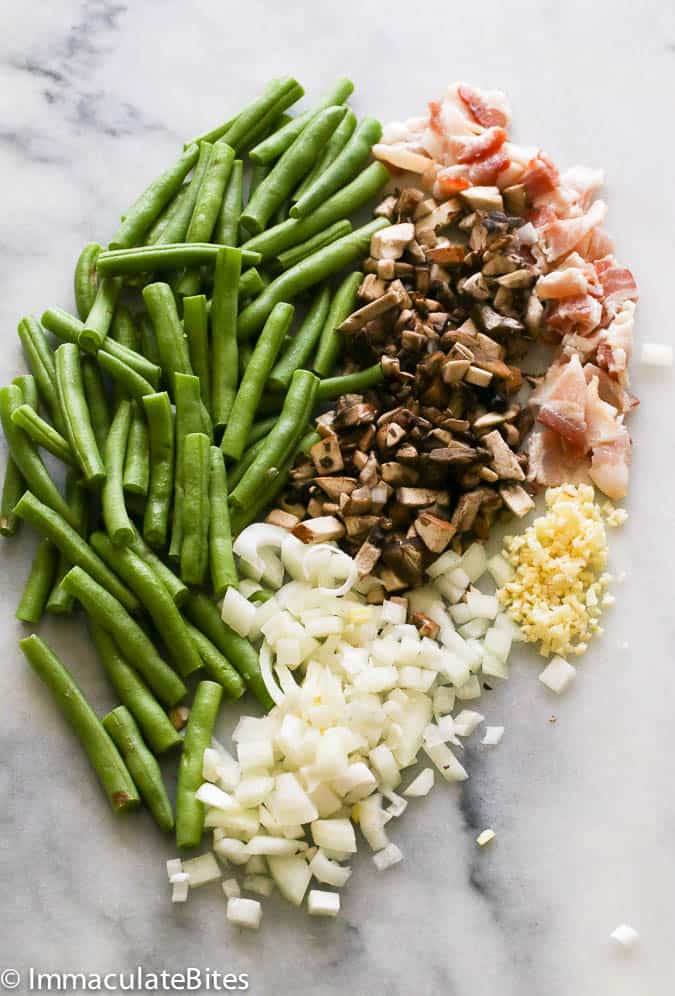 The combination of the seasonings wakes up the recipe and adds a background note of heat. As for the crispy onions, there is something so special about them.
They are the ideal textural greeting for this casserole.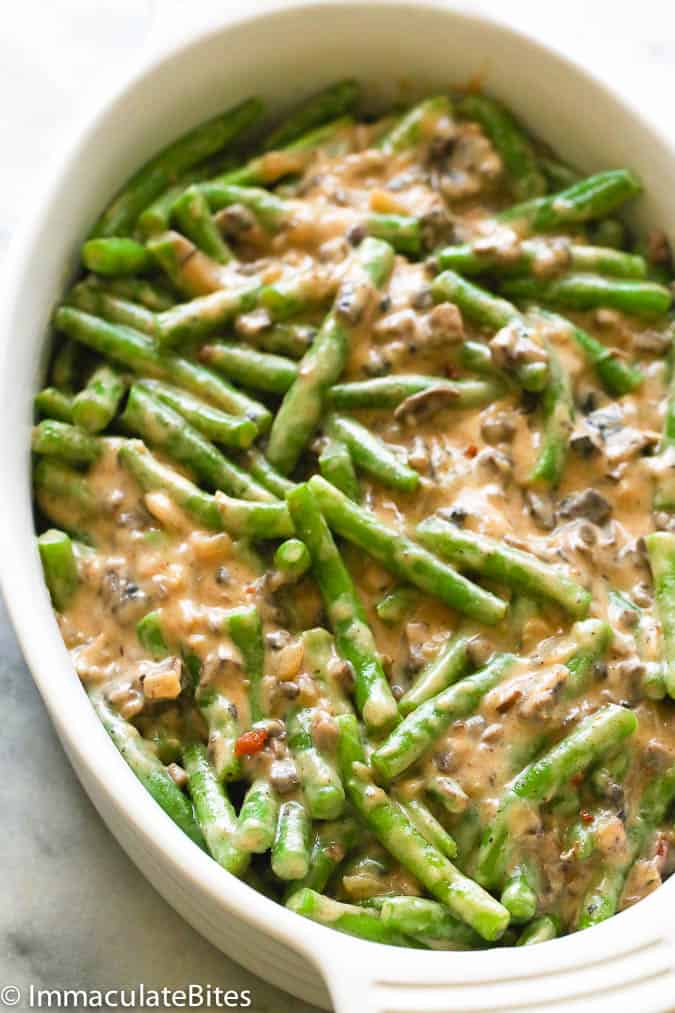 The crispy coating is a little salty, frying them until golden gives them a nice crust and they lend their subtle sweetness.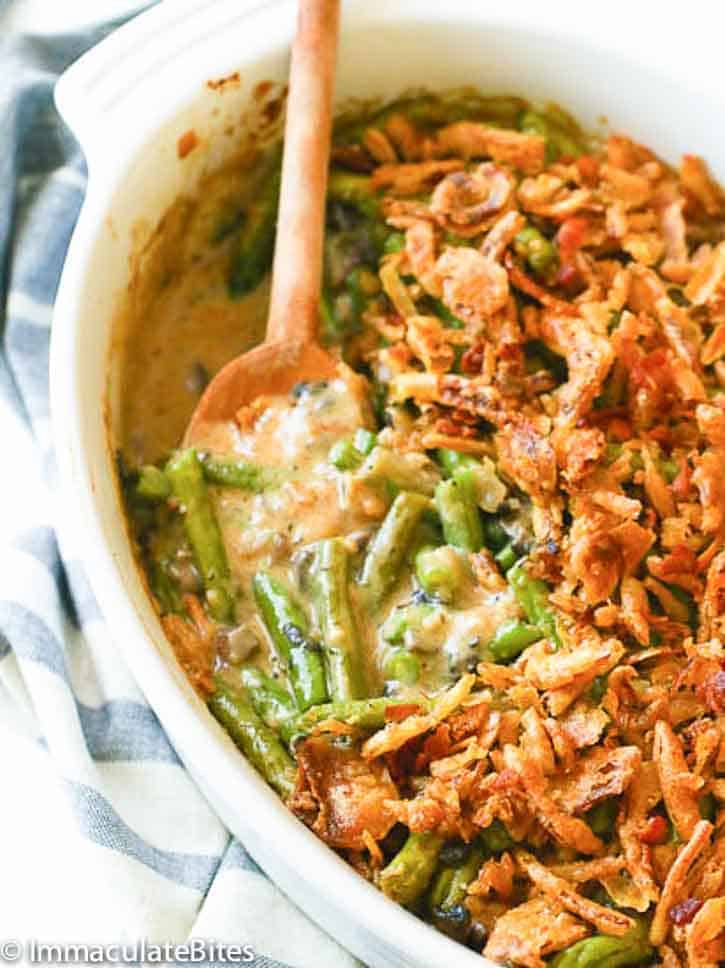 You can't go wrong when you make this American classic and even more importantly, scratch-made sauce makes a difference. 
The homemade mushroom sauce is what takes a green bean casserole from basic to exceptional.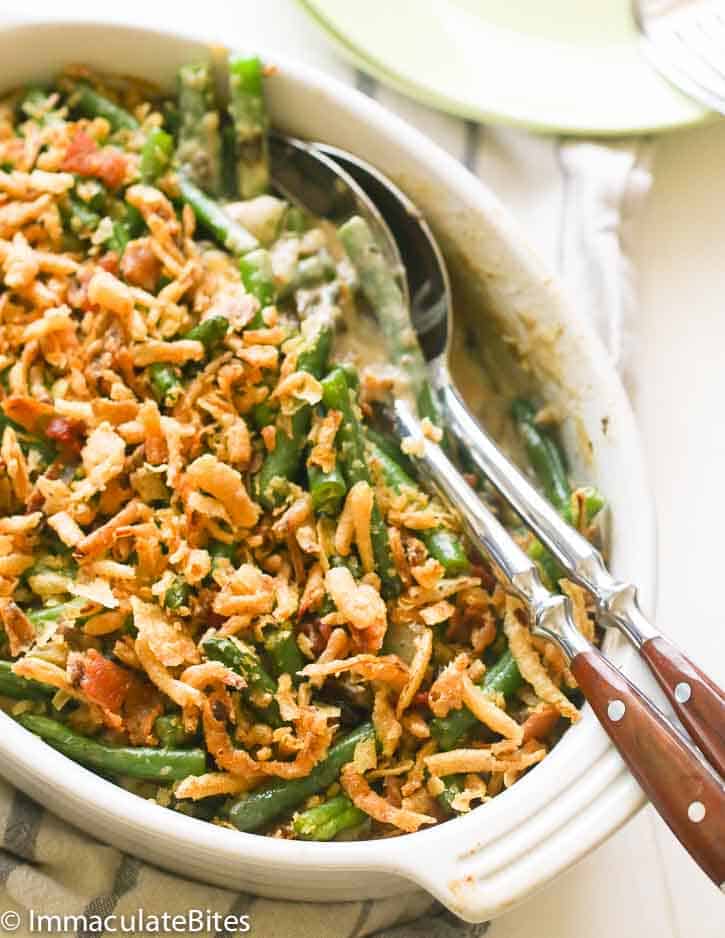 Even this Green Bean Casserole is supposedly to be a side dish, sometimes you just don't want to eat anything else with it. Yes, it's that good! 
If you already have that holiday menu list, make sure to add this one. Enjoy!
Tips and Notes:
You may sub the canned fried onions here with panko crumbs to top the casserole. But the canned fried onions really makes a difference. It's your call.
To make your own homemade fried onions, you might have to use a mandoline slicer to get even thinness of the onions. You can even made it up to a month in advance and store in an air-tight container. Remember to fry them in batches, stirring constantly to brown evenly.
If you prefer using canned green beans, you can skip the first step (blanching part).
You can make this dish ahead by assembling the casserole without the fried onion toppings and store tightly wrapped in the fridge for up to three days.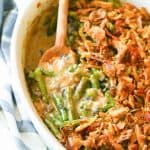 Green Bean Casserole
Green Bean Casserole is a classic holiday dinner staple. It is fresh and vegetal but also has a rich, decadent element making it very versatile.
Ingredients
4

slices

thick-cut bacon

diced

1

medium onion

finely chopped

3-4

cloves

garlic

minced

8

ounce

mushrooms

chopped

3

tablespoons

butter

3

tablespoons

all-purpose flour

1

cup

evaporated milk

1

cup

chicken broth

½

cup

shredded cheddar cheese

¾

teaspoon

salt

¼

teaspoon

freshly ground black pepper

1 1/2

pound

fresh green beans

trimmed, halved

2

cups

Fried onions
Instructions
Bring a pot of water to a boil, then add green beans and let it cook for about 4 -5 minutes. Remove add in cold iced water to stop the cooking. Drain and set aside. This step might be done in advance and refrigerated to save time.


Place sauce pan or skillet on medium high heat, then add bacon, saute until crispy about 5-7 minutes. Drain oil, then add onions, garlic and continue cooking until wilted.


Throw in mushrooms, cook for about 5-6 more minutes . Remove mixture from pan and set aside. Wipe clean.


Next butter to skillet, as soon as butter melts whisk in flour. Continue whisking until flour is fully mixed with butter, then cook for about a minute to get rid of the flour taste.


Slowly add chicken broth, a little at the time, followed by the milk; you do not want the mixture to form any lumps. Bring to a simmer then turn down to medium heat so it simmers gently and thickens into a cream sauce - about 6 to 8 minute.


Add salt and creole seasoning , remove pan from heat, add the green beans and If desired add about a cup of the fried onions. Stir to combine. Adjust seasonings to taste. Transfer the green bean mixture into a 9×13-inch baking dish, spread, then top with fried onions.


Place in oven for 25-30 minutes, until bubbly and golden brown.
Nutrition Facts
Green Bean Casserole
Amount Per Serving
Calories 472
Calories from Fat 297
% Daily Value*
Total Fat 33g 51%
Cholesterol 79mg 26%
Sodium 1134mg 47%
Potassium 914mg 26%
Total Carbohydrates 28g 9%
Protein 18g 36%
* Percent Daily Values are based on a 2000 calorie diet.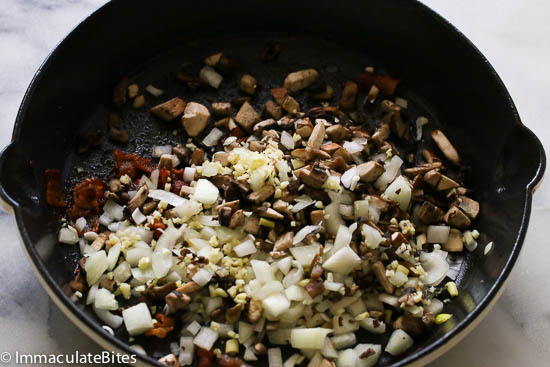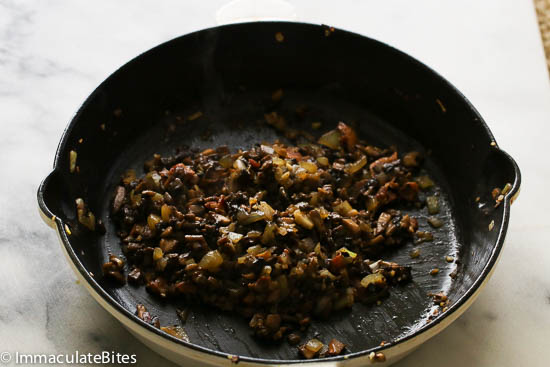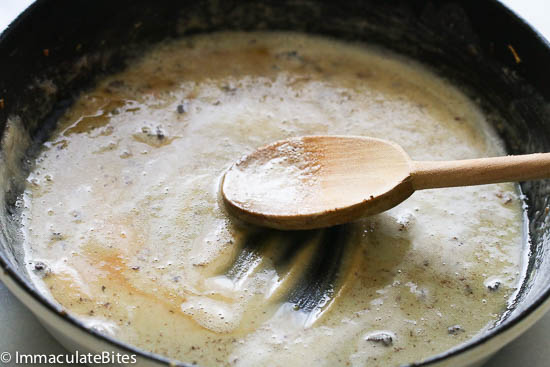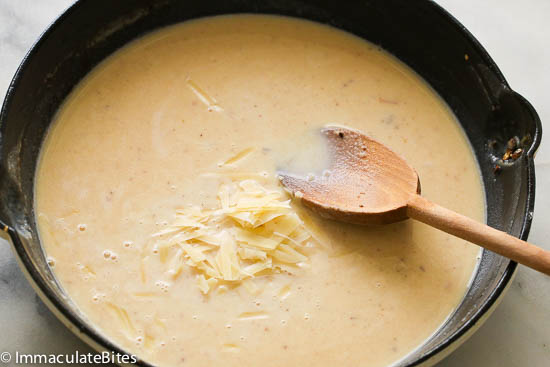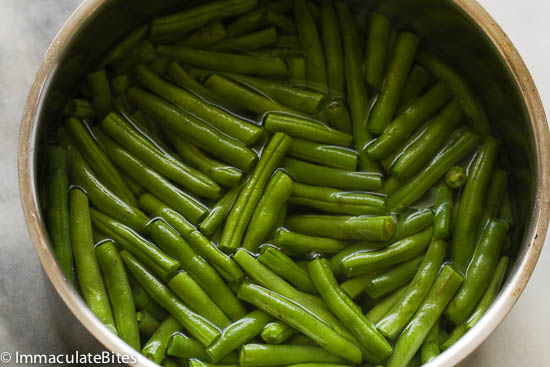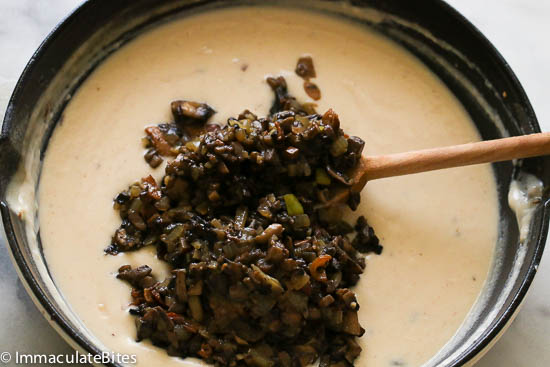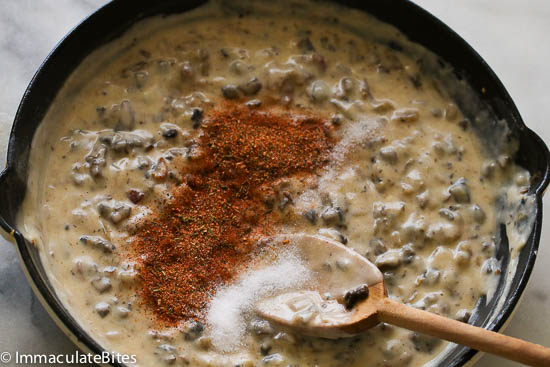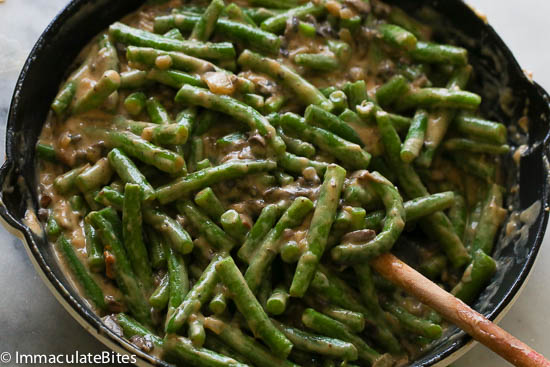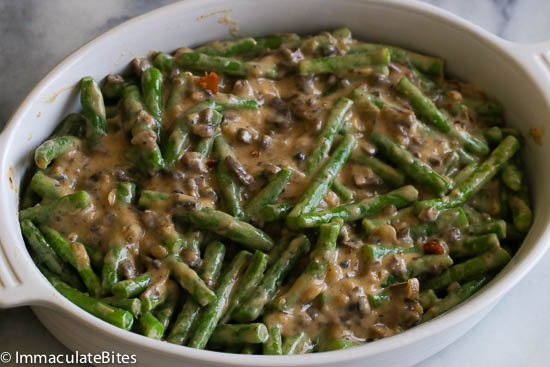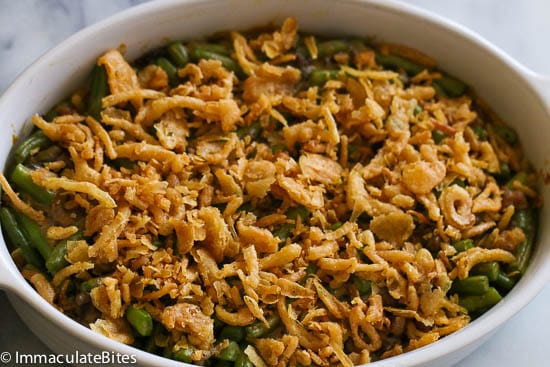 <
SaveSave
SaveSave