Chopped, diced, minced, julienne, and ring, knowing HOW TO CUT ONIONS is an essential skill every cook should have. Aside from the flashy techniques and the sparkling knife exhibitions, a great cook will know what cuts to use for the dishes to be prepared.
The skill is so important, that people literally lost their fingers because they didn't know how to use knives properly. I don't want to lose any of my digits and neither should you. So, keep your digits!
Today, we'll show you these simple knife skills you could safely try in the comfort of your own home (but do prepare a first aid kit just in case.)
This essential skill is one of the first things you'll ever learn in culinary school, think of it as your ABCs in cooking, but you don't need culinary school for this. We'll use onions for this tutorial because why not? Onions are basically a common language for food around the world. This means everyone in the world could relate (come on guys, it's 2020, let's all be inclusive!). So without further ado, let's get right into it.
The Cook's Hand
Here's a pro tip: The proper way of holding an onion in place is to have your hand semi clenched, like holding on to that 50% off designer bag on a black Friday sale. Have the middle finger in front and the ring and index finger at its back. Make sure that only the knuckles of your fingers are forward so that it protects the rest of your fingers.
As for the knife, the motion should be going from up-down-forward and back like the wheels of a choo-choo train. This motion helps you to control your knife and onion cuts.
Now that you know this simple trick, we're already 50% down the road, just like that designer bag.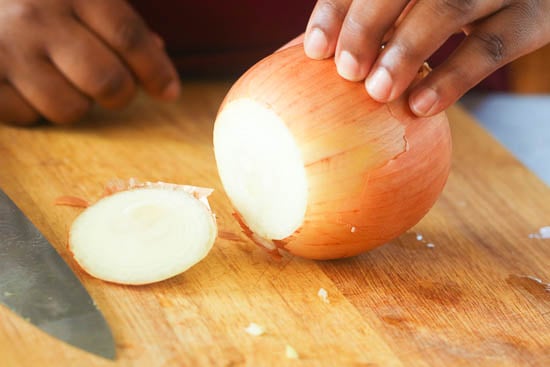 How to Cut an Onion
Look back at the top of this post, the first words you'll find are the most common onion cuts used by top chefs around the world. And we're going to discuss them one by one below. Are you ready? Knives out!
Of course, the first thing we have to know is how to peel an onion. We have to remove the fibrous outer parts of the onion because it is really hard to digest and it doesn't add any flavor to the dish. Start by cutting off the base part of the bulb, this is the rooty tip of the onion then the other end of the bulb. From here, peel off its outer covering. If there are outer layers that are still papery thin, peel that off, too, until all you see is the flesh of the onion.
Chopped
Chopping is almost synonymous with cutting in a sense that you cut the whole onion into big hunky coarsely chopped pieces.
Cut a peeled onion in half, lay it flat side down, then make two or three horizontal deep cuts (depending on the thickness of the onion). Then once you've cut the onion horizontally, reposition your knife vertically and start slicing the onion in a vertical motion. The said cut makes about 4-5 vertical slices just until you reach the base, then coarsely chop the onion. The finished product must look a bit big perfect for hearty soups or boiling for flavor.
Recipes To Use It For: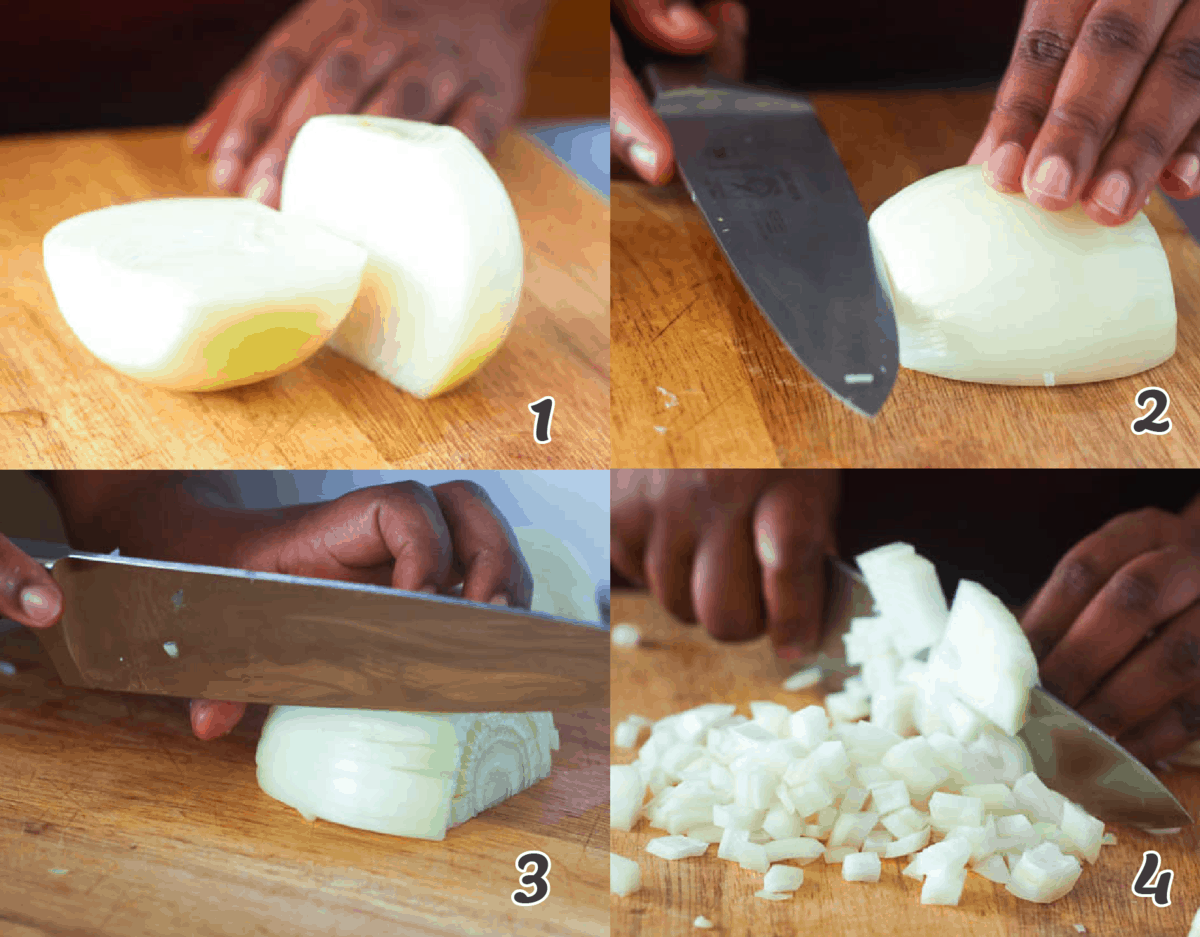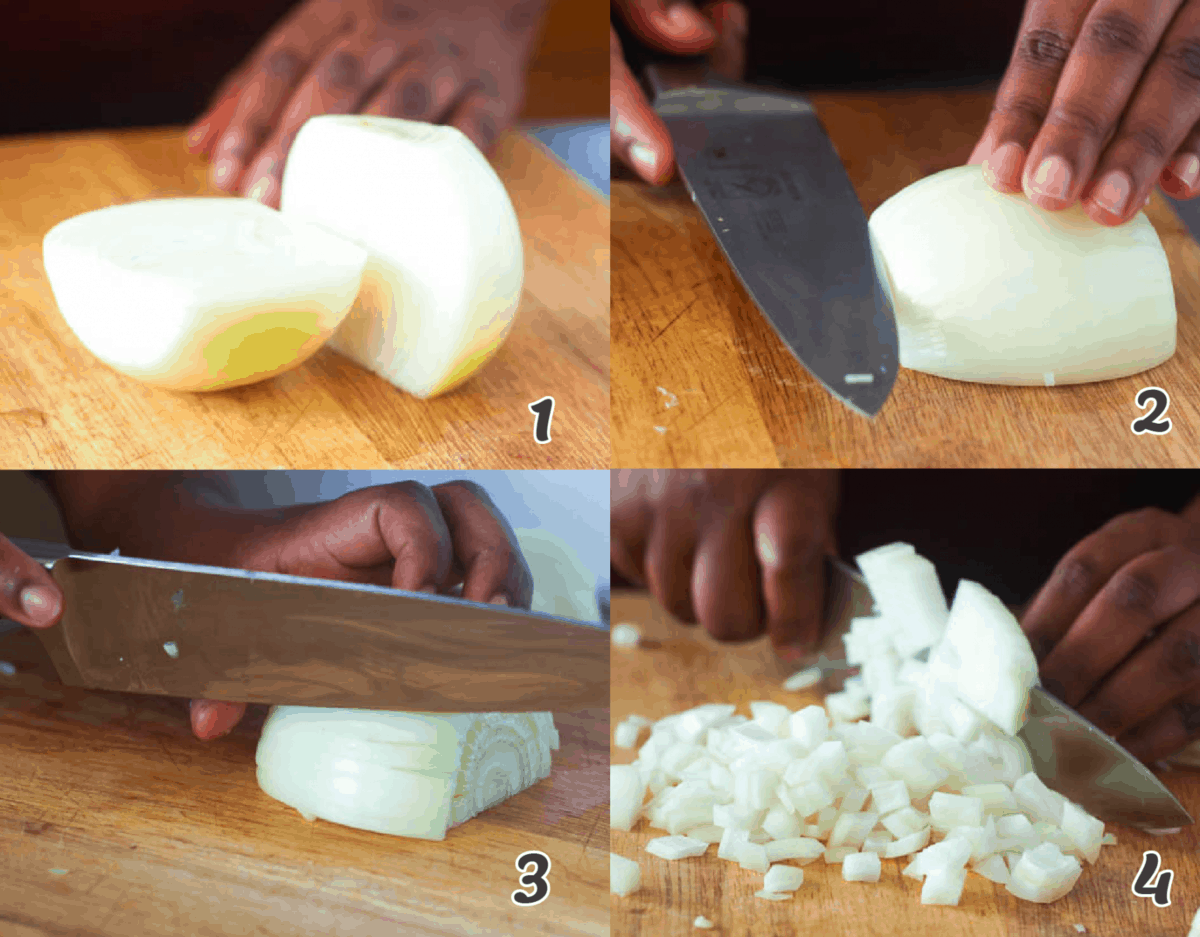 How to Dice an Onion
Well, dicing is similar to chopping, the only difference is that it is more uniform. Cubes of onions are used for stuffing like for a Thanksgiving dinner, while smaller diced onions, A.K.A Brunoise, are used for sautéing, salsa, or, in some parts of the world, mixing with ground meat to make dumplings.
You can dice an onion by cutting the onion in half from base to tip, peel off the outer layer, then horizontally slice the halves just before you reach the base (don't cut it through). Cut the sliced onion vertically also just until before you reach the base. The base should hold the crisscrossed sliced onion intact. Once it's like this, do the choo-choo train motion with your knife and start cutting the onion from tip to base.
The finished product should look like uniform cubes, the size depending on your use.
Recipes To Use It For: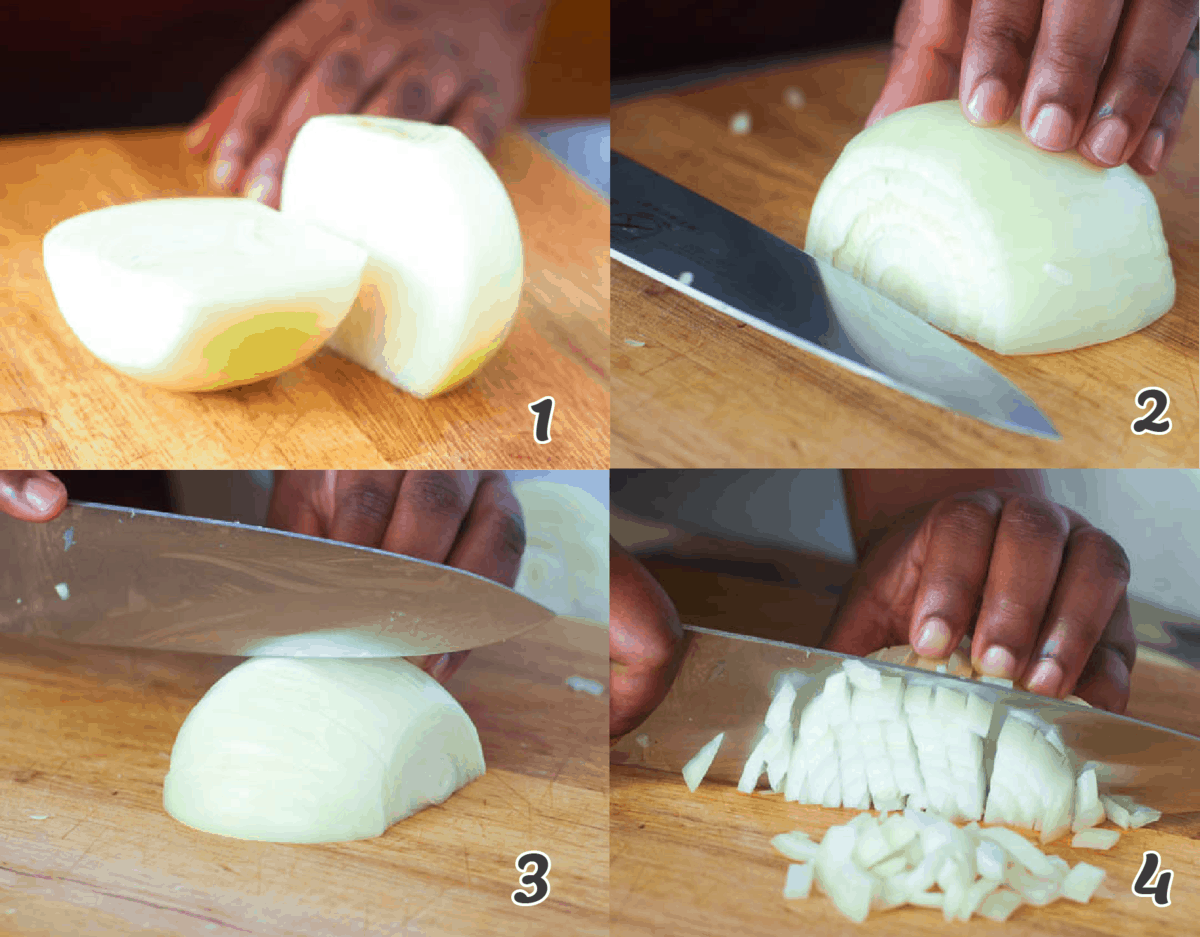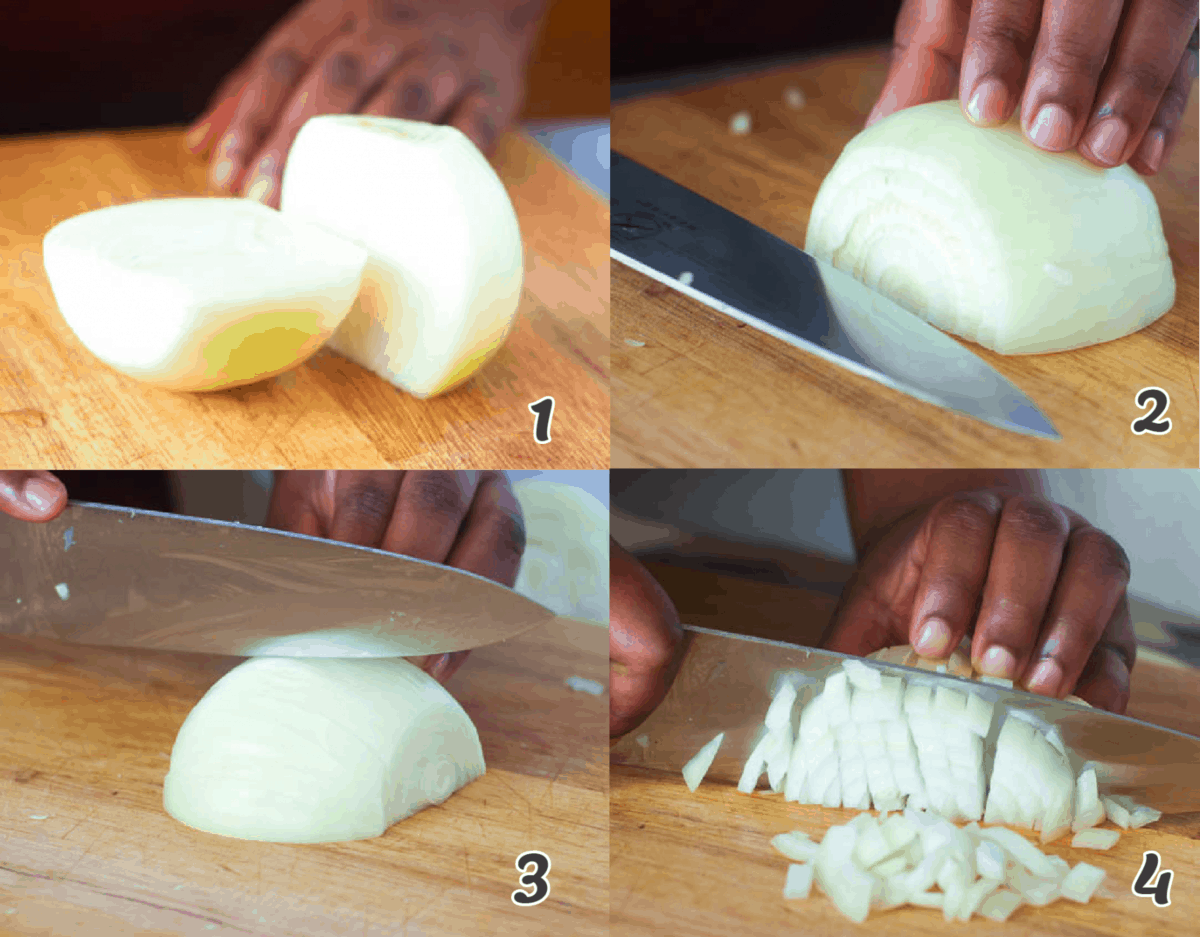 Onion Rings
These are very popular comfort food for both restaurants and at home. Served deep fried or fresh, you'd know one when you see one. But how do you get these glorious rings from the fat bulbs? Turns out, it's not as hard as it seems.
The first step is to cut off the rooty base and peel out the fibrous outer layer. You'll have a good part of the onion you'll need. Lay the whole bulb of the onion horizontally and start chopping vertically in about quarter or half inches thick then once you've used the whole bulb, just start pushing the inner rings of your slices and you'll have your onion rings. Dip in batter and cover with bread crumbs before you deep fry and voila! Your very own Golden Onion Rings.
Recipes To Use It For: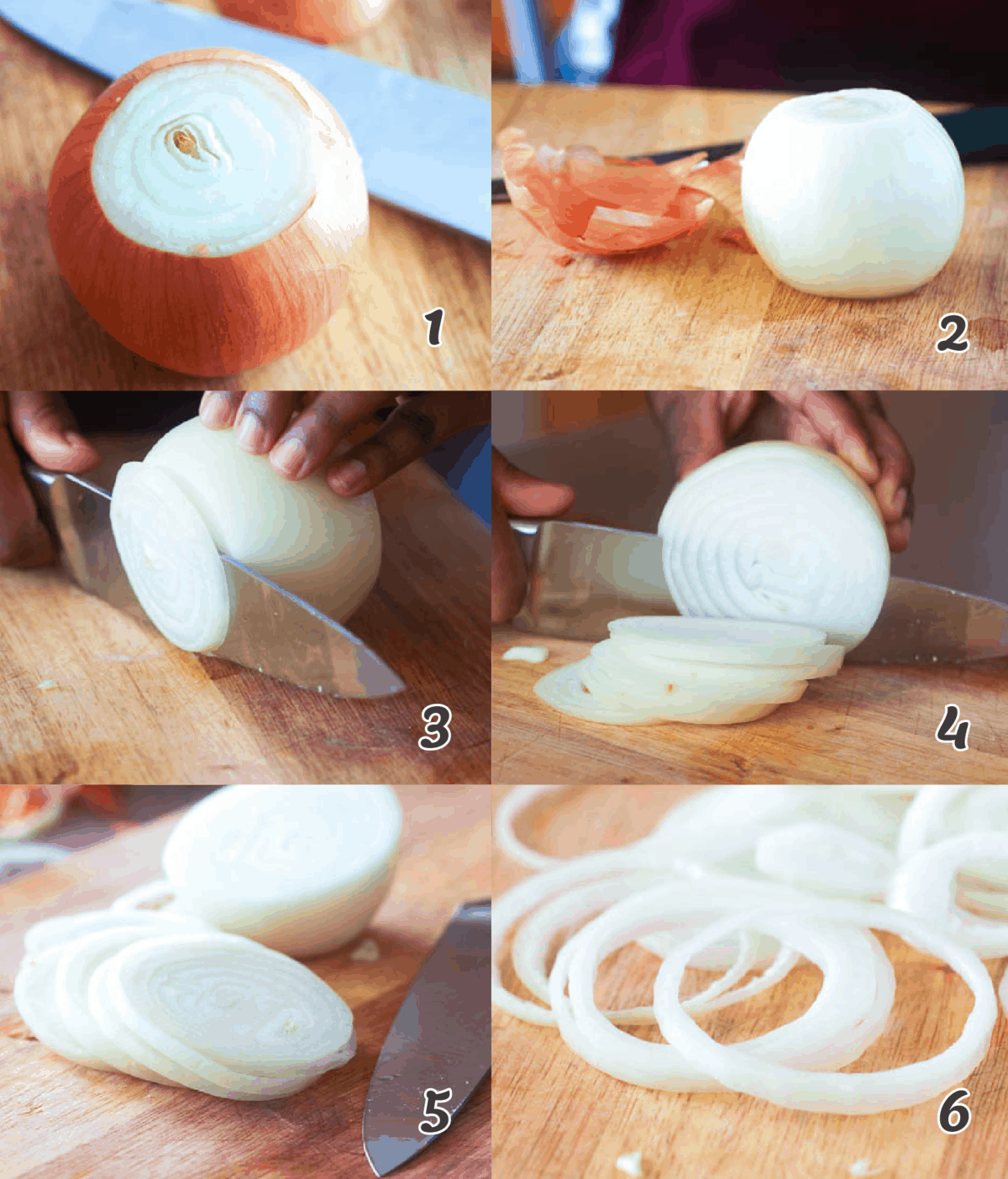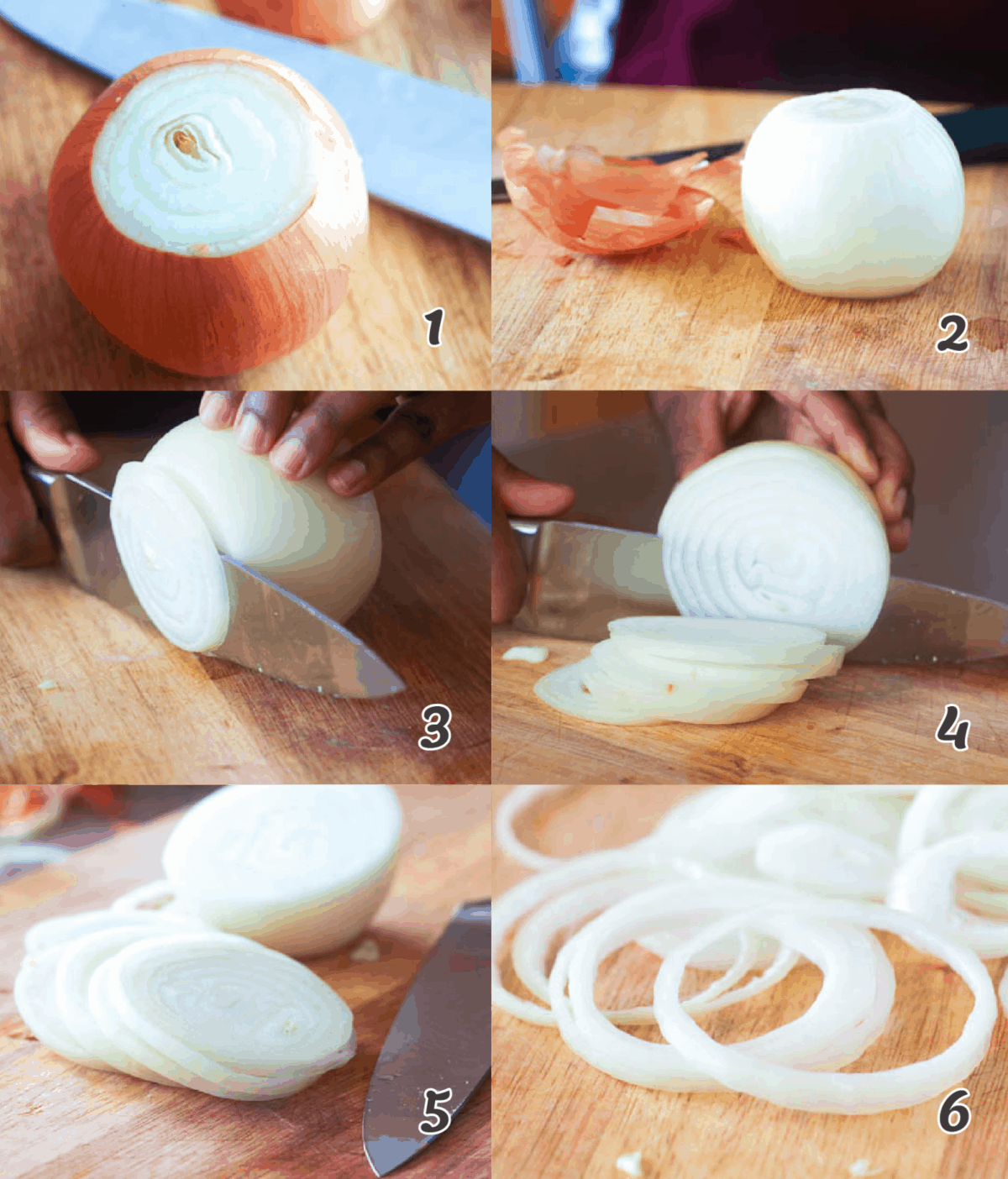 Julienne Strips
This cut is a less popular but commonly used onion cut. It is usually used on carrots and other hard vegetables. Add red julienned onions on top of your next knock out salad to give it that bedazzling kick!
To julienne an onion, slice the onions in halves from base to tip, trim both ends and remove the outer layer. After doing so, lay the onion half flat side down and start chopping the onion. When you finish chopping your onion, you'll end up with half circles, push the inner parts of the circle and you'll have thin strips of onions. This is now your finished product.
Recipes To Use It For: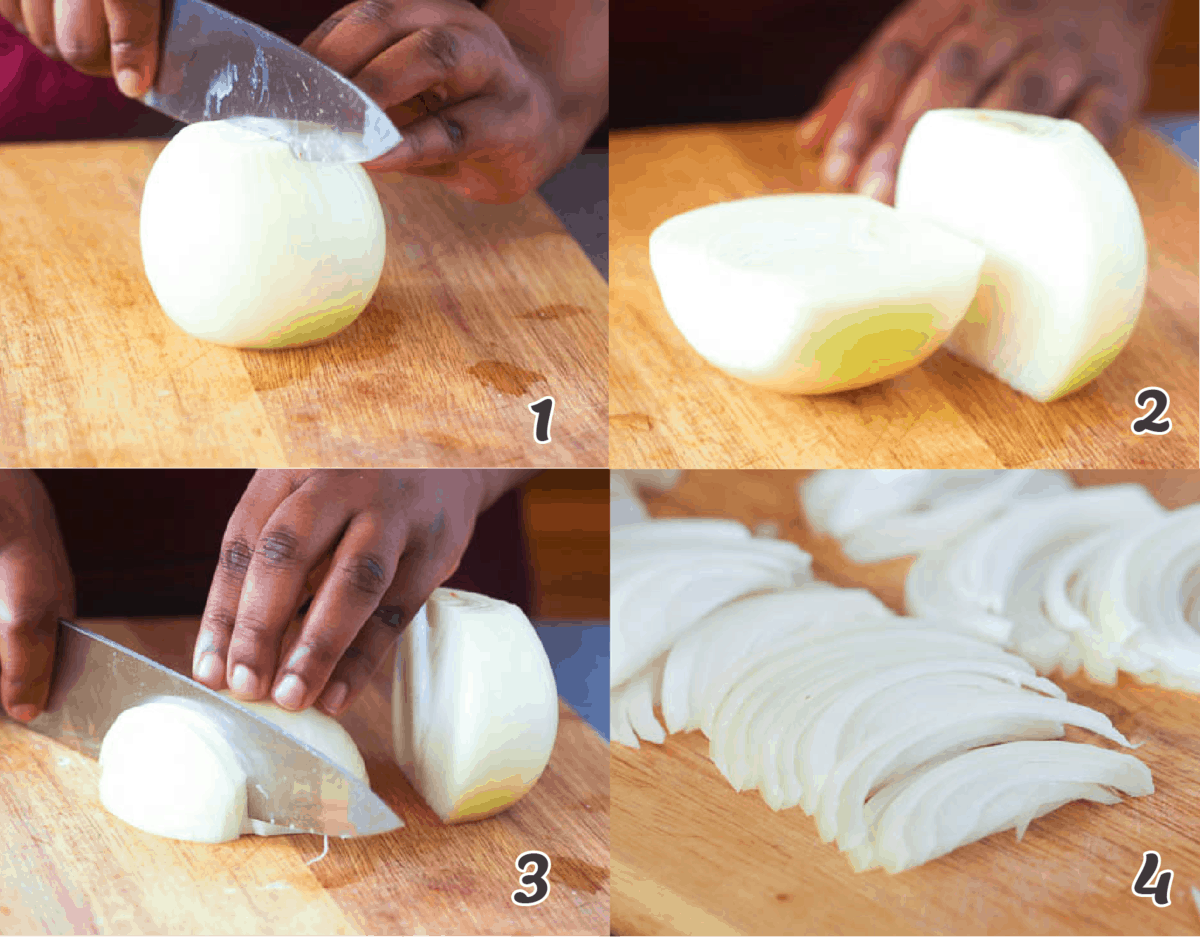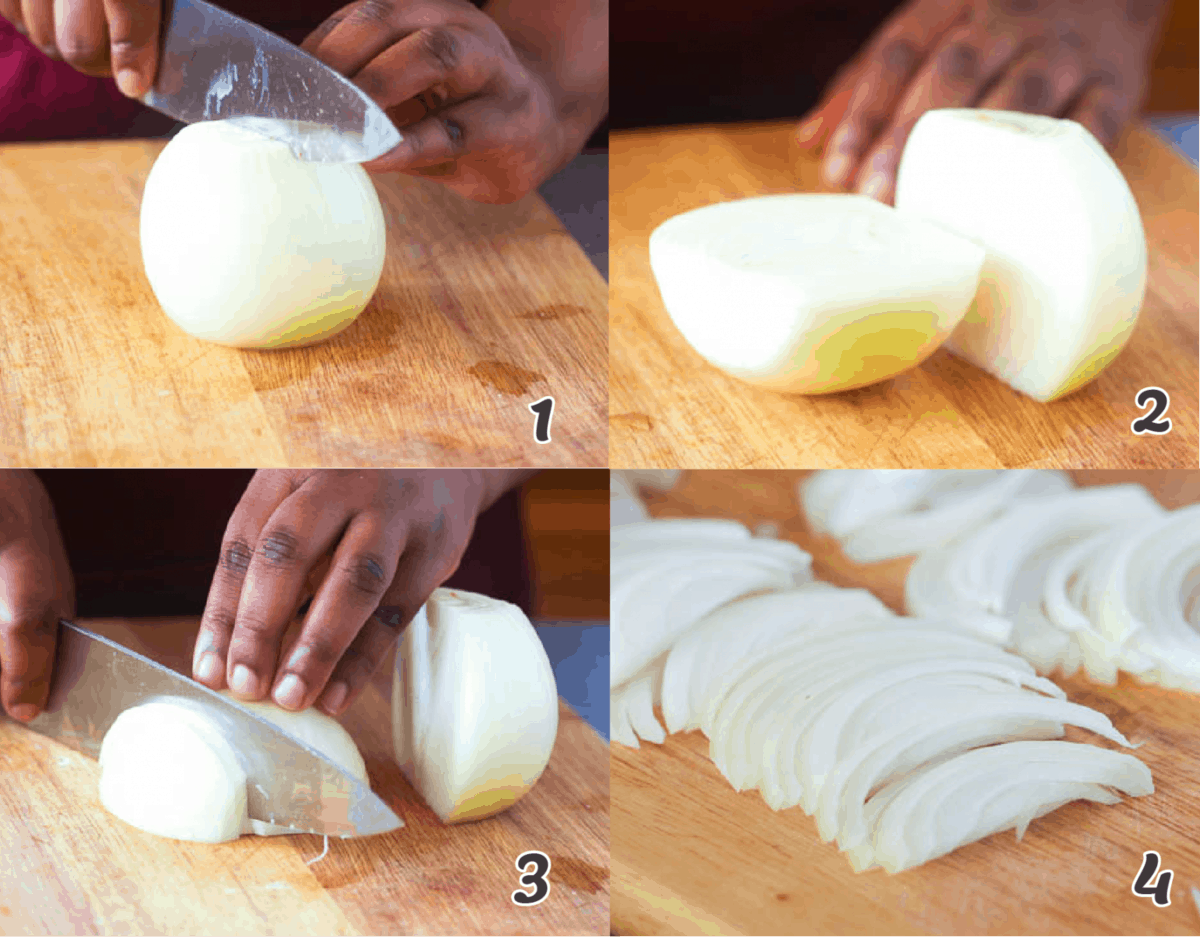 Minced Onion
Our last stop on our trip. These are mainly used in marinating meats or sauce making. Or you could use it in your next dip to have a zingy surprise. Mincing is finely chopping the vegetable so small that it nearly turns into a paste but not just so. Most people use food processors to have their onions minced but if you don't have one, don't cry just yet, we have you covered.
This is how you mince. Start with the diced onions, lay it on the chopping board, and with your mincing knife, hold the knife down by pressing on the blunt side of the knife. Start chopping the diced onions while your other hand holds the knife down. This gives you a finer, smaller piece.
Recipes To Use It For: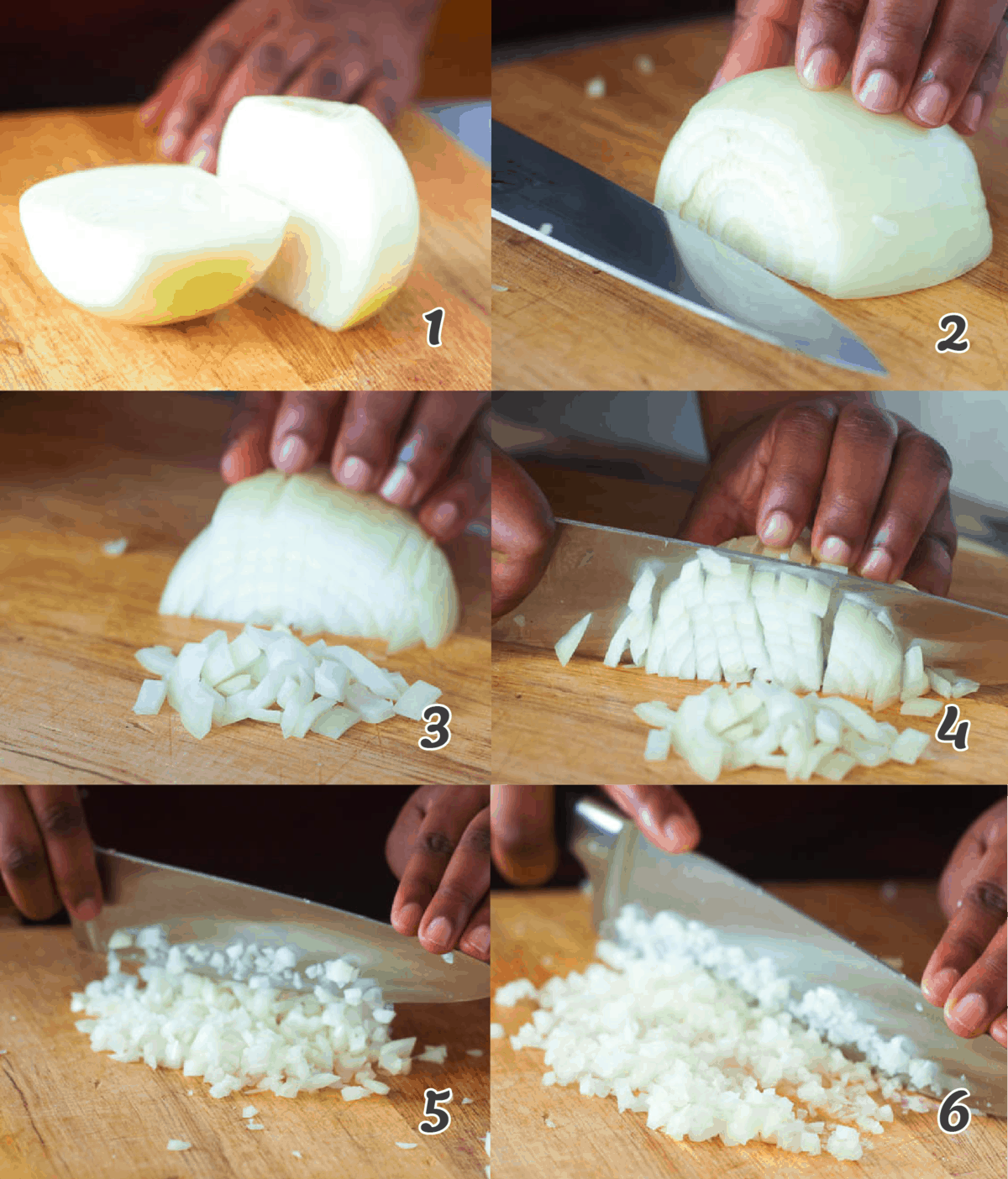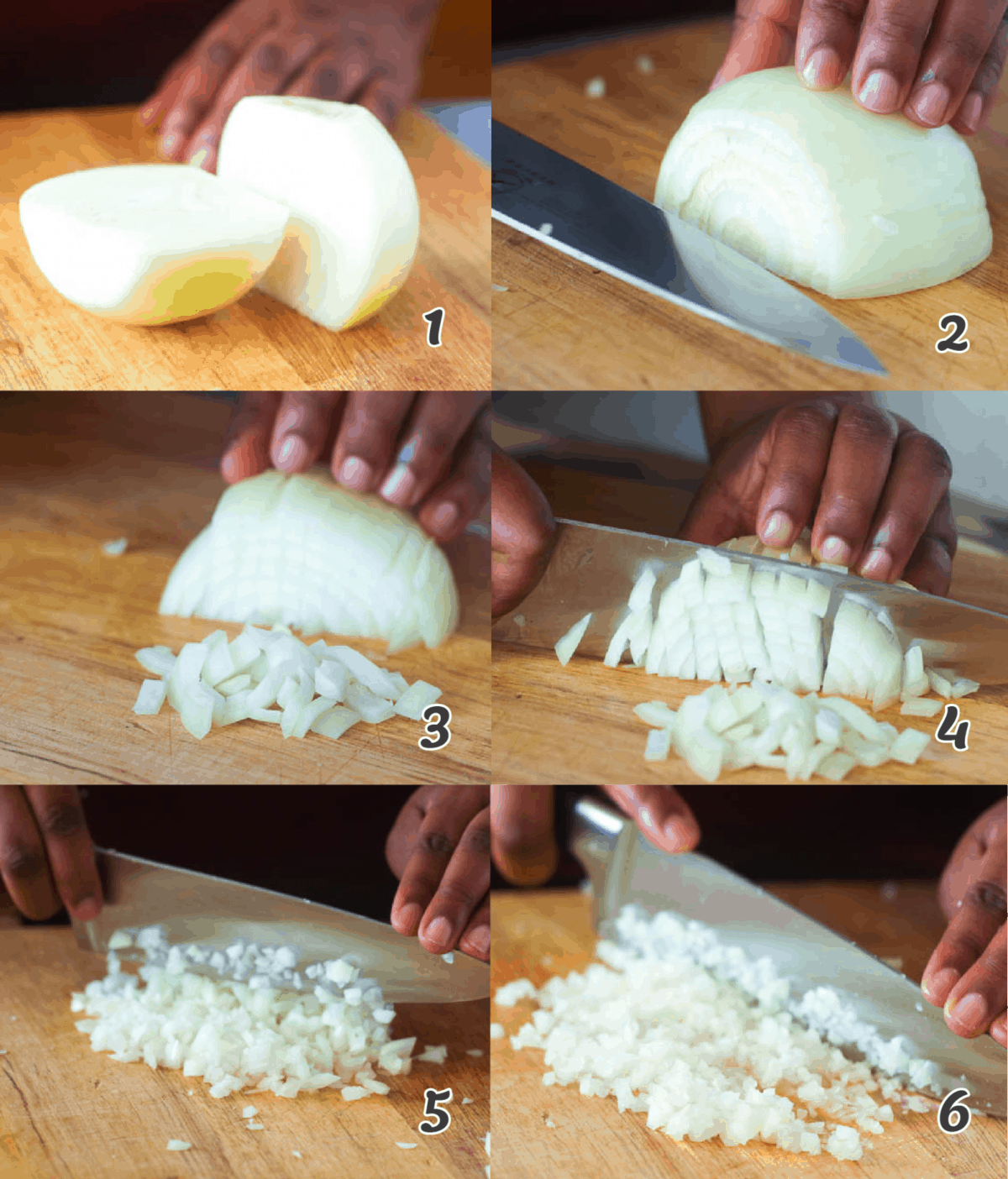 Tips on Cutting Onion
It's perfectly normal to have watery eyes; you can even use it as an excuse when you feel like crying. But if you see it as a nuisance, we have some tips for you to have a tear-free onion cutting sesh.
1. Chew a gum! Aside from a great jawline exercise, the gum's flavor mixes in with the small onion juices flying around the air so that it doesn't hurt as much.
2. Use a face mask, and no just because of the pandemic. Face masks are effectively one of the best armor against onion tears, this is because it blocks the onion juice molecules that would otherwise make you tear up.
3. Use a sharp knife, although this sounds dangerous, it is actually safer to use a sharp knife as it can easily cut through the onion rather than a blunt knife which is more prone to accidents.
4. Lastly, wear glasses, if the onion juices didn't get you through your nose, it might directly go to your eyes. So keep those peepers protected.
Did I miss anything? Let me know in the comment section so we can also share it with other home cooks. Enjoy cutting onions!