With the right blend of fat and flour, you can make a ROUX, which serves as thickeners (mostly for soups and sauces), and also a good flavor enhancer. Good thing, roux is made with simple ingredients. Keep them ready on your pantry to level up your next sauce and soup experience!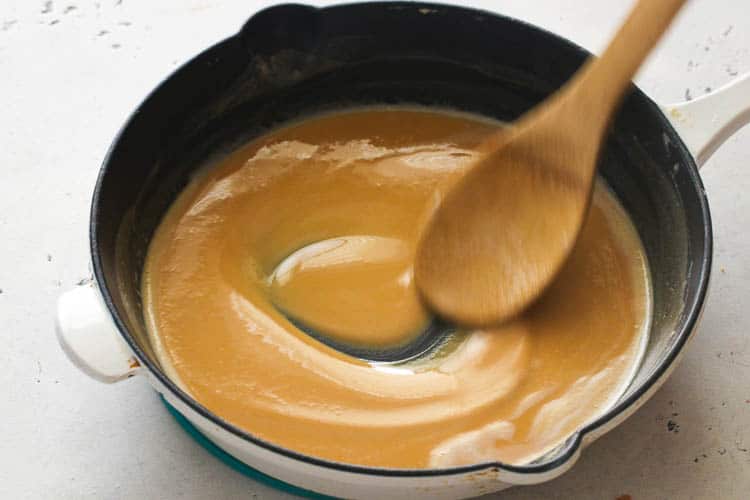 What is a Roux?
Roux is a French word for "Red". Roux is a common technique in continental cuisines. It is a cooked mixture of equal parts of starch and liquid fat and is used to thicken soups, stews, and sauces. 
Though every dish I prepare for my family is a big hit, using roux as a base level up the game! Just like their all-time favorite Homemade Gravy– without it, our Roasted Turkey, Smothered Chicken, and Biscuits and Sausage Gravy will never be the same.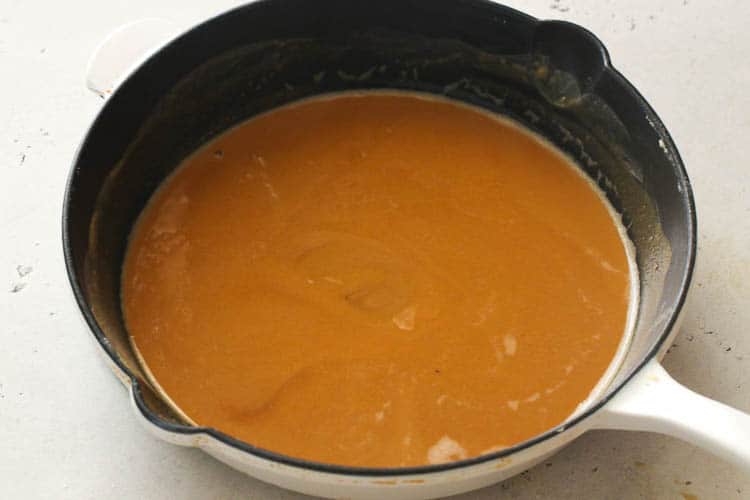 What Kind of Fat Should I Use?
You are welcome to use any kind of fat or oil that your diet prefers. Just keep in mind that the fat you choose will affect the flavor of your roux.  
Also, always consider the smoking point of the fat or oil you are going to use. Using low smoking point oil may have a tendency to give your roux a burnt taste and damage all the benefits of oil -which we don't want to happen.  
You can choose oils like peanut oil, refined coconut oil, virgin, or extra light olive oil and vegetable oil or any fat or oil with a smoking point higher than 375 °F if you want your roux to be darker.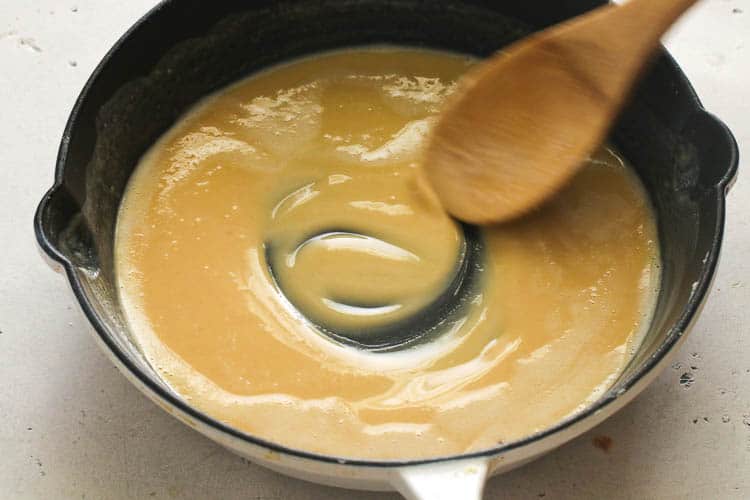 Can You Make a Roux with Cornstarch?
I bet you're thinking of substituting flour with cornstarch to make a roux. I also used to wonder if it's possible. So, I tried it. And trust me, DON'T DO IT. 
Cornstarch has a higher starch content and needed more heat, but shorter cooking time, the thickener that uses cornstarch is mixed with water. It is called a slurry and is added at the end of the recipe. 
Roux needs to be cooked longer to remove the floury taste. Thus, it is added at the beginning of the recipe.  
Pro Tip: You can determine if the dish used a slurry or roux as a thickener. Cornstarch leaves a shiny, and translucent finish, and flour makes the sauce cloudy and opaque. 
Making A Roux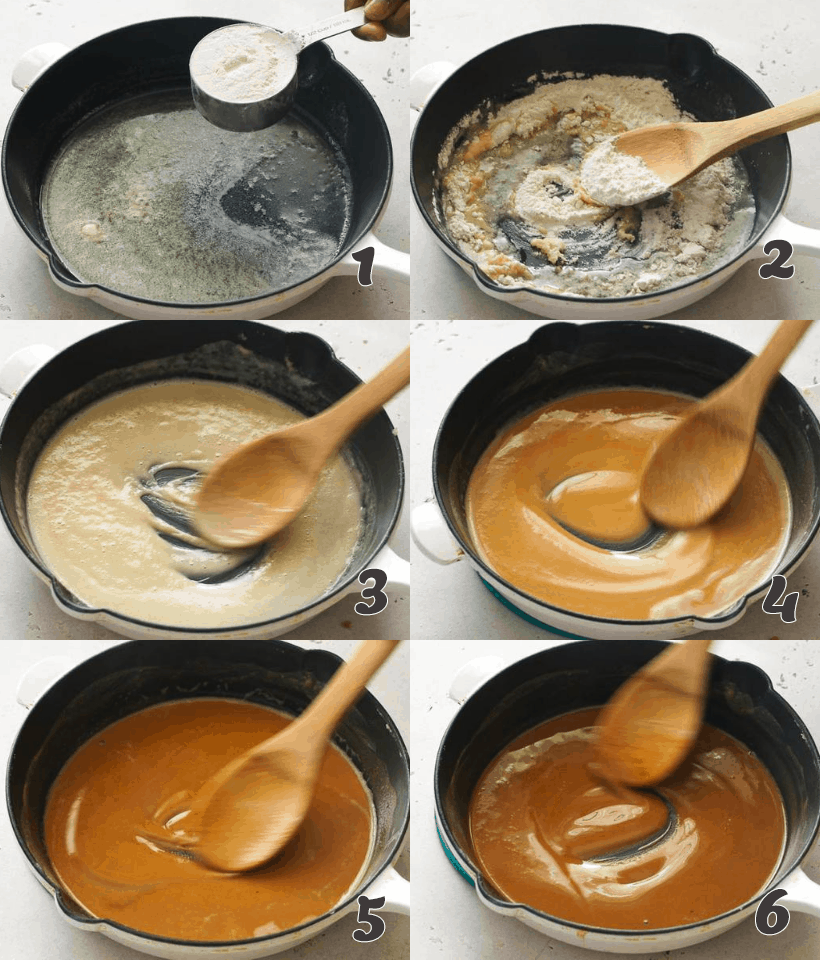 You don't need much to make a roux. Just an equal portion of fat and flour (e.g. 2 tbsp of butter to 2 tbsp of flour). Adding water or any liquid depends on how thick you want your sauce to be. 
Pro Tip: Make sure you are using a heavy-bottomed pan to prevent it from burning.  Whisk constantly over medium-high heat until your desired color is achieved. 
Not to overwhelm you with loads of roux info, but it has four main types, or should I say colors. Each is determined by the length of cooking time, and the darker the color of your roux, the more flavorful it is, but its thickening power lessens.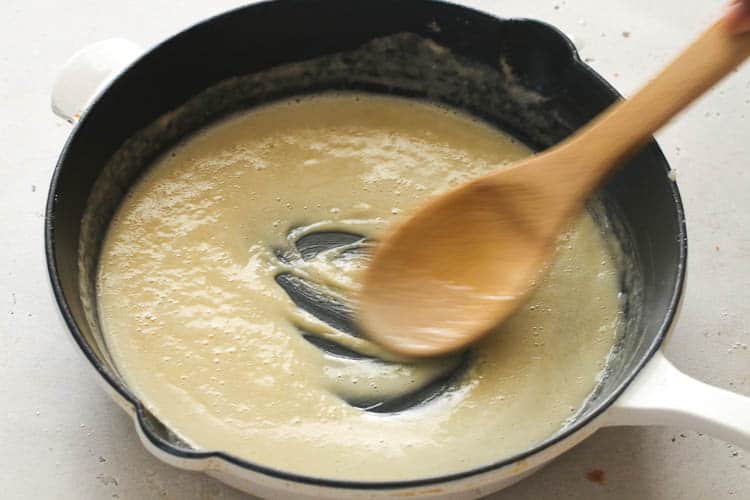 White Roux
Cook Time: 4-5 minutes
Color: Pancake batter
Aroma: Subtle flour
Uses: Creamy soups, milk-based sauces, and macaroni & cheese
You can make this by mixing equal parts of oil (or butter) and mixing thoroughly for about 4 to 5 minutes or until well combined. Its color should be like a pancake batter, and aroma of subtle flour. 
White roux is best used for creamy soups, milk-based sauces, and macaroni & cheese.  
I once taught my niece to use white roux for my Stovetop Mac and Cheese and this became her favorite snack – even serves this to her friends!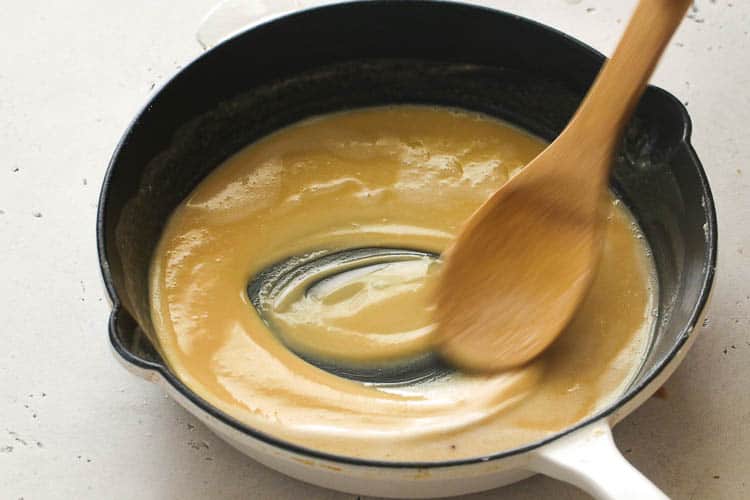 Blonde Roux
(most common)
Cook Time: 10 to 15 minutes
Color: Tan
Aroma: Toasted bread
Uses: Gravies, sauces, soups, and stews
Tagged as the most common among the other types of roux. Stirred continuously for about 10 to 15 minutes to achieve its tan color. Blonde roux gives off an aroma of toasted bread and is best used on gravies, sauces, soups, and stews. So the next time you want gravy to your mashed potatoes, just remember this Blonde Roux here.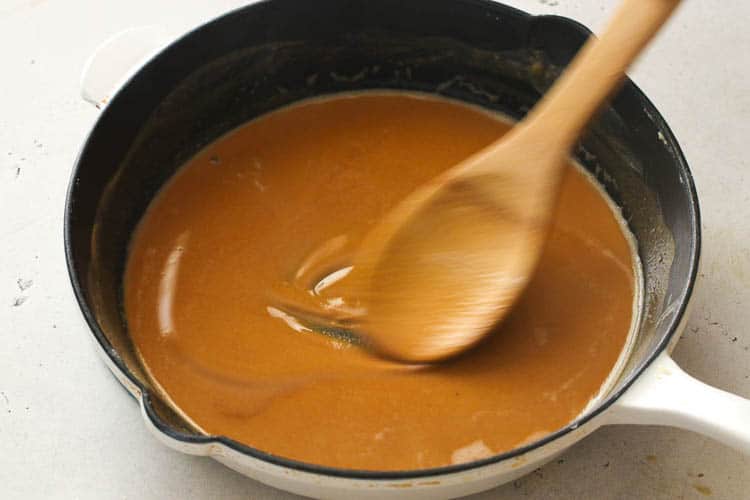 BROWN ROUX  
Cook Time: 18 to 25 minutes
Color: Peanut butter
Aroma: Nutty
Uses: Gumbos and Stews
Do you love stews and gumbo as much as I do? If yes, achieve this peanut butter-colored roux with a nutty aroma. 
Cook your flour and liquid fat mixture for 18 to 25 minutes, and voila! I'm sure your family will love your stew and gumbo so much more than they did before.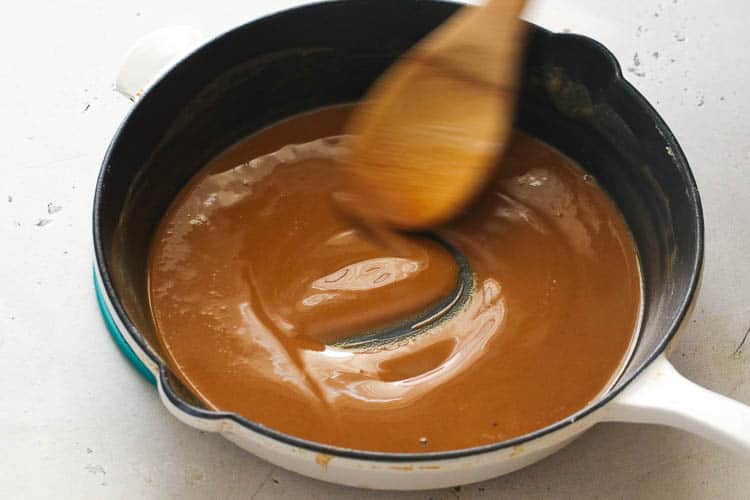 DARK ROUX  
( little to no thickening power—flavor aid only)
Cook Time: 30 to 40minutes
Color: Milk chocolate
This type of roux is the longest one to cook. Therefore, you need more arm strength (kidding aside)! 
Stir your flour and oil for about 30 to 40 minutes until the color is similar to milk chocolate. 
This roux is used as flavor aid only and has little to no thickening power. It is commonly used for Cajun and Creole dishes. 
How Long Does it Last?
I always make more roux since they exceptionally last long. I put it in an airtight container and store inside the fridge for 6 months, or freeze it in an ice cube tray for up to a year!  
Whenever I need a roux, I whisk it in cold milk or broth and simmer for a few minutes until nice and thick.
Pro Tip: Prevent lumps by adding cold liquids to your hot roux or vice versa. 
Dishes Using Roux
Impress your friends and loved ones with these recipes using Roux.