Today I'm going to teach you a simple skill that can up your cooking game: HOW TO CUT GREEN ONIONS! Aside from its aromatic flavor, you can also use it to add color, texture, and overall appeal to any dish. They are available all year round and do wonders even to the simplest dish!
Have you ever been to a restaurant and caught a whiff of that sweet, pungent, almost spicy aroma coming from the kitchen? Sooo appetizing you can't wait to get your order?
Well, you can make the same 5-star worthy dishes at home too with this all-around ingredient! Not far from now and you will be able to serve up just about any dishes with this glorious green pantry-staple ingredient.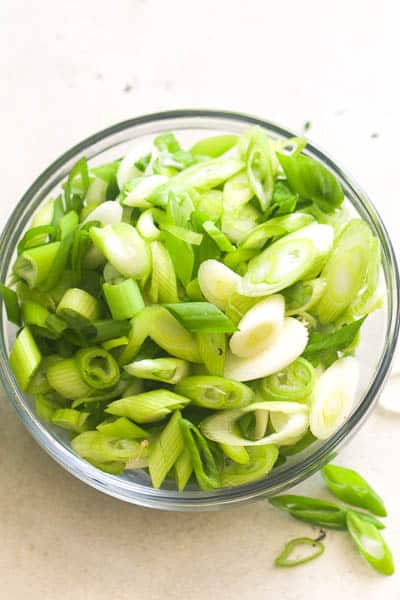 Scallions vs Green Onions vs Chives
I'm sure you're wondering what is the difference between green onions, scallions, and chives.
Green onions are actually the same as scallions. Yep! Sometimes it is also called spring onions, depending on where you're from. Green onions are much less intense than the regular onions we use which makes it kid-friendly and a safe choice for picky eaters!
Chives and leeks, on the other hand, are close relatives. They all come from various species in the genus Allium. I know how confusing it is because they all look alike! Chives have a very distinct flavor and I advise using it sparingly in dishes because a little goes a looong way.
Preparing Green Onions
Before you slice these green wonders, wash them first in running water and pat dry. Then, remove the outer layer and any wilted parts. It is okay to use both the white and green parts of the onion.
The white part has more zing, while the green part is a bit milder. Green onions are such humble vegetables, you can even grow your own at home! Read on to learn how.
Cutting Green Onions
Once you've removed the outer layer and the wilted part, chop off the roots BUT don't discard it yet! This is what you keep so that you can grow a green onion plant at home.😉
Next, line up the green onions. Be sure to use the finer part of your knife and to keep a light hand to cut so you don't bruise them. Bruising happens when leaves or herbs are chopped too hard that the aromatic oil starts to come out.
Use a push and pull motion to slice your onions into thin rings, starting from the stem then going up. Almost like you are doing a circular motion with your wrist.
You can also cut them at a diagonal angle so they'd come out like this! It all depends on how you are going to use them and how much of it you want to add to your dish.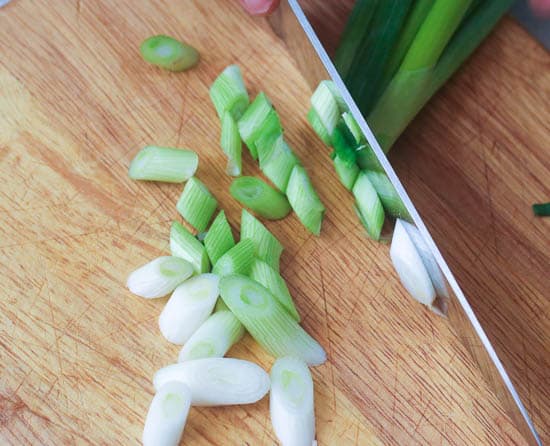 How To Use Green Onions
Both the white stem and green part of green onions can be utilized in preparing a wide variety of dishes. It is commonly used for sautéing and stir-frying, but can also be grilled, steamed, or even eaten raw!
It also serves as a garnish if you want to add an extra pop of color and aroma to your dish without adding too much flavor.
If you do not want to use the white part, you can use it for soup stock or plant compost. Or you can plant it again so you can grow your own little herb garden at home! In just a few snips you can have the perfect garnish to any dish, just like this Sweet Sticky Spicy Chicken that I made!
Recipes Using Sliced Green Onions
Green onions are so versatile, you might be overwhelmed in choosing from so many dishes you can use them with. Here is a quick list of recipes I've made that call for these multi-purpose greens:
Buying and Storing Instructions
When buying from the supermarket, make sure to choose the freshest ones you can find. The leaves and bulb will keep up to five days in the fridge when wrapped.
If you want your green onions to last longer, store them in an open container like a jar or vase, with water covering the roots. This will help retain its flavor and keep it fresh.
You can also turn it into a sauce and freeze it to use for seasoning future meals. Check out this Green Seasoning/Sauce that you can make ahead of time.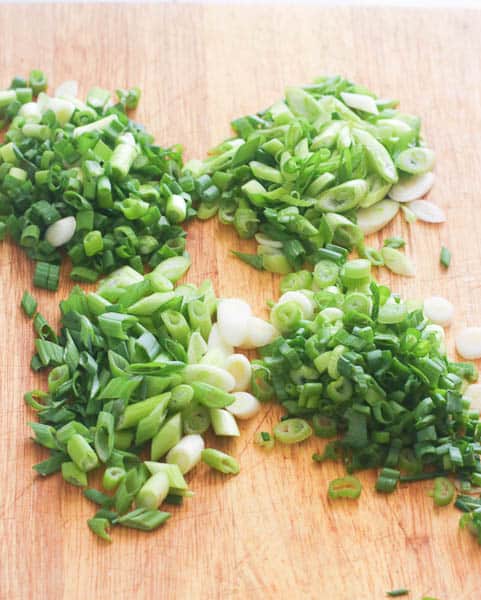 Not only are green onions an easy ingredient to mix and match with dishes, but it also contains antibacterial and antiviral properties to help you stay healthy! So now that you know how to cut green onions, why don't you try out this filling Tuna Melt Sandwich using your newfound favorite ingredient!
Enjoy!
Other Useful Kitchen How-to's: