Learn how How To Pick a Watermelon either at a farmers market or at the grocery stores using our six (6) simple tips. This takes out much of the guesswork and by then, you'll be buying watermelons like a pro!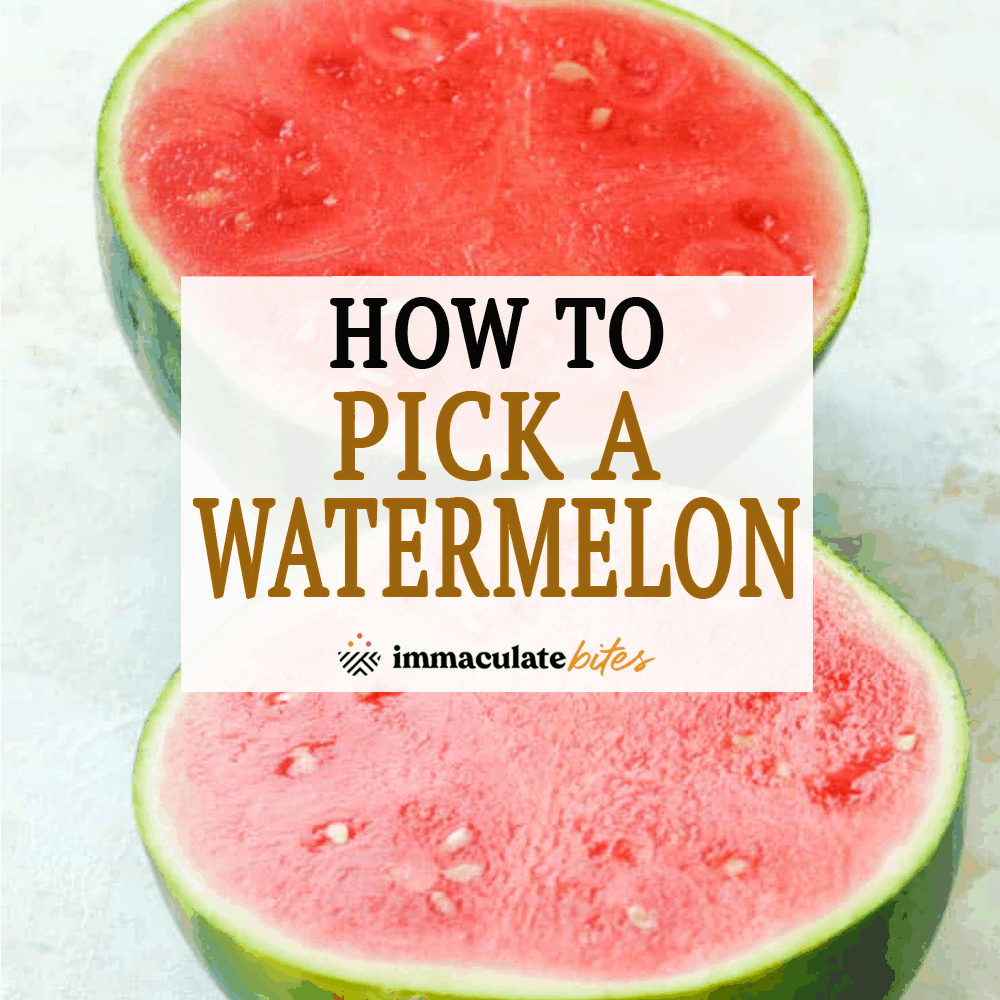 Watermelons– who doesn't love them? Especially when the sun is shining bright and hot, there's nothing better than getting a big slice of all that juicy, crisp, and refreshing fruit.
However, it's easy to squash your watermelon dreams if you don't pick the right one. Selecting the right watermelon can be very confusing and overwhelming, as it's challenging to know how red the inside is just by judging on its hard shell.
But don't worry! Here are some few, clever tips that can up your watermelon game in no time. No need to stress when buying a watermelon at a supermarket anymore!
How To Pick a Watermelon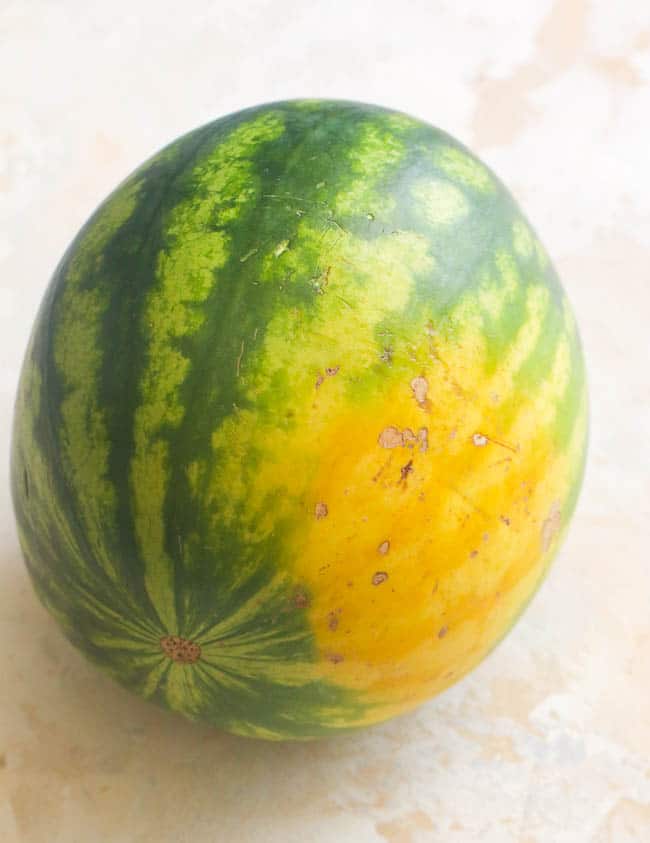 Check its weight
A watermelon that feels heavy for its size is a good sign that it's sweet and ripe on the inside. When doing the lifting check, make sure to compare your chosen watermelon's weight with another of equal size. Whichever is heavier is probably sweeter than the other.
Check the shape
It might seem too good to be true, but yes. A watermelon that is smooth to the touch, firm, and free from bruises and dents is a good pick.
Watermelons should be treated well before harvest, and one that is full of bumps and lumps didn't probably get enough sunlight or water during its growth, causing inconsistency and dryness.
Check the field spot
This is probably the most accurate tip in this list, and it's not even from an old wives' tale! A watermelon's field spot is where it sat on the ground while growing, usually found on the underside.
The field spot should have a creamy yellow color. And if it's darker, the better! If the field spot looks whiter and pale, then the watermelon is probably still young and not ripe.
Check the brown spots or webbing
Aside from the shape of the fruit. You can tell the sweetness of the watermelon on the skin.
A good sign of its sweetness is if there are brownish web splats that almost resemble cracks on the skin. The more of these you see, the sweeter the juice will be.
Check the sound
Hear us out! This tip may be hard to believe, but some watermelon lovers say they swear by it! It's called the tapping technique, and it says that the sound a watermelon makes when you tap it can tell if it's ripe or not.
Using your knuckles in a fist, tap your chosen watermelon and listen for a full sound. If it's more tenor than a base, then it's most probably good to go. If the sound is too deep and dull, then the watermelon is unripe and not yet suitable for picking.
Check the color
A ripe watermelon color should be more of a dull, dark green. A shinier watermelon is usually underripe. So the duller the color, the more perfect it will be!
So there you have it! No more playing the odds when picking out the best watermelon of your dreams. It's best served chilled and sliced into bite-sized pieces, or you can make it into a refreshing watermelon lemonade!
How Long Does Watermelon Last?
Now that you've figured out how to pick the best watermelon, it's time to know how to properly store them so you can keep them fresh for as long as possible (or even until summer ends).
The good news is that a freshly picked uncut watermelon could last up to 3-4 weeks. Simply store it on your kitchen countertop or anywhere that's cool.
However, if you got it from a grocery store (which most of us would), your best bet is to eat it within a week from the date of purchase.
Slicing them is another story though. Once you've cut open a watermelon, wrap up the red part with plastic wrap and store it in the fridge for up to two (2) days.
Can You Freeze Watermelon?
But can you freeze it? Well, although I don't highly encourage this method coz nothing beats the freshly sliced ones, you can dice them up. Then place in a sealable container and store in the freezer for up to a year. Take note that frozen watermelon pieces shouldn't be defrosted. You can go ahead and serve it as an alternative to ice cubes in cold drinks or dump them all in a blender for a smoothie.
More Easy Kitchen How-Tos
Do you wish that you were a pro in the kitchen? You can! Start with our simple kitchen hacks found on the blog, and you'll be able to navigate your way in the kitchen without any fuss.😉
Happy watermelon picking!