There is no secret on HOW TO CUT TOMATOES. Everything you need for the perfect red slice is all about the tomato itself. You can use these slices from salads to meaty dishes for a warmer hue or a kick of tanginess. So get your trusty knife and let's start chopping!
Whether you call it to-MAY-to or to-MAH-to, we all know that you mean that plump red ingredient we all love. Whenever I do my groceries, I make sure to get tomatoes because it goes well with the flavors I love playing with.
Thus, I'm sharing with you guys today on how easy it is to cut these red beauties and how to use them on your dish. As my mom would always say, a few slices of chopped tomatoes could go a long way!
Is Tomato a Fruit?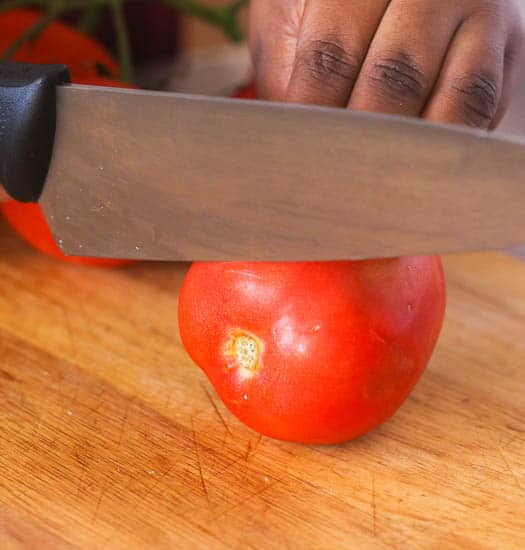 This question is one of the most recurring trivial inquiries in the culinary world. Let's settle this once and for all. Yes, tomato is a fruit!
So why is it considered a fruit?
Fruits are basically ripened flower ovaries that contain seeds. Tomatoes easily tick this box on. The same goes for zucchinis and melons. The next question on your mind might be "so why don't we put tomato cuts in a fruit salad?". Well, that's where a little philosophy plays along.
Having knowledge is knowing that a tomato is a fruit; wisdom, on the other hand, is having the right mind not to put it in a fruit bowl because you know that the taste will not blend well.😉
Picking the Right Tomato
Like most ingredients, we want our red little plump fruit to be as fresh as possible. So what do we look for when we want to avoid rotten tomatoes?
Color
Tomatoes change its hue as it ripens. These fruits are often picked unripe which has a vibrant light green color. It ripens as it is transported to the grocery store and more as it sits on the shelves. Green tomatoes are edible but are less tasty so they are not good for most dishes. The perfect color for a tomato is between dark orange and vibrant red.
Texture
The tomato should feel slightly soft, firm, and plump. No wrinkles should also show on the skin as this is a good indicator that it is drying out. If you see this in your pantry, it's time to throw it in the pile of rotten tomatoes. You are gonna want to look out for soft spots as these can turn into bruises which can later lead to rotten tomatoes.
Smell
The fruit should also have a sweet earthy aroma. This test is a good way to tell how flavorful your tomato is. The more scent it has, the more flavorful it is.
How to Cut Tomatoes
The best way to really feel the flavor of tomatoes is by cutting them into pieces. It would be easier to eat both raw and cooked. Unless you're planning to use it in the grill, you should probably know how to cut tomatoes. It's essential that you prepare a sharp trusty knife for cutting your tomatoes.
Round Cuts
I'll start with an easy one. Simply place the tomato horizontally and start slicing the top part of the fruit which should give you round slices about half an inch thick. This is how you would want to cut tomatoes if you're making burgers, pies, or simply layering it for décor.
Diced
This technique is similar to that of How to Cut Onions. Cut off the top part of the tomato. Then make small vertical incisions making sure not to cut through. Apply the same step again but this time horizontally. Now you can start making chopped tomatoes. You'll end up with brunoise-cut tomatoes which are best for making salsa and salads.
Wedges
Another easy way of cutting tomatoes is to turn them into wedges, simply cut the tomato into quarts and you're good to go. This can be used for salads or simply eating it as it is.
Julienne
From the round slices, stack them on top of each other then start thinly slicing until you have thin strips. This is a cut you'll prefer if you plan on making salsa. From this cut, you can mince it more to prepare tomato sauce or tomato paste.
Benefits of Tomatoes
Aside from knowing how to cut tomatoes, you should also know the benefits of this red plump fruit.
Lycopene – have you ever wondered why tomatoes are red? Aside from the ripeness, it's also a good sign of lycopene which is good for the heart.
Beta Carotene – this compound easily turns into vitamin A in the body which is good for eyesight.
Vitamin C – boost your immunity with this vitamin that can also be found in tomatoes.
Fiber – The skin of the tomato is, as well as its pulp, has a good amount of fiber. This will help with your digestion.
Use Your Tomato Cuts in These Dishes
Wanna test your knife skills? Go apply your tomato cutting skill on these dishes below.
More Kitchen How-tos To Explore