Let me show you how to poach an egg using simple and easy-to-follow steps. Now you won't ever have to say that poached eggs are too tricky. With perfectly firm whites and runny yolks, you'll be serving them on your toasts, grain bowls, or salads like a pro!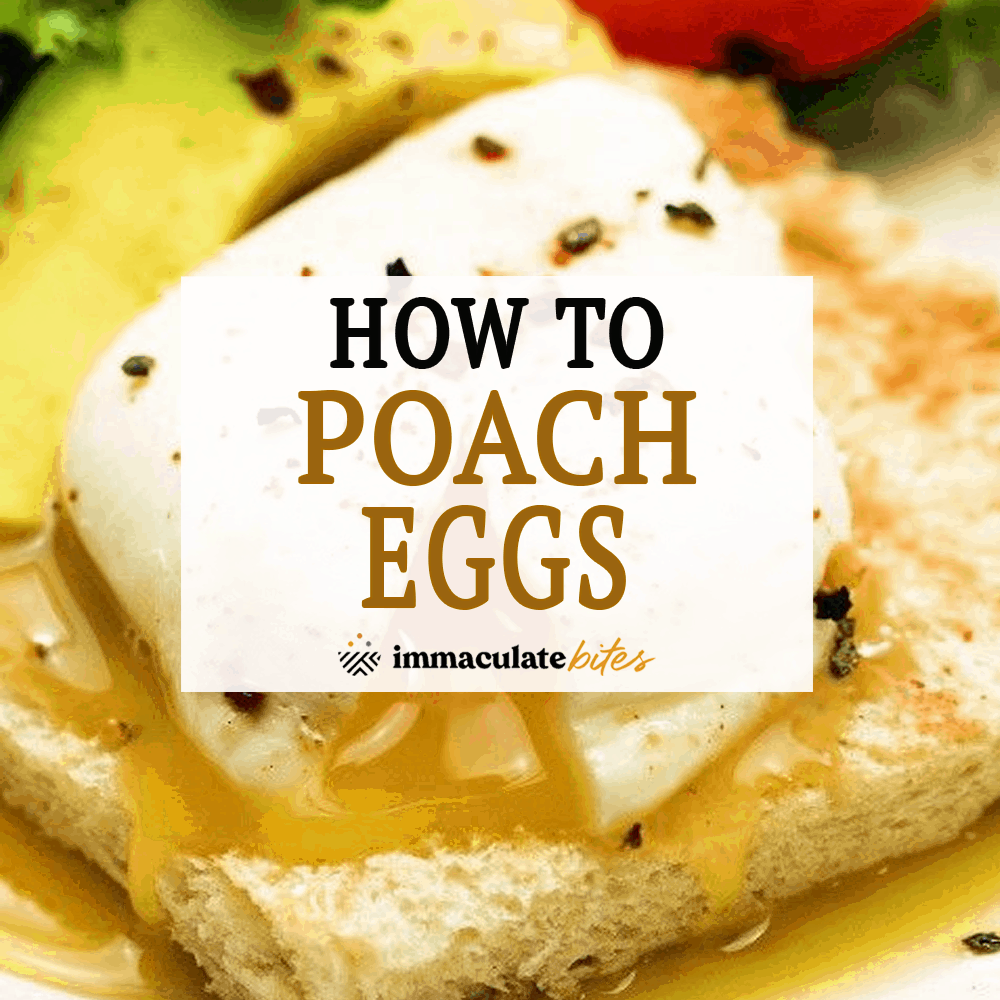 Eggs are every household kitchen staple. That's why I also know that most of us would rather make it into a classic Western Omelette OR savory and filling Potato Frittata rather than going the hard way of poaching an egg!
We've all heard it; poached eggs require some serious skills and perfect timing. But in this post, I'm here to tell you that you can become an EGGSpert in no time!
Why Poach Eggs?
Well, aside from the fact that poached eggs are a must in America's popular brunch item – Eggs Benedict, it is actually because you don't need oil or fat to cook it. And no oil always sounds similar to "healthy".
It would probably be easier to boil eggs but personally, I'd try to cook poached eggs from time to time to challenge myself. And don't they look so fancy on top of anything?
Do You Boil Water To Poach Egg?
Yes, but when it's already boiling you have to reduce the heat to bring the water from boiling to low-simmer. The reason is boiling water bubbles can break the egg whites and will cause them to spread out in the water.
A low-simmer is hot enough to cook an egg with a minimal water activity (only a few tiny bubbles is alright).
How Long To Poach an Egg?
You have to consider the size of the poached eggs to determine their cooking time. But in general, you can poach the egg for about 2-4 minutes.
For soft eggs, poach them in 2 minutes and firm eggs in 4 minutes. If you want a firmer one, consider poaching it for an additional 1-2 minutes.
Alternatively, you'll know when your poached egg is good when its egg white turns opaque and its surface is soft to touch like a jelly.
Tips and Tricks
Crack an egg into a bowl before poaching.

This will help you drop the egg in the middle of your poaching water and a foolproof way to avoid using bad eggs.

Use a pot and fill it with 4 inches of water. The depth of the water will help you get a teardrop-shaped poached egg as it goes down to the bottom of the pot.

Add vinegar to the water.

The vinegar will help coagulate the egg whites faster, thus preventing them from spreading out in the water and from sticking at the bottom of the pan.

Do the whirlpool method.

Create a vortex by stirring the water. This will keep the egg whites from spreading out in the water.

Use a slotted spoon

to help drain the water and transfer the poached egg into a paper towel-lined plate.
3 Ways to Poach Eggs
Poacher
Fill the pan with water; enough water to touch the bottom of the poaching tray.

Bring the water to a simmer.

Crack the egg into the poaching tray and set it on top of the pan with simmering water.

Put the lid on and cook the eggs for 3 minutes.

Remove the poaching tray from the pan and transfer the eggs to another container.
Microwave
Use a high-power microwave to poach eggs.

Get a microwave-safe narrow-shaped mug and add water; just enough water to submerge the egg.

Add the egg and poke the egg yolk with a toothpick before covering the mug

Put the mug in the microwave and set it to high, and the timer for 1 minute and 10 seconds.

Once it stops cooking, rest the poached egg for another minute before transferring it.

Transfer the egg to a paper towel-lined plate to drain excess water.
Traditional
Crack an egg into a bowl.

Bring a pot of water to a boil.

Add vinegar (4 tablespoons of vinegar for every 1 liter of water).
Reduce the heat to keep low-simmering water.

Create a whirlpool in the water by stirring the water in a circular motion.

Slowly tip the egg into the vortex of the whirlpool.

Cook for 2-4 minutes (depending on the size of the egg) or you can check the egg's doneness by touching it to feel its softness. It should feel like a soft jelly and should have opaque egg whites.

Lift the egg out with a slotted spoon and drain it on a paper towel-lined pan.
That's it! So, fancy some traditional poached egg? Don't forget to season and maybe enjoy it with a serving of toast, add it in eggs benedict, or this delicious spicy Eggs In Purgatory. EGGS-quisitely good!
Watch How To Make It
[adthrive-in-post-video-player video-id="ESxH2idp" upload-date="2021-09-01T07:00:00.000Z" name="How to Poach an Egg" description="Let me show you how to poach an egg using simple and easy-to-follow steps. Now you won't ever have to say that poached eggs are too tricky. With perfectly firm whites and runny yolks, you'll be serving them on your toasts, grain bowls, or salads like a pro!" player-type="collapse" override-embed="false"]