Frozen Strawberry Daiquiri – a classic and popular fruity cocktail that is made with fresh  or frozen sweet strawberries, rum, lime juice and some ice. Perfect for end of summer, gatherings and holidays. A refreshingly good,  eye-opening  vibrant drink!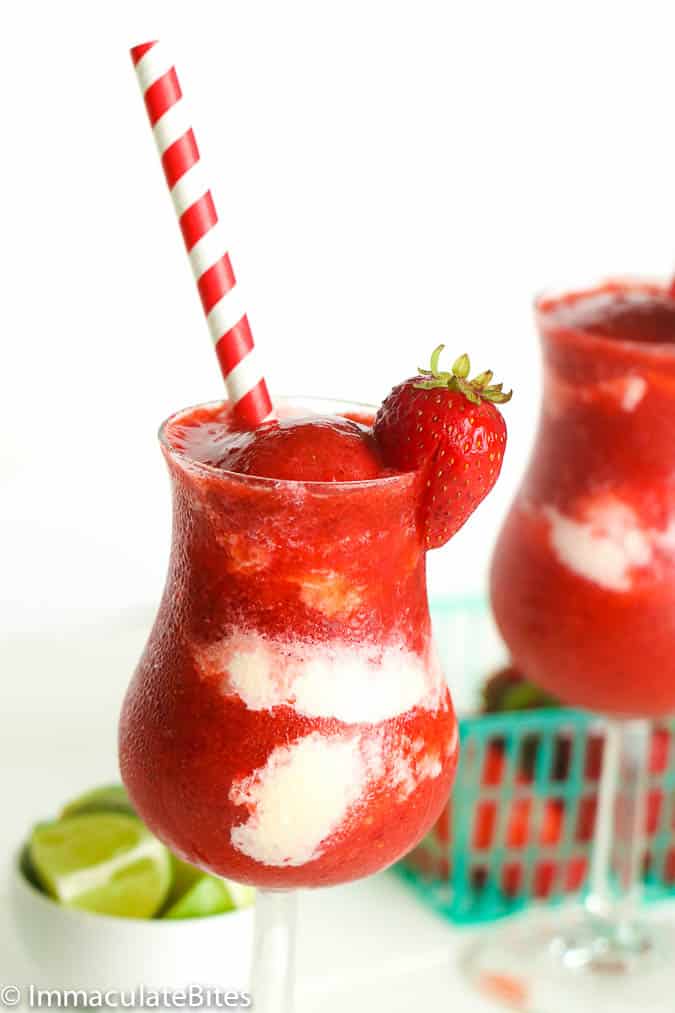 Happy Labor Day! This weekend is going to be a long one for us here in the U.S. as we celebrate Labor Day on the first Monday of September which falls on the 4th. It's a time to honor all the workers who contributed to the prosperity and well-being of this country. I know this year it's going to be a sad one for those living in Texas, specifically Houston.   I can only imagine.. as I watch the news. It's devastating , my hearts and prayers have been with you this week- stay strong.
For the rest of the country , I know it's time  a time for gathering , picnics ,cookout, parties and other fun activities; or to put it simply – it's the best time to take a  well-deserved break.
It'll be a busy one for me , cause I'll be entertaining.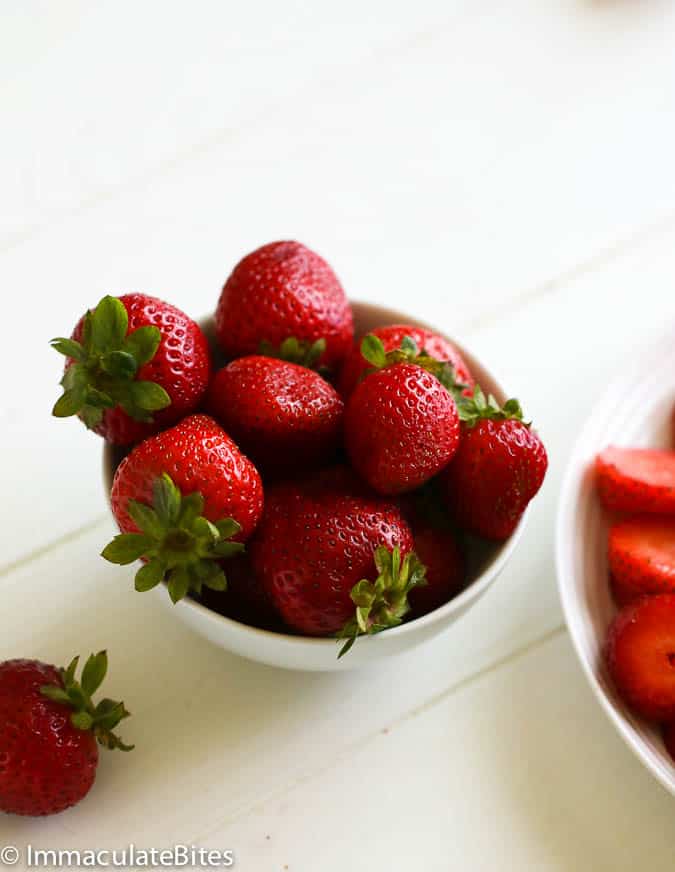 And for this special weekend, I'll surprise them (okay, not a surprise anymore once they read this post 😀 ) with this special Strawberry Daiquiri that had served me and my hubby well during our last week's Netflix binge-watching session.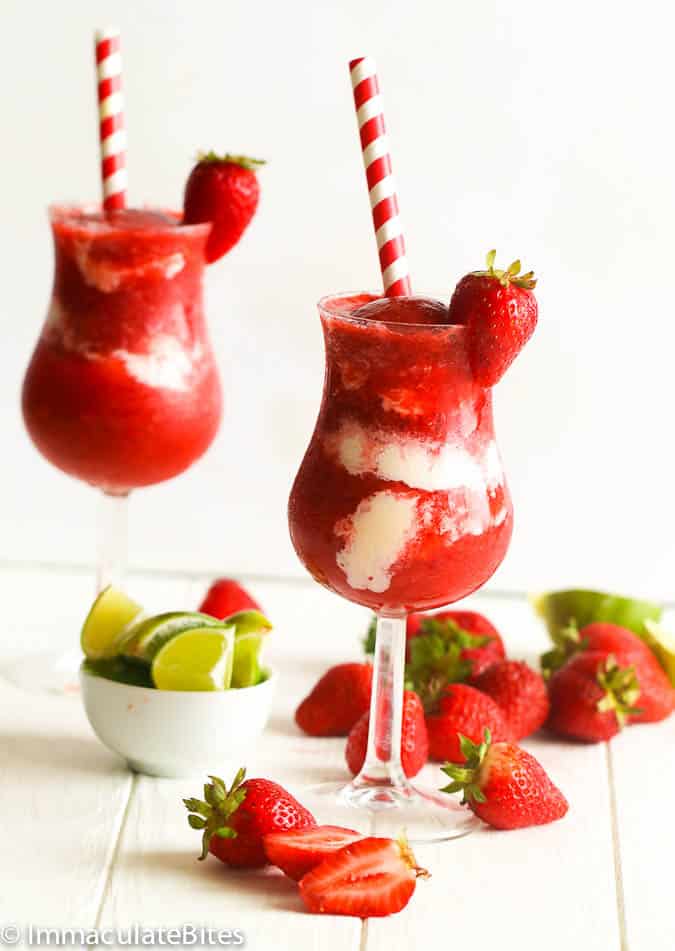 We we're so into it that we didn't notice that we finish the whole pitcher of this for just a night. Amazing! I've said here on my blog that I'm not the alcoholic type of person but this one is just right up my alley.  
I'd say this Strawberry Daiquiri is my favorite cocktail so far. Ahhh wait, wait..I'm still undecided though between this and my Mango Margarita which is as fruity and vibrant as this daq. Perhaps, I'll have them both on my top list?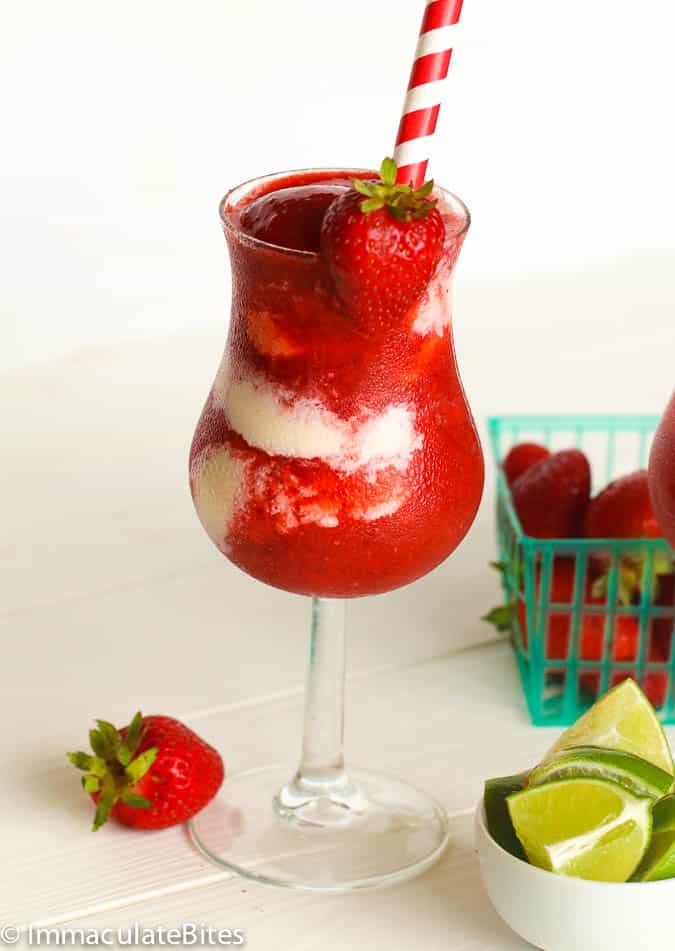 Daiquiri is from the family of cocktails which is usually a mix of  rum, citrus juice and sugar or other sweetener. And the most popular version of it is this Strawberry Daiquiri which has since established its name.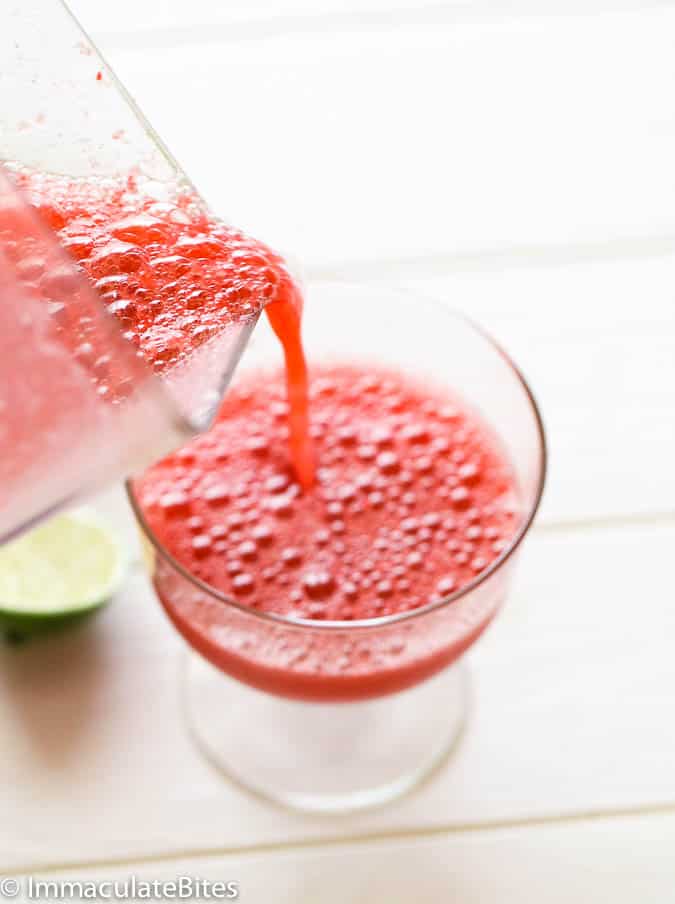 Once you taste this, you'll have to agree that this is indeed a keeper! You can enjoy it either frozen or shaken.
They both work!!!!.
The addition of ice sort of mellow down the rum yet it also balances the sweetness of strawberry and the tangy flavor of lime juice.
It's a perfect blend of all flavors. So instead of going out for a few drinks, why don't you make one at home for a few bucks. You can even have a glass of it again and again and again. We all love refillable drinks. Wohoo!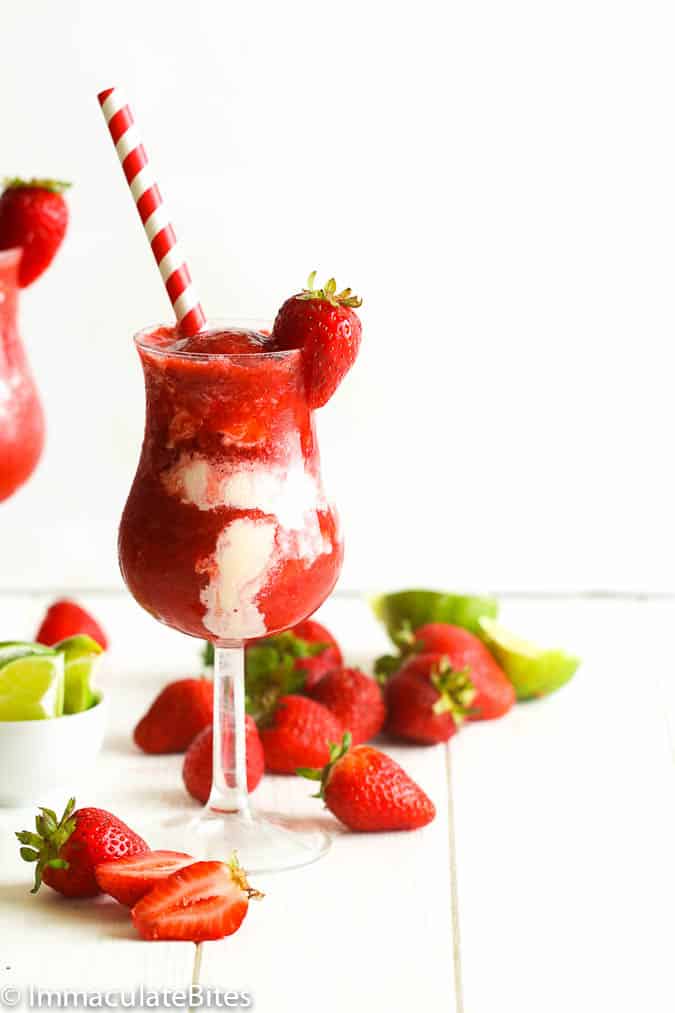 And an added bonus for you is a house filled with the sweetest aroma of fresh strawberries. With the longer rest days ahead of us, make sure to whip this up at home for friends and family or even just for yourself for doing a great job.
'Cause sometimes all we need after work is a pat on the back and a good drink. Cheers to a good life!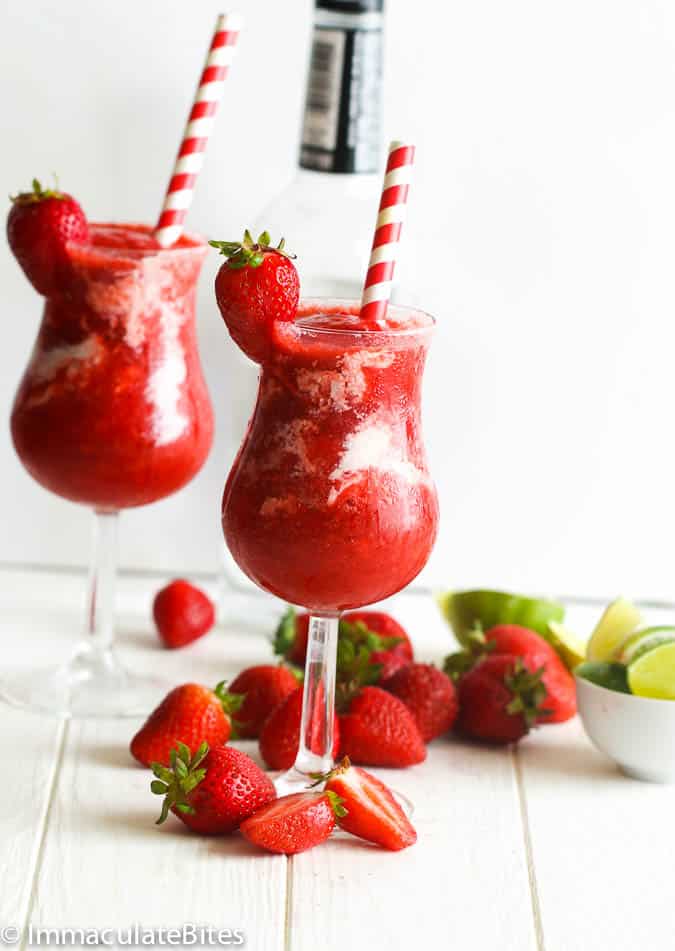 Tips and Notes:
If you don't have fresh strawberries on hand, frozen strawberries is a good substitute. Make sure that they are  ripe or are sweet enough. However, If they aren't quite that ripe yet, you may add little more sugar to amp sweetness 

When adding sugar, make sure you use the super fine one as  it will dissolve instantly in the blender. If you cant find one, be sure to blend long enough to give the sugar the time to dissolve completely.

To adjust the thickness of your frozen daiquiri, you may add as much or as little ice into the blender. For a slushy consistency, you may start by adding 1 cup of ice, then add another ½ cup at a time and pulse to your desired consistency.

You may also adjust the the amount of lemon and lime juice for this recipe depending on your preference.

Place a fine strainer over your glass/pitcher as you are straining so as not to include the strawberry chunks and tiny seeds onto your drink.

White rum are the perfect choice for a daiquiri as it is sweeter compared to dark rums which tend to be rich and mellow. A good sub for a white rum though on daiquiri is vodka. Or you may leave it for a virgin version of strawberry daiquiri

You can customize this drink to your preference. You may add more fruits into it or herbs for an earthy hint on your drink.

Make sure to properly wash and hull (removing that inedible green stem) your strawberries before tossing them into the blender.
Watch How to Make It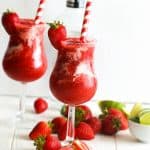 Strawberry Daiquiri
Frozen Strawberry Daiquiri – a classic and popular fruity cocktail that is made with fresh or frozen sweet strawberries, rum, lime juice and some ice. Perfect for summer and spring parties, gatherings and holidays. A refreshingly good, eye-opening vibrant drink!

Ingredients
¼

cup

White Rum

2

cups

Frozen Strawberries

(about a pint)

2

tablespoons

Freshly Squeezed Lime Juice

2

cups

of Ice Cubes

¼

cup

sugar

Ice cream (about 4 scoops or more )

optional
Instructions
In a blender add rum, lime juice, sugar and frozen strawberries.

Blend until smooth and creamy, pour into serving glass , about ⅓ top with ice cream, if desired . Another layer of strawberry daiquiri, followed by ice cream. Top with whipped cream if desired . And serve immediately

If using fresh strawberries blend all the ingredients and serve in glass.

Nutrition Facts
Strawberry Daiquiri
Amount Per Serving
Calories 217
% Daily Value*
Sodium 3mg0%
Potassium 220mg6%
Carbohydrates 37g12%
Protein 1g2%
Vitamin C 89.2mg108%
Calcium 23mg2%
Iron 0.6mg3%
* Percent Daily Values are based on a 2000 calorie diet.