Coconut Drop Cookie – sweet and satisfying coconut cookies with beautiful butterscotch color and a lovely buttery crunch around the edges.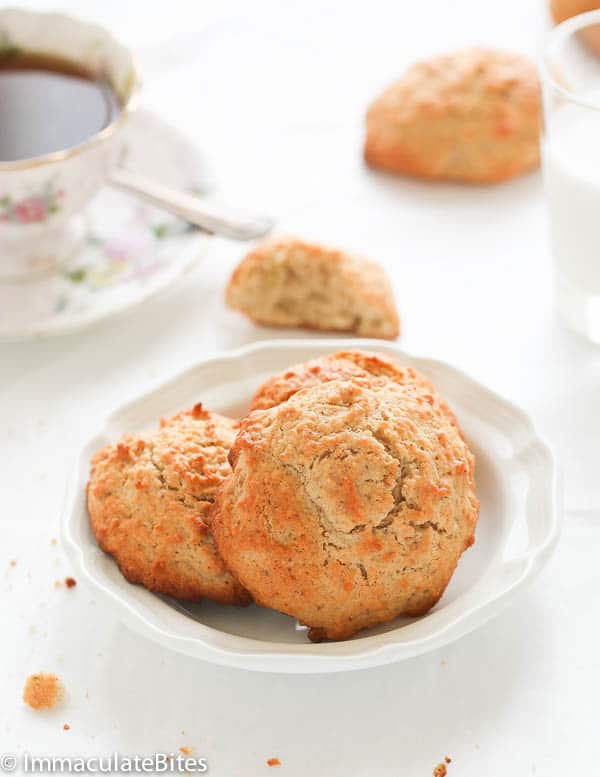 Calling all coconut lovers: If you are LOCO for COCO then these cookies are for you! You will love the rich nutty flavor of this wholesome coconut cookie.
I could tell you a million stories about these coconut drops, cause I have had my fair share of them.
Can't stop making them – Obsessed!
Can't stop eating them – Delish!
Had one this morning before heading out. And I'm having another one right now with some tea – No willpower at all when it comes to these nutty cookies. Now let's scoot right to these goodies. Don't want to keep you waiting.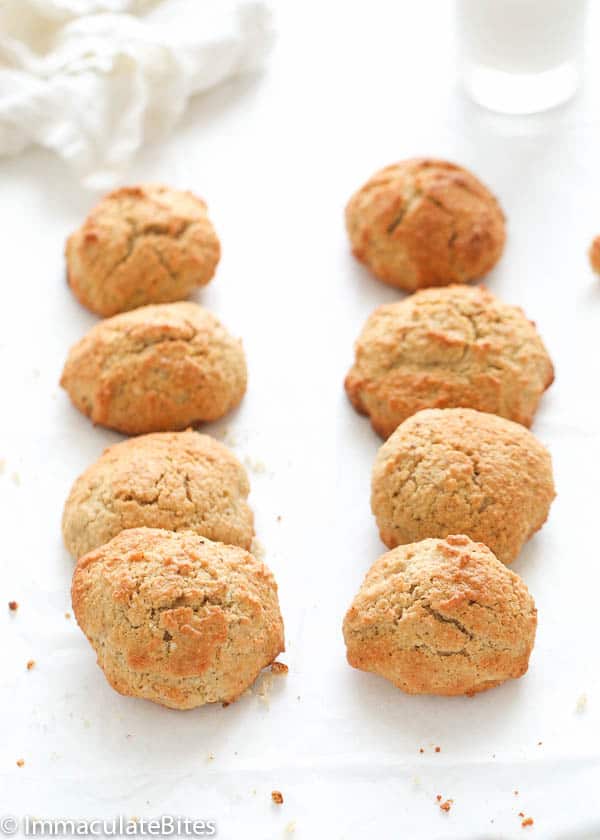 These coconut drops are a Caribbean treat, and enjoyed especially in Trinidad and throughout the West Indies, in various guises. Yes, indeed. Equally enjoyed in some parts of Africa as well. They are made with freshly grated coconut, and are spiced with nutmeg.
This here is totally different from the Jamaican Coconut Drops. Those are made without flour and a handful of ingredients. Another treat, reserved for another day. Let's keep our focus on these treat right here, shall we?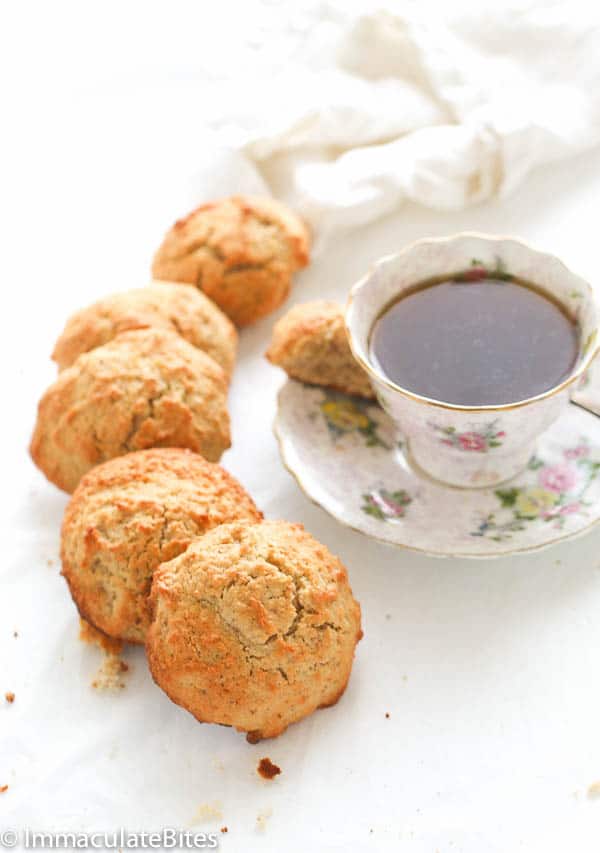 I know this may seem daunting because you have to use fresh coconuts. Fear not! I have a few tips to help you pick the right coconuts and get the flesh out, without throwing some of those coconuts at me, out of frustration – of course. I know you would never do that to me. We are friends, right?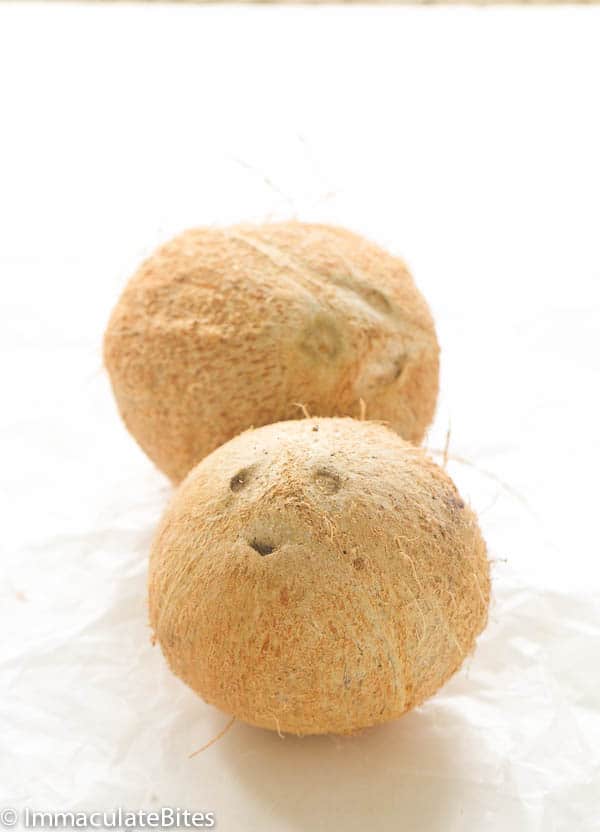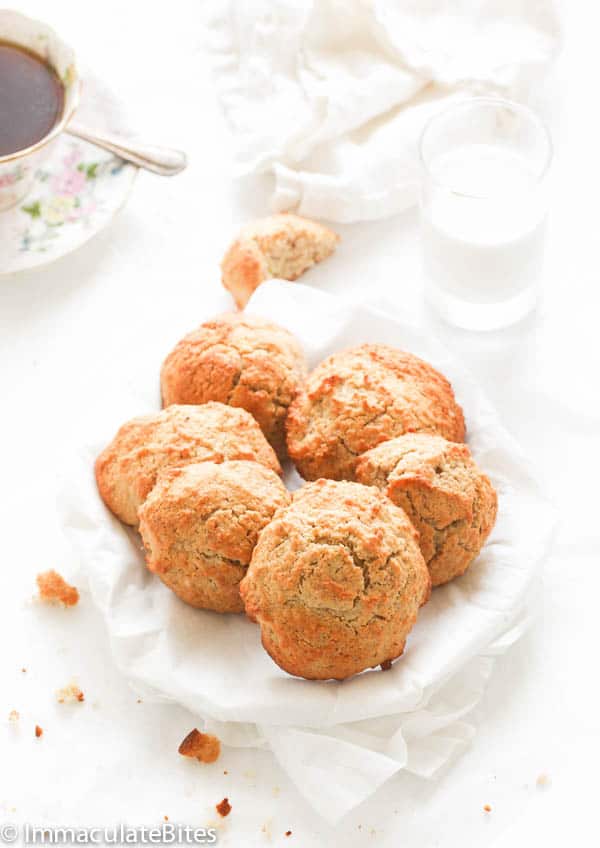 Buying fresh coconut can be a challenge here in the United States. So here are a few guidelines to follow to make your coconut experience more pleasurable.
Double check your coconuts for any molds or cracks- – air and mold entering the coconut will make the coconut meat spoil quickly, which produces a rancid coconut.
Shake and feel the coconut, it should be heavy – I usually get the heaviest – indicating that they contain plenty of liquid, which keeps the flesh from drying out.
To be on the safe side I always buy more than I need and save the receipt for returns whenever possible.
To facilitate removing the coconut meat from the shell, place cracked coconut in an oven for about 15-20 minutes. This causes the meat to shrink. Then use a spoon to scoop it out.
Replace grated coconut with about 1 cup coconut flakes and increase the butter to 4 ounces.
Use a blender to grate the coconuts instead of a grater. This saves time, energy and most of all my precious fingers – I know yours are precious too! Don't tell grandma this secret.
Enjoy!!!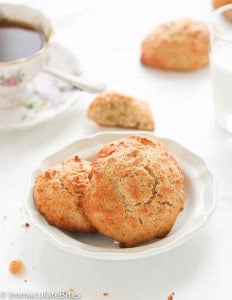 Print
Coconut Drop Cookie
Coconut Drop Cookie– sweet and satisfying coconut cookies with beautiful butterscotch color and a lovely buttery crunch at the edges.
Ingredients
1

whole mature coconut

about 3 1/2 -4 cups grated coconut

2

cups

250grams all purpose flour, sifted

¼

cup

50 g white sugar

¼

cup

55 g brown sugar

2

teaspoons

baking powder

1-2

teaspoon

lime or orange zest.

½

teaspoon

salt

2

teaspoons

nutmeg

2-3

ounce

56-76 grams butter diced

2

large eggs

1

teaspoon

vanilla
Instructions
Preheat oven to 400 degrees
Grated coconut
Hit hard the middle of a coconut with a blunt side of a cleaver or hammer, just enough to crack it. Rotate the coconut, continuing to hit it at the center just enough to crack it. Rotate the coconut, continuing to hit it at the center with the hammer or cleaver. It will split in two eventually at the center or wrap coconut

Place it in the oven for about 15-20 minutes at 350 degrees F to facilitate removal of the flesh from the shell. Let it cool. Use a spoon to remove the coconut from the shell.

Blend coconut in a blender (blendtec or vitamix preferably) on high into a fine consistency.
Coconut Cookie
In a medium bowl, whisk or sift together flour, brown and white sugar, baking powder, Lime or orange zest , nutmeg and salt

Work in the butter just until the mixture is unevenly crumbly; it's OK for some larger chunks of butter to main unincorporated. Stir in the grated coconut

Whisk together eggs and vanilla

Gently fold wet ingredients into dry ingredients and stir until all is moistened and holds together (like a ball)

Put dough on floured surface, and pat (gently!) with your hands only.

Fold dough over on itself about 5 times, and then gently press down.

Shape into 14 or more cookies

Place on baking sheet.

Bake at 400° for 12-15 minutes or until lightly browned

Remove, let it cool and serve
Nutrition Information:
Calories:
146
kcal
(7%)
|
Carbohydrates:
22
g
(7%)
|
Protein:
2
g
(4%)
|
Fat:
5
g
(8%)
|
Saturated Fat:
3
g
(19%)
|
Cholesterol:
32
mg
(11%)
|
Sodium:
123
mg
(5%)
|
Potassium:
102
mg
(3%)
|
Sugar:
7
g
(8%)
|
Vitamin A:
135
IU
(3%)
|
Vitamin C:
0.1
mg
|
Calcium:
35
mg
(4%)
|
Iron:
1.1
mg
(6%)
Nutrition Facts
Coconut Drop Cookie
Amount Per Serving
Calories 146
Calories from Fat 45
% Daily Value*
Fat 5g8%
Cholesterol 32mg11%
Sodium 123mg5%
Potassium 102mg3%
Carbohydrates 22g7%
Protein 2g4%
Vitamin A 135IU3%
Vitamin C 0.1mg0%
Calcium 35mg4%
Iron 1.1mg6%
* Percent Daily Values are based on a 2000 calorie diet.