Mallorca Bread – Homemade Sweet Bread Rolls with very little kneading required – Soft, fluffy, buttery and damn delicious!!! The perfect dinner or breakfast roll for entertaining.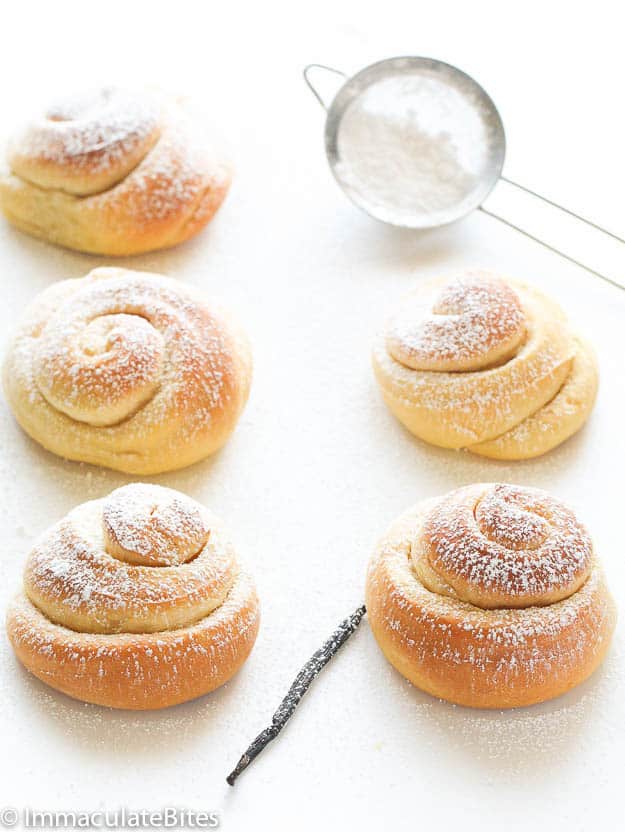 The Weekends are different for all of us. For some it's a time to catch up on sleep, for others, it's total do-nothing time. For me? Baking! Getting up in the wee hours of the morning before anyone is up then cooking up a storm…enough to stir up my neighbors.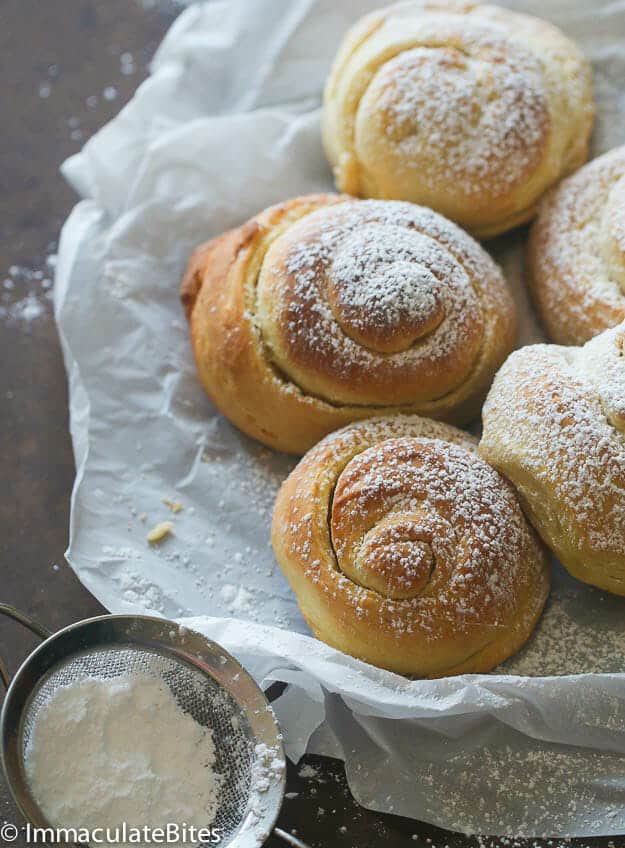 During the holiday season, I'm always bent at trying something extra special and this my friends, takes that honor.
Hello!! Mallorca where have you been all my life?? Seriously I've been looking for that easy pastry that could double up as anytime snack at the same time and you have it right here.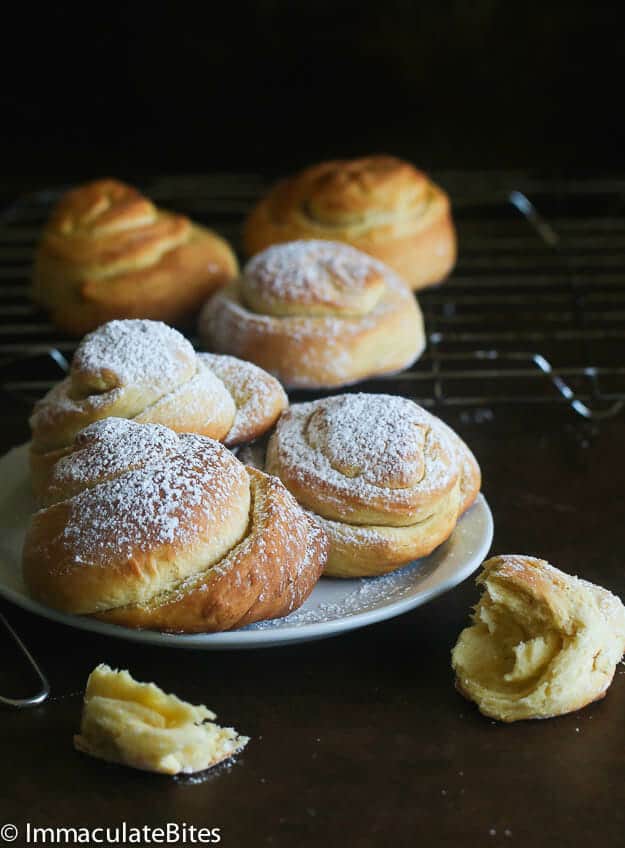 This recipe is a keeper, knocking off the others and staying on top, there's no doubt about it! They're everything a breakfast roll should be: big, soft and perfectly fluffy or slight crunchy at the edges (if want to go that route). The BEST part is that it doesn't involve that much kneading.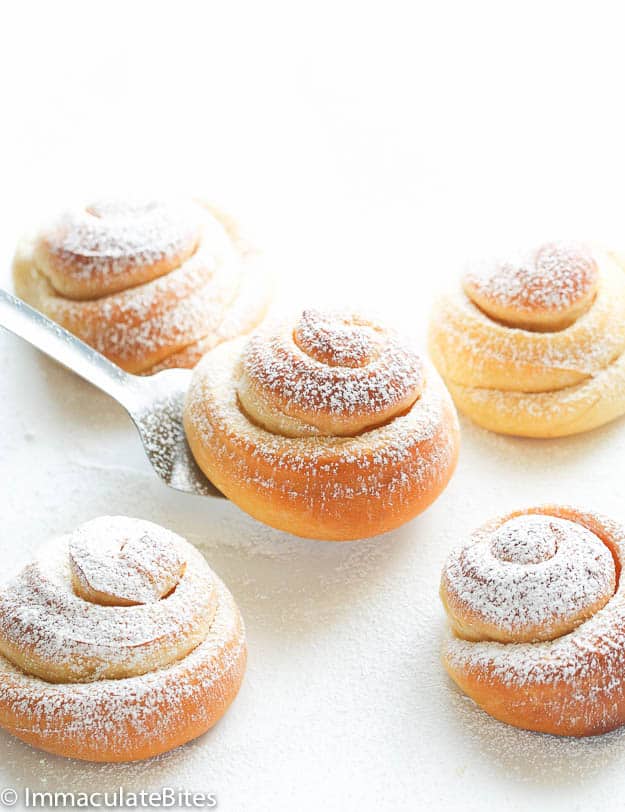 I would happily trade my dinner roll for this one right here – ANYTIME. I'm sure you would too! They have this insanely delicious melt-in-your mouth buttery flavor, that's so hard to resist.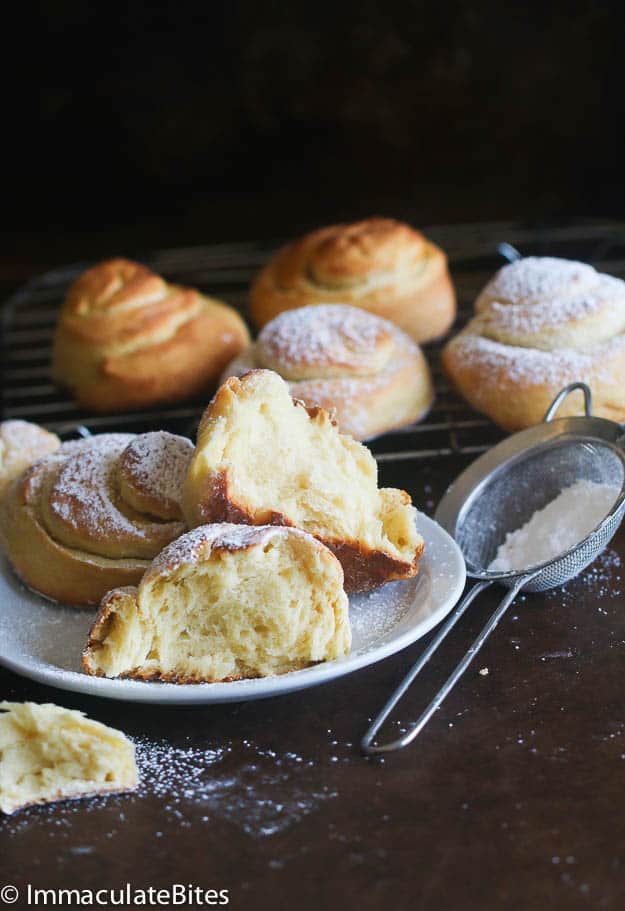 These disappeared 10 minutes after taking them out of the oven. Gone! Finito! Had family members over and everyone wanted thirds, couldn't even get to take pictures.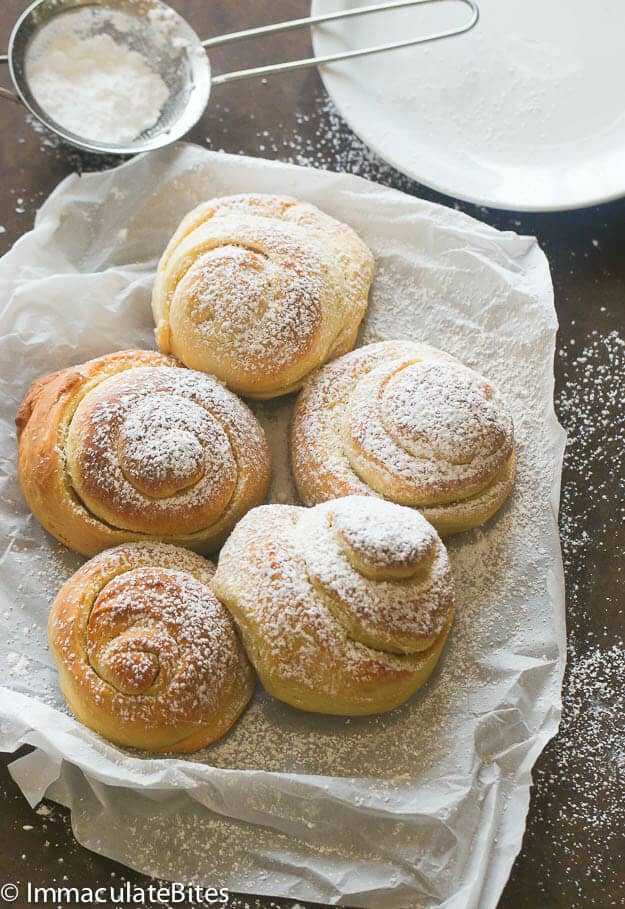 This time, it's only going to be my sous chef and me. We are going to eat to our heart's desire. Definitely not a healthy treat, I tell you. So don't go crazy and make it on a weekly basis.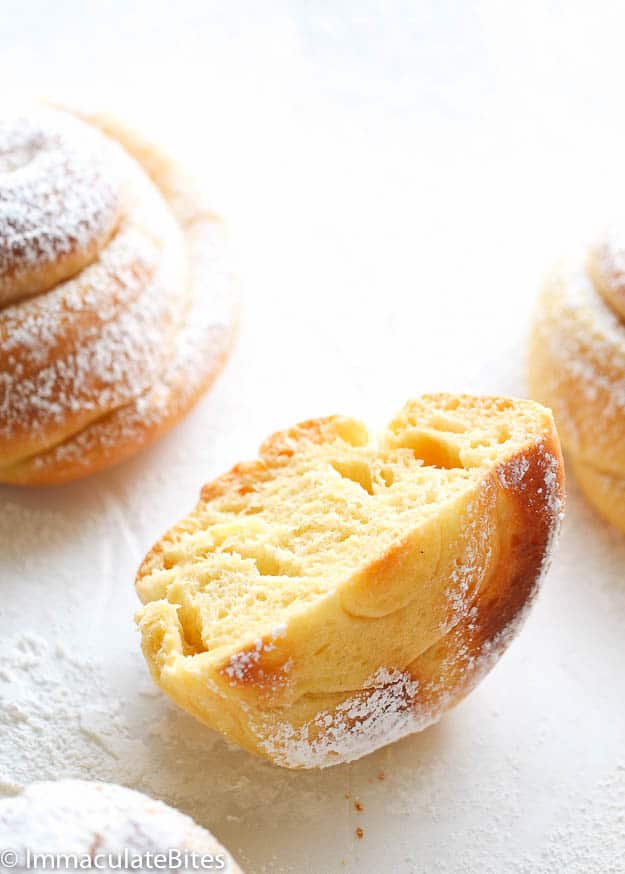 So what is Mallorca? In a nutshell, it's a "soft puerto buttery egg bread'' aka deliciousness in your mouth. That's all I can say, without putting you to sleep. If you want to learn more check it out here. Meseidy, from the Noshery does a beautiful job of explaining it. Do give it a try and if for some reason you have leftovers then make Puerto Rican breakfast ham and cheese sandwich.
Watch How To Make It
Recipe adapted here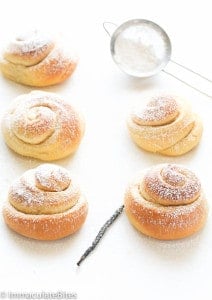 Print
Mallorca Bread
Homemade Sweet Rolls with very little kneading required – Soft, fluffy, buttery, and utterly delicious!!! The perfect dinner or breakfast roll for entertaining.
Ingredients
½

tablespoon

dry yeast

½

cup

water

½

cup

whole milk

4

ounces (113.4 gram)

butter,

melted (plus more for brushing)

4

large

egg yolks

1

teaspoon

vanilla extract

(or one vanilla bean)

1

teaspoon

salt

⅓

cup (70g)

granulated sugar

3-3¼

cups (375g)

all-purpose flour

Powdered,

(or confectioners sugar) for dusting
Instructions
In a large bowl, combine water and yeast. Let it sit until dissolved for 3-5 minutes.

Then lightly whisk in the milk, butter, egg yolks, vanilla extract, salt, and sugar.

Finally, add 3 cups of flour, then thoroughly mix with your hands or a spoon. The dough is going to be sticky, but if it's too sticky, add some of the remaining flour a little at a time. Use as little flour as possible.

Cover loosely with a clean cloth and let rise in a warm, draft-free place for 1½ to 2 hours or until doubled.

Punch dough down. At this point, you may refrigerate the dough for a couple of hours or overnight. Refrigerating the dough makes it easier to work with. However, you can proceed to the next step without chilling the dough.

When ready to shape, roll out to a ¼-inch thick rectangle. Lightly brush with melted butter. With a sharp knife, pizza wheel, or dough cutter, make 6-8 even-sized strips.

Coil the dough to make flattened spiral buns, tucking the end under the bun, to help the dough stay in shape.

Place on a baking sheet (half sheet works, too) with parchment paper to prevent the dough from browning too much on the bottom. If desired, brush again with melted butter.

Let it rise again for about 45 minutes, then bake in a 350℉/177℃ oven for 12-18 until lightly browned.

Remove, let it rest for a few minutes, and sprinkle with powdered sugar if desired. Then eat to your heart's desire.
Tips & Notes:
If refrigerating overnight, punch the dough before placing it in the fridge.
Tuck the end under the bun to help the roll keep its shape.
Let it rise for about 30-40 minutes after placing it on the baking sheet with parchment paper.
Please remember that the nutritional information is a rough estimate and can vary significantly based on the products used in the recipe.
Nutrition Information:
Serving:
1
roll
|
Calories:
528
kcal
(26%)
|
Carbohydrates:
84
g
(28%)
|
Protein:
12
g
(24%)
|
Fat:
15
g
(23%)
|
Saturated Fat:
9
g
(56%)
|
Polyunsaturated Fat:
1
g
|
Monounsaturated Fat:
4
g
|
Trans Fat:
0.5
g
|
Cholesterol:
124
mg
(41%)
|
Sodium:
305
mg
(13%)
|
Potassium:
142
mg
(4%)
|
Fiber:
3
g
(13%)
|
Sugar:
11
g
(12%)
|
Vitamin A:
502
IU
(10%)
|
Vitamin C:
0.001
mg
|
Calcium:
48
mg
(5%)
|
Iron:
5
mg
(28%)
Nutrition Facts
Mallorca Bread
Amount Per Serving (1 roll)
Calories 528
Calories from Fat 135
% Daily Value*
Fat 15g23%
Cholesterol 124mg41%
Sodium 305mg13%
Potassium 142mg4%
Carbohydrates 84g28%
Protein 12g24%
Vitamin A 502IU10%
Vitamin C 0.001mg0%
Calcium 48mg5%
Iron 5mg28%
* Percent Daily Values are based on a 2000 calorie diet.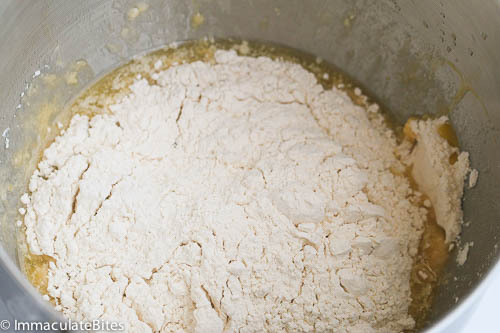 In a large bowl combine water and yeast. Let it sit until dissolve for about 3-5minutes.
Then add milk with sugar, salt, egg yolks and melted butter. Lightly whisk.
Finally add 3 cups flour then thoroughly mix with hands or spoon, dough is going to be sticky. If too sticky add the remaining flour a little at a time. Less flour is preferable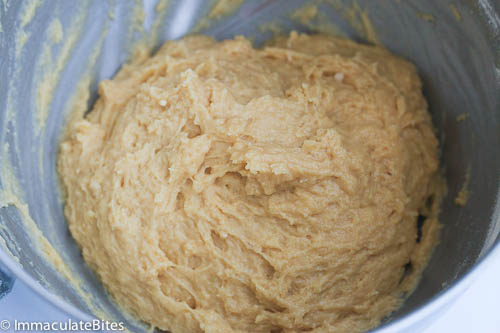 Dough should be sticky. Cover loosely with a clean cloth and let it rise until doubled in size
about 2 hours or less depending on environment.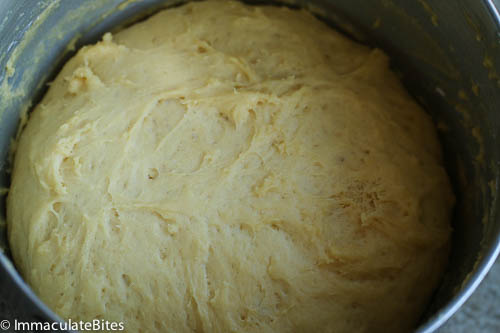 When dough has doubled in size . You can proceed with the next steps or refrigerate for a couple of hours . If refrigerating over night be sure to punch the dough before placing in the fridge.
One way of making the coils is to divide dough into 6-8 equal pieces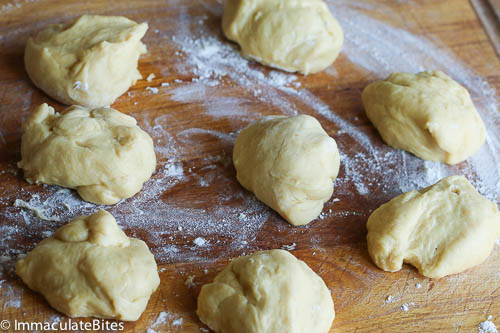 Roll the dough up to form a long thin rope, then wind each rope up to form a coil (snail shape).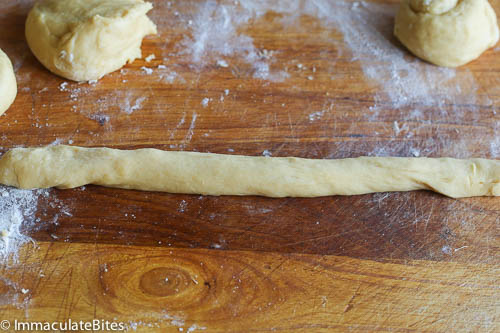 Proceed with the remaining of the pieces until finish. Be sure to tuck the end under the bun, to help the dough stay in shape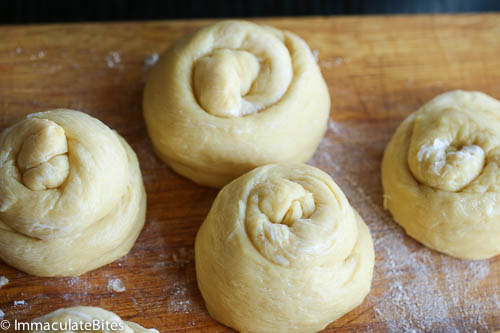 Place on a baking sheet with parchment paper and let it rest for about 30-40minutes
Another method of making the coil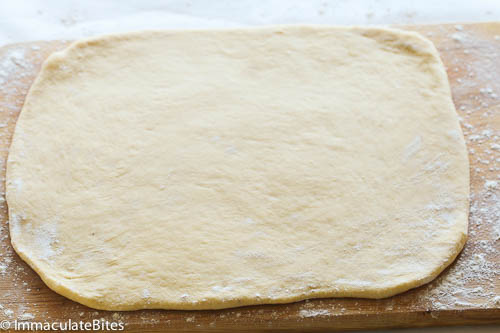 When ready to shape, roll out to 1/4-inch thick rectangle. Lightly brush with melted butter. Using a sharp knife, pizza wheel or dough cutter to make 6-8 even sized strips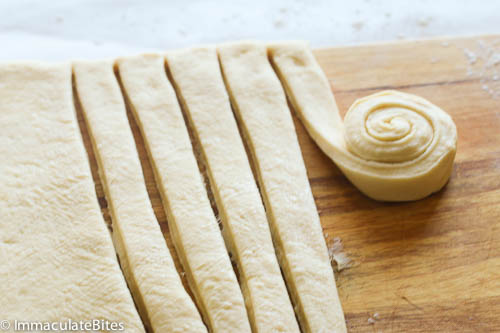 Coil the dough to make flattened spiral buns, tucking the end under the bun, to help the dough stay in shape