8 Delicious Peach Recipes – adding more fun and exciting flavors to our classic favorite pound cakes, sweet tea, and sweet dishes alike. These sweet and juicy peaches are not only meant for peach cobbler and pies. They make other delicious desserts and refreshing beverages, too. Let's enjoy their natural sweetness and fruitiness with these amazing and delicious peach recipes.
Like mangoes, pineapples, and apricots, peaches also offer a combination of lovely sweet and tart flavors, making them a nice addition to our favorite peach recipes.
They are juicy and soft, depending on the variety and ripeness.
With that said, the yellow ones are best for peach pie and peach cobbler recipes, while the white ones are best for grilling. Because they're a little more firm, they can hold their shape when exposed to heat, unlike the yellow ones that soften as they bake. However, both varieties can still be used interchangeably. So it really depends on your preference.
Summer is about to end, so you had better stock on fresh peaches and try these 8 Delicious Peach Recipes before they run out.
Even if you're not really a fan of peaches, I bet these easy peach recipes will convince you otherwise. 😉
FAQs
Can I freeze peaches?
Totally! You can freeze them whole or sliced and also pureed. Freezing them extends their shelf life for 6-12 months. It is best to peel and slice them before freezing for easier thawing. Place them in a freezer-safe bag, and make sure to take out as much air as possible to prevent freezer burn.
What brings out the flavor of peach?
Just like the other fruity desserts, you can amplify and highlight the wonderful fruity flavor of peaches by adding warm spices such as cinnamon, nutmeg, ginger, cardamom, and clove.
What does a bad peach look like?
Check if the peaches have become wrinkly, super soft, started to change in color, developed a clump of dark spots, or started oozing; if so, then the peaches have gone bad, and it's best not to consume them.
Peach Dessert Recipes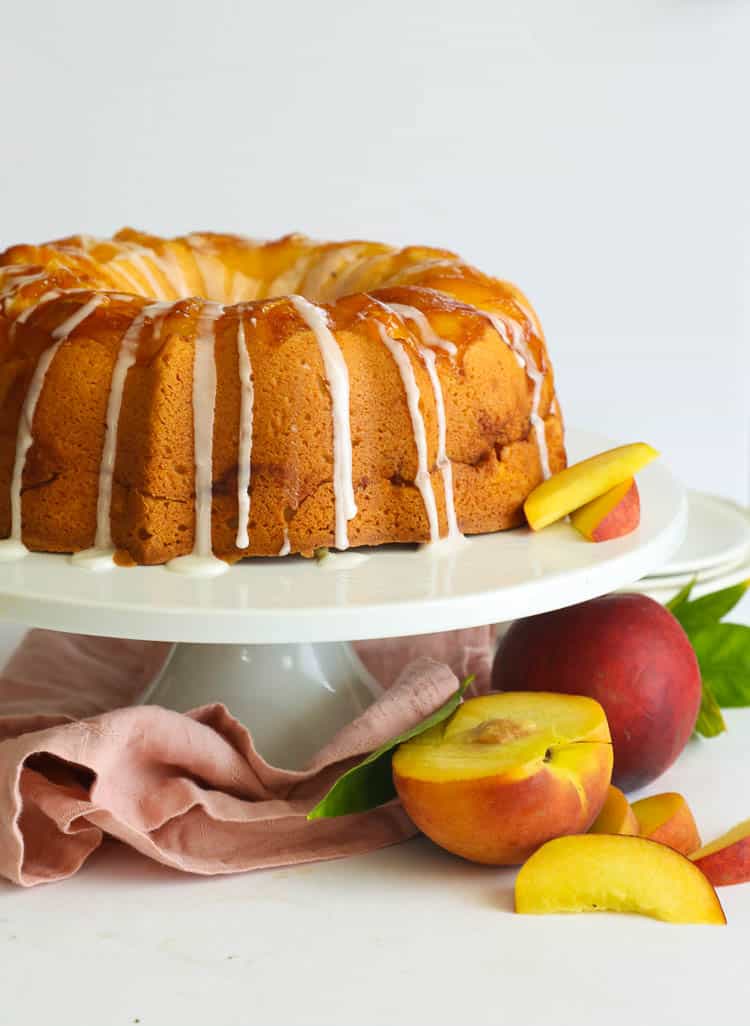 Peach cobbler and pound cake in the same recipe? Together in one amazing peach dessert recipe? Count me in! Not only is this cake loaded with fresh peaches, but it's also brimming with warm flavors from nutmeg and cinnamon. And for more interesting flavors, you can add a splash of rum, too. Above all, the lovely drizzles of vanilla glaze on top complete this decadent perfection. ❤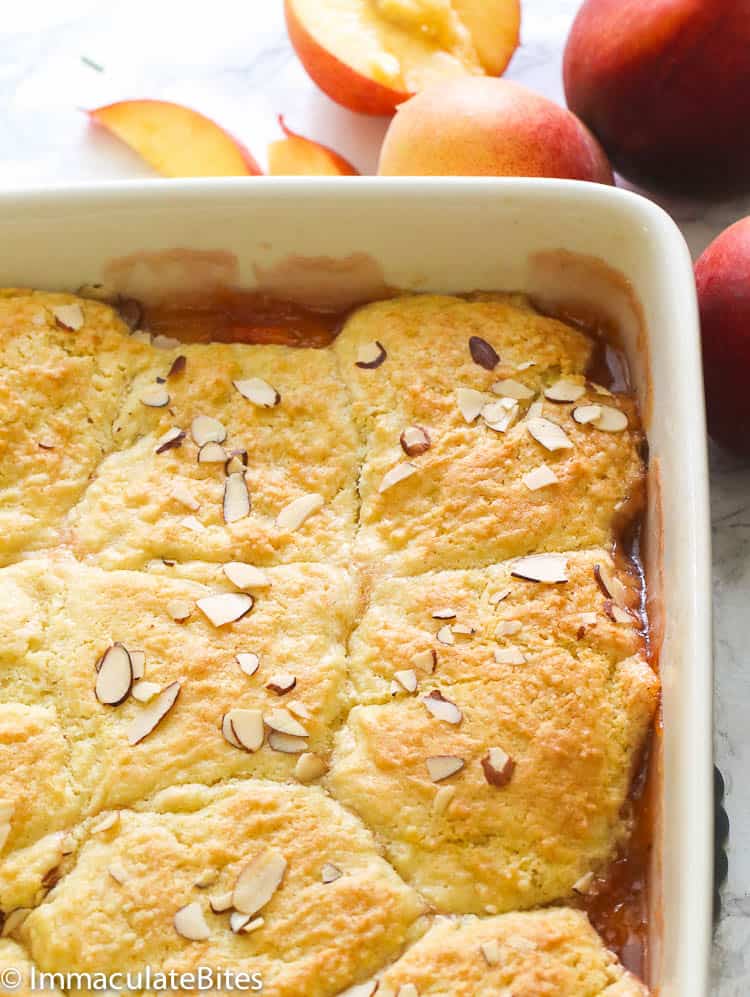 And in the battle of the best peach recipes, this Southern Peach Cobbler Recipe here is up to the challenge, too! I bet you won't be able to resist its crusty and buttery biscuit-like topping floating on a pool of indulgent filling. Especially when it's loaded with fresh peaches and cinnamon-nutmeg spices. It's truly comforting to the core!
3. Grilled Peaches with Coconut Ice Cream
Experience the smoky and fruity goodness of grilled peaches together with smooth and creamy coconut delight in one amazing peach dessert recipe. What's not to love? The harmonious flavor combination of peaches and coconut is truly sensational. A must-try peach ice cream recipe, indeed!
Enjoy a festive treat starring juicy peaches beautifully wrapped in store-bought crescent rolls, then baked in luscious rum-infused caramel syrup. So easy to make, yet this peach dessert recipe is fancy enough to be perfect for the holidays or weekend get-together. Alternatively, you can try it with apples and make lovely Apple Dumplings instead. 😉
This easy peach recipe is a dream come true with its gluten-free and guilt-free components. You can enjoy the bread as much as the regular version, but with fewer calories and carbs. More importantly, it's equally delicious, only made healthier without sacrificing the taste. Oh yes! Certainly, one of the healthiest peach recipes you'll ever make.
Drink Recipes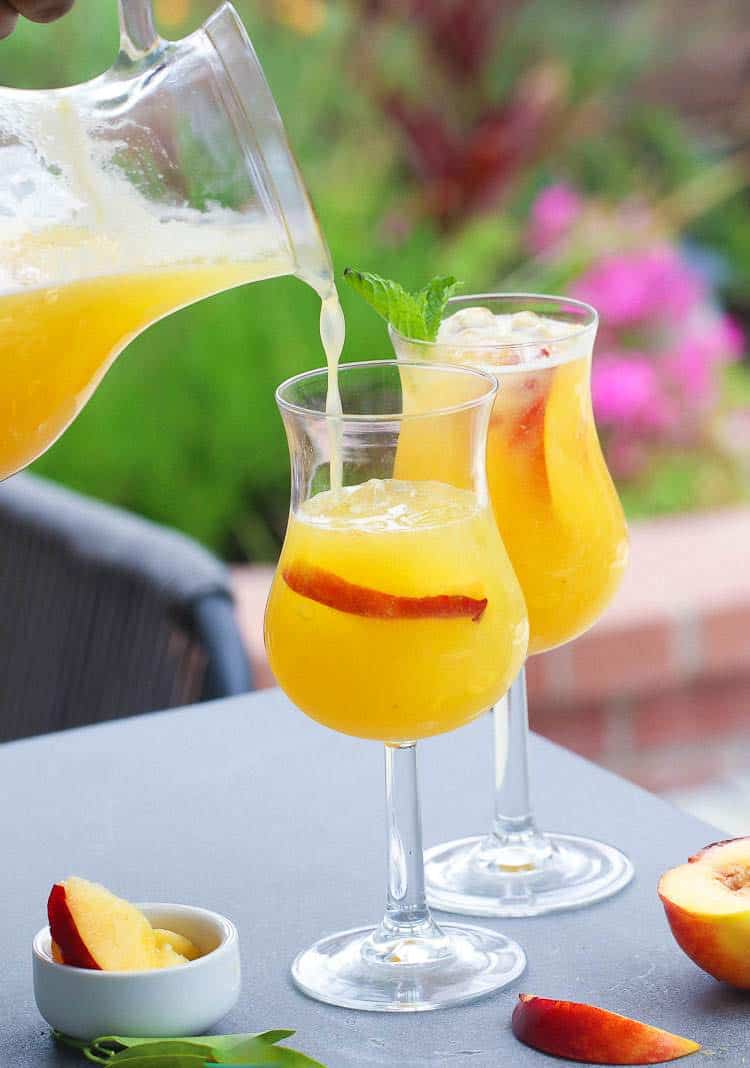 Relax and reward yourself with a refreshingly sweet and light Peach Bellini made with fresh pureed peaches, sparkling wine, and a touch of citrusy goodness. It's so light and fruity yet boozy enough to kick off any parties. Not only is it perfect for brunch and dinner parties, but also great for an intimate date night at home as well. ❤
Yes, you can add peaches to your favorite tea to ramp up more fun flavors and fruity goodness. You'll definitely enjoy it with a kiss of lemon because the added zing is just simply uplifting. This easy peach recipe makes a great alternative for sugary juice because it's made with fresh fruits and real tea. Yay!
Quench your thirst and boost your energy with this sweet and revitalizing Sparkling Peach Lemonade. Although similar to the Peach Bellini recipe, this one is kid-friendly because it doesn't contain alcohol. So easy to make with only 5 ingredients, yet it makes a wonderful and fancy peach recipe drink to help you cool down on a hot day. Simply energizing!