If you have been looking for a recipe for Achu soup also known as(Yellow soup ) sauce jaune – here you go…
This has been on my blog to do list forever, but kept putting it off for one reason or another until now. I am starting the New Year with this one- a hometown favorite!
This gloriously yellow, delicate soup can be superb or catastrophic, depending on whether you carry out certain essential points. Traditionally it is made with a collision and fusion of beef or chicken broth, red oil, limestone and a variation of spices.
To be honest, most of the spices I really cannot identify by   name. They are always grouped together –sold as achu spice. That's how I buy them.
The modern version of this soup is ridiculously easy to make .The liquid fusion can be accomplished using a blender –giving it an added dimension of smoothness; in less than 2 minutes you are done. How cool is that?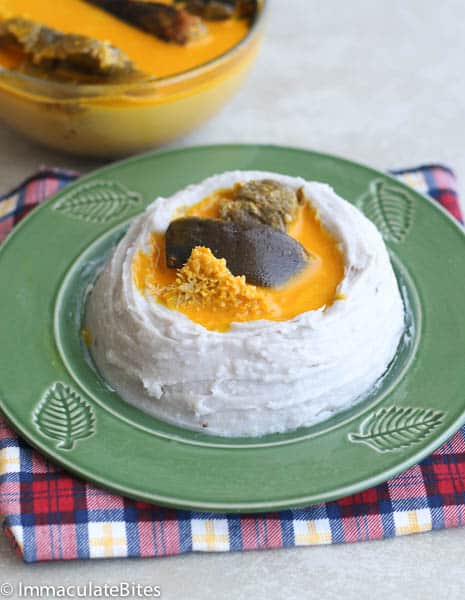 This dish is typical of Cameroonian home cooking, fairly common in the Western and North West province. It is always paired with mashed/pounded achu coco (taro). Here ,I used the food processor to blend the achu coco. If you have a mortar and pestle and desire a smooth consistency and perfect texture, then by all means use it! For mortals like us, this is as good as it gets.
Before you pound away … here is a question for you. Is Ok to eat Achu soup with a spoon? Yes or No
Warm oil to get it into liquid form( you may do so on the stove or in a microwave)
Crush limestone using a rolling pin or just purchase the ground one.
Boil meat until tender  ( depends on type of meat used ).  For a more flavorful achu soup include smoked fish. Remove  meat and reserve broth. Let it cool.
Place  broth in the blender together with achu spice, oil, limestone and palm oil
Like this! Pulse several times
To get this consistency
Adjust for salt and maggie
Voila achu soup- you may add the meat at the point or serve with meat on the side.
Boil taro until tender( about 45 minutes).  Drain water and let it dry out.
Carefully  peel away the skin using a knife(sometimes they come off easily without a knife). Cut in medium pieces
Puree taro( cocoyams ) in a food processor  into a fine consistency ( do not use any water)
Wrap in plastic paper -serve warm

Achu Soup
Ingredients
1-2 pounds of assorted meat(beef, tripe, cow skin)
6-7 cups stock or/and water
1 tablespoon bouillon powder or maggie
1 tablespoon ground limestone
2 tablespoon ground achu spice
½ cup warm red oil
1 hot pepper ( Scotch bonnet/Habenero )
4-5 pounds of Coco yams(Taro)
Salt to taste
Instructions
In medium –sized saucepan boil meat, season with salt, hot pepper, and Maggie until tender (approximately 30-60 minutes depending on the choice of meat). You can shorten this process in half by using a pressure cooker. Reserve the stock (preferably 6 cups or more)
Boil the cow skin and tripe together or you may do so separately until tender. Remove cow skin, tripe. Set aside
Let the stock come to room temperature before using.
While meat is boiling grind limestone and warm
In a blender, pulse stock, limestone, oil and achu spice, until all the ingredients have been fully incorporated and it has turned into yellowish color.
Adjust salt and Maggie according to taste
Notes
-You can purchase taro in Asian super markets , Indian supermarkets and African stores.
-Achu spice can only be purchased at some African stores- mainly Cameroonian owned)

Make sure your broth is flavorful ( right amount of pepper , salt and maggie)
-A little bit of smoked fish adds another dimension to this dish.
Some people include crayfish -you may do so while boiling the meat
-The key to a good achu soup is the right combination limestone and oil( if soup separates , then add a little bit of limestone and pulse again.