African Peanut Stew-Creamy ,Quick and easy groundnut  Stew.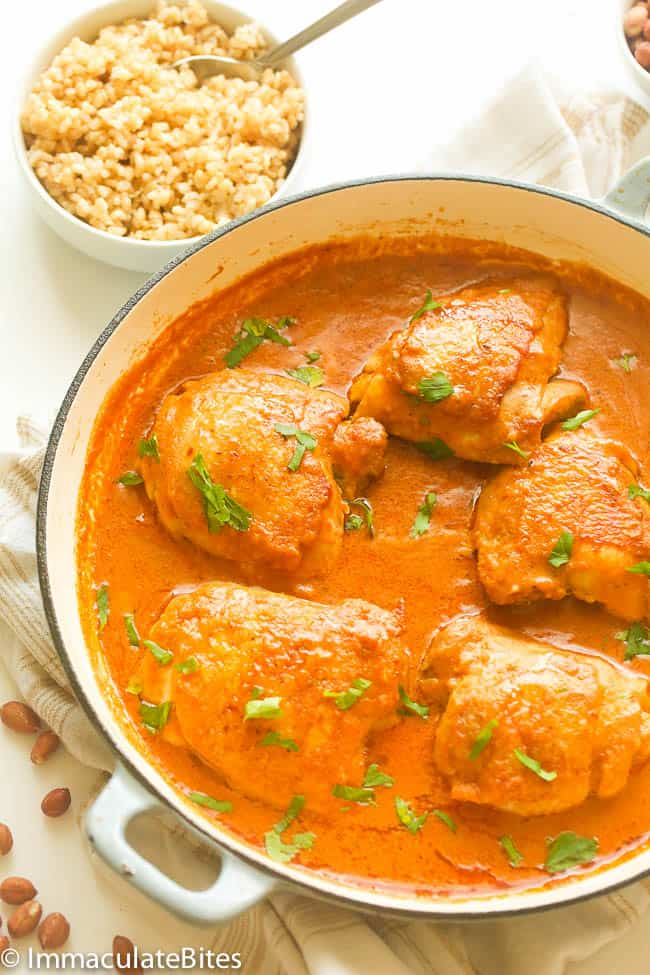 In the West, Groundnuts are almost invariably eaten as snack, mixed into salads, or transformed into peanut butter paste. However, in Africa, this nut has been an important source of food for centuries  –and it is used in a number of different ways-throughout the continent depending on the region-a little goes a long way. The most common use is to flavor sauces, soups or add thickness any meal.
In West Africa, It is used to make this hearty stew – a rich stew with a tempting combination of flavors – garlic, ginger, herbs and of course a little bit of spice. The good thing about this recipe is that it is open to so many variations based on your preferences, availability of ingredients and time. You can never go wrong with this soup.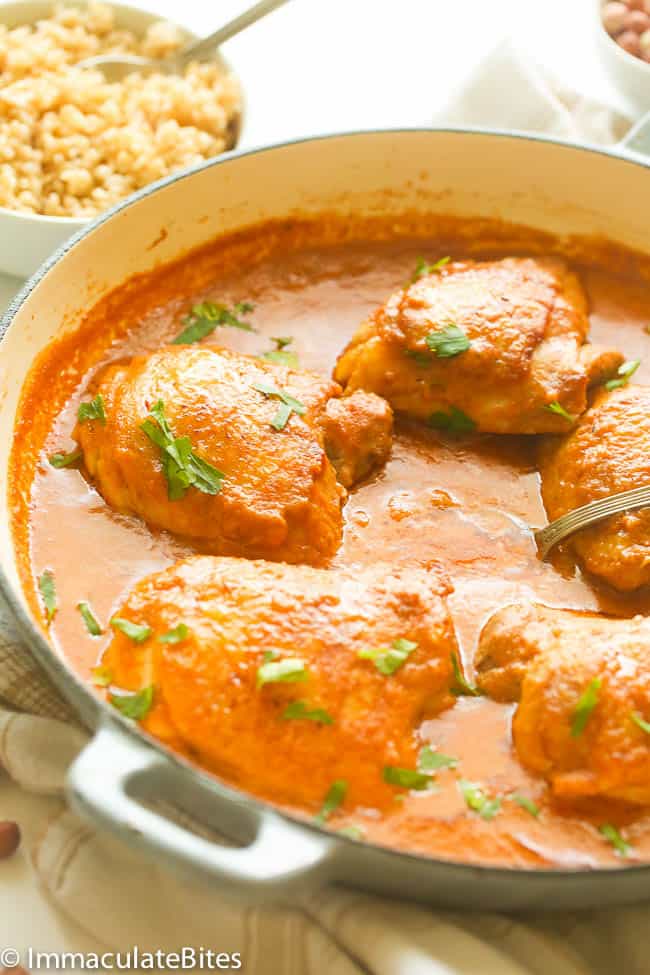 Here, I used Peanut butter paste. You can use any variety depending on what you have on hand- go for 100% Peanut butter for an intensified peanut flavor without the added sugar. It does make a difference.
Don't sweat it though, I must admit that I sometimes use whatever brand I have on hand.
If you have time just make your own peanut butter by grinding roasted peanuts in a food processor or coffee grinder. That's how this stew is made in Africa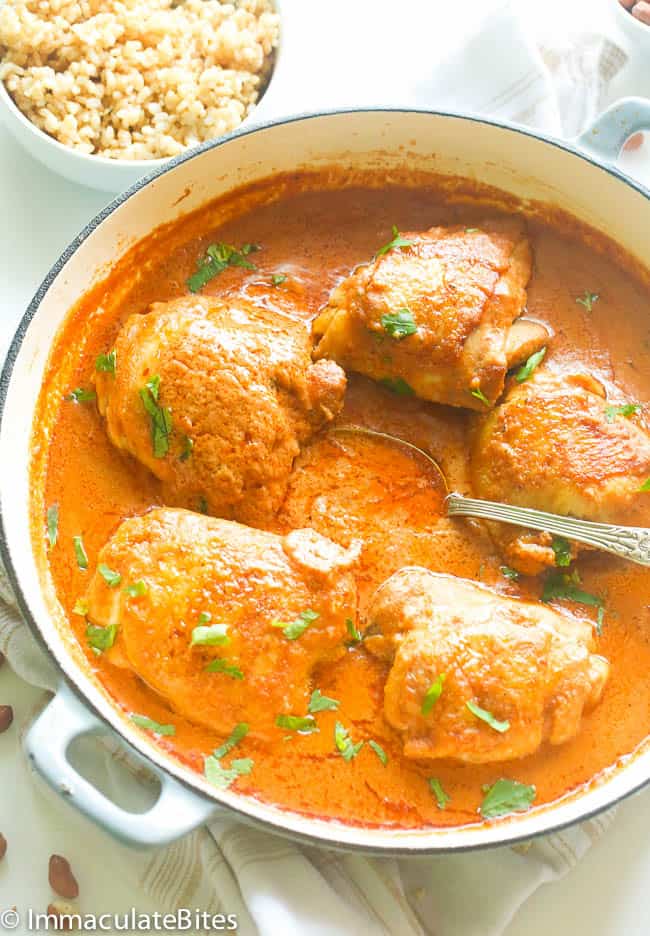 Traditionally ground soup or stew is made with peanuts, tomatoes, onions with or without protein depending ones preference. You may use less oil or omit completely for a healthier stew – just omit the tomato sauce.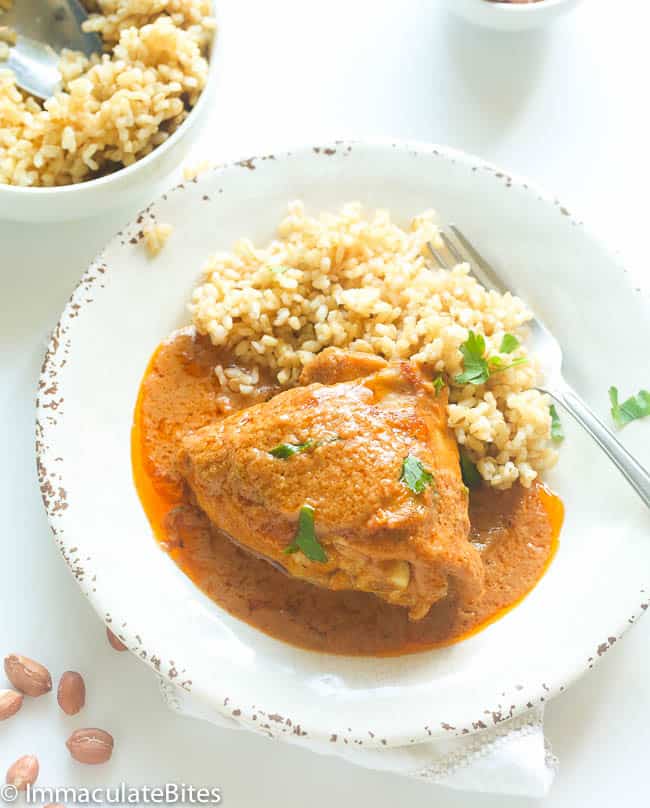 Serve with any starchy side rice, plantains, potatoes and or vegetables
Enjoy it!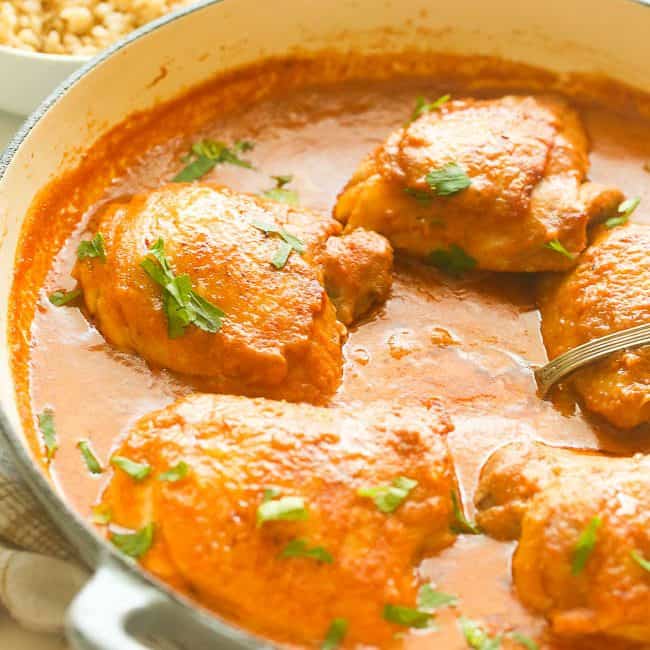 Print
African Peanut Stew
African Peanut Stew - Creamy ,Quick and easy groundnut Stew.
Prep: 15 mins
Cook: 35 mins
Total: 50 mins
African
Ingredients
¼ cup oil
2- 3 pounds chicken legs or thighs
1 teaspoon paprika
2 fresh tomatoes
1 medium onion chopped
4 garlic cloves
½ teaspoon ginger chopped
3 tablespoons parsley
½ cup Peanut butter or peanut paste
1 teaspoon chicken bouillon optional
1/2 teaspoon cayenne pepper
Salt and pepper to taste
Instructions
Season chicken with your favorite seasoning – I used creole or just use, salt and pepper. Set aside.

Blend tomatoes, ½ of the onions, garlic, parsley, and ginger. Set aside

In a large pot or saucepan heat oil over medium heat, then add the chicken and brown on both sides about 5-10 minutes. Remove chicken and set aside. You may skip this step and proceed with the next.

Add remaining onions, if desired , to the saucepan, stir for about 2 minutes then add tomato sauce(mixture of blend tomatoes and spices) and paprika

Pour the tomato mixture into the saucepan -bring to a boil and let it simmer stirring frequently to prevent any burns- about 5 minutes.

Next, add the peanut butter, chicken and 2 cups of water or chicken stock, season with, chicken bouillon, salt and cayenne pepper. Let it simmer for about 10 minutes or more

Adjust the soup thickness with water/chicken stock if necessary and let simmer to desired thickness

Drip a little soup from your stirring spoon. If you are satisfied with the thickness of your soup, serve it with rice.
Nutrition Information:
Calories: 531kcal (27%)| Carbohydrates: 8g (3%)| Protein: 29g (58%)| Fat: 43g (66%)| Saturated Fat: 17g (106%)| Cholesterol: 151mg (50%)| Sodium: 187mg (8%)| Potassium: 580mg (17%)| Fiber: 2g (8%)| Sugar: 3g (3%)| Vitamin A: 1015IU (20%)| Vitamin C: 12.3mg (15%)| Calcium: 36mg (4%)| Iron: 1.7mg (9%)
Nutrition Facts
African Peanut Stew
Amount Per Serving
Calories 531 Calories from Fat 387
% Daily Value*
Fat 43g66%
Saturated Fat 17g106%
Cholesterol 151mg50%
Sodium 187mg8%
Potassium 580mg17%
Carbohydrates 8g3%
Fiber 2g8%
Sugar 3g3%
Protein 29g58%
Vitamin A 1015IU20%
Vitamin C 12.3mg15%
Calcium 36mg4%
Iron 1.7mg9%
* Percent Daily Values are based on a 2000 calorie diet.