Ants Climbing a tree -A simple, homey Sichuan dish that is Flavorful, quick, satisfying and comes together in less than no time.
Chinese restaurants were the first restaurants I started venturing out to, when I moved to the United States. I remember those days vividly, I was a real picky eater. A far cry from the adventurous eater today… One who eats raw fish without blinking an eye? (My family thinks I am from another planet).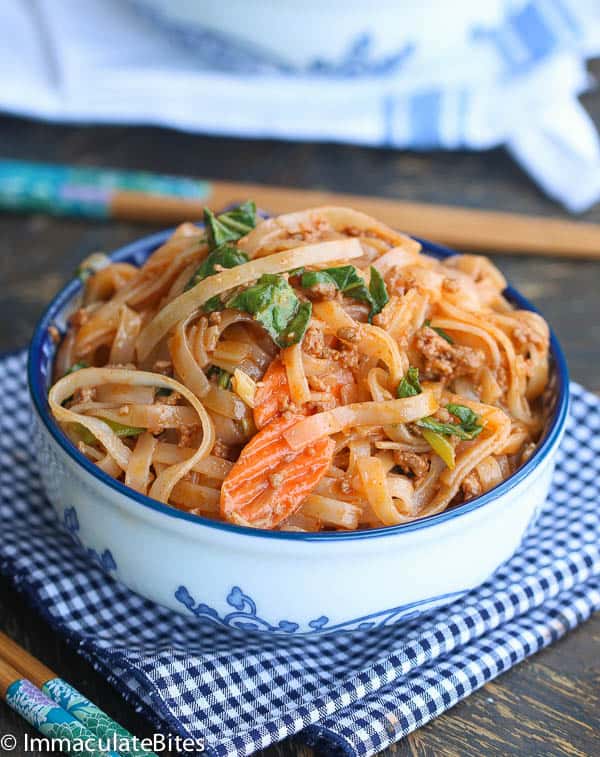 No, thank you. What's that? You mean to tell me people eat this, I'll NEVER eat that. Those were my chants.
 Like most people moving to a different part of the world there is always this culture shock but surely and slowly you become acclimated with your environment, the food and you slowly ease your way in.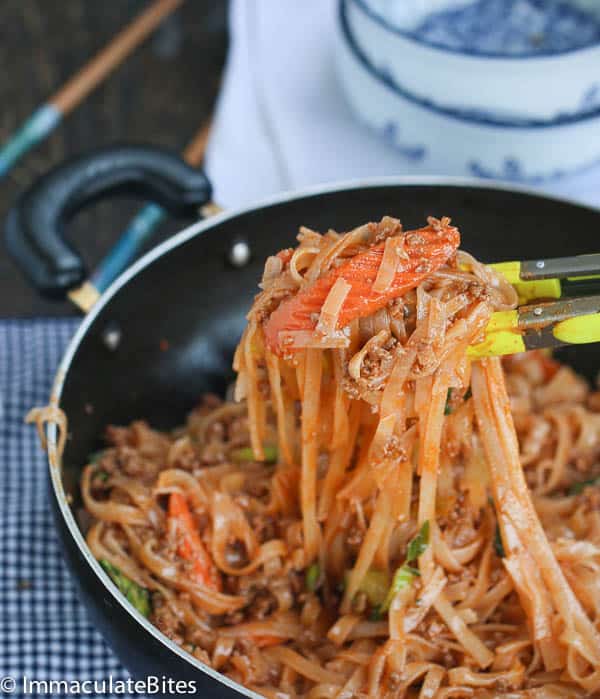 This process began with Chinese or Asian restaurants and I could count a few I really liked.
 Then all of a sudden there was this "chatter" about Asian restaurants and the narrative turned me off. So I went straight to a bookstore and bought several cookbooks on Chinese cooking, and started experimenting with Asian flavors.
 One book that I use more than others is, Land of the Plenty by Fuchsia Dunlop. I  Love her simple approach to Chinese cooking.
Here is one of her recipes, ants climbing  a tree, a dish I have made way too often and have adapted to suit my taste buds and ingredients at hand and just love it for it's ease of preparation, an adaptations.
I threw in some basil, garlic, ginger, and vegetables. You can do the same. Sometimes I have used  Sambal chili paste, Korean red pepper paste , sirracha in place of the Chilli bean paste. You can also experiment with these, if you do not have access  to black bean chili paste.
It may not be traditional but it still taste  great. Use dry sherry or you may skip the wine if you do not have any on hand.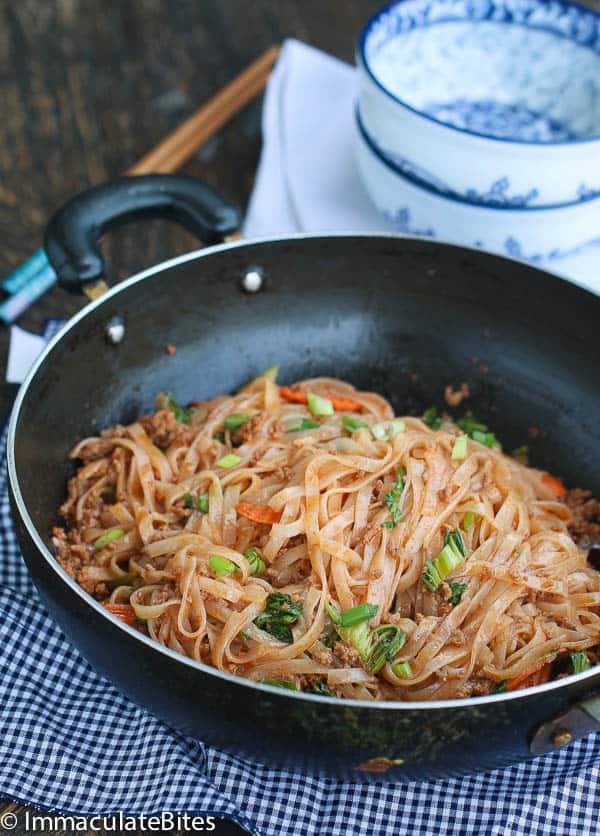 Ants' climbing the tree is quick, easy, straightforward and it hits the spot, every single time. I make it more often now for my son, he  is a fan of all things noodles. Any  bean thread noodles would work just fine. I like the medium ones, it has more of a bite to it.
Why the name? It refers to the tiny bits of ground pork that cling to pieces of stir-fried vermicelli, bean thread noodles (the "tree"). Kinda neat eh? Yeah, am not going to lie the name got my attention.
Enjoy!!!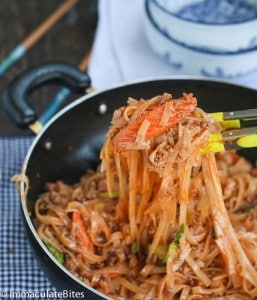 Print
Ants Climbing the Tree
Ants Climbing a tree -A simple, homey Sichuan dish that is Flavorful, quick, satisfying and comes together in less than no time.
Prep: 10 mins
Cook: 20 mins
Total: 30 mins
Chinese
Ingredients
1/4 lb. bean thread noodles vermicelli, Cellophane noodles
1 teaspoon Shaoxing rice wine
Salt
1/3 lb. ground pork sub beef, chicken
2 tablespoon or more peanut oil
1 teaspoon minced garlic
1/2 teaspoon minced ginger
2 teaspoon light soy sauce
2 Tablespoons Chili bean paste
1 1/4 cup chicken stock or more
1/2 tsp. dark soy for color
1 bok choy
3 scallions green parts only, finely sliced
4-5 Chinese basil leaves
½ cup carrots or more optional
Instructions
Begin by soaking noodles in hot water for 7- 10 minutes. Drain them just before you start to cook.

Heat oil in a wok or saucepan, swirl to coat pan and then add, garlic, ginger, and chili bean paste until fragrant. About 30 seconds or a minute. Be careful not to let it burn.

Add ground meat, lightly salt, rice wine, and light soy sauce. Continue stir-frying for about 2-3 minutes until all the ingredients have come together and meat is browned.

Add drained noodles to pan, stir -fry then add basil, carrots, and bok Choy. Pour in stock with dark soy sauce.

Bring to a boil. Reduce heat to simmer over a medium heat for about 5 minutes or more, so all the flavors can come together and the noodles have absorbed liquid. Adjust seasonings with salt and light soy sauce.

Remove and serve warm.
Nutrition Information:
Calories: 384kcal (19%)| Carbohydrates: 51g (17%)| Protein: 16g (32%)| Fat: 12g (18%)| Saturated Fat: 4g (25%)| Cholesterol: 39mg (13%)| Sodium: 643mg (28%)| Potassium: 1056mg (30%)| Fiber: 4g (17%)| Sugar: 10g (11%)| Vitamin A: 16220IU (324%)| Vitamin C: 130.2mg (158%)| Calcium: 326mg (33%)| Iron: 4.2mg (23%)
Nutrition Facts
Ants Climbing the Tree
Amount Per Serving
Calories 384 Calories from Fat 108
% Daily Value*
Fat 12g18%
Saturated Fat 4g25%
Cholesterol 39mg13%
Sodium 643mg28%
Potassium 1056mg30%
Carbohydrates 51g17%
Fiber 4g17%
Sugar 10g11%
Protein 16g32%
Vitamin A 16220IU324%
Vitamin C 130.2mg158%
Calcium 326mg33%
Iron 4.2mg23%
* Percent Daily Values are based on a 2000 calorie diet.