Baked Pineapple Chicken Thighs  in  roast pineapple and slightly garlic  spicy sauce. Juicy, tender and loaded with flavor. A greatfamily meal that would please adults and kids alike.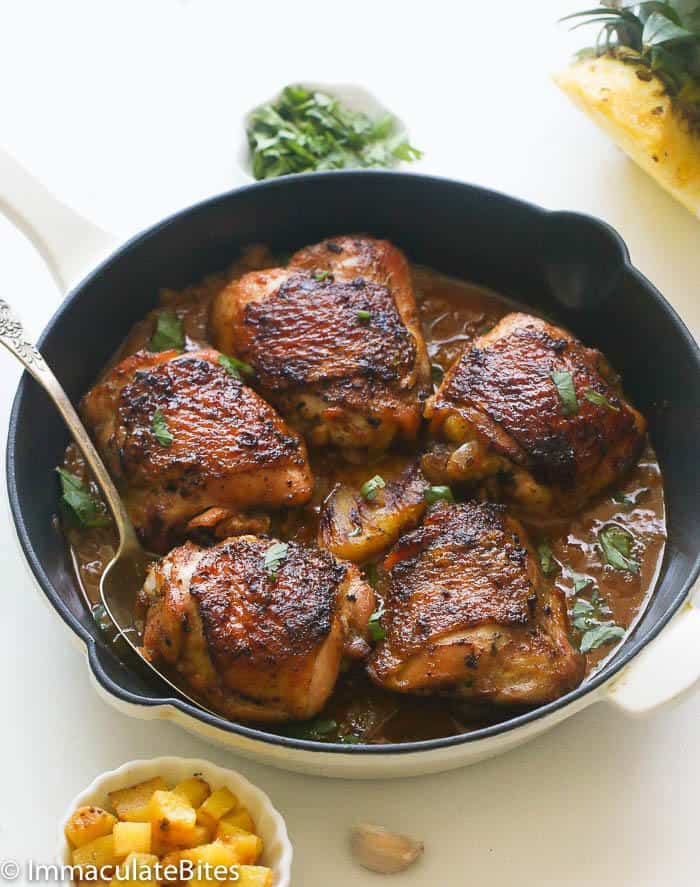 Yes, I do love me some thighs. No not my thighs… Silly. I would REALLY love them if they were just a little bit thinner. Oh yes, if wishes were horses. It's all about chicken thighs for me; they are meaty, flavorful and pretty inexpensive. And I just love having them around. Don't tell me you haven't notice. This Pineapple  Chicken is just packed full of flavors- that's the way we roll around here.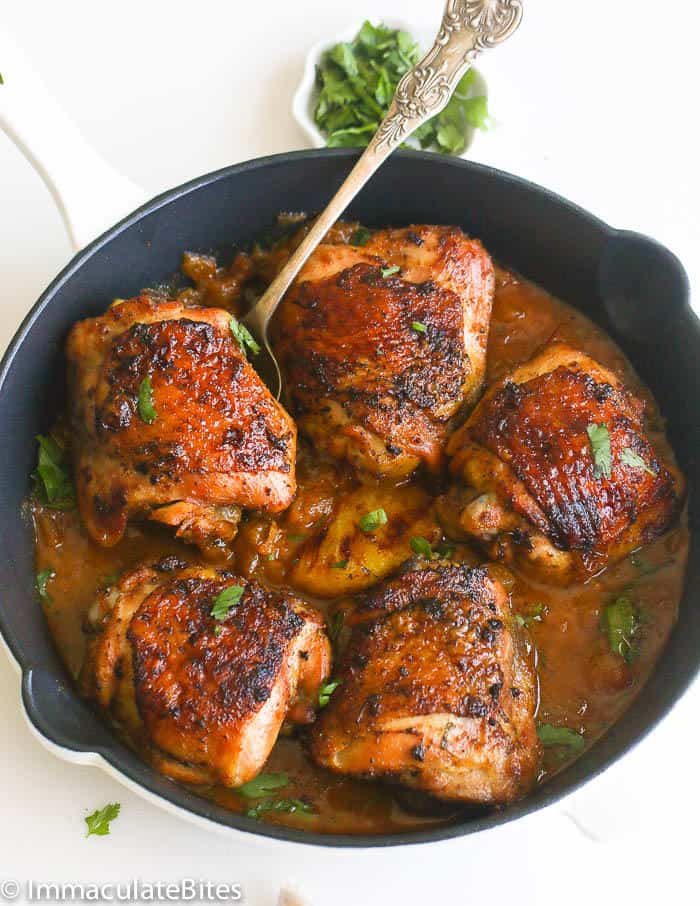 I took this my favorite chicken thighs here- (you've got to start with it first if you haven't already) and infused it with garlicky, sweet, smoky and spicy sauce. Nothing bland happening here.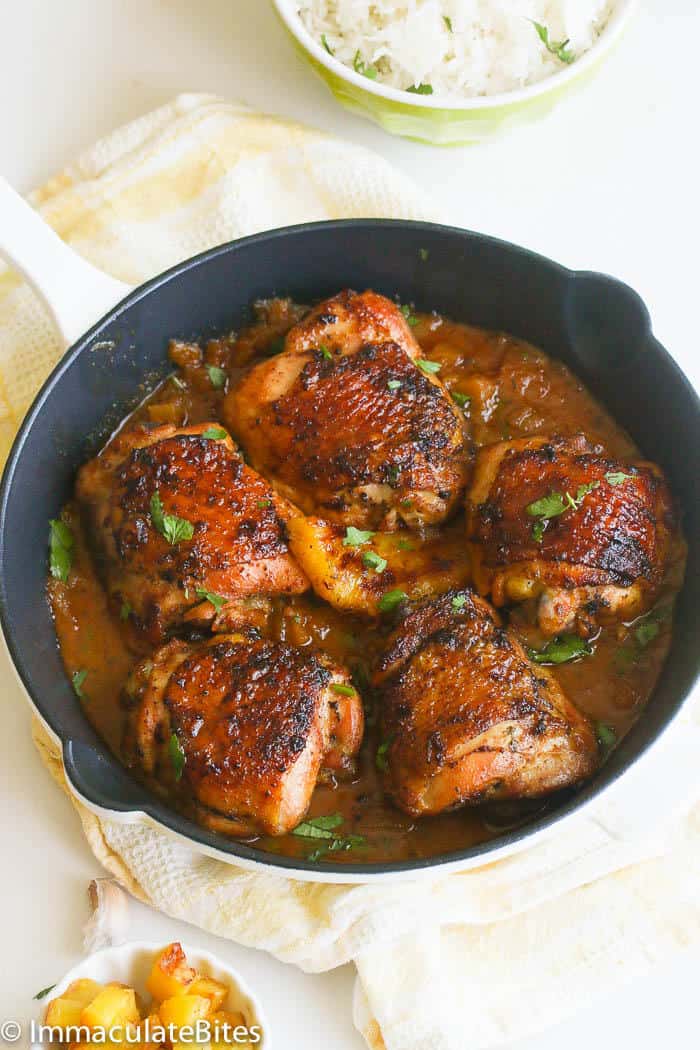 Caramelized sweet succulent pineapple is fortified with pineapple juice garlic; honey and some heat from the sriracha or scotch bonnet to create a sweet and spicy garlic sauce. Guaranteed to please.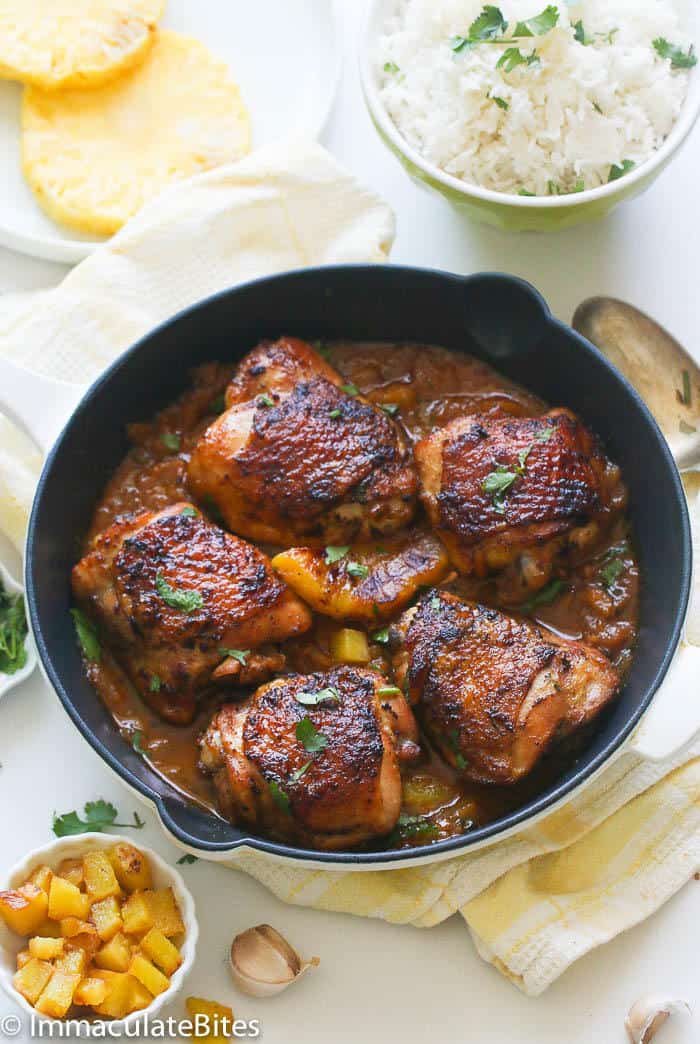 So…. if you ever get tired of your chicken routine then grab some chicken thighs or which ever cut of chicken you like- no judging here, toss it on the frying pan and make this pineapple chicken.  I always start by browning the chicken on stovetop before finishing in the oven. This method frequently produces chicken that stays moist and juicy with a crispy
exterior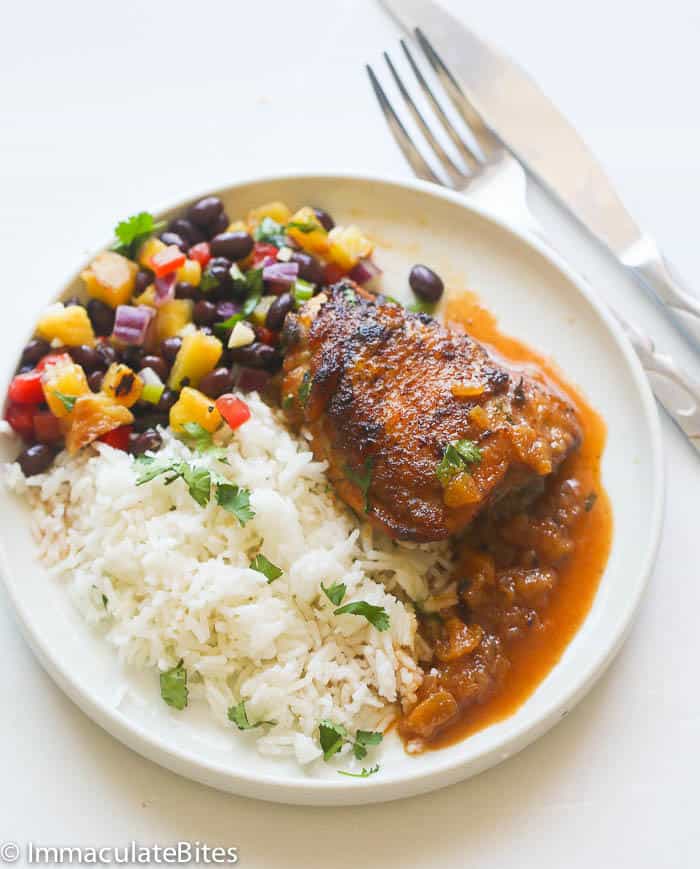 Serve it with coconut rice and or vegetables paired with this grilled and black bean pineapple salsa. They just work well together. Enjoy!!!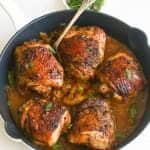 Baked Pineapple Chicken
Ingredients
Chicken Rub
2 1/2 - 3

pound

chicken thighs

about 5-6

2-

teaspoon

creole salt

(omit creole salt and use salt instead)

2-

teaspoon

onion powder

1

teaspoon

dried thyme

1-

teaspoon

oregano

1-

teaspoon

garlic powder

1

teaspoon

smoked paprika

½

teaspoon

white pepper

½

teaspoon

bouillon powder

you may replace with salt
Pineapple Glazed Chicken
2

cups

chopped pineapple

2

cups

pineapple Juice

1

teaspoon

minced garlic

1

sprig of thyme

¼

cup

onion

1

Tablespoon

honey

½

scotch bonnet pepper.
Instructions
Wash chicken thighs, wipe with a paper towel. Combine spices and mix well.

Sprinkle both sides with generous amount of the spice blend

Trim chicken of excess fat and pat dry with a cloth or paper napkin.

Season chicken with; when ready to make, Pre-heat oven to 400 degrees. Place about 1 tablespoon or more of oil in a cast iron, or frying pan.

Add chicken to the pan and sear for about 3-4 minutes on each side or until slightly browned, it's going to finish up browning in the oven. Set aside. Clean pan if there are any burns.

In the same pan, add pineapple brown for about 7 minutes or until pineapple is caramelized.

Add garlic, onions, smoked paprika and scotch bonnet pepper or sriracha sauté for about a minute or two.

Add about 2 cups of pineapple juice and honey bring to a boil. Let it simmer for about 2 minutes. Adjust for seasoning with about 1-2 teaspoons more of chicken rub spices.

Place the chicken back in the cast iron with a sprig of thyme, then bake for about 35 -40 minutes until chicken is done

Remove from oven let it cool before serving. You may garnish with parsley.
Nutrition Facts
Marinated Skirt Steak
Amount Per Serving
Calories 103
Calories from Fat 36
% Daily Value*
Total Fat 4g 6%
Cholesterol 35mg 12%
Sodium 541mg 23%
Potassium 213mg 6%
Total Carbohydrates 3g 1%
Protein 13g 26%
* Percent Daily Values are based on a 2000 calorie diet.