Cabbage Egusi Soup -Quick, easy and healthier stew made with lots of cabbage and full of protein and healthy oil and oh so good!!
Cabbage Egusi Soup. Oh yes. We do make egusi soup with cabbage in Cameroon. In fact, it is a favorite of many – but sadly not a favorite of mine.
However, every time I make it, which is once a year… or sometimes when someone makes a special request for it, I do really enjoy it. Just one of those recipes.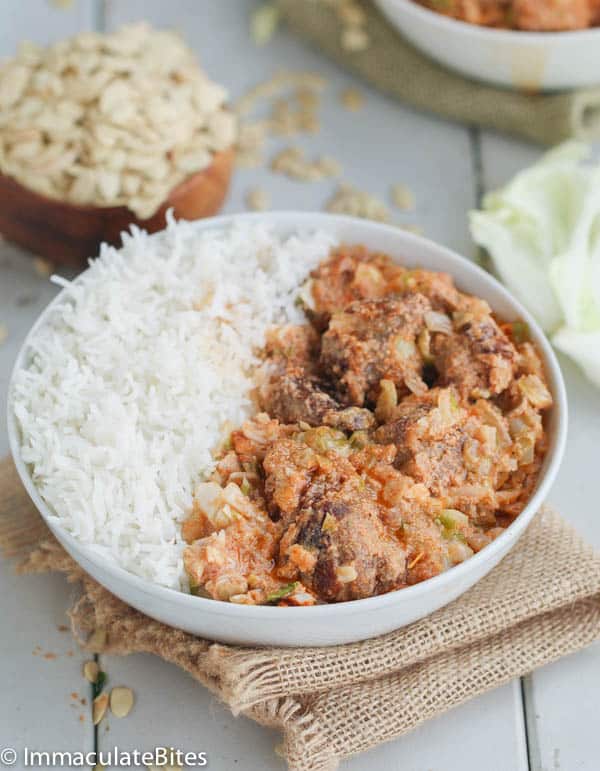 This is the second time I am making it for a blog post, the first time I just did not get to it. So I made a second time with beef and smoked turkey- so you have two protein options to choose from. They both taste great it is just a matter of protein, make according to preference.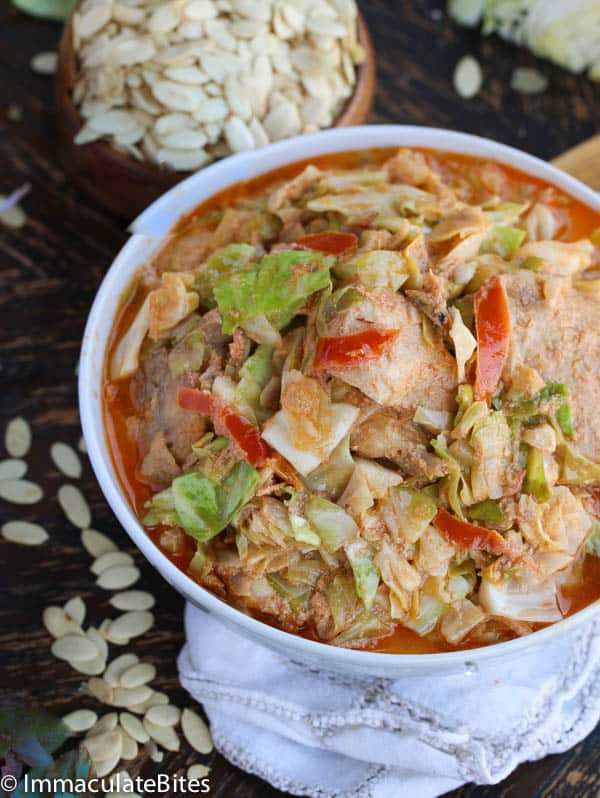 Ok, I think I mentioned this in an earlier post; most soups and stews are referred to as soups in Africa. Don't ask me why, I don't know. If you do by all means spill the beans .So don't let the title of this mislead you.
If you have never heard of egusi seed before, let me clue you in.
Egusi is a wild member of the gourd family, with very dry skin and bitter flesh. It looks the same as watermelon seeds. They are extremely nutritious- high in protein and oil. They are often use in West Africa as thickening agent in soups, and add depth to most meals.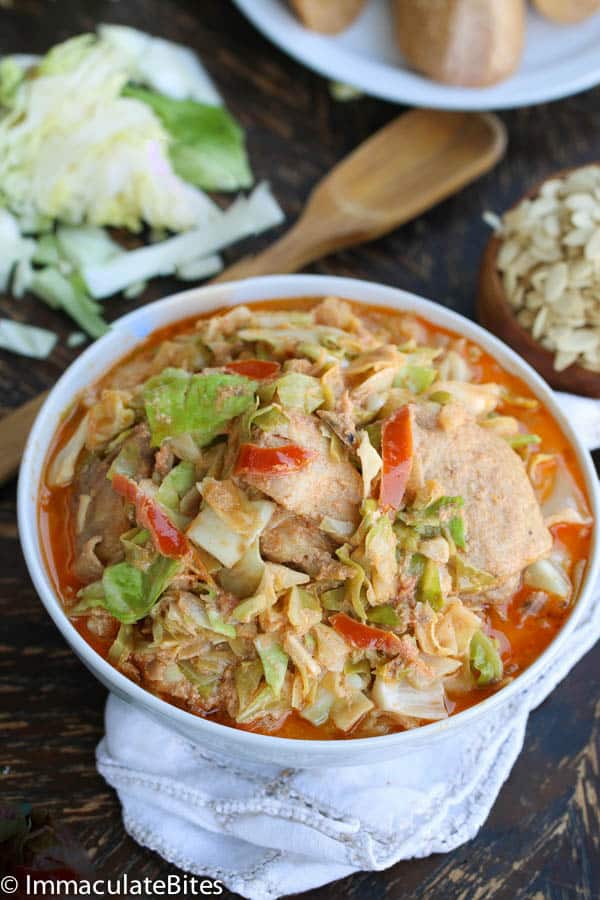 Here it is used in combination with cabbage and chicken to create an accompaniment to any starchy side dish. If you like more of the cabbage please feel free to add to your heart's desire- play with it.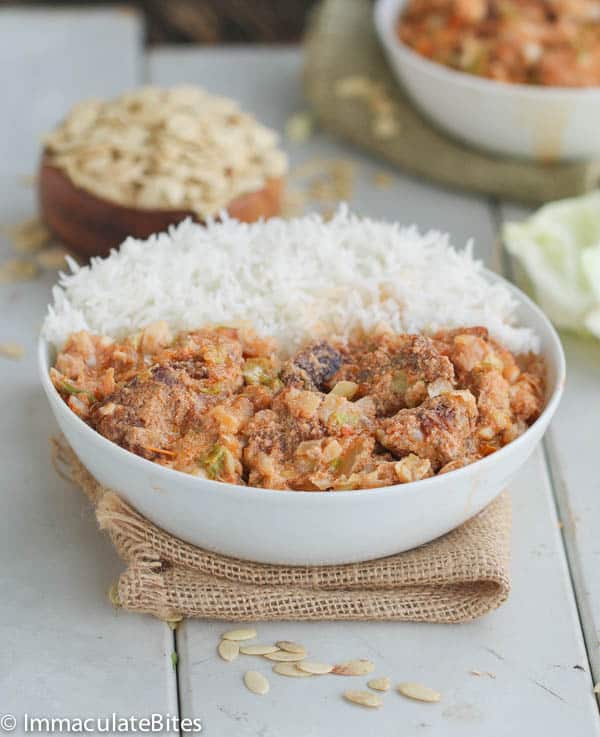 For those that want to try out this recipe, and don't have egusi, guess what? You are in luck! You can use pumpkin seeds aka pepitas seeds. These seeds are readily available in most super markets. There are a quite a few people that I know that use this in place of egusi and they swear by it. I have tried it recently and is not bad at all- plus it is healthier and has less calories.
You can also totally make this without egusi – cabbage stew. So do make this you would be glad you did.
Nullacia, this one is specially made for you!
Enjoy!!!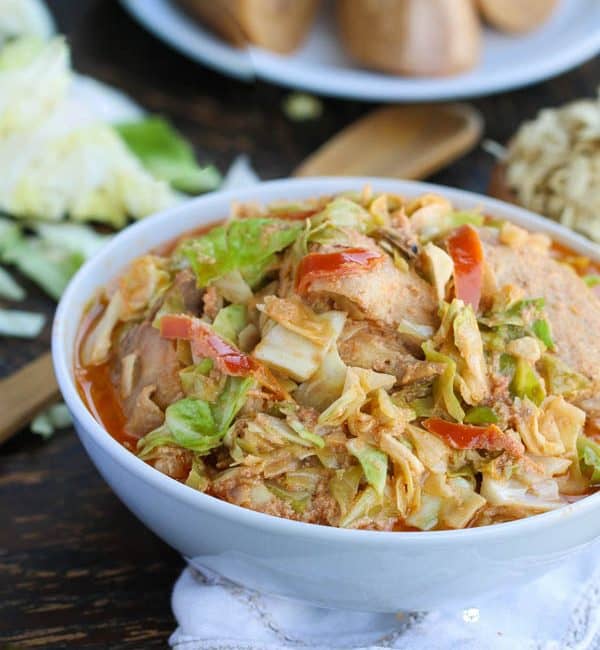 Print
Cabbage Egusi Soup
Cabbage Egusi Soup -Quick, easy and healthier stew made with lots of cabbage and full of protein and healthy oil and oh so good!!
Ingredients
1 1/2

or more pound meat

smoked turkey or beef, chicken or combination of both cut in small pieces

½

cup

canola or any cooking oil

3

garlic cloves-

2 teaspoons minced garlic

1/ 2

medium onion chopped

2-3

medium tomatoes chopped

½

cup

ground

egusi

½

cup

ground or smashed crayfish dried shrimp

4

cups

shredded cabbage or more
Instructions
In medium –sized saucepan boil beef or chicken seasoned with salt (garlic salt), smoked paprika, pepper, and onions until tender - make sure you have added plenty of water so you have about 3-4 cups of beef stock to use for cooking. Remove the beef and reserve the stock.

Heat the oil in a heavy saucepan over medium heat. Fry the beef or chicken first, then set aside if you prefer. If not proceed to the next step

Add the onions and garlic, Sauté the onion and garlic mixture until it is translucent, about 2-3 minutes. Then add the beef, smoked turkey, crayfish and continue with cooking

Stir in the tomatoes with it's juices. Add 1-2 cups of beef/ chicken stock. Bring to a boil and simmer for another 5 minutes

Then add ground egusi and keep simmering on medium-heat approximately 12 minutes or more Add stock to desired consistency or when simmering to prevent any burns

Finally, throw in the cabbage; let it simmer for about 2 minutes or more minutes. Adjust seasonings

Serve warm with plantains, eba, yams or accompaniment of choice.
Nutrition Information:
Calories:
404
kcal
(20%)
|
Carbohydrates:
5
g
(2%)
|
Protein:
28
g
(56%)
|
Fat:
29
g
(45%)
|
Saturated Fat:
3
g
(19%)
|
Cholesterol:
106
mg
(35%)
|
Sodium:
156
mg
(7%)
|
Potassium:
671
mg
(19%)
|
Fiber:
1
g
(4%)
|
Sugar:
3
g
(3%)
|
Vitamin A:
505
IU
(10%)
|
Vitamin C:
28.9
mg
(35%)
|
Calcium:
51
mg
(5%)
|
Iron:
1.4
mg
(8%)
Nutrition Facts
Cabbage Egusi Soup
Amount Per Serving
Calories 404
Calories from Fat 261
% Daily Value*
Fat 29g45%
Cholesterol 106mg35%
Sodium 156mg7%
Potassium 671mg19%
Carbohydrates 5g2%
Protein 28g56%
Vitamin A 505IU10%
Vitamin C 28.9mg35%
Calcium 51mg5%
Iron 1.4mg8%
* Percent Daily Values are based on a 2000 calorie diet.