Homemade Corn Dogs – easy and party favorite snack made with hotdogs dipped in a batter and fried to perfection.
Before I was introduced to corn dogs I seriously believed it was made with some sort of dog product. Yes, seriously, no kidding. I was young, naïve and had just moved to Los Angeles. There were some many things I had to come to terms with:  How could anyone eat  raw fish, rare steak, sweetened chicken. What the heck! –  If they can eat that, then they can eat dogs.
Don't laugh, well go ahead- it is called culture shock. That was then, it is a totally different story  now. I can't let a month go by without my sushi fix and I like my steak-cooked medium.
I had  my  first corn dog experience at a  county fair,  by then I kinda  knew it had nothing to do with dogs. Yeah, silly me! To be honest, I enjoyed the corn dog coating more than the dogs. I guess hot dogs are just not my thing.
Here is the deal, my son loves hot dogs and dislikes sausage so you guess right. He wins! These are made with hot dogs not sausage. However, you may use sausage. I have  tried to tricking him several times and he really gets upset when that happens. So I tend to stick with the dogs over sausage   – I can only handle two of this.
Corn dogs are deceptively easy to make – if you can get past your fear of frying. All you do is mix the wet and dry ingredients. Dust with flour, dip in the batter, fry and voila! Corn dogs.
Here is a tip after making them you can freeze, reheat in the oven and serve with ketchup, mustard and or relish.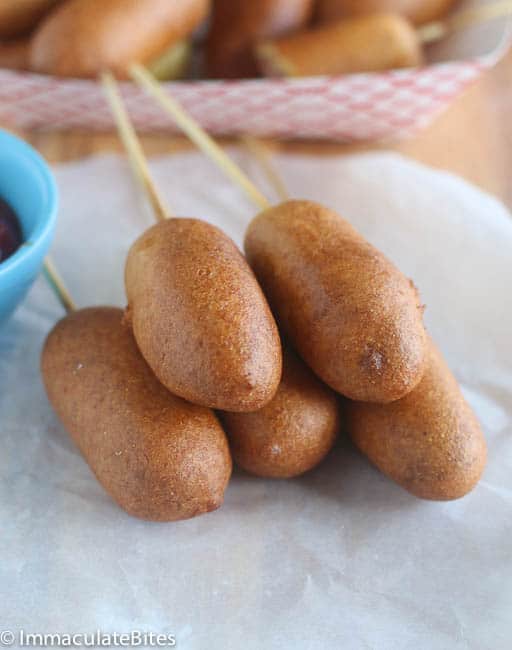 Print
Corn Dogs
Prep: 15 mins
Cook: 20 mins
Total: 35 mins
American
Ingredients
8 hot dogs or sausage
1- cup all purpose flour
¾ corn meal
2 - tablespoons sugar
1/2 teaspoon salt
1 1/2 teaspoon -baking powder
½ teaspoon white pepper optional
1/2 teaspoon onion powder.
½ teaspoon baking soda
¾ cup buttermilk
2 eggs
¼ cup cornstarch or flour for dusting.
Instructions
In a medium bowl, mix all the dry ingredients; flour, cornmeal, salt, pepper,onion powder ,sugar and baking powder and soda. Whisk eggs and milk together and add to the dry ingredients. Whisk until the ingredients have been fully combine.

Cut corn dogs in half, dry with paper towel .set aside.

Transfer corn dog batter into a tall glass for easy dipping.

Preheat oil in a deep saucepan to 350 degrees. Roll corn dog in cornstarch. Then dip in batter until well coated.

Fry 3-4 dogs at a time until golden browned, about 2-3 minutes. Drain on paper towel