Pumpkins mean it's autumn. And that means leaves are falling, families are getting together, and you are rushing to cook for a dinner party. That's the holiday season, and we are big fans! To make it easier and more enjoyable, here are 9 cozy pumpkin recipes you'll fall in love with — authentic treats from starters to dessert!
Pumpkins have a special place in our hearts. We might not cook with them all year, but they certainly make the holiday season more memorable.
What's neat about pumpkins is more than their attractive contribution to the season — they're astoundingly versatile! Really, there's nothing you can't do with pumpkins.
They can do it all, from steaming lattes to hearty stews and from soft bread to crumbly cookies.
Well, here is a list of my favorite pumpkin recipes. Undoubtedly, you'll want to add more than one recipe here to your holiday menu. After all, any dish made with pumpkins is as tasty as it is fun!
FAQs
Before we head on to some tasty fall dinner ideas, I'd like to answer some of the most common questions about pumpkin desserts.
Which pumpkins are best for pies?

There are many types of pumpkins, but not all of them make sumptuous pie fillings. Small pumpkins with firm flesh and low water content are best for pies. NOT the pumpkins people use to make jack-o-lantern. I'm not much into throwing names around; however, the one labeled PIE PUMPKIN is the one you want to get.
How do you know when a pumpkin is ripe?

When pumpkins are ready for a pie, they have a solid orange color, no green showing. The skin should be quite hard, and the stem should be hard and dry. When in doubt, knock on the pumpkin and listen for a hollow sound.
How can I make my pumpkin taste better?

Whether using canned pumpkin purée or fresh pumpkin flesh, the best way to ramp up the flavor is with pumpkin pie spices. That tasty golden mix tastes just like fall. And if the pumpkin isn't quite ripe, a tad of brown sugar will sweeten it up.
What's more mouthwatering than a freshly made loaf of pumpkin bread? Delicious on its own and even better with a cup of coffee, pumpkin bread is versatile as breakfast or an afternoon snack.
It goes great with a wide variety of food, especially those inspired by fall flavors. Making bread is tons of fun, that's for sure.
For fall dessert ideas, pumpkin bread is a classic. This drool-worthy recipe is ready in about an hour, including baking time.
As for the ingredients, you'll be happy to know you probably already have all you need at home, including the spices and pumpkin puree.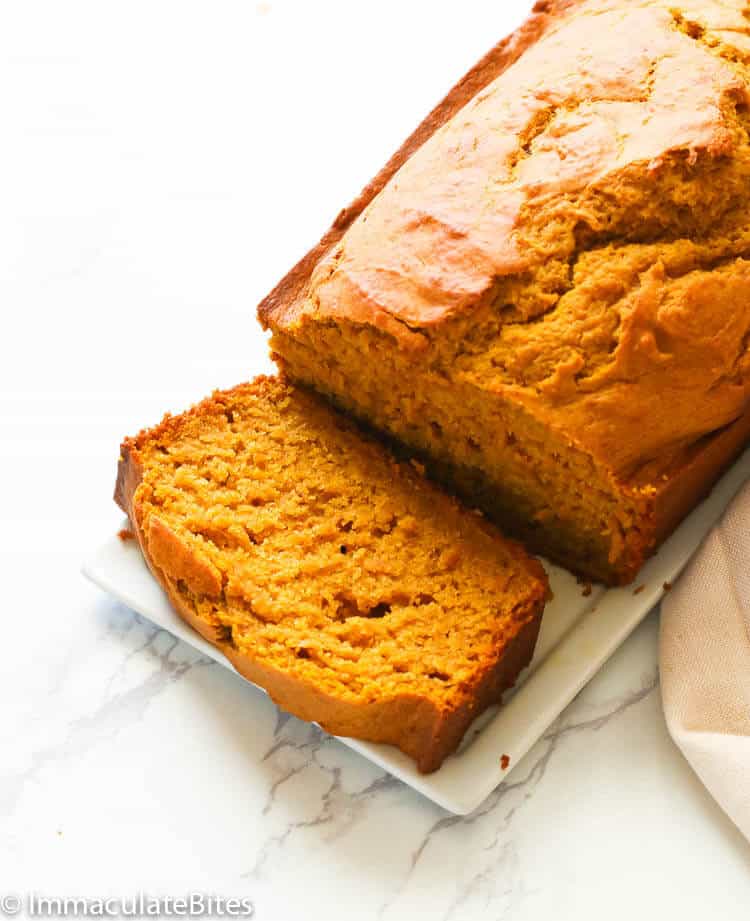 Pumpkin Bread
Pumpkin Bread – incredibly moist pumpkin bread loaded with warm and sweet flavors from cinnamon, nutmeg and all spice and a touch of orange zest and chocolate chips to grace in every bite. Makes two loaves of fall goodness!
Check out this recipe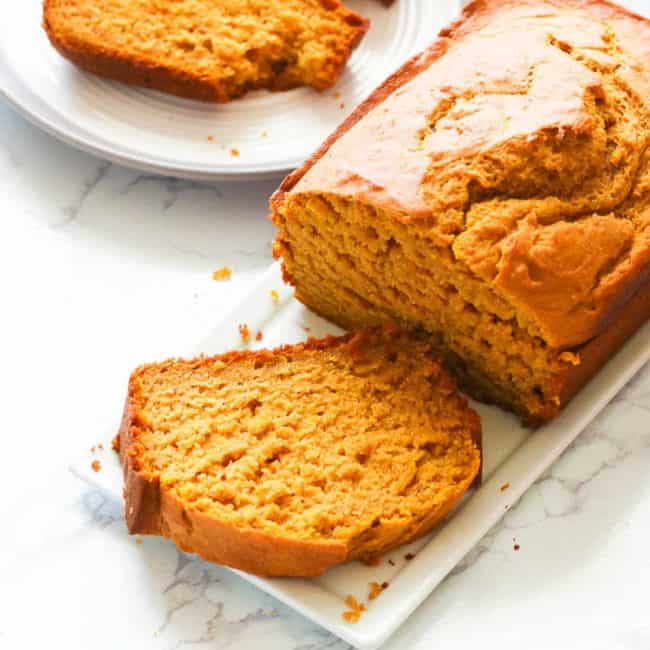 Want to kick your pumpkin bread up a notch? Then you don't want to miss out on this extremely soft, moist, and rich bread. It's like enjoying the best of both worlds; pumpkin and banana bread rolled into one.
And don't get me started with the toppings. This recipe here can be enjoyed as it is or topped with chocolate chips or chopped walnuts. Or how about a drizzle of your favorite sauce?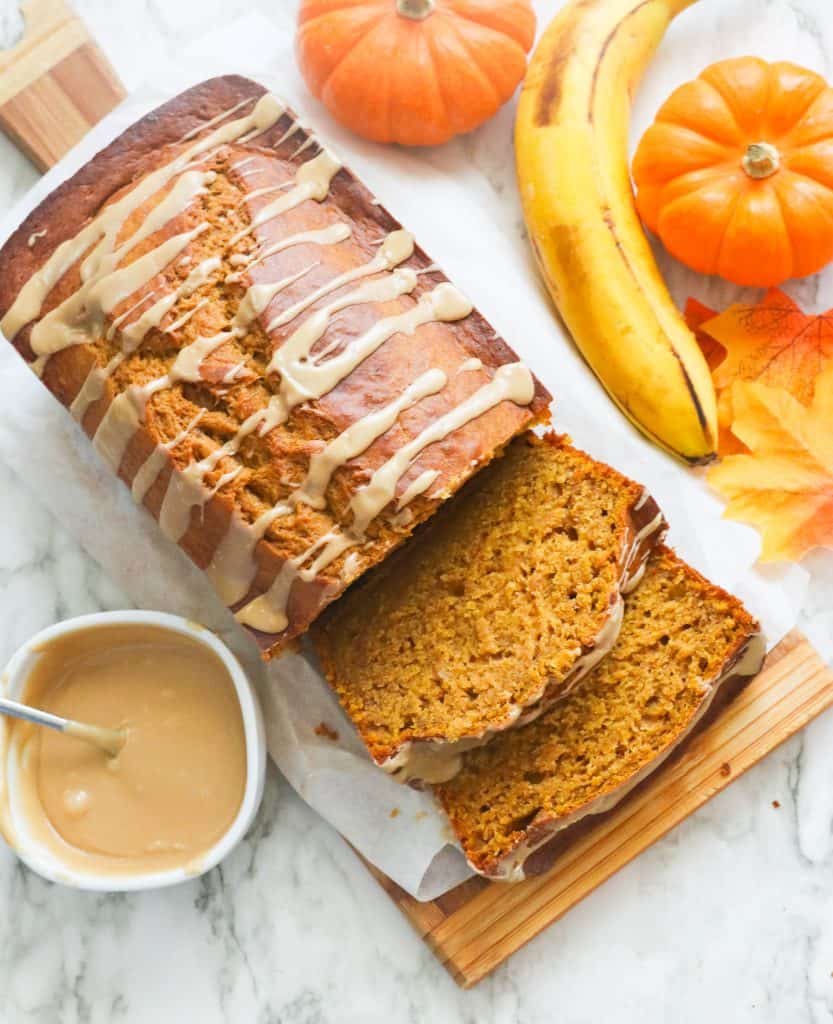 Pumpkin Banana Bread
Experience the best of both worlds in this delightful ensemble of pumpkin and bananas together in one amazing baked treat. So easy to make yet super comforting and brimming with warm and cozy holiday flavors and a touch of orange. Extremely soft, moist, and rich banana bread is sure to bring pure happiness with every bite.
Check out this recipe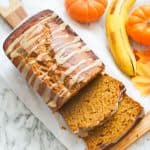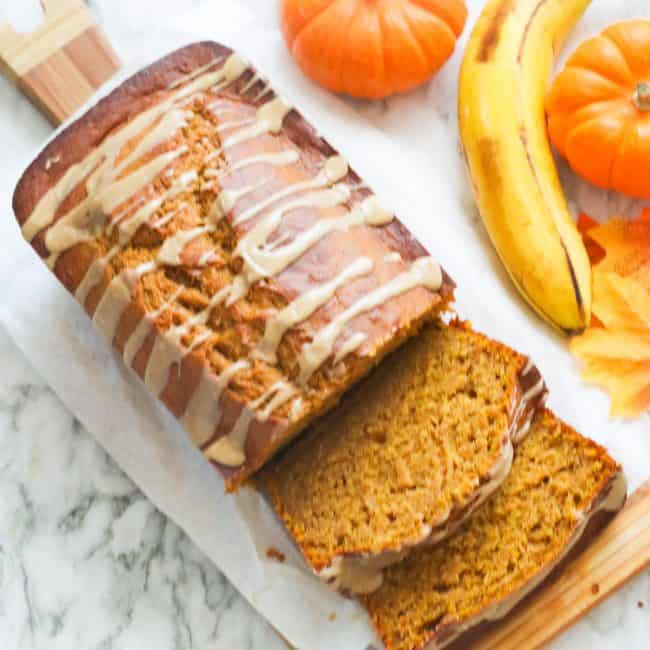 If you think you knew chocolate cookies, think again. Adding pumpkin puree to these chocolatey bites gives them richness and depth of flavor.
Pumpkin spices, of course, also give these incredible cookies a delightful touch. So addictive just in time for the holidays, and they're one of my favorite pumpkin ideas!
Moist and decadently doughy, but with a lovely snap, these chocolate chip cookies are soul-satisfying with the perfect mouthfeel! Just when you thought chocolate chip cookies couldn't get any better, along come these extraordinary creations.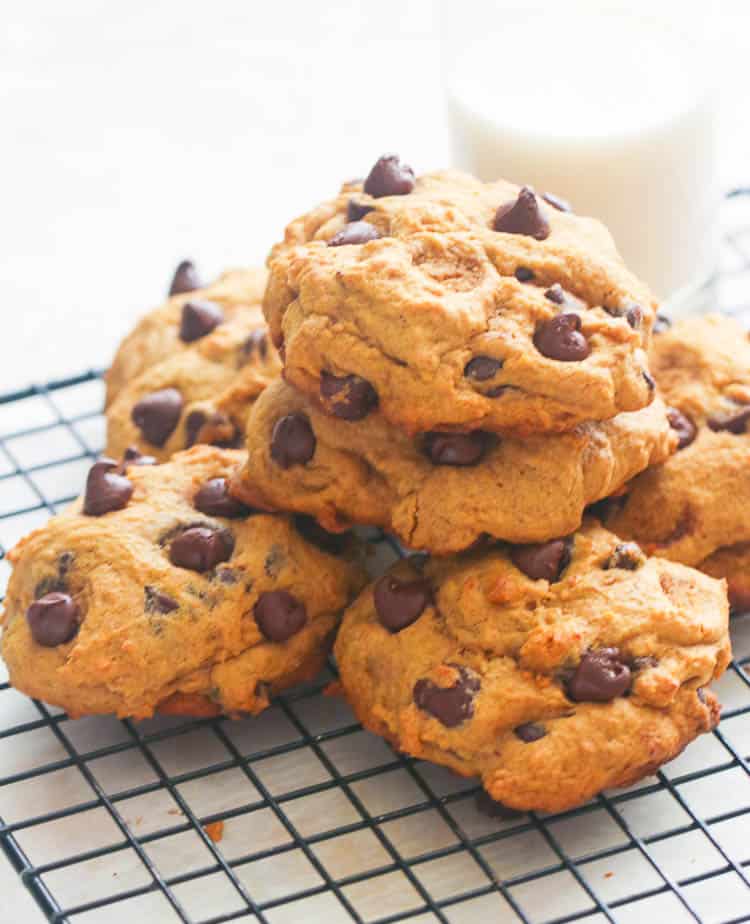 Pumpkin Chocolate Chip Cookies
Soft, chewy, and delectable PUMPKIN CHOCOLATE CHIP COOKIES made with real pumpkin puree and homemade pumpkin spice. It's so easy to make with ingredients you can easily find or make at home. Get a glass of milk and prepare for a cozy night with these amazing fall snacks!
Check out this recipe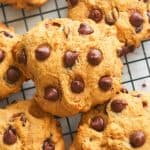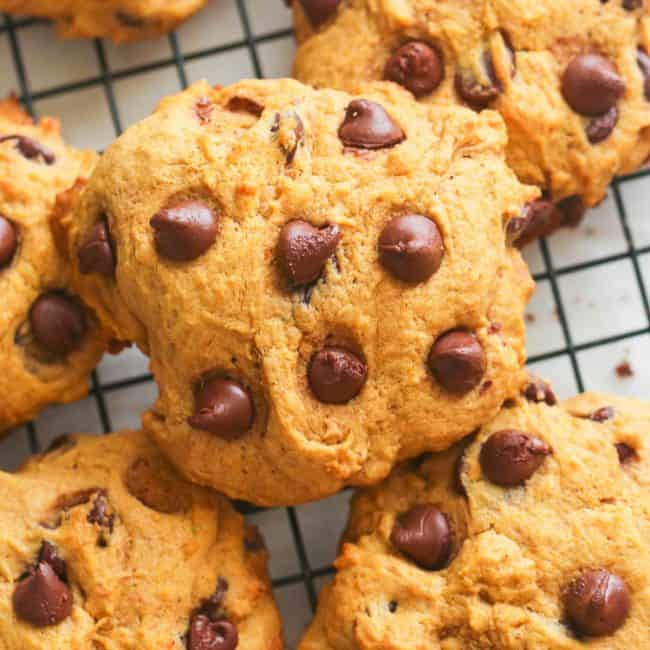 As they say, "A party without cake is just a meeting." Well, I have to agree. This colorful, freshly baked pumpkin cake is all you need to turn that boring meeting into a party.
Who can resist the comforting pumpkin flavors amped up with holiday spices? And the best part? This cake is straightforward to throw together! This unbeatable pumpkin dessert is the perfect finishing touch for a dinner party.
Moist and bouncy, topped with the creamiest caramel frosting and kicked up a notch with pumpkin pie spices and real pumpkin puree, this is a cake to remember. Have this recipe up your sleeve and ready to surprise everyone at the next gathering.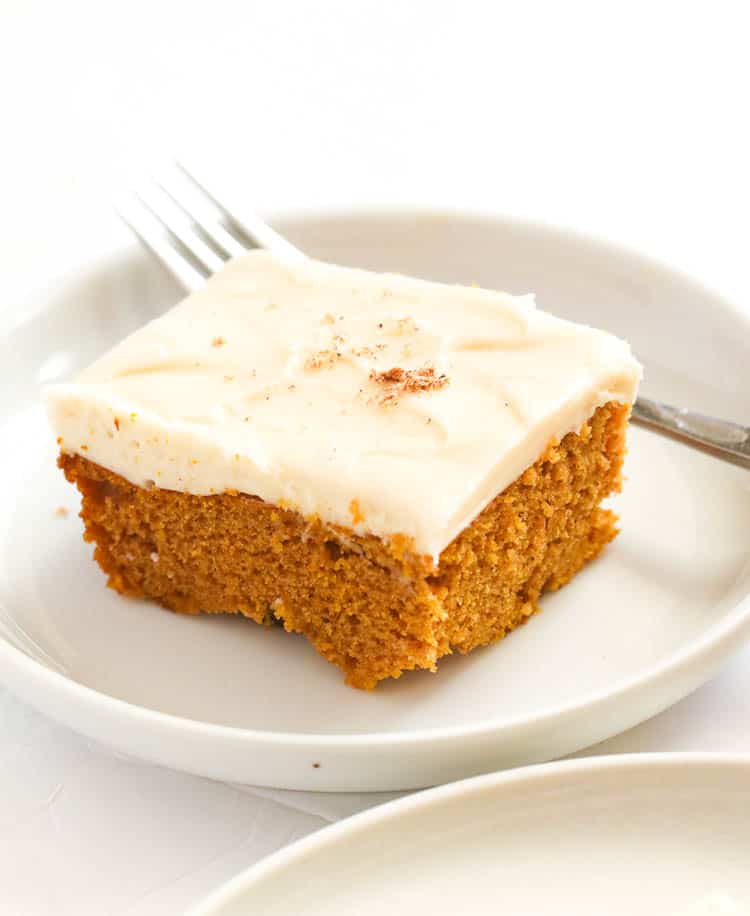 Pumpkin Cake
This warm, comforting, perfectly-spiced cake topped with a sweet yet tangy caramel cream cheese frosting is pure heaven. Every bite of this Pumpkin Cake tastes like fall! This gorgeous cake makes an impressive finale for any elegant holiday meal.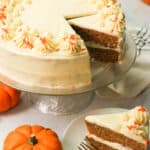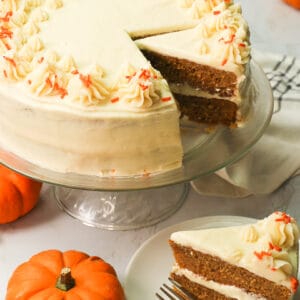 Who said you can only make bread, cookies, or cake with pumpkin? Hey, it's also the secret behind one of the tastiest specialty coffees.
This pumpkin spice latte is a classic dessert coffee. Don't tell anyone, but I like it better than Starbuck's cappuccino. And now you can make it at home! Booyah! What's not to love about this pumpkin recipe you can drink?
Real pumpkin puree and pumpkin pie spices are the secrets behind the perfect pumpkin spice latte. Strong coffee is also a must and also some milk or your preferred milk alternative. Yum!
Pumpkin Spice Latte
One of my favorite coffee drinks always has been and always will be a pumpkin spice latte, especially in the fall. It's an amazing mix of coffee, milk, and the mouth-watering flavor of pumpkin pie. Yum!
Check out this recipe
Who's up for a tall pancake stack? And what if those pancakes were flavored with the comfort food flavor of pumpkin? Count me in!
Pumpkin makes a super breakfast and can turn average pancakes into fun, filling works of art that will satisfy you all day.
Pumpkin for breakfast? You bet! Not all recipes on this list are desserts.
To make these lovely pancakes, you'll need your standard pancake ingredients, including flour, eggs, and butter. And, of course, you'll need pumpkin puree and pumpkin pie spice! The whole family will be drooling as the aroma invades the kitchen.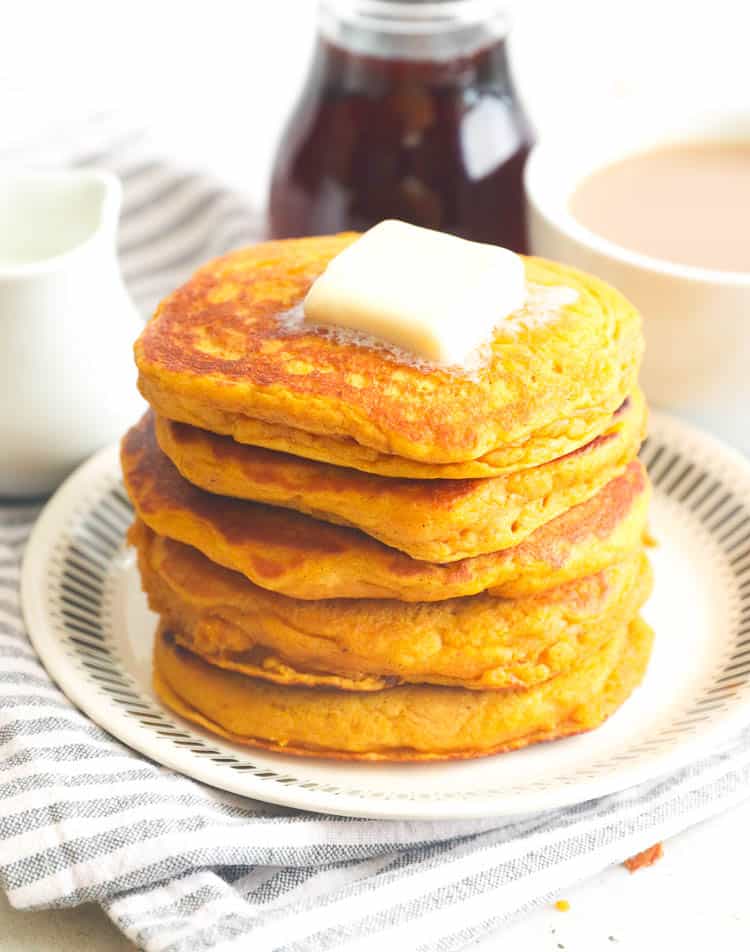 Fluffy Pumpkin Pancakes
Start your morning with these PUMPKIN PANCAKES – a breakfast packed with flavors of pumpkin and butter, all perfect for fall! Fast and so easy to make with simple ingredients, that your family will surely love.
Check out this recipe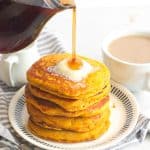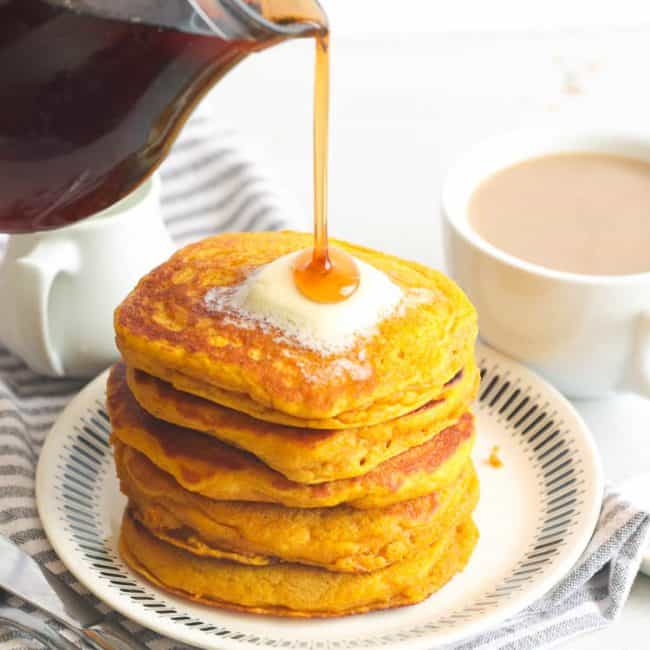 Do you like your spice mix heavy on the cinnamon? Or perhaps you're more of an allspice person. Well, make a batch of pumpkin spice your way.
This spice blend will improve all your pumpkin ideas! It's so satisfying to customize your spice blend — it can become your signature for lattes, cookies, pumpkin bread, and more! Once you make your own pumpkin spice blend, you'll never get the store-bought stuff again.
How to make pumpkin spice? You only need ground cinnamon, ginger, allspice, nutmeg, and cloves. That's it! Check out the perfect ratio in this recipe, but feel free to customize the spice blend.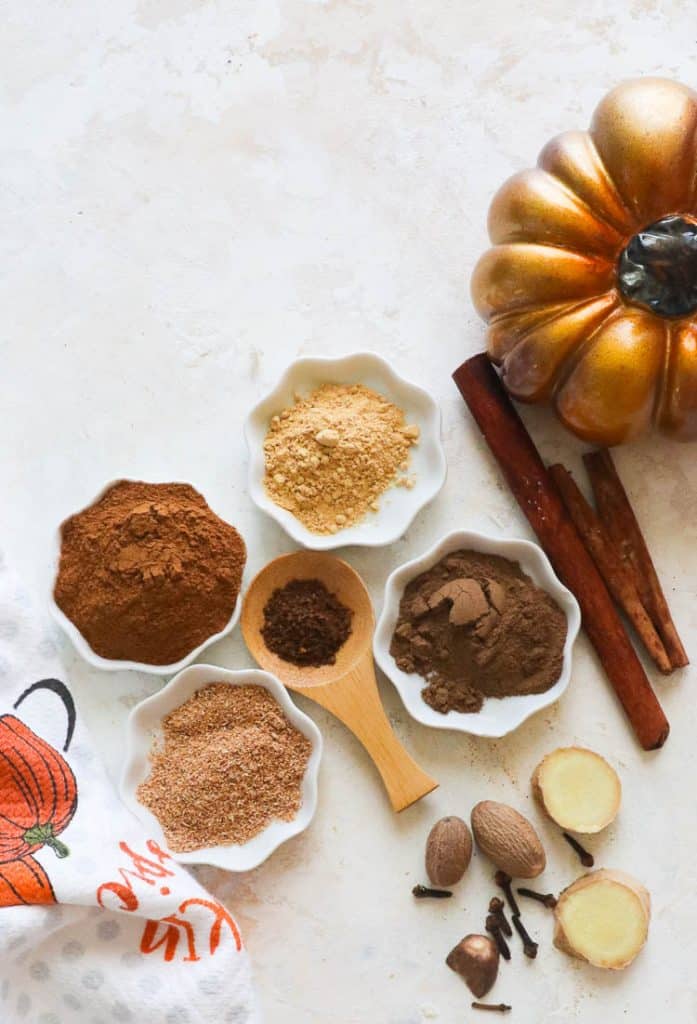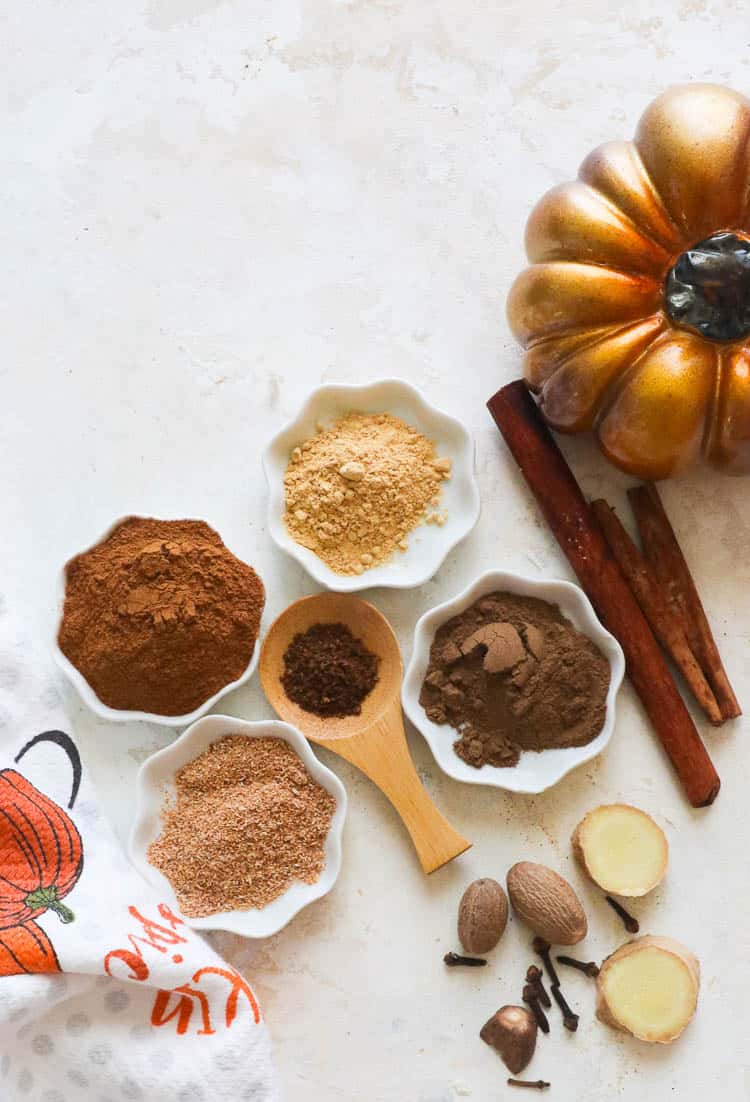 Pumpkin Spice
PUMPKIN SPICE – a tasty blend of earthy flavors perfect for all your fall recipes or autumn festivities. A mix made with inexpensive ingredients you can easily find in your local farmer's market. Enjoy the season with mild sweetness and a kick of deliciousness on any of your homemade dishes.
Check out this recipe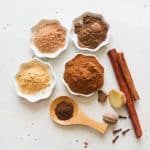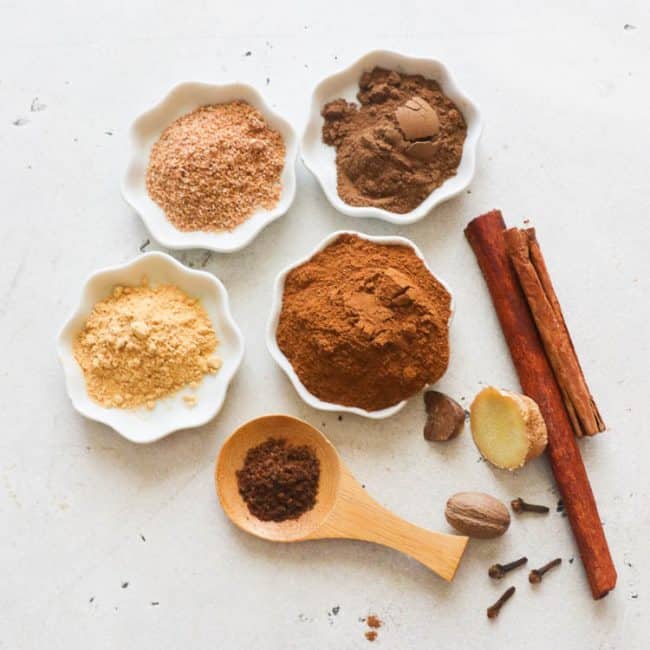 Jamaican food is all about using fresh ingredients in spicy and colorful soul-satisfying recipes.
Comfort food is this island's specialty, and one of its greatest hits is the Jamaican chicken and pumpkin soup. It's perfect for weeknights but exotic enough for special occasions. You'll absolutely love this soup!
The secret behind this colorful chicken soup is pumpkin, of course, but you'll also love what Scotch bonnet peppers bring to the table. This soup's flavor is hard to beat.
Forget about pumpkin desserts; make soup instead!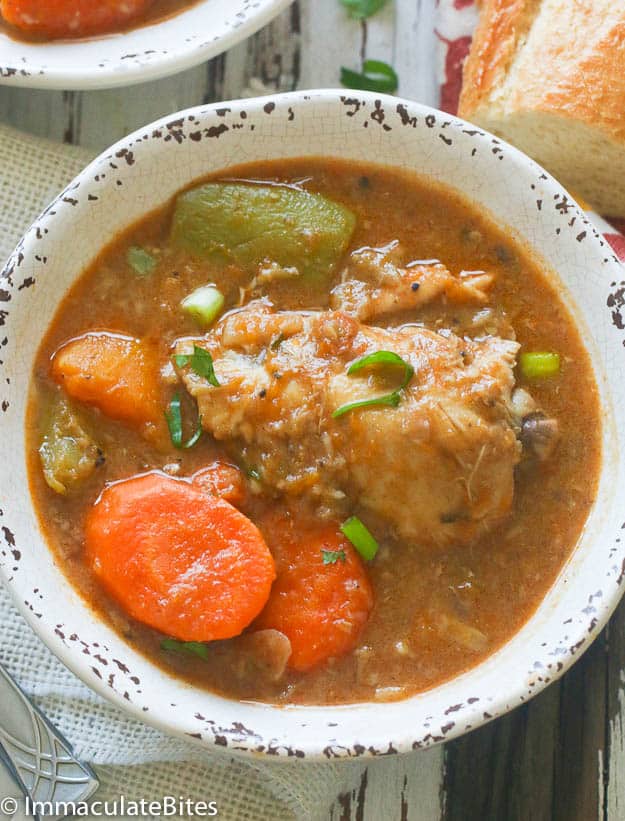 Jamaican Chicken and pumpkin soup
An excellent fall recipe — it encompasses that autumn feel and crosses those elements with flavors from the islands. The combination is a mouthwatering fusion worthy of being repeated again and again.
Check out this recipe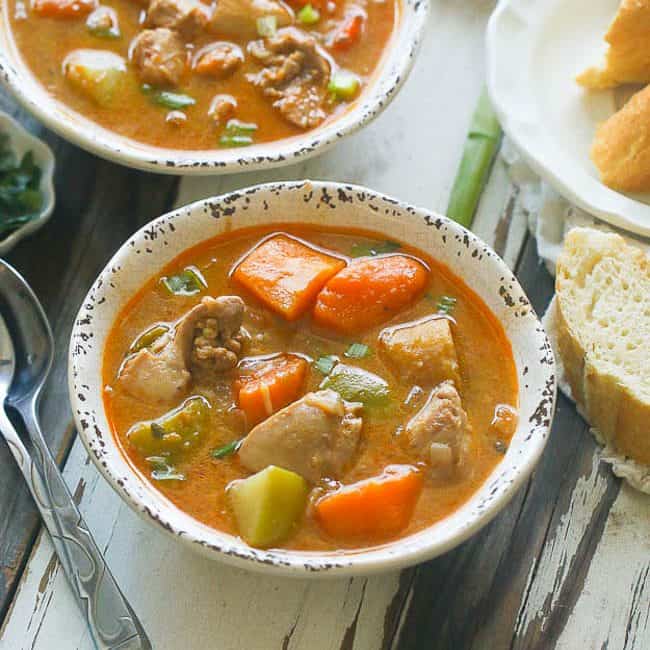 Hard to pronounce but easy to love. These pampoenkoekies or South African pumpkin fritters are crispy and sticky at the same time.
The caramel glaze gives these golden fritters a sweet and savory personality that will make them one of your darling finger foods and after-dinner snack. As you can see, some pumpkin recipes go to another level.
It's impressive how super easy these one-biters are to make. Combine mashed pumpkin with flour, eggs, milk, and spices, then fry the deliciously sticky mixture to golden perfection. How easy is that?
These beauties are ready in less than 20 minutes.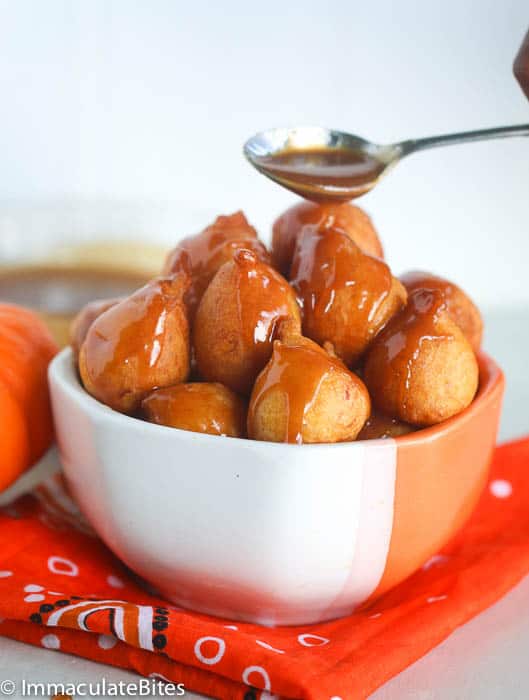 Pampoenkoekies Recipe
Pampoenkoekies – These South African pumpkin fritters are light , fluffy and literally melts in your mouth. Drizzled with caramel sauce and your are in pumpkin heaven.
Check out this recipe
Let's round our pumpkin recipes list with a lesser-known dish of West African inspiration. Did you know you can eat pumpkin leaves? Not only that, but they're pretty tasty and nutritious, especially in this colorful stew.
I love this stew because it's easy to make, inexpensive, and super traditional — it kinda tells a story! Don't you love it when food does that? This soup is one of those perfect fall dinner ideas, and it's exotic as well!
Nutty, spicy, and incredibly hearty, you can make this stew with your choice of meat. The dish is out of this world with nutty peanuts, onion, garlic, and crayfish. And don't worry if you don't have pumpkin leaves. You can use spinach instead.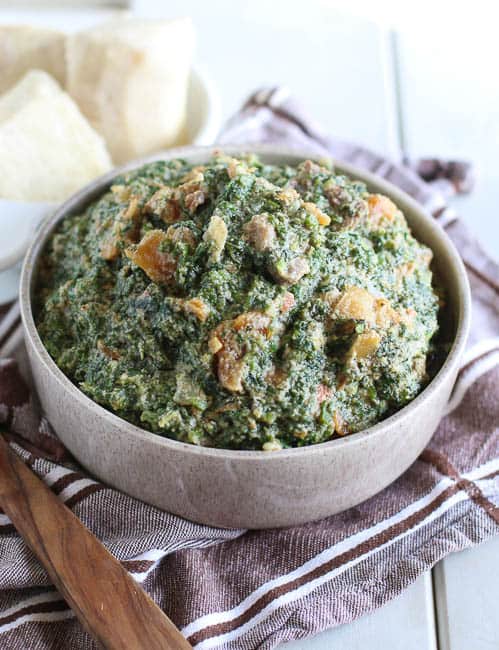 Pumpkin Leaves (Ugu) Soup
Pumpkin Leaves (Ugu) Soup – hearty, healthy soup with smoked meat that taste so sensational. Best paired with fufu, plantains or with rice.
Check out this recipe
Print
How To Make Caramel Sauce
Learn HOW TO MAKE CARAMEL SAUCE at home that is as sweet, smooth, and delectable as the store-bought ones. The heavenly flavor and aroma will definitely match most of your desserts, snacks, and even beverages so it's a total kitchen essential. You'll love how caramel makes every day feel like Christmas!
Ingredients
1 ½

cup

(300g) granulated sugar

¾ -1

cup

(177.75ml-237ml) water

¾

cup

(180g) heavy whipping cream

3

ounces

(85.05g) unsalted butter

2

teaspoons

(8.4g) vanilla extract

¾

teaspoon

(3.75g) salt (optional)
Instructions
In a medium saucepan, add sugar and enough water to soak up the sugar.

Place on medium heat and stir with a wooden spoon until sugar dissolves and the water looks clear. Use a pastry brush to clean any crystals that may have forms on the sides of the saucepan.

Cook, without stirring, until the sugar mixture turns an amber hue, approximately 10 minutes. Swirl the pot as needed without stirring, crystals may form. For a deep rich amber color, cook for an extra 2 minutes or more until the desired color has been reached.

Warm-up heavy cream in the microwave or stovetop. Reduce heat and whisk in the heavy cream and butter into the saucepan. Don't be alarmed if the caramel bubbles up. Continue stirring until the heavy cream and butter have been fully incorporated into the caramel. The mixture should be smooth and thick – about 2-3 minutes. Stir in vanilla extract, if desired.

Remove from the heat and let it cool to room temperature. As caramel sauce cools it will thicken up even more.

The caramel can be left outside for 2-3 days, stored in a jar or airtight container. You may refrigerate for up to a month, or store in the freezer for 3 months.
Tips & Notes:
Please keep in mind that nutritional information is a rough estimate and can vary greatly based on products used.
Nutrition Information:
Serving:
1
tbsp
|
Calories:
75
kcal
(4%)
|
Carbohydrates:
10
g
(3%)
|
Protein:
1
g
(2%)
|
Fat:
4
g
(6%)
|
Saturated Fat:
3
g
(19%)
|
Cholesterol:
13
mg
(4%)
|
Sodium:
57
mg
(2%)
|
Potassium:
4
mg
|
Sugar:
9
g
(10%)
|
Vitamin A:
148
IU
(3%)
|
Vitamin C:
1
mg
(1%)
|
Calcium:
4
mg