Grill Tilapia (African Style) — Easy whole grilled Tilapia smothered in spices and herbs with an African spicy hot sauce for dipping.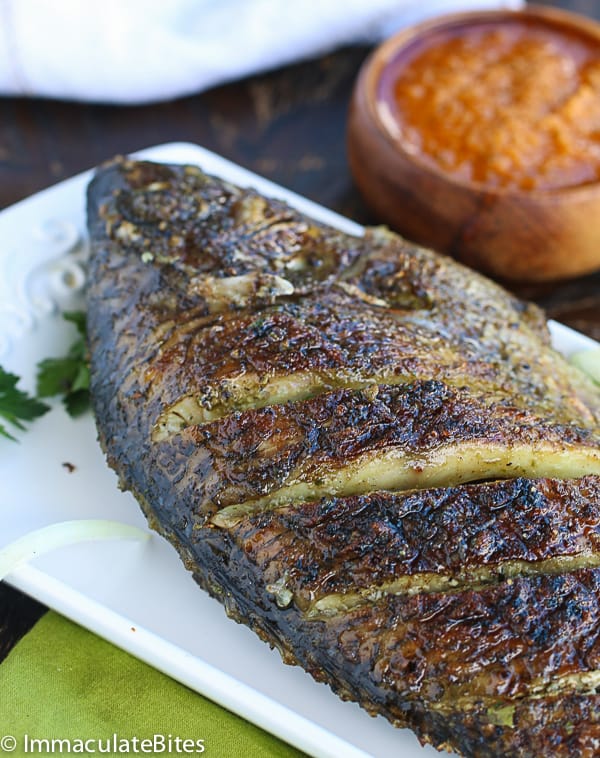 If you've never grown up seeing, touching and eating whole fish, it can be an uncanny experience to have your dinner staring back at you. I remember bringing whole tilapia to a predominantly American potluck and no one would as much as look at it. My son thinks it 's creepy and that the fish would bite him.
However, you should have seen him swallowing the fish when it was cooked- no kidding! He did not chew it. What happen to the creepy fish? I guess it was too good to pass up on.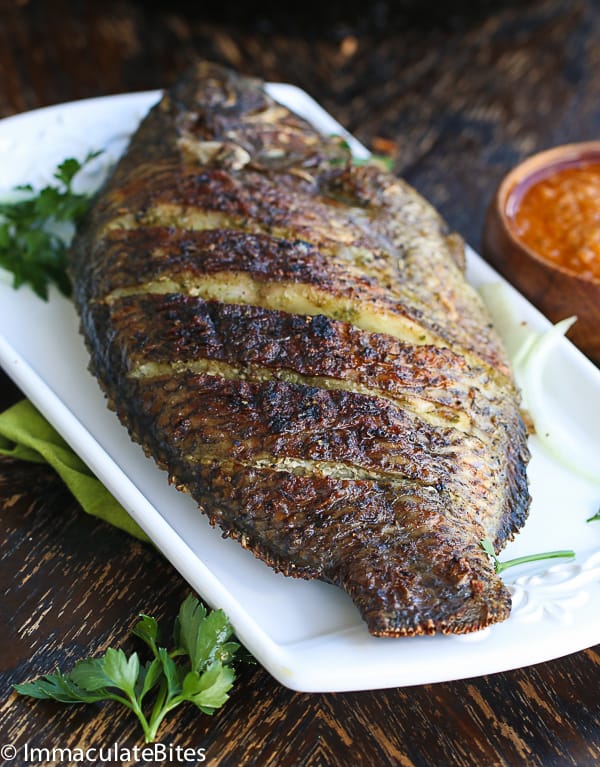 Ok, so when the attendees are mostly Africans, Asians or Caribbean it is a different story. Everyone just digs in- usually the fish is the first to go. I guess it is a cultural thing. In Africa, we never let anything go to waste. Some people love to lick, nibble, chew and completely eat the bones. The eyes staring back at you don't scare anyone. In some households, you dare not get rid of the head or else you would be in seriously trouble. This was the case in my home.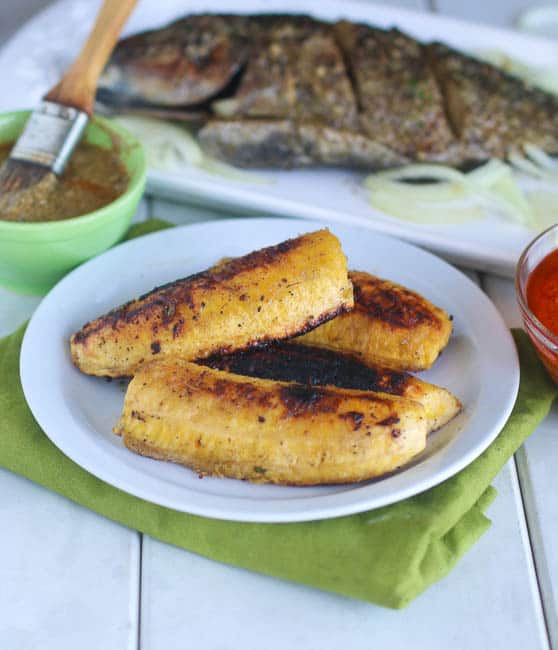 In Africa, specifically West African, countries like Nigeria, Cameroon, Senegal, Ivory coast, Ghana you can find an array of grills in every street corner with women or even men selling some sort of grill fish. It is the quintessential nighttime or some would say after work meal for bachelors, students or even families.
Making grill fish at home is quite easy, there are countless variations each with it's own unique taste. To be honest, I seldom make it the same. I usually go with the spices I have on hand but there are a few must have like garlic, black pepper, some fresh herbs (basil- my favorite, parsley, celery or thyme)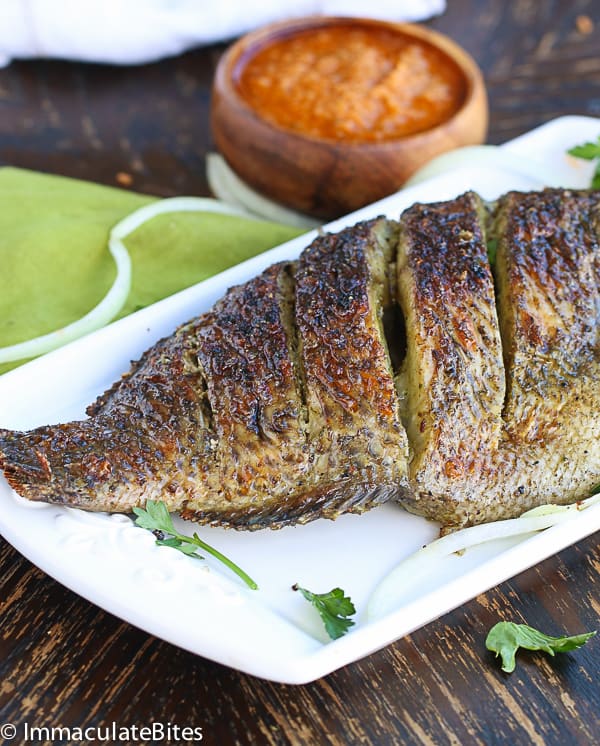 Here is the deal when grilling fish it is easier to grill when you use a grill fish basket – makes a difference (easy flipping).
I included grill ripe plantains they go great with grill fish. It is customary to serve grill fish with some sort of spicy sauce. Use this one here or your favorite sauce spicy hot sauce.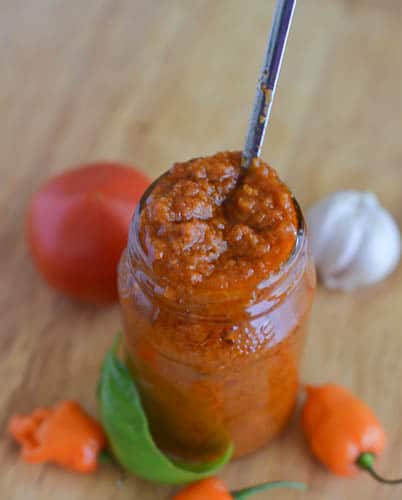 Watch How to Make It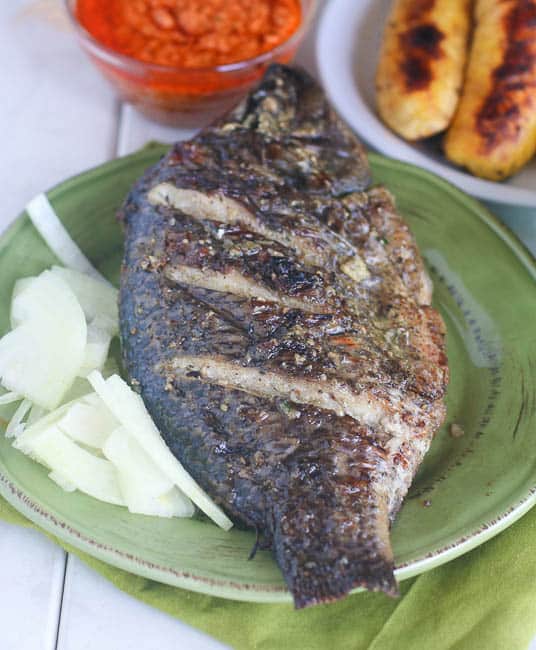 Print
Grill Tilapia (African Style)
Grill Tilapia (African Style) — Easy whole grilled Tilapia smothered in spices and herbs with an African spicy hot sauce for dipping.
Ingredients
white fish (Sea bass

red snapper, or tilapia

1-2

lemons

Salt and freshly ground black pepper

2

teaspoon

whole white pepper

2

teaspoon

whole black pepper

1-2

African Nutmeg

ehuru

7-10

garlic cloves

2

teaspoons

anise seeds

½

inch

ginger

1

teaspoon

paprika

2

tablespoon

chicken bouillon powder or cubes

1

piece

1/2 inch fresh ginger, peeled and thinly sliced

1/2

cup

coarsely chopped basil

parsley

¼

cup

onions or ¼ medium onion
Instructions
Make three –four diagonal cuts in each side of the fish, all the way right through the bone. Season fish with salt, pepper, and squeeze some lemon over it. Set aside

Using a coffee grinder – grind all the dry spices – anise seeds, African nutmeg, white pepper and black pepper. Add to a bowl.

Chop parsley, onion, basil, garlic, ginger, bouillon cubes and place in a food processor or blender. Blend/ pulse adding oil/water as needed until the ingredients are finely pureed. Add to the bowl of dry spices. Add paprika and more oil if need be . Mix thoroughly until all the spices come together

Pour the marinade over the fish, and gently flip them back and forth until coated inside and out. Let it marinate in the fridge for up to 24hours

Preheat to high heat.

When you are ready to grill, Wipe down the grill basket with oil towel and them immediately lay the fish down in the fish casket. Let them grill for about 1-2 minutes on each side

Reduce to medium high, then cover the grill if you have a gas grill

If you are using a small bbq grill, leave the fish on the open grill or hot charcoal.

Let the fish cook for a total of 4-5 minutes on each side, you may have to add a minute on two depending on the thickness of your fish until cooked – when fish is white and the juices must run clear.

Check for doneness by making sure the meat closest to the bone is fully cooked – slash with a knife to check.
Grilled Plantain
Slice in the middle then cut in halve. Season with salt and brush with spice mix

Grill on each side for about 3 minutes until fully cook through – watch carefully because they burn easily. Enjoy!
Tips & Notes:
When grilling fish it is easier to grill when you use a grill fish basket – makes a difference (easy flipping).
Nutrition Information:
Calories:
96
kcal
(5%)
|
Carbohydrates:
7
g
(2%)
|
Protein:
14
g
(28%)
|
Fat:
1
g
(2%)
|
Cholesterol:
34
mg
(11%)
|
Sodium:
61
mg
(3%)
|
Potassium:
314
mg
(9%)
|
Fiber:
1
g
(4%)
|
Sugar:
1
g
(1%)
|
Vitamin A:
325
IU
(7%)
|
Vitamin C:
14.1
mg
(17%)
|
Calcium:
39
mg
(4%)
|
Iron:
1.3
mg
(7%)
Nutrition Facts
Grill Tilapia (African Style)
Amount Per Serving
Calories 96
Calories from Fat 9
% Daily Value*
Fat 1g2%
Cholesterol 34mg11%
Sodium 61mg3%
Potassium 314mg9%
Carbohydrates 7g2%
Protein 14g28%
Vitamin A 325IU7%
Vitamin C 14.1mg17%
Calcium 39mg4%
Iron 1.3mg7%
* Percent Daily Values are based on a 2000 calorie diet.