Whole Baked Sea Bass fish marinated in a simple yet flavorful mixture of lemon, tomato, garlic, herbs, and other spices. It's simple, easy, healthy, and incredibly flavorful!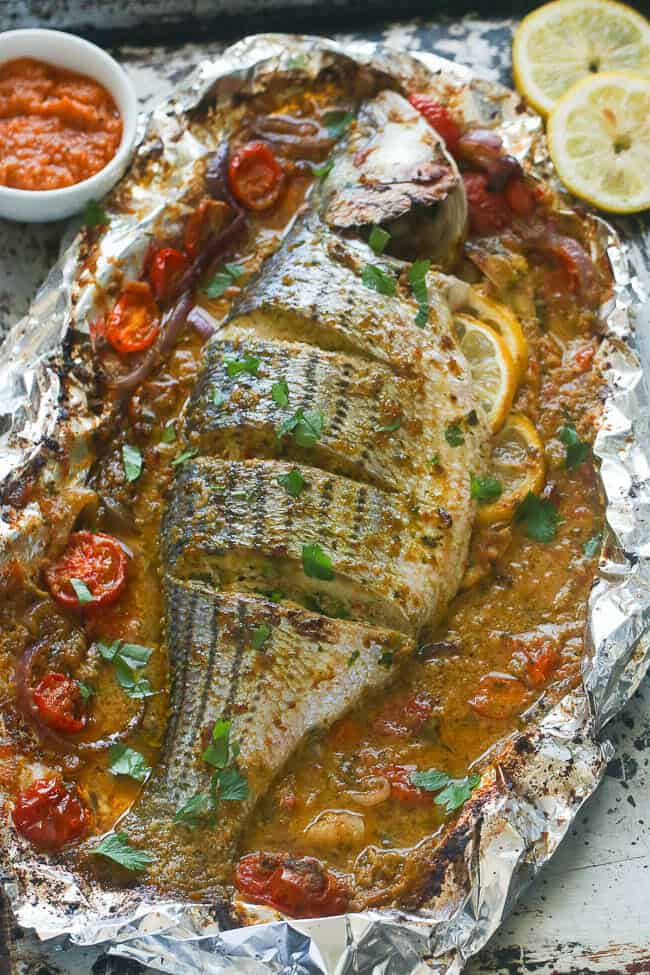 Whole baked fish is one of my favorite ways to eat fish. It has become my go-to meal when I'm tired, lazy, or need to put some food quickly on the table. It is simple and effortless to make and never fails to satisfy.
We also put fish on our holiday menu as a healthy break from all the fatty and oily main dishes. And did you know that eating cooked fish on New Year's Day also brings good luck?
Well, that's another reason for you to make this sea bass recipe here this coming holidays. But one thing I can say tho, that you won't regret savoring all the flavors in this humble dish!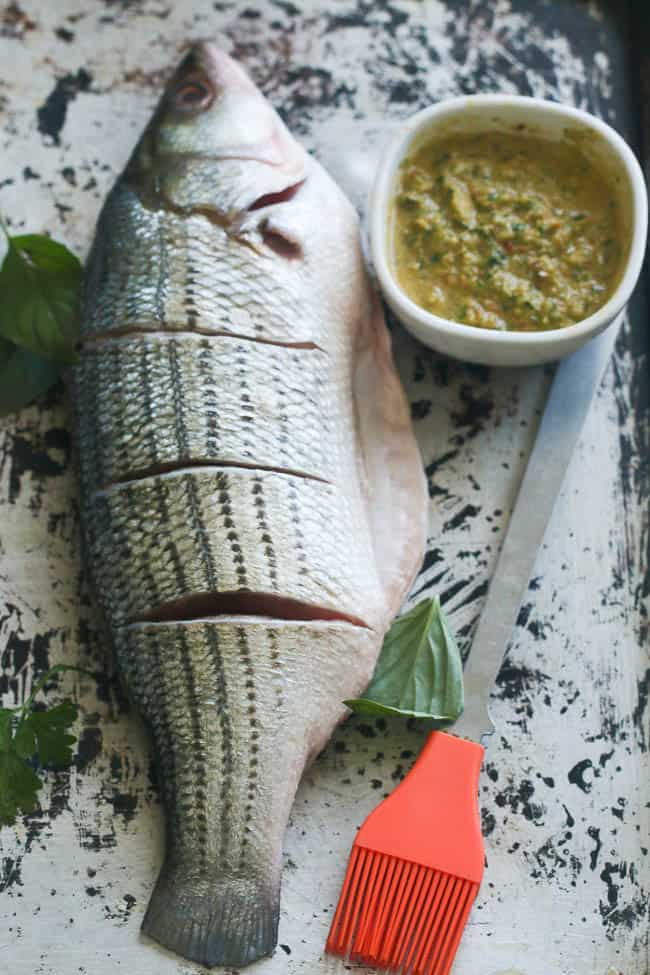 Oh, and did I mention it is as push-button easy to make. Get the ingredients below, pulse them, oil the fish, and throw in some tomatoes and onions. And that's it! You won't be needing as much tho with this recipe. Below is what you'll be needing for this recipe.
sea bass (or any white fish like red snapper or tilapia)

lemon

parsley, basil

tomato, garlic, onion

cherry tomatoes

chicken bouillon

water or oil

salt and pepper
Pretty easy, right? Simply place the fish on a foil or parchment paper after marinating, pop them in the oven, cross your legs and let the oven do its thing.
Yes, that easy and it's healthy too!
Just like other fish, sea bass is also rich in Omega 3 and protein. They're also a good source of vitamin B12, phosphorus, and manganese.
It's a foolproof recipe which comes out moist and succulent all the time. The bones and head add flavor to fish, so don't even think of taking it off. If you're still on the fence about eating fish, you'd better try this baked fish recipe here.
Sea Bass is actually mildly sweet and full of meaty consistency. So it isn't that "fishy" at all.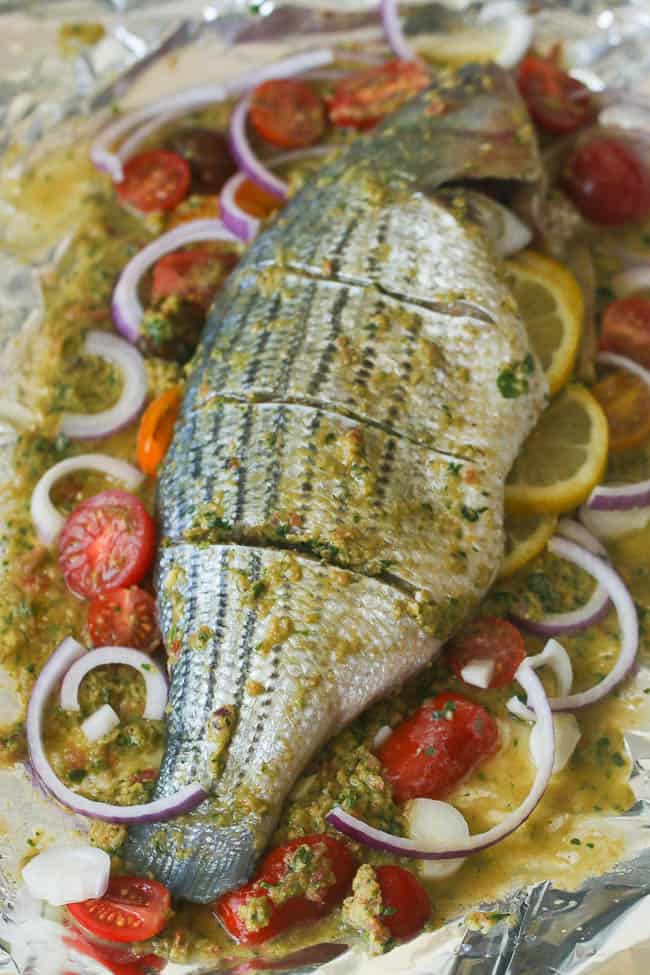 One bite of this and it reminds me of the many markets that pop up along the side of the road in the evening in various neighborhoods in my home town Yaounde (Cameroon).
Set up with bbq pits or grills with an array of food to grill. Some of the foods include but are not limited to chicken, fish, plantains, cocoyams, corn, meat, and other street foods. How I long for those days…
When all I could think about was saving up to visit the markets- so I can get a thing or two and satisfy my cravings. I am telling you, these food markets have an appeal of their own and often are the center of attention from everyone -ranging from businessmen, young ladies, students, and even families. Oh yes!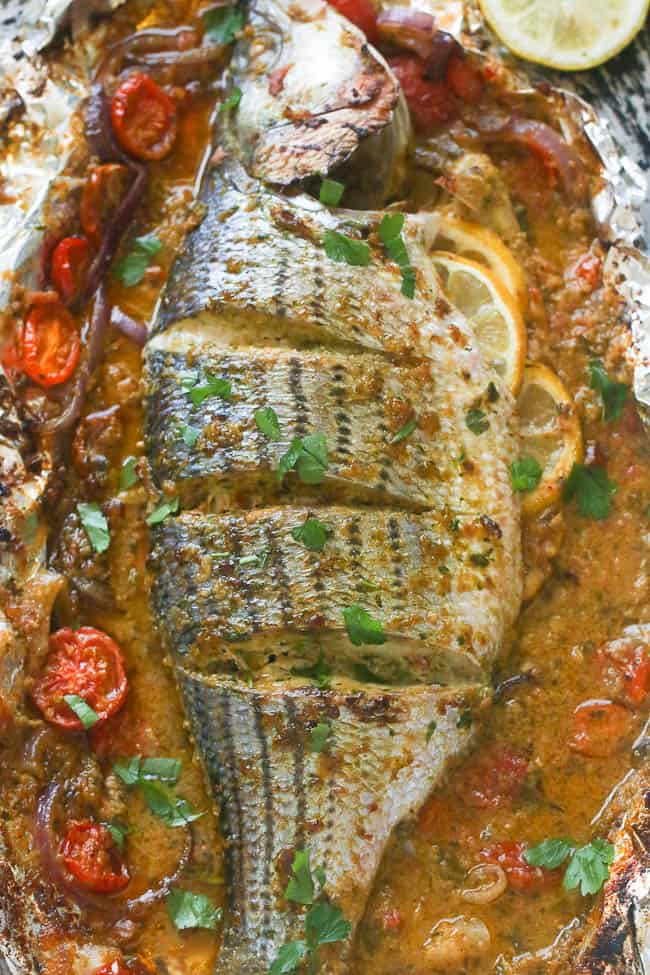 Aside from tilapia, I love roasting or grilling Stripped Seabass, too. It's a very versatile fish that can really stand up to the strong flavor.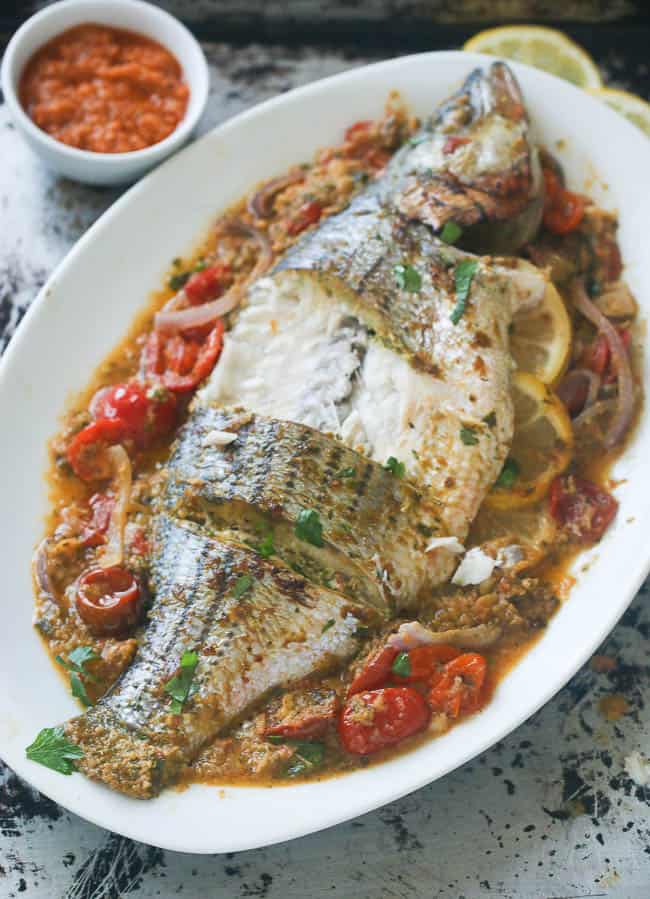 You can serve this fish with plantains or potatoes (roasted, fried, or grilled). And don't forget to serve it with this pepper sauce HERE (if that is your thing😉).
More Easy Seafood Recipes To Try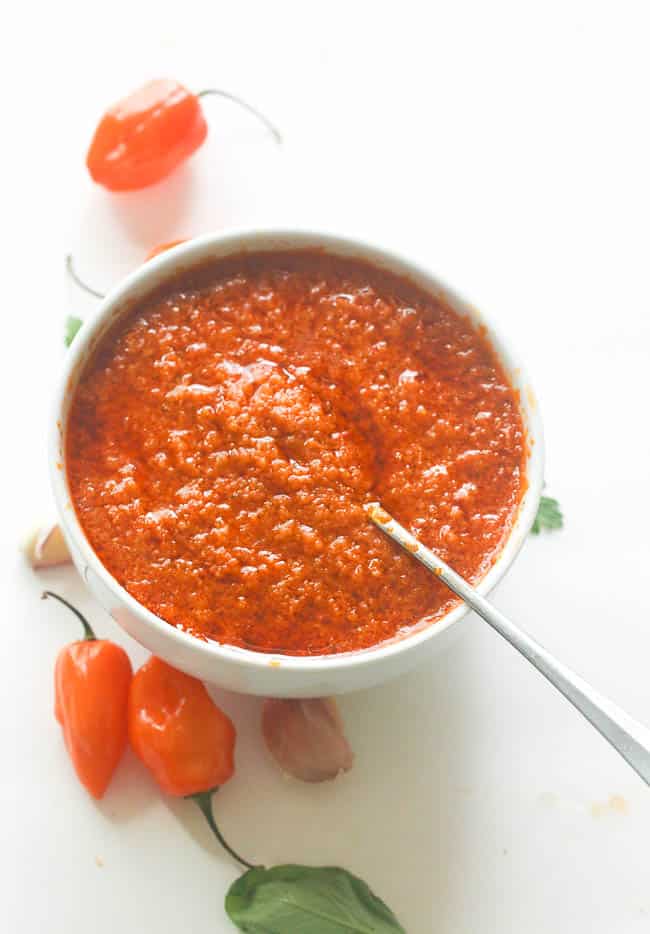 This recipe was republished in December 2016 and has been updated with added tips and notes.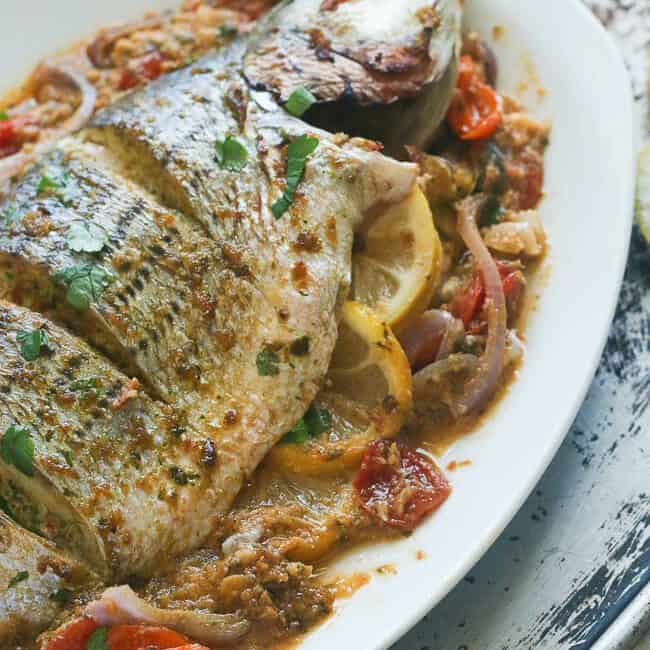 Print
Whole Baked Sea Bass
Whole Baked Sea Bass fish marinated in a simple yet flavorful mixture of lemon, tomato, garlic, herbs, and other spices. It's simple, easy, healthy, and incredibly flavorful!
Ingredients
2

white fish (sea bass, red snapper, or tilapia)

, approximately 1-2 pounds; scaled and gutted white fish

1

lemon

(or limes if that's what's available)

salt and pepper to season

½

bunch parsley

1

small onion

, sliced and divided

½

bunch basil

1

small tomato

4-5

garlic cloves

1

tablespoon

chicken bouillon or cubes

, optional

½ -1

cup

water or oil

1-2

cups

cherry tomatoes
Instructions
Make 3-4 diagonal cuts in each side of the fish, all the way right through the bone.

Squeeze some lemon over it. Season fish with salt and pepper. Set aside.

Chop parsley, onion (½ sliced onion), basil, tomato, and garlic. Add to a food processor or blender. Blend/pulse while adding oil/water as needed until the ingredients are in puree form. If desired, add chicken bouillon to the puree, thoroughly mix.

Pour the marinade over the fish, and gently flip them back and forth until coated inside and out.

For best results, let it marinate in the fridge for up to 24 hours.

Use a cooking spray to oil the bottom of a roasting pan to prevent fish from sticking to the pan. Drizzle 2 tablespoons of water or oil on the fish and throw in the cherry tomatoes and the rest of the onion slices.

Bake in a roasting pan (leave it open) at 450 F (232 C) for approximately 15-20 minutes, depending on the thickness of your fish.
Tips & Notes:
Before you buy fish, check the eyes. They are a good indicator that the fish is fresh and healthy. They should be crystal-clear, plump, wet, and shiny. No bruises. And definitely no foul smell. They should smell like water. Yes! I know water has no smell. Oh, and the gills should be bright red.
No need to flip your fish over. It's still going to get soggy anyway- unless you are cooking it on a rack.
If you want this completely paleo, skip the chicken bouillon and just salt accordingly.
I always bake fish on foil or parchment paper as it makes for easier cleanup. Use a cooking spray to oil before adding the fish. This prevents the fish from sticking to the pan.
Adjust oil as needed according to preference and dietary needs (I use half water and half cooking oil – no preference in cooking oil.)
You may use this marinade on fish fillets. Just reduce the cooking time and don't forget to spray the pan to prevent the fish from sticking to it. Cook for about 12 minutes or more depending on the thickness of the fish.
Please keep in mind that nutritional information is a rough estimate and can vary greatly based on products used.
Nutrition Information:
Calories:
259
kcal
(13%)
|
Carbohydrates:
12
g
(4%)
|
Protein:
2
g
(4%)
|
Sodium:
406
mg
(18%)
|
Potassium:
324
mg
(9%)
|
Fiber:
2
g
(8%)
|
Sugar:
5
g
(6%)
|
Vitamin A:
585
IU
(12%)
|
Vitamin C:
40
mg
(48%)
|
Calcium:
35
mg
(4%)
|
Iron:
0.8
mg
(4%)
Nutrition Facts
Whole Baked Sea Bass
Amount Per Serving
Calories 259
% Daily Value*
Sodium 406mg18%
Potassium 324mg9%
Carbohydrates 12g4%
Protein 2g4%
Vitamin A 585IU12%
Vitamin C 40mg48%
Calcium 35mg4%
Iron 0.8mg4%
* Percent Daily Values are based on a 2000 calorie diet.