Huli Huli Chicken- Grilled or Baked Hawaiian Chicken Drumsticks marinated in a sweet pineapple, ginger, garlic sauce . Sweet Sticky and Sweet.

You know what protein I love to cook with the most? You guessed right- Chicken. Just a quick around here would suffice.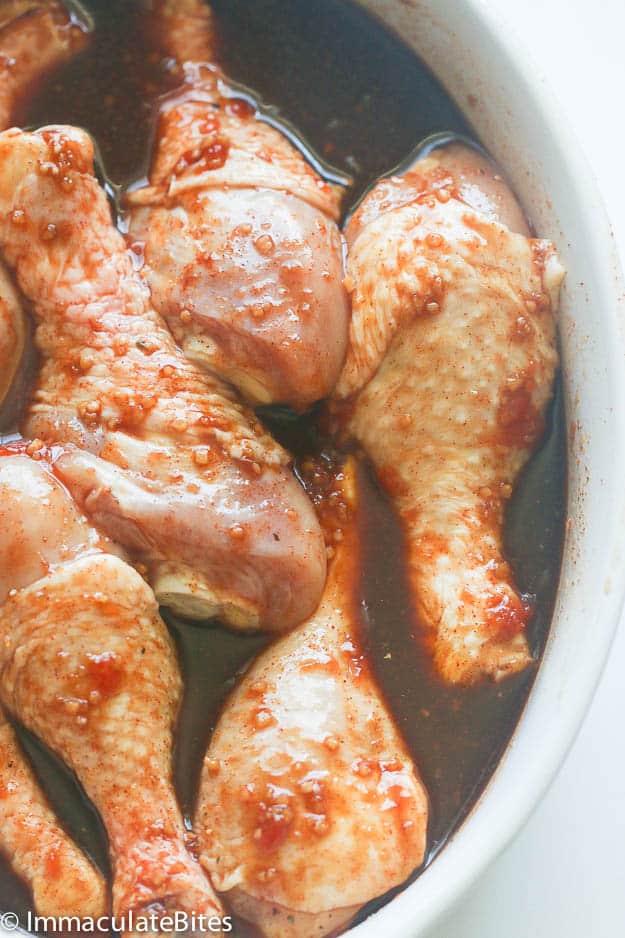 It's essentially a tender and juicy blank slate capable of taking on a plethora of flavors whether bold or understated. A prime example of this is Huli Huli chicken.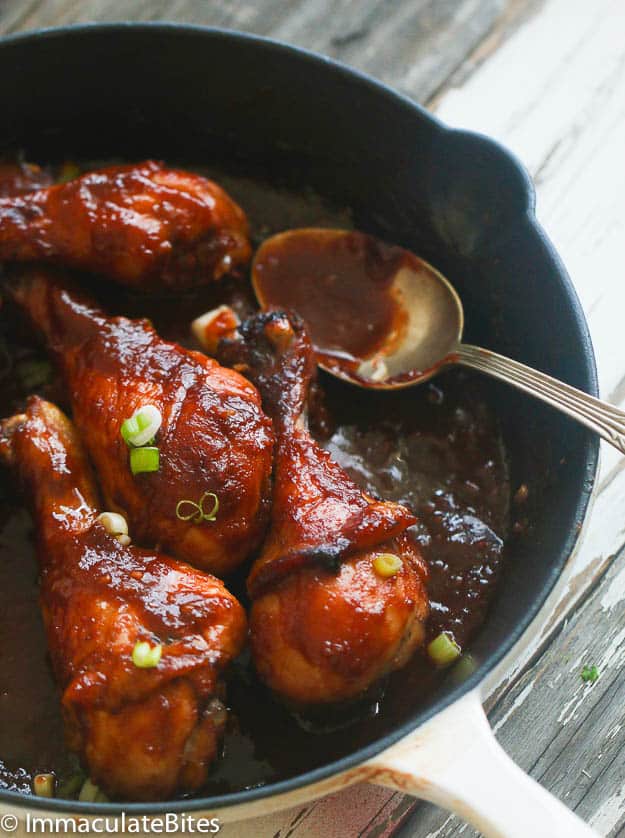 The dish would be nothing without the chicken but this recipe is all about the sauce and ensuring that the sauce infuses every inch of the protein.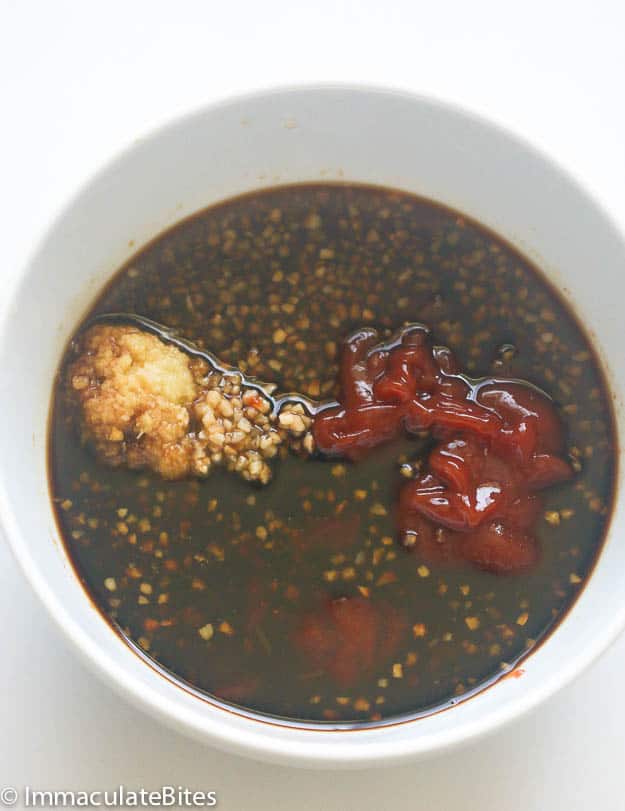 For this recipe, dark meat best -succulent part of the bird. The meat is moist and very affordable – hey am cheap.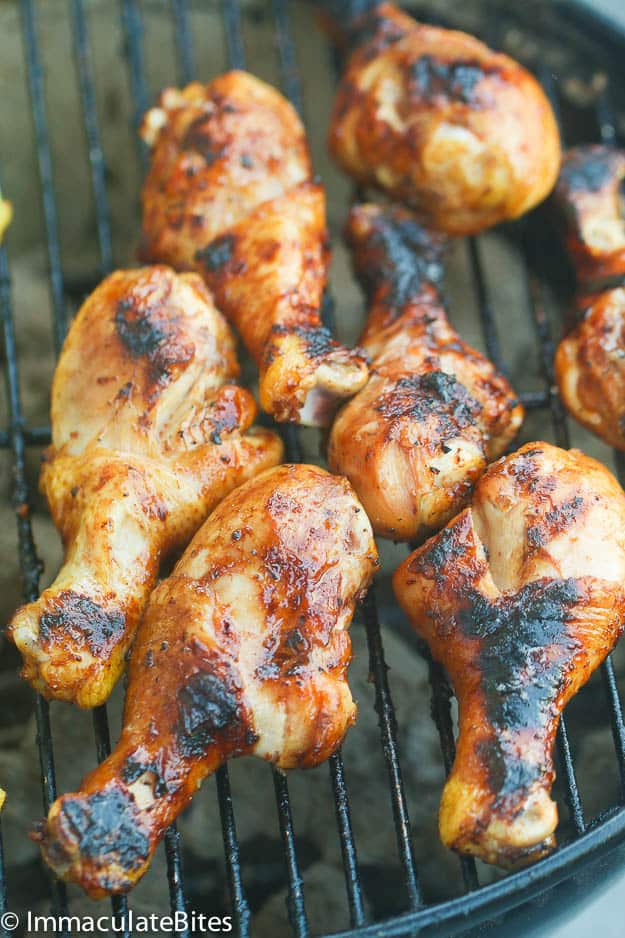 You put the chicken on a hot grill which helps develops smoky char and then towards the end you baste on it to create layers upon layers of mouthwatering flavor.
The direct translation is turn-turn chicken, which explains the turning, and basting required during cook time. If you are not use to basting on the grill. Simple grill or bake and drench the chicken in the sauce. How is easy is that?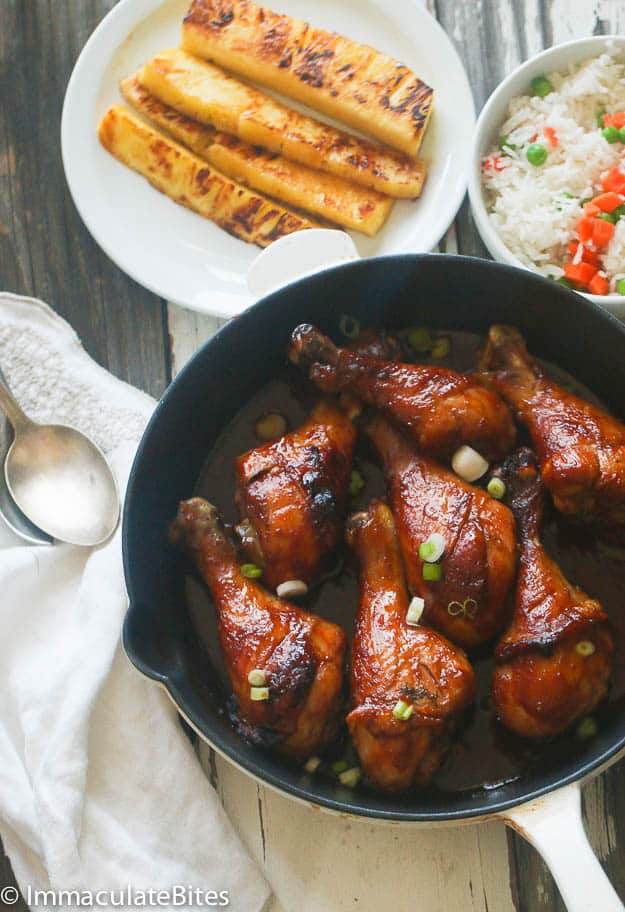 All this talk about flavor probably has you wondering what is in the sauce. There is ginger for kick, garlic, soy sauce, lemon juice for acidity, pineapple juice, brown sugar and a few other additions to add complexity. Because of the sugar content, the sauce thickens as it cooks to create this beautiful glaze and the flavors intensify.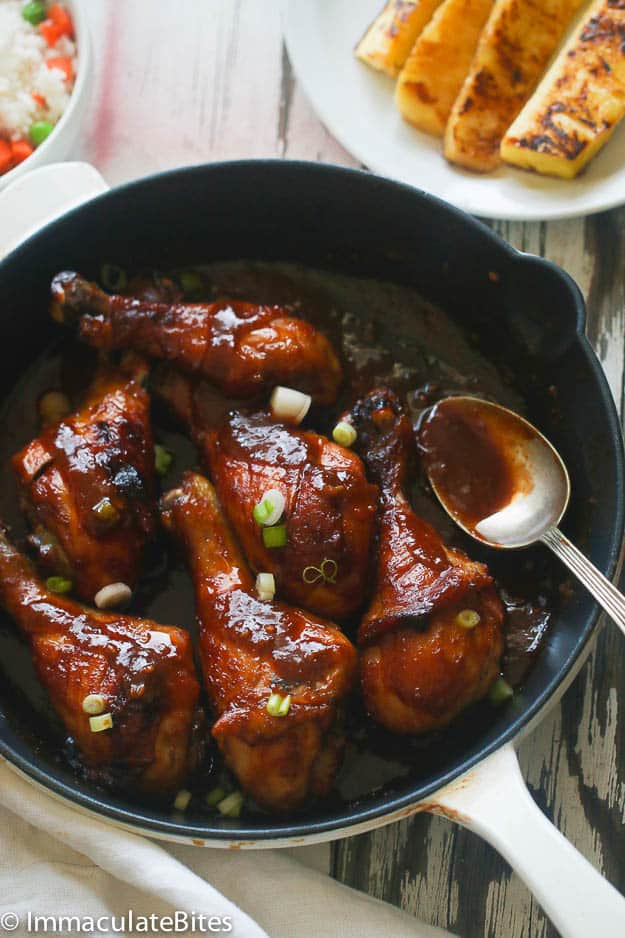 Take a bite of Huli Huli chicken and your taste buds will first be greeted with fruity sweetness from the pineapple along with the deep, almost caramel like flavor of brown sugar.
The garlic and spice from the ginger come soon after as well as the savory elements of the sauce to create a well-balanced bite.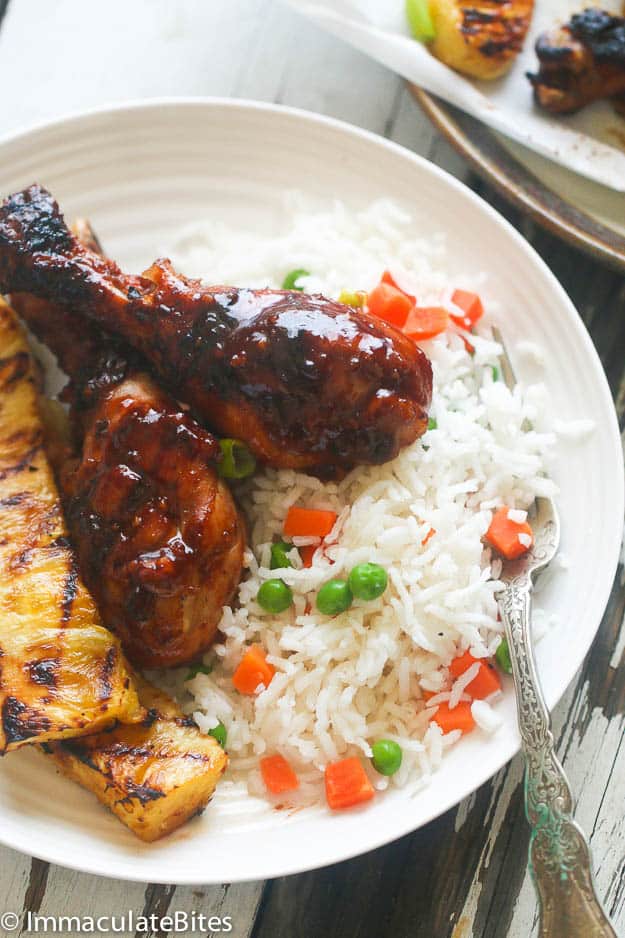 Oh, you can do the Hula dance too! After you are done making it . Am not watching …
Enjoy!!!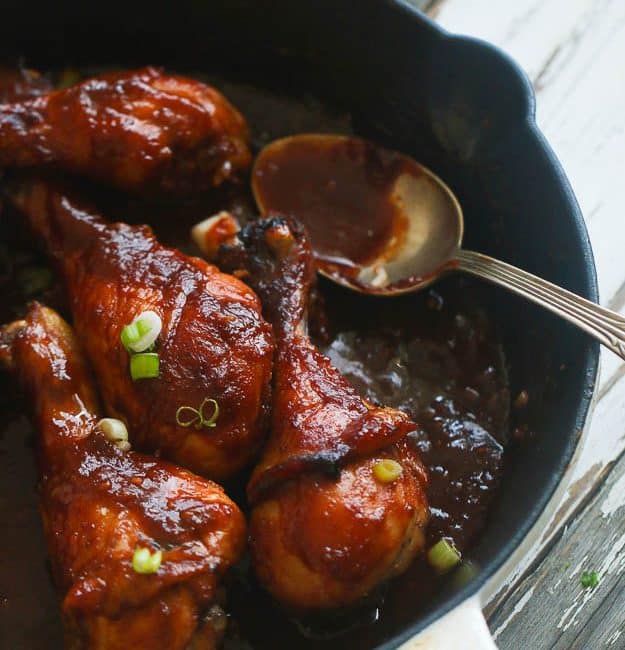 Print
Huli Huli Chicken
Huli Huli Chicken - Grilled or Baked Hawaiian Chicken Drumsticks marinated in a sweet pineapple, ginger, garlic sauce. Sweet, Sticky and Sweet.
Ingredients
3 1/2- 4

pounds

chicken drumsticks

1

cup

unsweetened pineapple juice

1/3

cup

soy sauce

1/4

cup

brown sugar

2

Tablespoons

Honey

1/4

cup

ketchup

½

Tablsespoon fresh grated ginger

1

Tablespoon

minced garlic

1-

teaspoon

cumin spice

1-

teaspoon

Sriracha

adjust to taste

1/2 -1

Lemon juice

¼

cup

chicken broth

Green onions

sliced for garnish
Instructions
Season Chicken legs with pepper according to preference. Set aside

In a medium bowl, mix the pineapple juice, soy sauce, brown sugar, sriracha, ketchup, ginger, cumin, lemon juice and garlic.

Pour marinade into a large bowl or a zip loc bag and add chicken. Thoroughly mix so chicken is covered with marinade.

Cover with saran wrap or if using Ziploc seal and place in the fridge to marinade. For at least 3 hours or overnight for best flavor.

When ready to cook- remove chicken from the fridge, and careful drain. Set marinade aside.

In a small saucepan simmer the remaining Huli Huli marinade- for about 5 minutes. Adjust taste with chicken broth, pepper and/or ketcup. If you want a thicker sauce then add more ketchup.
Grilling
Oil bbq grill then add chicken. Grill for about 10-15 minutes each side. You may baste with cooked marinade towards the last 5 minutes of grilling.
Baking
Pre-heat oven to 400 degrees F.

Line a baking pan with foil; top with a wire rack. Arrange chicken legs out in a single layer. While the chicken legs are baking oil will slowly drip to the bottom of the baking pan.

Bake chicken legs until cooked through and skin is crispy, about 45-50 minutes-rotate chicken half way through-roughly 20 minutes.Drench in sauce or serve sauce on the side with grilled pineapple and rice.
Nutrition Information:
Calories:
150
kcal
(8%)
|
Carbohydrates:
36
g
(12%)
|
Protein:
103
g
(206%)
|
Fat:
53
g
(82%)
|
Saturated Fat:
13
g
(81%)
|
Cholesterol:
524
mg
(175%)
|
Sodium:
1895
mg
(82%)
|
Potassium:
1479
mg
(42%)
|
Sugar:
31
g
(34%)
|
Vitamin A:
340
IU
(7%)
|
Vitamin C:
9.2
mg
(11%)
|
Calcium:
89
mg
(9%)
|
Iron:
4.7
mg
(26%)
Nutrition Facts
Huli Huli Chicken
Amount Per Serving
Calories 150
Calories from Fat 477
% Daily Value*
Fat 53g82%
Cholesterol 524mg175%
Sodium 1895mg82%
Potassium 1479mg42%
Carbohydrates 36g12%
Protein 103g206%
Vitamin A 340IU7%
Vitamin C 9.2mg11%
Calcium 89mg9%
Iron 4.7mg26%
* Percent Daily Values are based on a 2000 calorie diet.