Spicy Roast Garlic Broccoli -Tossed in garlic, onion, red pepper and spiced with cayenne and cajun salt.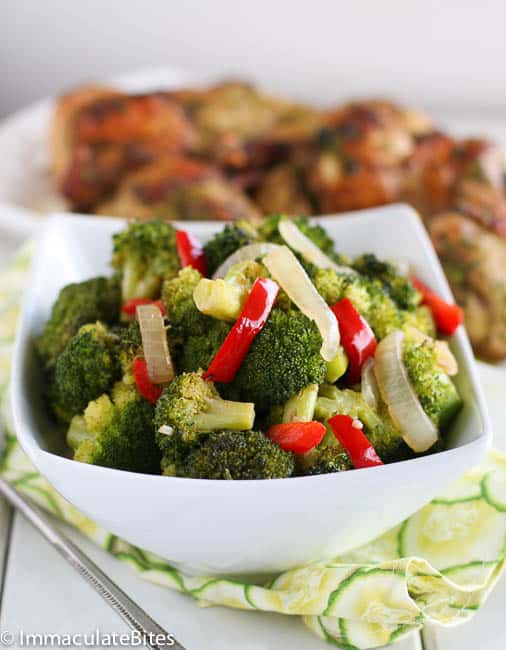 Happy Monday Everyone!!! Hope you had a great weekend and did not run into to much trouble. Now, here is a question for you
Did you do some over eating this weekend like I did? If you did am going to give you a chance to redeem your self with this Spicy roast garlic broccoli recipe. It 's healthy, it's easy and it is quite tasty.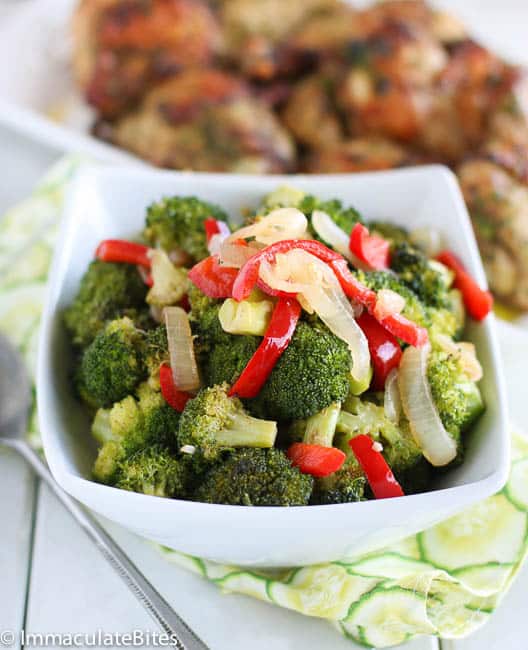 I know, speaking from experience broccoli is not at the top of my favorite food. But, you know you have to eat them, because of all its health benefits – Right?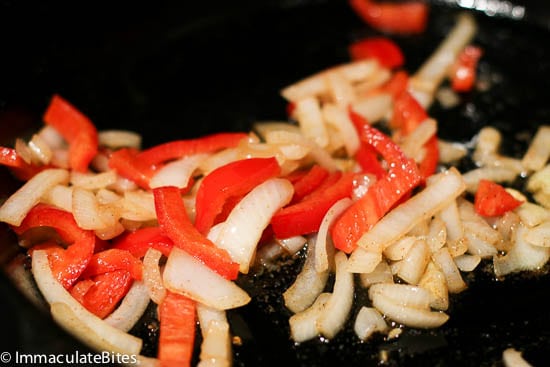 Let's just say it is healthy eating Monday people! And healthy eating should not be boring and this Spicy roast garlic broccoli is not.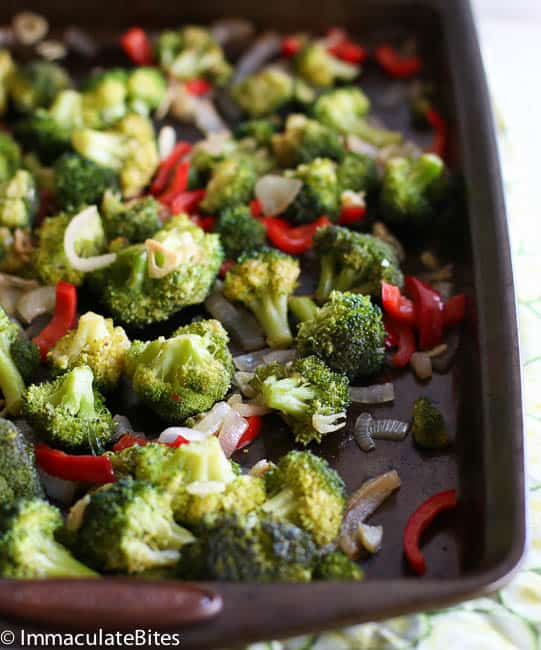 There are several ways of making this spicy roast garlic broccoli. You can make it without blanching, if you are in a hurry, but it would not retain its nice green color.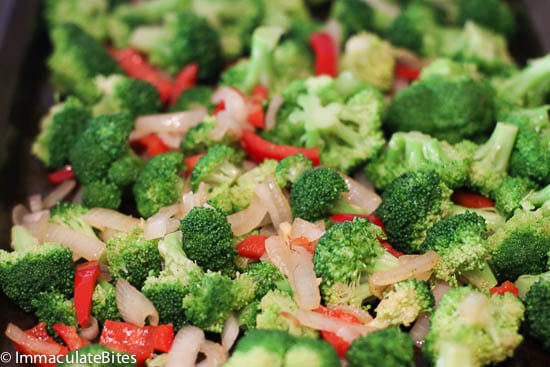 Or you can blanch, then drain out the water and roast, or you can blanch, drain toss with spicy garlic oil and bell peppers. You can't go wrong with this.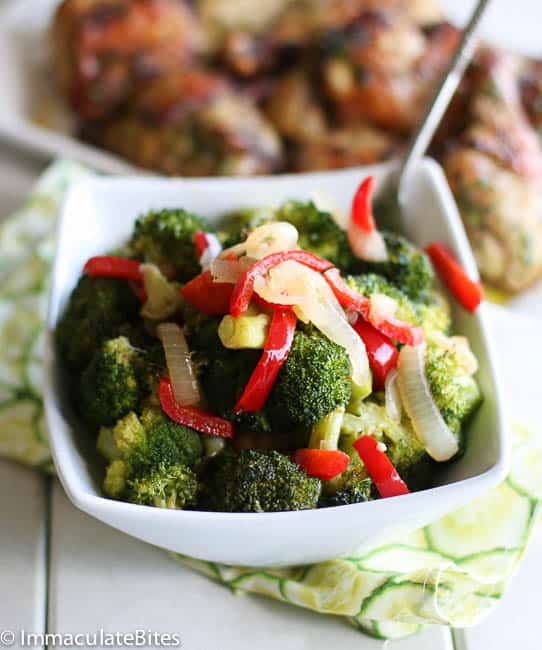 What am trying to say is that there is no wrong or right way….whatever works for you. Be careful when roasting so the garlic does not burn.
This is just a guidelines you can add more or less o oil, salt, garlic, pepper or even toss with Parmesan cheese. You decide.
Pair this broccoli with just about anything. It is simple and elegant
Enjoy!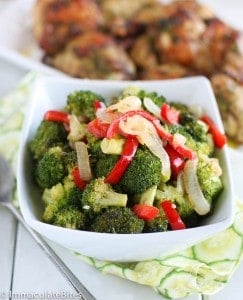 Print
Roast Broccoli with Garlic,Onions and Red Repper
Spicy Roast Garlic Broccoli -Tossed in garlic, onion, red pepper and spiced with cayenne and cajun salt.

Ingredients
1- 1/2

pounds

broccoli

cut into florets

3-4

Tablespoons

Olive oil or canola oil

¾

teaspoon

Cajun salt or more adjust to taste

4-5

garlic cloves

chopped

½

sliced medium onions

1

small red pepper sliced

1/4

teaspoon

cayenne pepper

optional

Freshly ground black pepper
Instructions
In a small pan set over medium-low heat, combine the canola oil, chopped garlic, onions, and red bell pepper and Cajun spice. Let this mixture sit for a little bit about 5 minutes.

Bring a pot of water to a boil, then blanch the broccoli for about 1-2 minutes remove, and drain. Then toss with parts of the garlic mixture.

Arrange the broccoli in a single layer on a greased baking sheet. Roast for 16-20 minutes, until cooked through and slightly brown.

Put the roasted broccoli back in the bowl and toss with remaining garlic, onion and red pepper mixture. Adjust seasoning salt freshly ground pepper.

Serve warm.
Nutrition Information:
Calories:
220
kcal
(11%)
|
Carbohydrates:
19
g
(6%)
|
Protein:
7
g
(14%)
|
Fat:
15
g
(23%)
|
Saturated Fat:
2
g
(13%)
|
Polyunsaturated Fat:
2
g
|
Monounsaturated Fat:
10
g
|
Sodium:
77
mg
(3%)
|
Potassium:
820
mg
(23%)
|
Fiber:
7
g
(29%)
|
Sugar:
6
g
(7%)
|
Vitamin A:
2725
IU
(55%)
|
Vitamin C:
254
mg
(308%)
|
Calcium:
117
mg
(12%)
|
Iron:
2
mg
(11%)