Taro Chips – Are you tired of the same old potato chips? Then transport your self to the tropics with these taro chips and give your taste bud a jolt. Yeah, you heard right – Taro Chips or some would call it Malanga chips.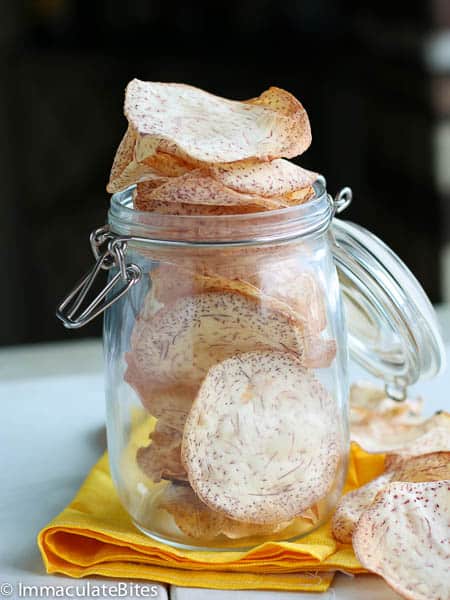 So what the heck is taro anyways? Let me do the honor . Taro is a starchy root vegetable that is known by other names eddo, kalo, macabo, dasheen, malanga, otoy, Otoe, cocoyam -depending on your country of origin. They belong in the carbohydrate family and are mostly found next to potatoes.You must have cross path with it in the supermarkets .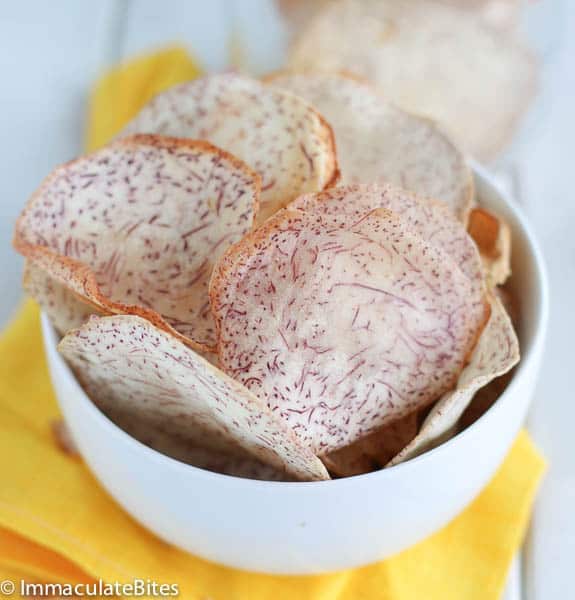 It is hearty , with a staggering amount of dietary fiber and significant levels of vitamin A, C, E, B6, and folate, as well as magnesium, iron, zinc, phosphorous, potassium, manganese, and copper. It is also acceptable as part of a healthy and diverse Paleo diet and is use in place of potatoes in some countries.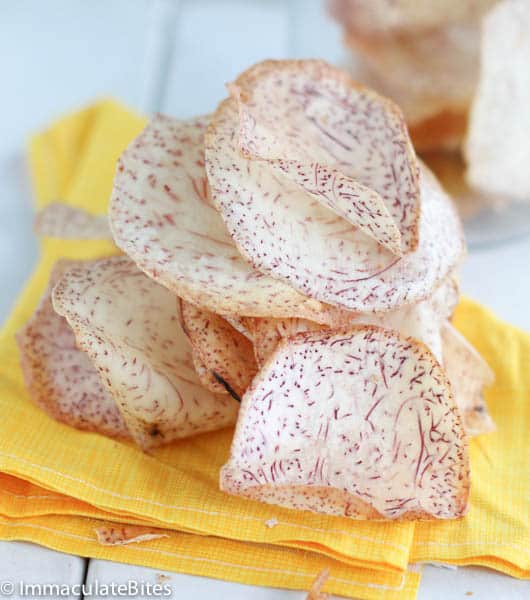 For more information on the benefits of taro check out THIS SITE HERE.
In West Africa, taro is boiled, roasted, and sometimes mashed and served with vegetables hardly ever fried. That's because they say it itches the back of your throat if not cooked for a prolonged amount of time. There is definitely some truth to it. However, for some people no matter how long you cook it there is always going to be that sensation.
In other parts of the world, in countries like America (specifically Hawaii ) Caribbean and Polynesian islands. They are often enjoyed as a snack – fried or baked- crunchy and flavorful.
If you need something sturdy to scoop up dip this would be it.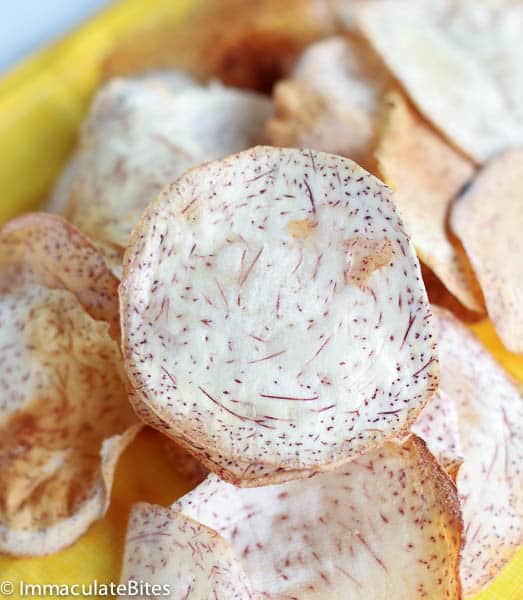 Here these starchy root are fried or baked and transform into an addictive chips that can be eaten on its own or served with
any dip.
I love them both as long as it is crispy they taste good to me.
Tips and Notes:
To prevent your hands from itching soak they in vinegar before peeling them.

There are different types of taro, use any variety you have on hand.

Taro root does oxidize quickly, so work quickly and plunge your taro root into water as soon as possible.

To ensure even cooking pair like shapes before baking or frying.

Check in Asian, Hispanic and African markets if you can't find it in your local supermarket.

You can use a mandolin, peeler or knife to cut your the taro- be sure it is thin enough. You may have to divide the taro in to four so you can hold on to it.

Soaking the taro in water for about 4 hours or overnight would help eliminate some of the throat itch.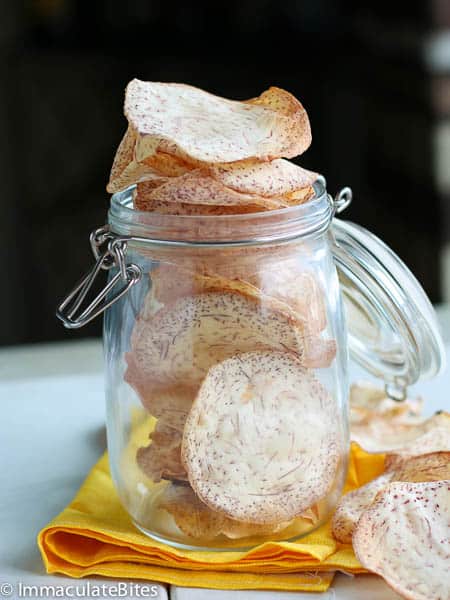 Print
Taro Chips
Transport your self to the tropics with these taro chips and give your taste bud a jolt. Yeah, you heard right - Taro Chips or some would call it Malanga chips.
Ingredients
1

large taro

about 2-3 pounds

Salt

Garlic salt, or Cajun Spice

Oil for deep frying

Baking

Coconut

Canola or Olive oil for brushing
Instructions
Cut taro into 2 -4 or larger chunks for easy peeling and cutting.

Peel the taro with a sharp knife, peeling away from your body carefully draw the paring knife down the body of the taro, being careful not to remove too much of the taro during the process. You may use a potato peeler for this process if you have small taro.

Look for any spoiled spots, such as bruising and discoloration, in the taro as you peel. Remove the spots away with the tip of the knife.

Wash immediately to prevent discoloration and leave them in cool water until ready to use or refrigerate for up to 24hours.

Slice the taro thinly with the help of slicer/ mandolin for consistent results or even use a peeler. Season with garlic salt, Cajun spice or salt.
Baked Taro
Preheat the oven to 350°F. Line baking sheets with foil and coat with cooking spray.

Place seasoned taro on baking sheets in a single layer, spray lightly over the taro bake for about 20 minutes turning over slices, after 10 minutes or till golden brown and crunchy.

Serve warm or cool. Store in a sealed container.
Fried Taro
Heat up a large skillet or cast iron with oil up to ½ inch- medium-high heat until hot but not smoking. If using a deep fryer fry at 350 degrees F.

Fry the taro slices in batches, turning once, until golden brown, about 5 minutes. Do not overcrowd the pan (it will make the taro to be soggy and absorb excess oil)

Use a slotted spoon; transfer the taro chips -drain on paper towels.

Store in a sealed container or serve with corn dip or eat on its own.