Whole Grilled Mackerel with less than 5 ingredients; Garlic , ginger and basil Quick and Easy and SUPER Flavorful.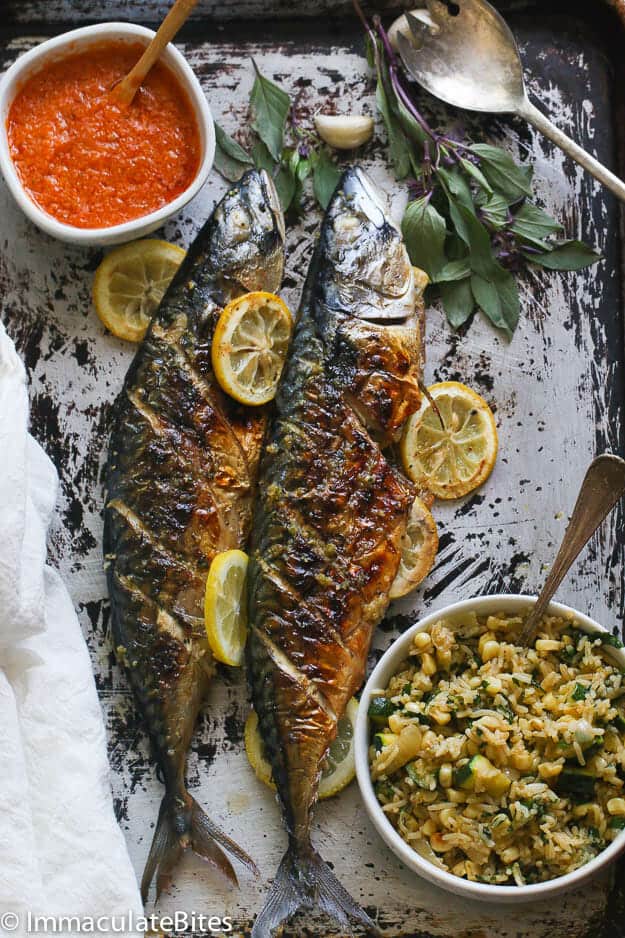 Today am sharing with you my super duper recipe for making grill Mackerel. And I am going to give you some three good reasons why you should start eating this firm fleshed fish. Plus is made with less than 5 ingredients – Of course not counting salt and pepper.
They are affordable even the wild ones. They are go for about $2.99 and are always on sale. I snagged these for $1.50, which was a steal. They usually go for $1.99 for whole fish
These thick white here pack an awesome nutritional punch (omega-3 fatty acid, It's a good source of vitamin D, protein and some B vitamins). And don't be put off by the oily skin or flesh that is where you find all the good stuff- omegas- 3. I eat it with gusto.
The single most important factor in favor of consuming more sardines: they are a pleasure to eat. Simple, easy to prepare and downright delicious.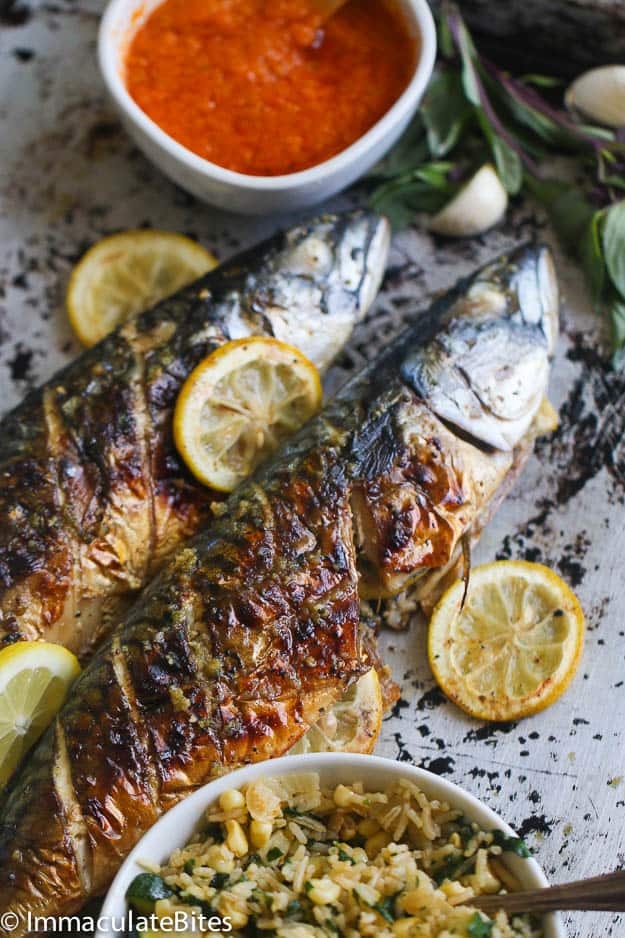 Yes, this humble fish is overlooked but these are some darn good reasons for you to give it a good look or maybe to go out fishing for it in your neighborhood markets.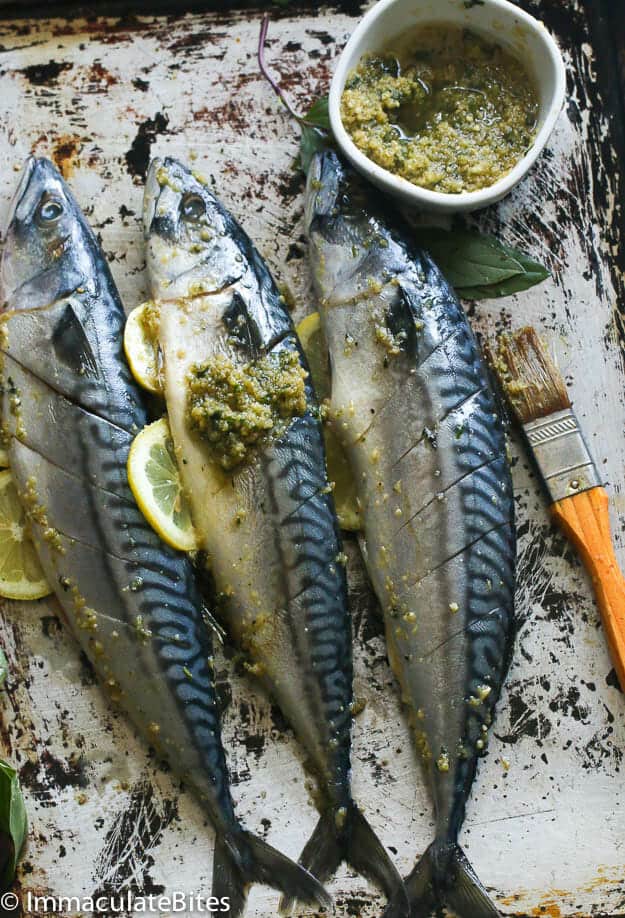 The best place to get them fresh or frozen is any Asian market. 9/10 times they do sell it. That's where I get mine.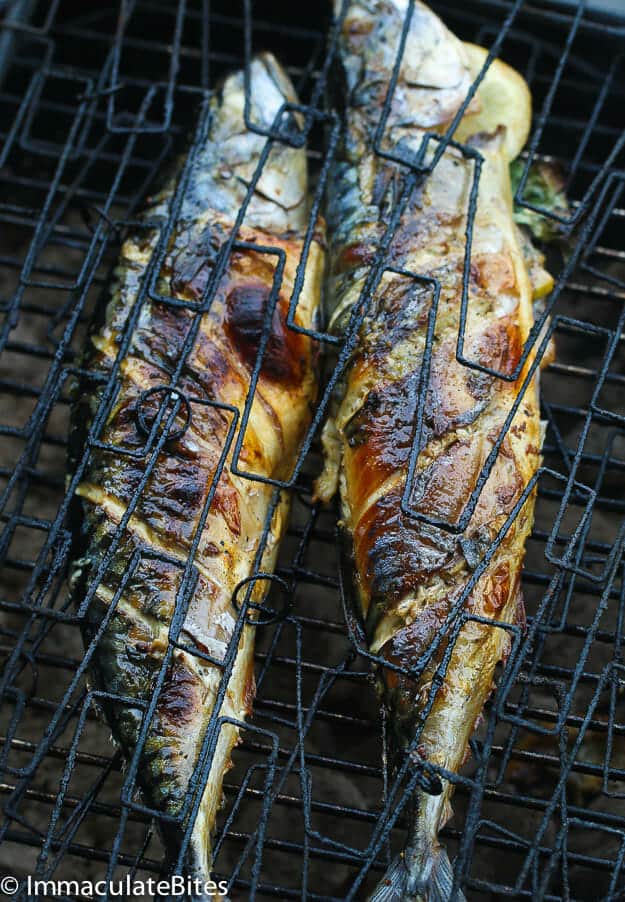 An easy way to grill fish is to use a grill basket. It really helps with flipping the fish. Also you can easily take it off the grill if the flames are flaring up. It's a must for me when grilling fish – makes my life easier. And it really doesn't need to be fancy or pricy at all. Yes, mine is ghetto fabulous but it does the Job.
You see that Red Pepper Sauce it is MUST. Check it out here . You are going to DIG it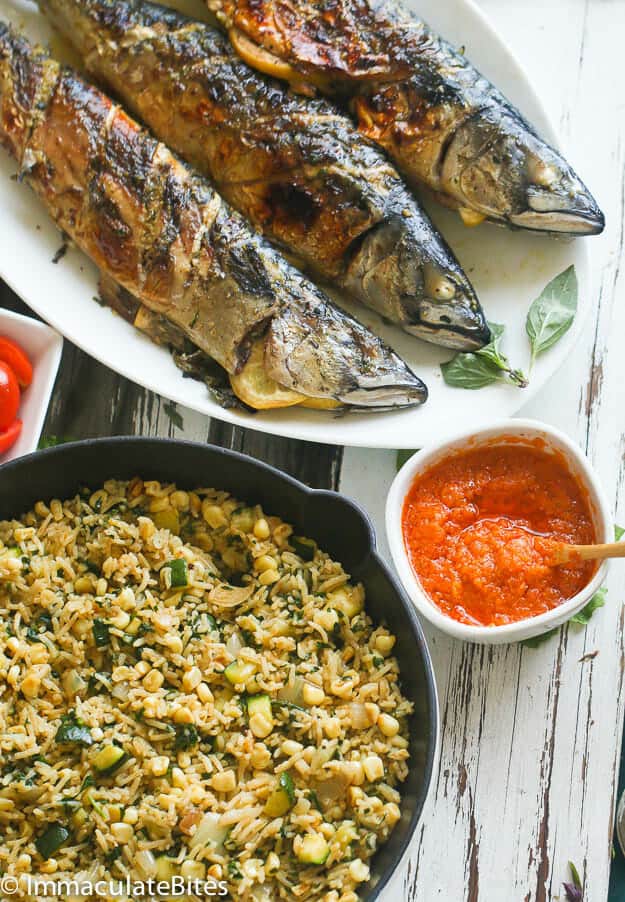 Since mackerel is really flavorful you don't need much to spice it all. That's why this is made with only a few ingredients; Garlic, Ginger and basil. It's a really fabulous combination of flavors and just pairs well with fish. The rest of the ingredients are optional.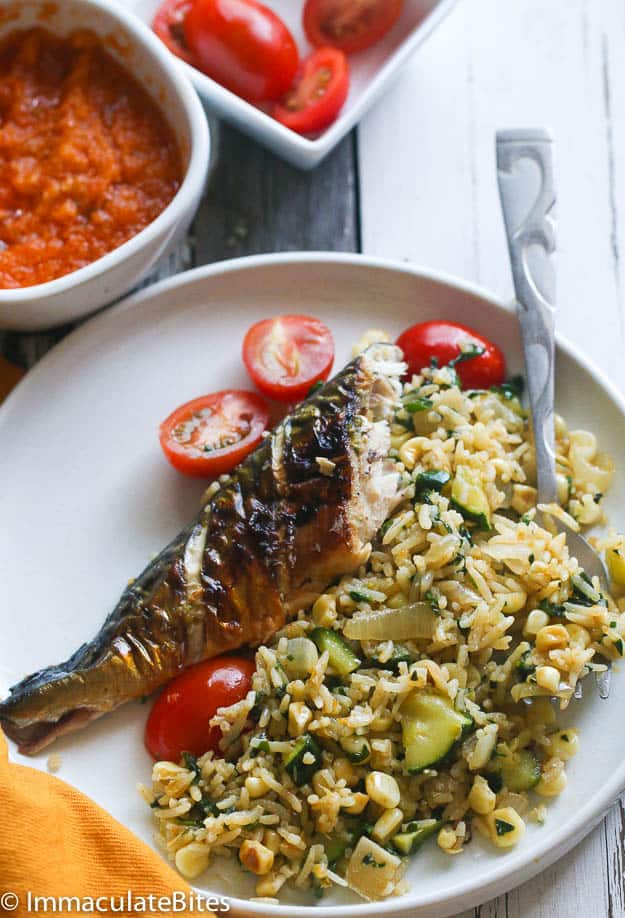 This marinate pairs well with most fish.
Enjoy!!!
Grilling Mackerel Tips and Notes
Light the barbecue and allow the flames to die down until the ashes have gone white with heat.
Charcoal fire is medium-hot when you can hold your hand 5 inches above rack for 3 to 4 seconds
Since Mackerel is an oily fish you do not have to baste with oil like you would red snapper. But feel free to if needed
Make sure you have the fish monger gut the fish for you.
The slits are used to create an opening from the outside of the fish to get seasoning and basting juices into the meat.
Using the salt and pepper, season the inside and outer exterior of the fish. It's important that the salt and pepper are the first seasonings that you add to fish. This helps the meat to perfectly absorb the salt and pepper before the other other seasonings are added.
If possible use Asian basil instead of sweet basil. They are more flavorful than the sweet ones. The Asian basil is darker with slightly purple discoloration.
You may use a mortar and pestle to smash the basil, garlic and ginger.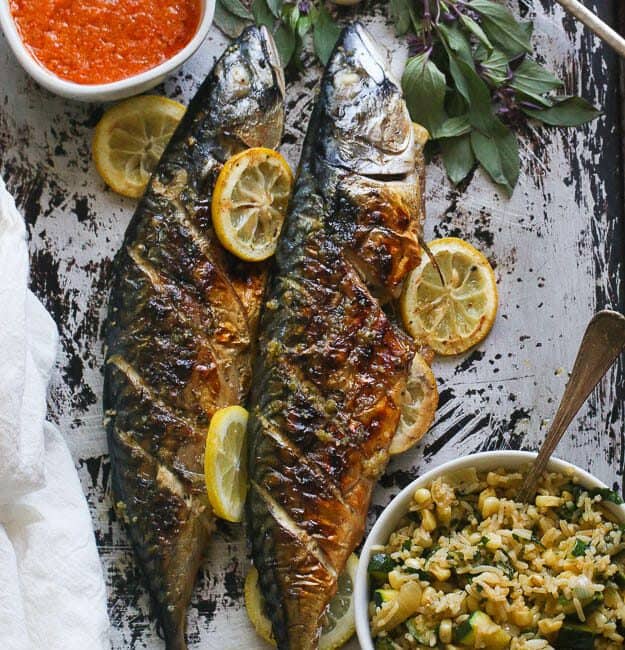 Print
Whole Grilled Mackerel
Whole Grilled Mackerel with less than 5 ingredients; Garlic , ginger and basil . Quick and Easy and SUPER Flavorful.
Ingredients
2-3

Whole Mackerel

about 11/2 - 2 Pounds each

Salt and Pepper to taste

3-4

fresh lemons

2

Tablespoons

minced garlic

1 -1 1/2

Tablespoons

minced ginger

1-2

teaspoons

minced basil

2

teaspoons

or more Chicken Bouillon Powder or Maggie

such as knorr (optional)
Instructions
Run water over fish inside and out. Then use paper towels to dry it up.

Make three –four diagonal cuts in each side of the fish, all the way right through the bone. Season fish with salt, pepper, and squeeze some lemon over it. Set aside

In a small bowl mix all the spices thoroughly until all the spices come together.You may add vegetable oil or water- as desired.

Thoroughly marinade fish with garlic mixture gently flip them back and forth until coated inside and out. You may let it marinade in the fridge for up to 24hours, if time permits. If not let it marinate for at least 30 minutes and baste and you go.

When you are ready to grill, wipe down the grill basket with oil towel to prevent fish from sticking on the grill. Discard any marinate that has been used to marinate fish and Lay fish gently on a fish basket.
Charcoal Method
If using a charcoal grill, open vents on bottom of grill, add charcoal about ¼ full. Light the barbecue and allow the flames to cool down until the ashes are white with heat.

Grill Mackerel for about 7 or more minutes per side. Flipping as needed. Towards the last five minutes you may baste with unused remaining marinade or use your best judgment.
Gas Grill
If using a gas grill, preheat burners on high, covered, 10 minutes, then reduce heat to moderate.

Then place fish basket on grill rack. Grill for about 7 or more minutes per side depending on the thickness of fish. Check for doneness by making sure the meat closest to the bone is fully cooked – You may slash with a knife to check.

When ready remove from grill and transfer to a platter serve with this hot sauce
Nutrition Information:
Calories:
388
kcal
(19%)
|
Carbohydrates:
9
g
(3%)
|
Protein:
46
g
(92%)
|
Fat:
18
g
(28%)
|
Saturated Fat:
5
g
(31%)
|
Cholesterol:
105
mg
(35%)
|
Sodium:
434
mg
(19%)
|
Potassium:
1041
mg
(30%)
|
Fiber:
2
g
(8%)
|
Sugar:
2
g
(2%)
|
Vitamin A:
155
IU
(3%)
|
Vitamin C:
48.7
mg
(59%)
|
Calcium:
80
mg
(8%)
|
Iron:
3.2
mg
(18%)
Nutrition Facts
Whole Grilled Mackerel
Amount Per Serving
Calories 388
Calories from Fat 162
% Daily Value*
Fat 18g28%
Cholesterol 105mg35%
Sodium 434mg19%
Potassium 1041mg30%
Carbohydrates 9g3%
Protein 46g92%
Vitamin A 155IU3%
Vitamin C 48.7mg59%
Calcium 80mg8%
Iron 3.2mg18%
* Percent Daily Values are based on a 2000 calorie diet.