Yassa Chicken (Poulet au Yassa)- A   Super Popular Senegalese   succulent chicken with caramelized onions  and mustard.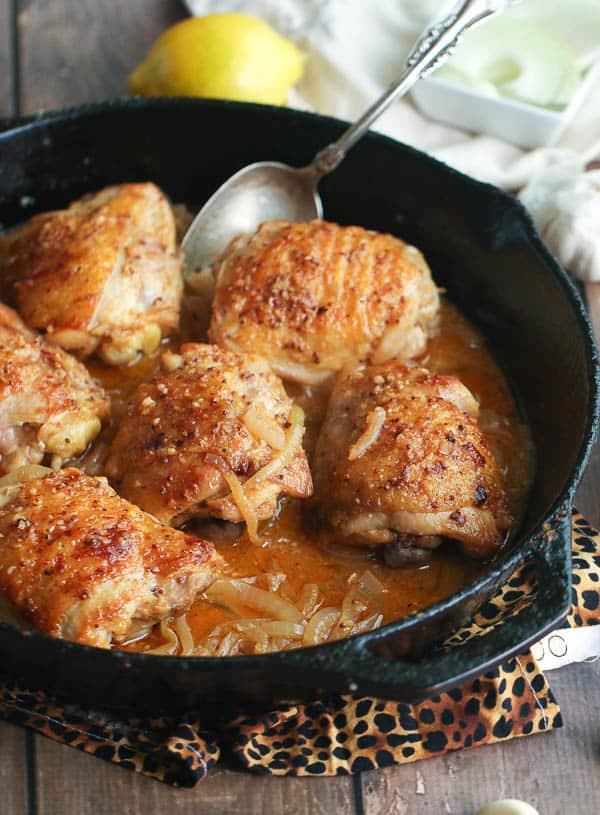 If you love onions you will love this onion extravaganza of incredibly moist and flavorful Senegalese dish. It is a French inspired meal that has been adapted by the Senegalese specifically in the Casamance region of Senegal. You can either use a whole cut chicken or just use parts of it ( thighs, breast or legs).
The chicken thighs and legs were on sale at the market, and I  could not resist the temptation! Those supermarkets always know how to get you.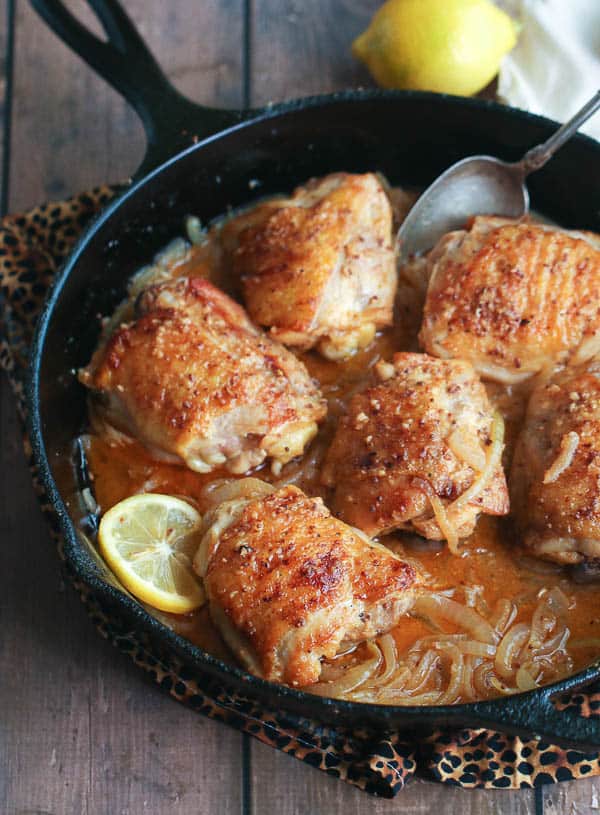 The chicken used to make this dish can be grilled or fried then simmered with, mustard, seasonings and fresh lemon juice until succulent and aromatic. Anytime I have to choose between fried and grilled food the latter wins.I am not usually a big fan of lemon chicken – mostly because the lemon is always overpowering,  but this recipe is just right! 
You can adjust the lemon to suit your taste buds. The addition of hot peppers and bay leaves gives a flavorful kick to the chicken.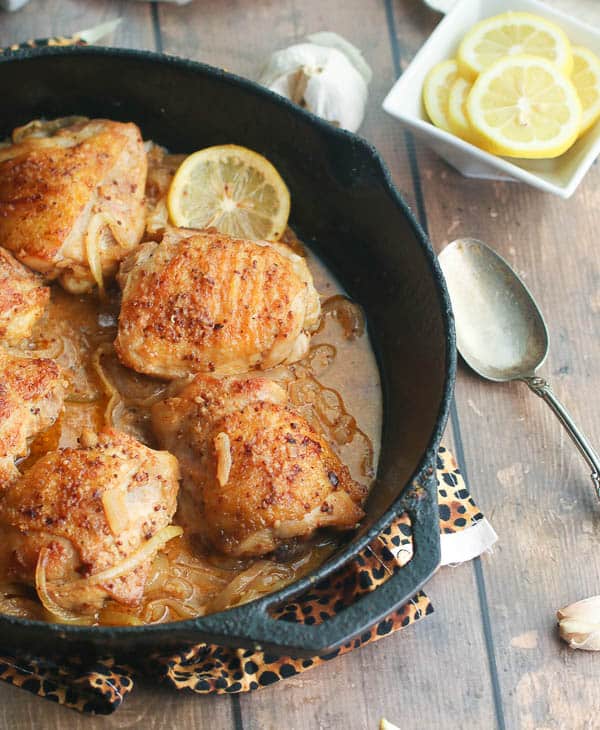 This Yassa Chicken is fantastic; it is versatile enough for a week night meal or an elegant dinner party centerpiece because you can do the prep work the day before to deepen and tenderize the chicken.  . Be sure to shake off any excess marinade of the chicken before grilling
This is usually served over white rice or couscous and vegetables on the side . 
Yassa Chicken(Poulet au Yassa)
Yassa Chicken (Poulet au Yassa)- A Super Popular Senegalese succulent chicken with caramelized onions and mustard.
Ingredients
3-4

pounds

of chicken

, skin- on

1-2

lemon sliced

2

Large Onions Sliced

4

cloves

of garlic

, minced

Bay leaf

2

cubes Maggie

(1 Tablespoon Chicken Bouillon)

½

cup

olive oil

2

Tablespoon

mustard

Salt and pepper

1/2 -1

tablespoon

cayenne pepper

Habanera Pepper

(Scotch Bonnet)
Instructions
Trim chicken of excess fat and pat dry with a cloth or paper napkin and salt

Prepare the marinade of lemon juice, onions, pepper, minced garlic, and Maggie. Douse the chicken with the marinate and refrigerate for 2 hours , preferably overnight

Preheat a hot barbecue, grill, griddle or frying pan.

Place chicken on the grill coated with cooking spray; grill 5 minutes on each side or until browned

While the chicken cooks. Heat the sauce pan with oil in a deep frying pan and fry the onions with the bay leaves, mustard and marinate juice left over from the chicken for about 5 minutes

Transfer the chicken to the saucepan and bring to a simmer over low heat, spooning the sauce over the chicken to coat.

Add about a cup of water cover and cook until the chicken is well flavored by the sauce, 4 to 5 minutes

Remove from the heat and adjust for seasonings, adding salt and pepper to taste. Discard the bay leaf.

Arrange the chicken on a plate, top with the lemon and mustard sauce over it. Garnish with the remaining lemon half and serve.
Nutrition Facts
Yassa Chicken(Poulet au Yassa)
Amount Per Serving
Calories 391
Calories from Fat 279
% Daily Value*
Total Fat 31g 48%
Cholesterol 18mg 6%
Sodium 1969mg 82%
Potassium 204mg 6%
Total Carbohydrates 22g 7%
Protein 6g 12%
* Percent Daily Values are based on a 2000 calorie diet.
`