Chicken shawarma- Incredibly flavorful chicken marinated in aromatic yogurt marinate that is bursting with Middle Eastern Flavors. Paired with Chapati .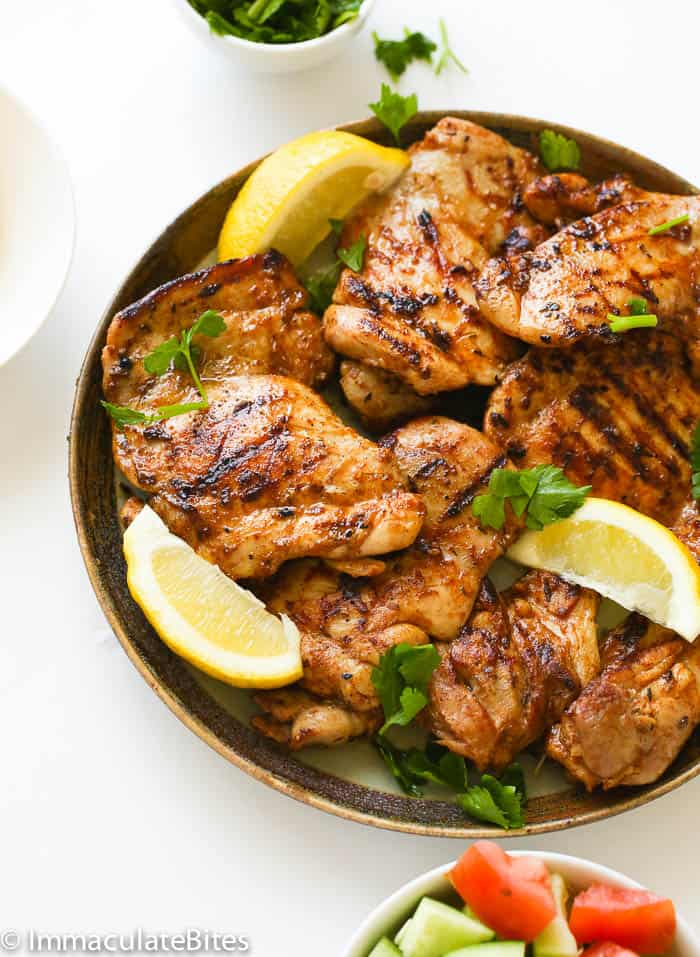 I first tasted shawarma on a trip to berlin, I remember being struck by how something could taste so delicious and heavenly that I would completely blow away my diet regiment for.  Especially after working so hard to get in shape.  But, I cared less. I spent the following week eating sharwarma for lunch or dinner, unfailingly – No regrets.It is that good!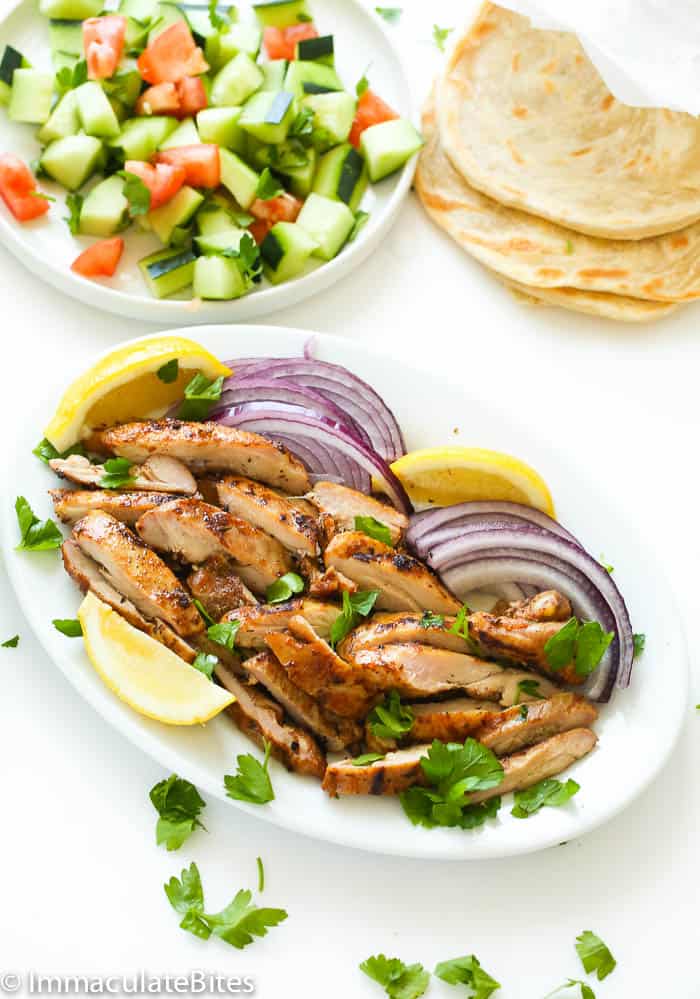 On a recent trip to my hometown Yaoundé (Cameroon,) Africa. I quickly discovered that Sharwarma had become an African thing – beloved especially in countries like Nigeria – Shawarma stands are cropping up everywhere and was delighted to give it a try again after more than ten years since my last bite. It was good, however, nothing  compares  to  your first experience.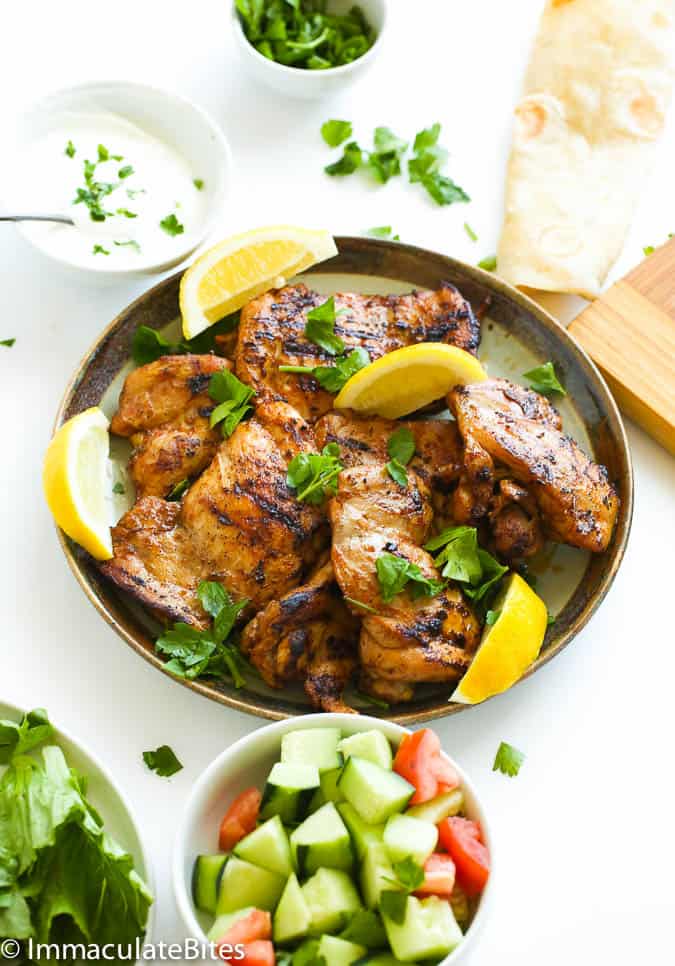 This  is my take on Sharwarma with an African twist.  Traditionally Scharwama is made with a combination of stacked protein Beef (lamb, cow and poultry-turkey, chicken flavored with tons of exotic spices. It is cooked on a vertical spit for hours until is tender and ready to be served. It is  thinly sliced  and placed on warm unleavened bread with tahini or garlic  sauce sometimes topped with lettuce  and/or vegetables.
Wow, just describing this dish makes me hungry
Here , I used chicken . You can use chicken or beef  or feel free to use both.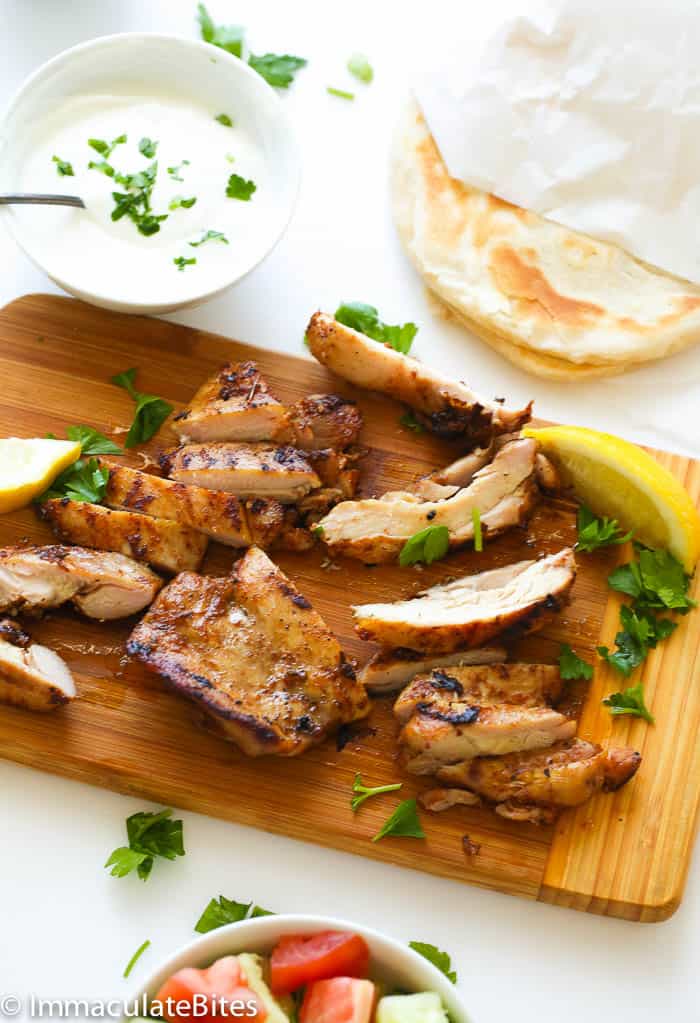 I added  a little bit of thyme, a touch of cayenne pepper(omit if not a fan of spicy food . For the flat bread I used this  East African Chaptati Recipe featured here. Replace with pita or any unleavened bread.
Enjoy!

Chicken Sharwama
Ingredients
2 pound boneless skinless chicken thighs
3 teaspoons lemon juice
2-3 garlic cloves minced
1 teaspoon white pepper
½ teaspoon nut meg
1 teaspoons coriander
1 teaspoons all spice
1 teaspoon paprika
½ dried teaspoon thyme
Pinch of cayenne
1 teaspoon salt
½ cup yogurt
1 teaspoon bouillon powder (replace with ¾ teaspoon salt)
Mayonnaise Spicy Sauce
Vegetables (lettuce, tomatoes Cucumber)
½ cup mayonnaise
¼ cup pepper sauce (recipe here)
Instructions
Spicy Mayonnaise Sauce
Combine pepper sauce and mayonnaise (this may be done the day before and refrigerated
To make the marinade: In a medium bowl, whisk together the garlic, lemon juice, paprika, nutmeg, thyme cayenne pepper and yogurt.
Add to the chicken and coat with marinade. Place in a zip lock bag or enclosed storage and Marinate overnight in the refrigerator.
Preheat a grill pan on medium high heat. Remove chicken from marinade. Grill chicken for about 8-10 minutes on each side or until fully cooked through. Chop chicken into thin bite size pieces
Serve chicken on flat bread or this East African Chapati.
Top with spicy sauce and /or sliced tomatoes, sliced cucumber, lettuce or any veggies of choice.
Enjoy