Gluten Free Creole Shrimp stew – A comforting plate of goodness. Easy, tasty and comes together in 30 minutes. Oh, it is gluten free too!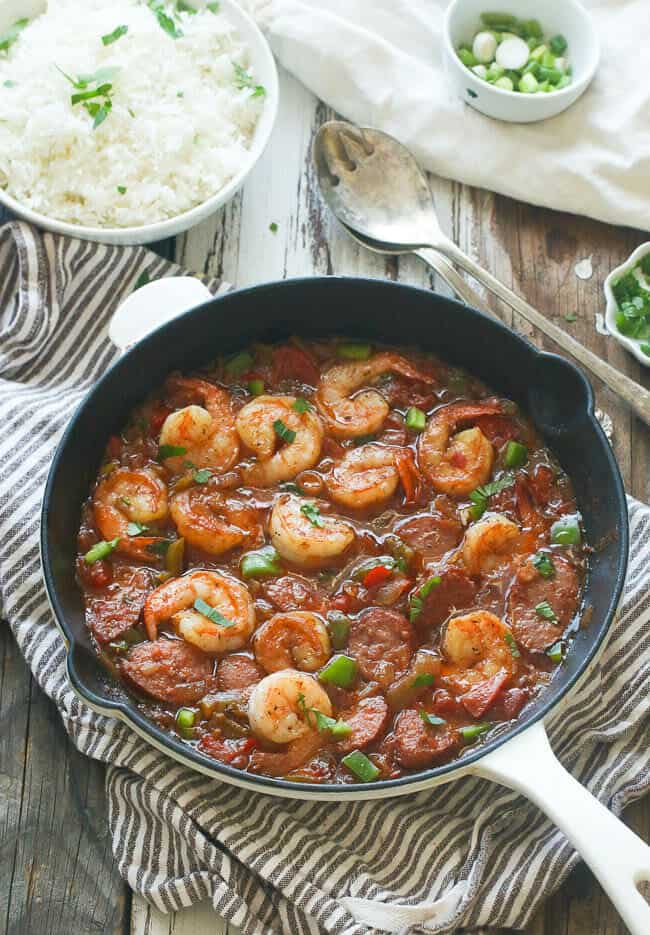 Have you ever tried southern food? Oh you should. If you like really flavorful and spicy but not overly hot food, you really should. If you think it is laden with butter and takes a long time to get on the table then this creole stew would make you think otherwise.   Here is a great tasting creole stew that can be successfully made on a weekday with not much stirring involve. This stew is made without roux (a mixture of equal parts of oil and flour.) used as a thickener or to add flavor to stews.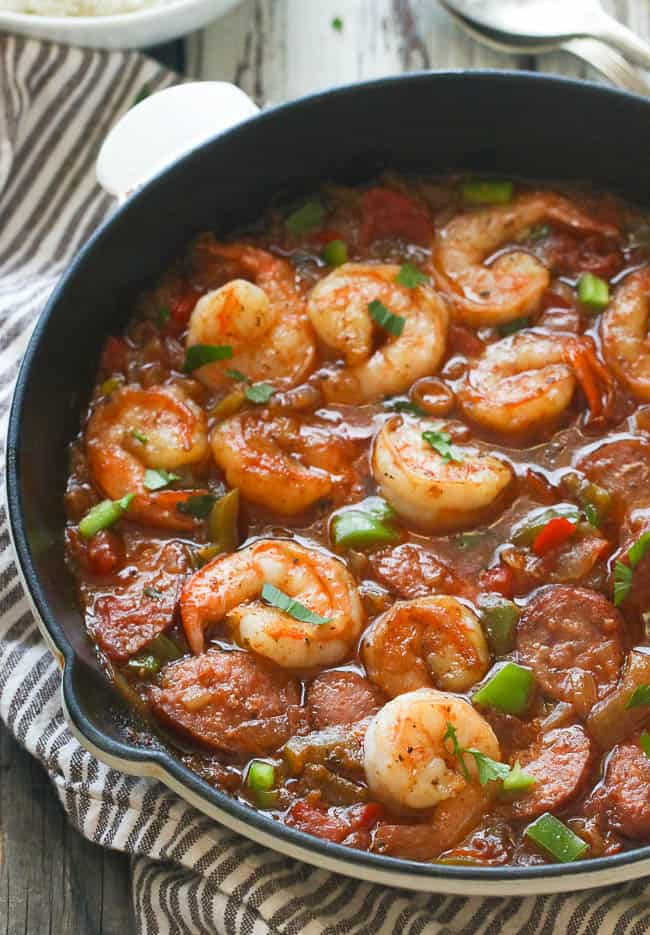 This stew is great with no flour, the tomatoes thickens the sauce – a great recipe for those that are on a gluten free diet. Creole shrimp is a true Louisiana specialty staring shrimp  and co staring sausage in a mixture of diced tomatoes and of course flavored with holy trinity- onion, celery, bell pepper, and a kick from the hot sauce.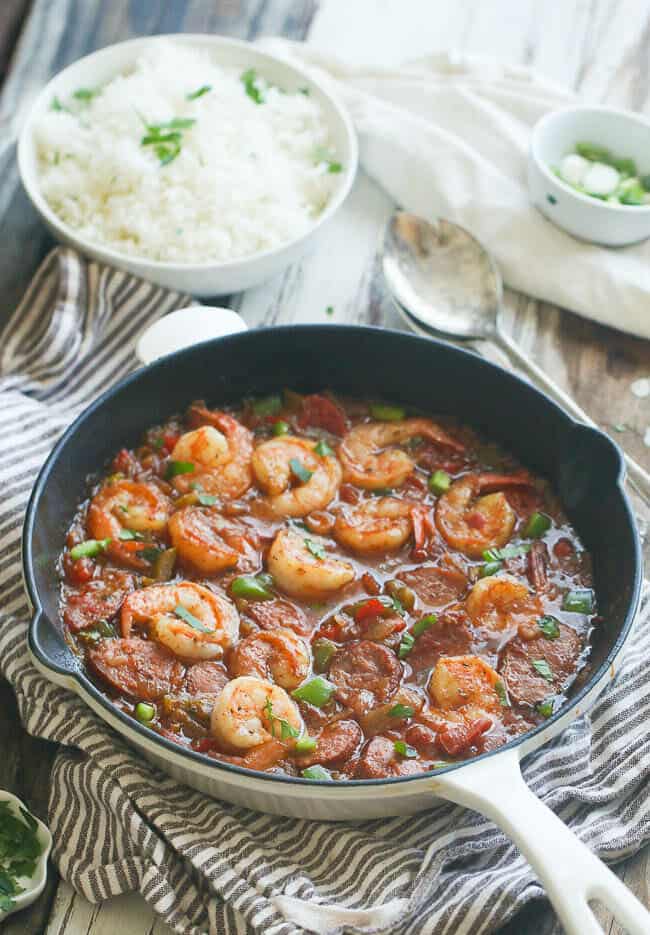 This is my take on this creole shrimp stew  – somewhat of a thick stew -loaded with hearty pieces of smoked sausage and shrimp. Can you make this stew without sausage? Yes absolutely. Although I like the addition of smoky sausage it makes it oh -so enticing.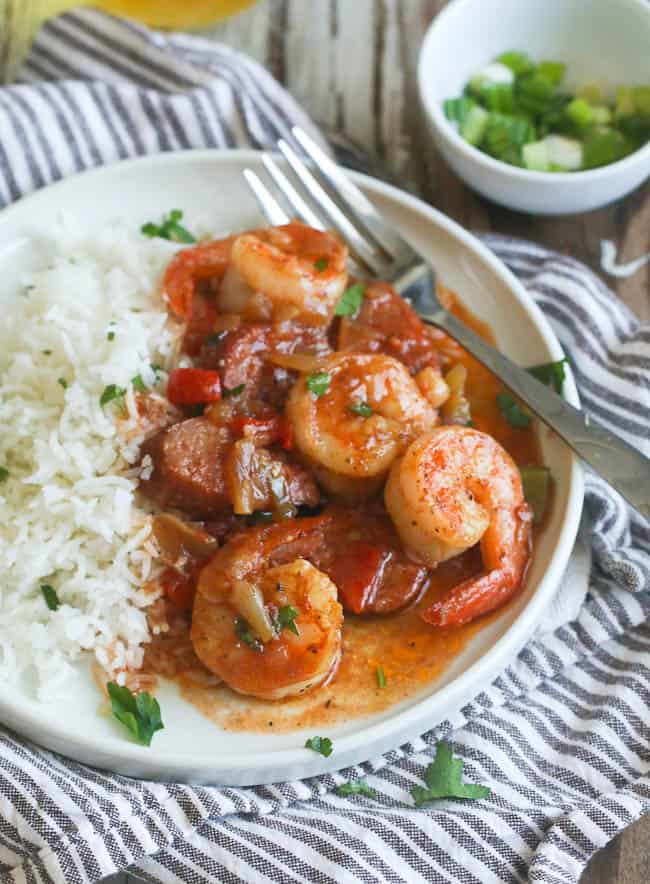 Creole stew is most often paired with rice. So have some white rice to go with this, along with bread.    Enjoy!

Creole shrimp
Ingredients
½ pound Large Shrimp
¼ cup olive or canola oil
8 oz.-smoked sausage replace with shrimp
2-teaspoon minced garlic
1 small bell pepper chopped
1 medium onion chopped
¼ cup celery diced .
½ - 1 canned 14.oz stew tomatoes( replace with 2-3 tomatoes)
1 bay leaf
½ teaspoon smoked paprika
2 teaspoons creole seasoning or more
2 tablespoon chopped parsley
2 green onions chopped
2 cups or more broth/water
1 teaspoon worchester sauce
1-teaspoon bouillon powder (optional)
1 teaspoon hot sauce or ½ teaspoon cayenne pepper (optional)
Instructions
Lightly season the shrimp with creole spice. Heat about 1 tablespoon oil over medium heat in a heavy bottomed Dutch.
Sauté shrimp for about 1- 2 minutes .
Then add sausage sauté until browned on both sides and remove. Set aside
Add remaining oil followed by onions, celery, green pepper, thyme and garlic. Stir for about a 2-3 minutes. Then add bay leaf creole spice, followed by tomatoes, chicken broth, sausage and Worchester sauce
Bring to a boil , simmer for 10-15 minutes. Add bouillon as need or omit completely
Toss in shrimp adjust for salt and thickness- cook for about 2-3 more minutes . Serve over white rice or fettuccine