Creamy Cole Slaw Dressing – a perfect balance of tang, sweetness and freshness with a hint of yogurt; creamy enough to bind your favorite Cole Slaw recipe, without being soupy or soggy!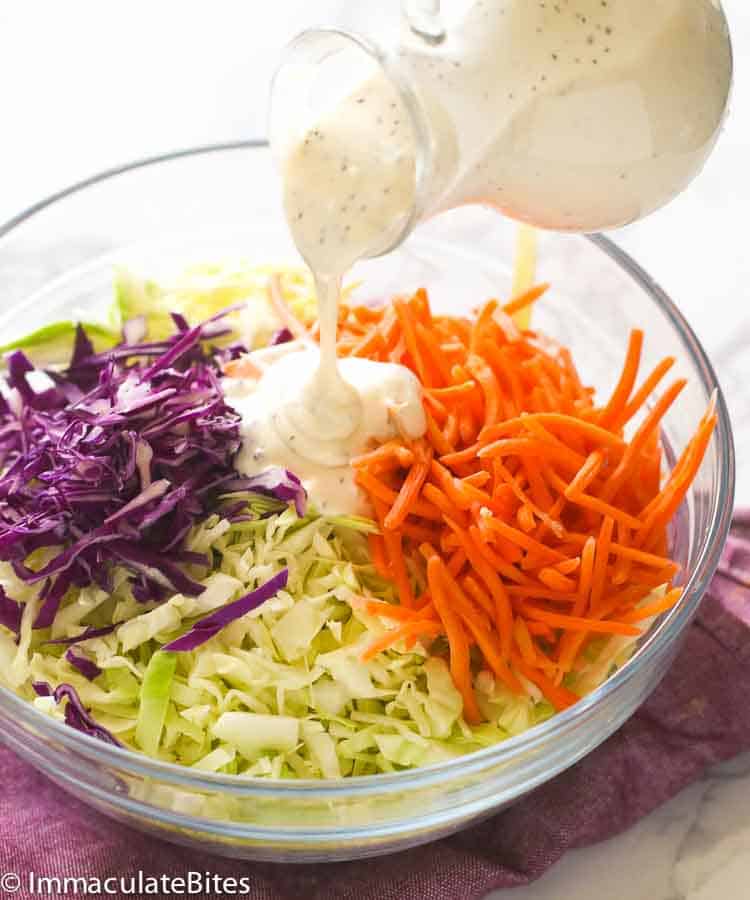 This is the perfect season to keep a jar of your favorite dressing right in your fridge. I do have a couple of them sitting in my fridge as I enjoy best all the fresh produce this time of the year. Although the weather has been kinda tricky these past few days for me.
And since we're down to a few more weeks before summer, I've decided to share with you this Creamy Cole Slaw Dressing that doesn't get your favorite Cole Slaw recipe too soggy or soupy. It's a great addition to your go-to dressing recipes if you're into shredded cabbage as a side for your protein, especially grilled meat.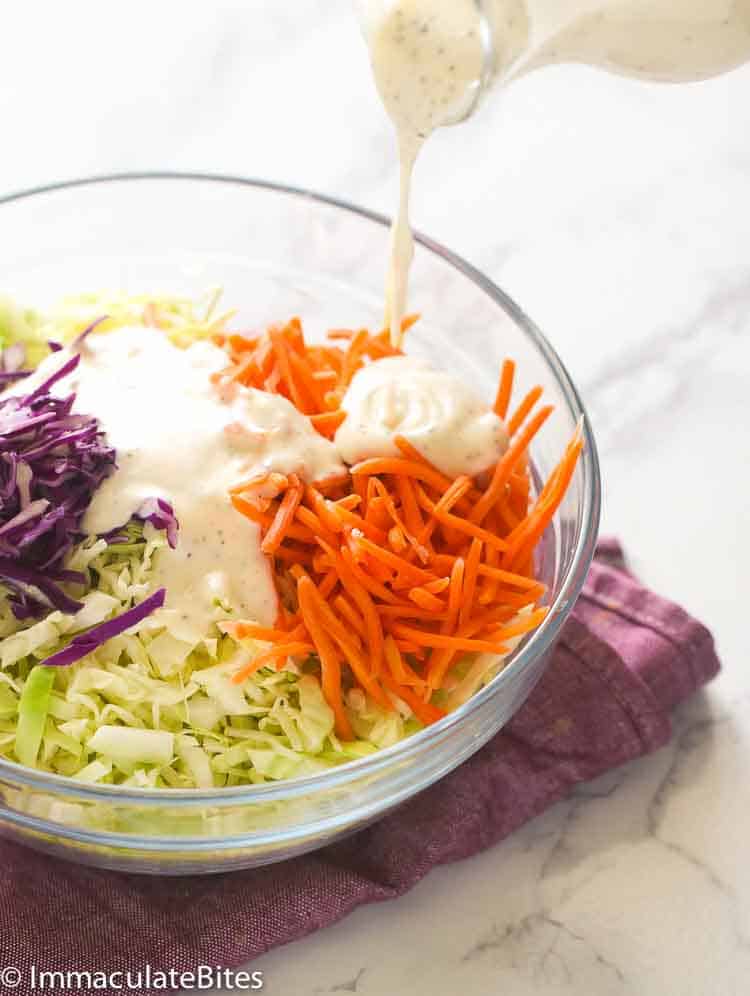 Unlike the classic creamy cole slaw dressing, this one here uses the combination of Mayo and yogurt as the base, since my other goal here is to cut back on fat from the mayo. Instead of going all-in with mayo, I used 1 non-fat Greek yogurt for lesser calories.
Just hearing the word "mayo" sets some people in bad mood. I know a couple of them. 😉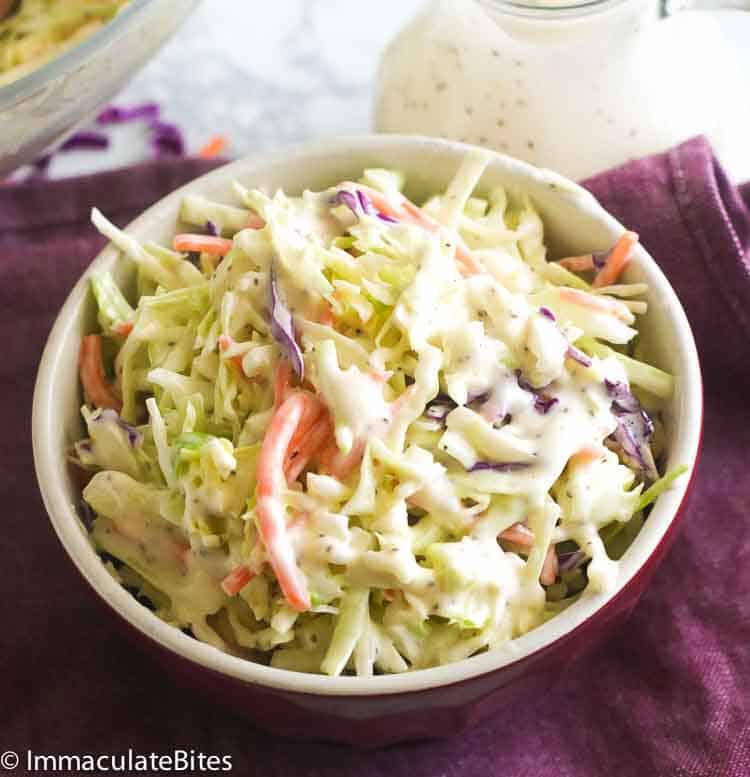 Now to give a little touch of heat in this recipe, I added a tablespoon or two of dijon mustard, but you can certainly adjust it depending on your preference.
As for the veggies, I decided to add purple cabbage (also known as red cabbage) as it gives a little pop to the usual green and orange combo. This makes the slaw even more appetizing. Don't you agree??
Aside from that, purple/red cabbage has a slightly crunchier texture and peppery flavor compared to the green ones. But make sure that when working with this cabbage, you use stainless cookware or a glass bowl or you'll end up with a pretty messy cookware in dirty blue.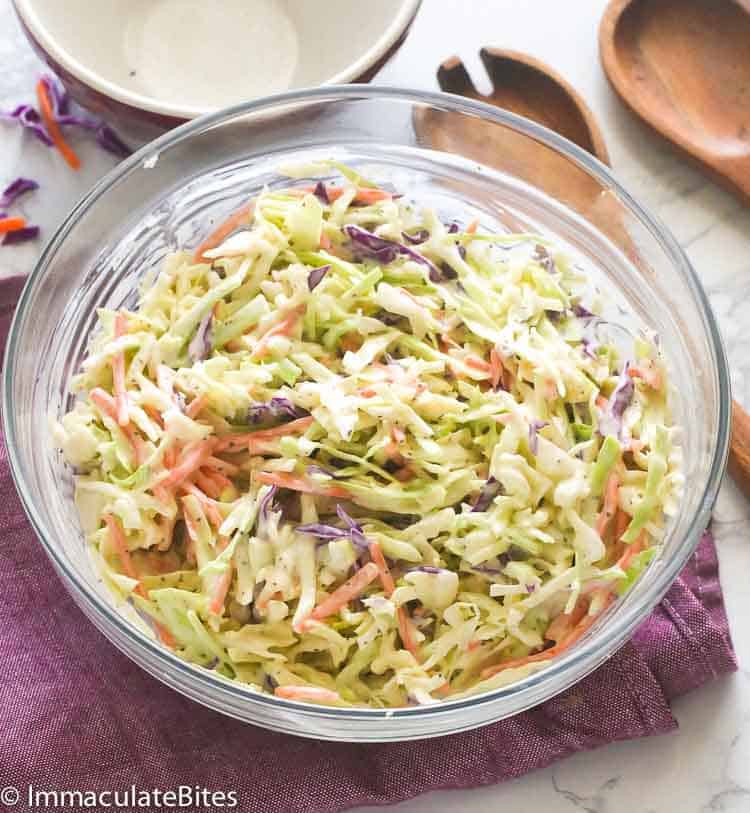 All you have to do is mix thoroughly the ingredients and store it in a jar in the fridge. And when you're ready to use it, just pour it all over your bowl of crunchy cole slaw and chill in the fridge for about an hour before you serve it to allow the flavors to meld in completely.
This delicious and guilt-free creamy cole slaw goes perfectly well with grilled meal like this Marinated Grilled Flank Steak OR this Marinated Grilled Chicken Breast here. Prepare it as a family meal or take it with you on your next backyard party or potluck.
Enjoy!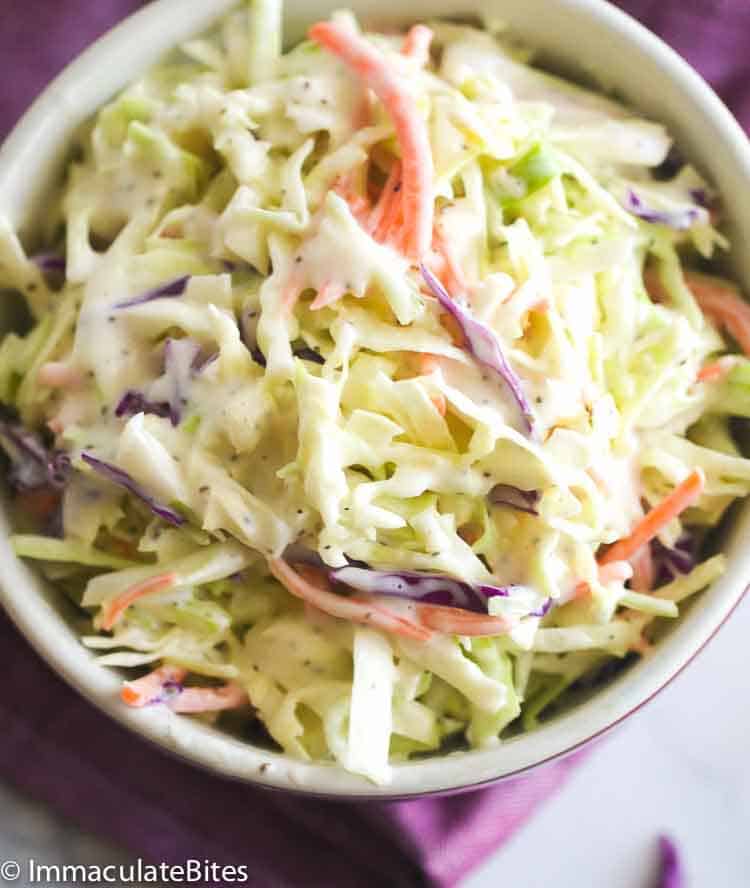 Tips and Notes:
Keep your purple cabbage in moderation. Too much of it will turn your coleslaw into pink.
To avoid soggy coleslaw, toss a few teaspoons of salt into your fresh shredded cabbage, and leave it about 5-10 minutes. Then squeeze the liquid out of it and mix in the carrots and the dressing.
Refrigerate the cole slaw for at least an hour before serving
Don't forget to keep a small amount of the dressing which you can drizzle onto the salad just before serving it.
If you want a bit of heat into your dressing, then adjust the amount of Dijon mustard according to your preference.
You may replace the granulated sugar with agave nectar or brown sugar, depending on what suits you.
Coleslaw is best enjoyed the day its made, but it still keeps well for a couple of days in the fridge.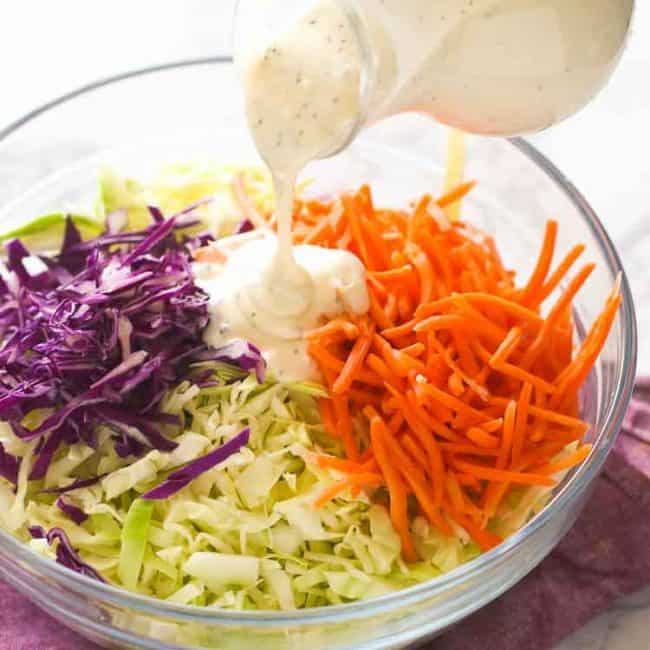 Print
Creamy Coleslaw Dressing
A perfect balance of tang, sweetness and freshness with a hint of yogurt; creamy enough to bind your favorite Cole Slaw recipe, without being soupy or soggy!
Ingredients
1-2

tablespoons

Mustard

1

teaspoon

salt

(adjust to taste)

¼ -⅓

cup

granulated sugar

1

tablespoon

white vinegar

(adjust until you get desired tang)

1

cup

mayonnaise

(cut in half and add more yogurt , if desired)

1

teaspoon

black pepper

1-2

teaspoons

celery seed

1

teaspoon

onion powder

1

non-fat Greek yogurt

(about 5 ounce )
Instructions
In a medium bowl, combine mustard, salt, sugar, vinegar, mayonnaise, pepper, celery seeds and onion powder. Whisk.

Then add yogurt, continue whisking until fully combined.

Refrigerate until ready to use.