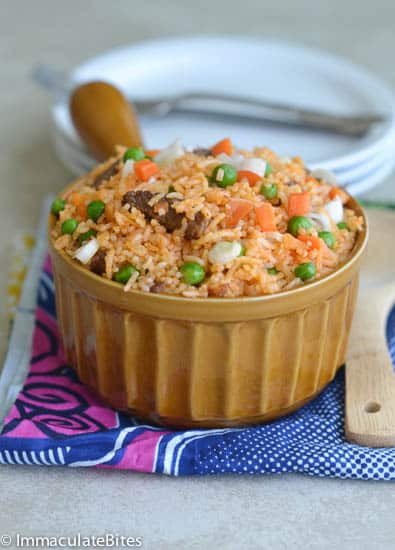 Jollof rice is a legendary one-pot dish that's ubiquitous in Nigeria and popular elsewhere in West Africa. It is a fairly easy dish to make anywhere in the world because the ingredients are easy to find. As with most African food each country, region and even households have put their own imprint on the recipe- from mixed vegetables to various choice of meat/ chicken or even a vegetarian style.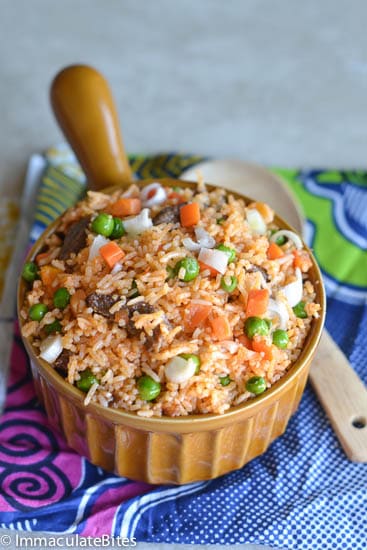 Jollof rice has a tendency of sticking to the pot and producing a burnt taste .There has been  fierce dispute about what makes, Jellof rice unique some say it is the burnt taste others  fiercely disagree- it just the combination of ingredients which makes for a great tasting meal.
I prefer making jollof rice  partly on the stove, then finishing it in the oven, although it takes a bit longer to cook, I find the even heat turns out a better product and minimizes the burnt taste.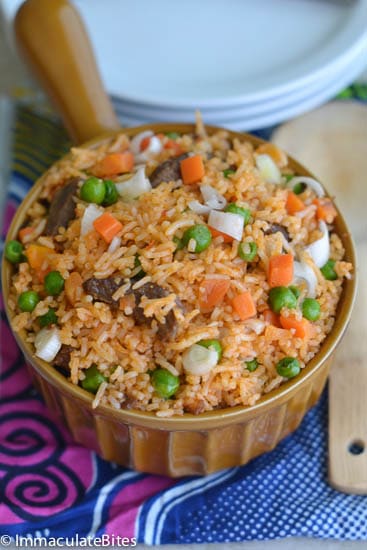 This is  the basic recipe which consists of: rice, onions, tomatoes, pepper and meat. Onions is fried until translucent (2-3 minutes). Then tomatoe sauce and paste is slowly added to the onions. To reduce the acidity or sour taste of the tomato sauce it is simmered for 10 -15 minutes followed by the addition of rice. While the rice is cooking over medium heat stock is added careful little at a time to be absorbed by the rice to produce very tasty and fluffy Jellof rice.
Don't let this simple, quick and straightforward versions of the classic Jellof rice fool you — it has tons of flavors. This dish becomes even more flavorful after it sits for a while, and it's delicious at room temperature
Jellof Rice
Ingredients
ngredients
½ pound meat
1 medium onion
Spices( garlic salt, paprika )
1 8 ounce Can tomatoes
1 medium onion
2 tablespoon tomato paste
3cups rice
1 pound peas and carrots
1 tablespoon Chicken bouillon
1 tbs garlic salt
1 teaspon paprika
Salt and pepper to taste
Instructions
Boil meat with salt, pepper and some chopped onions in a medium pot until tender. It will take approximately 30 to 40 minutes depending on the meat (chuck, round, shank).I used the chuck for this recipe so I had to boil it for about 35 minutes . Reserve the stock for later use.
Add oil to the Dutch oven or oven safe pot/pan and fry the onions until soft but not golden, about 5 minutes. Include some bouillon
Then, add the meat and continue frying the onions and meat for 3 minutes.
Next add tomato paste and sauce. Stir the pot frequently to prevent the sauce from sticking to the pot
Add salt and bouillon according to preference with about 2 cups of stock. Bring to a boil and let it simmer to blend all the flavors and reduce acidity of the tomato sauce. Approximately 2o minutes. Stir occasionally
Put the rice into a large bowl, cover with cold water and use your hands to wash the grains. Tip the water out then repeat twice until the water runs clear. Add the rice to the pan with some stock/water -1 cup. Let it simmer for 5 minutes with lid on
Place the pot of rice in the oven. Add remaining peas and carrots. let it bake for about 10-15 minutes until tender.
Serve warm