Koki Beans – moist, tasty pudding-like steamed treat made with coarsely grounded black-eyed peas and some spinach. Great as a meal on its own or with boiled plantains!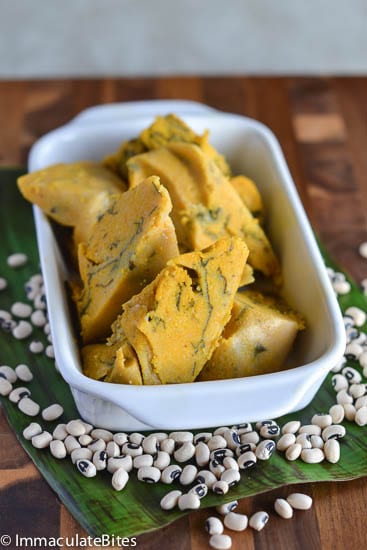 Did you know Black-eyed peas are native to West Africans? They have been enjoyed for thousands of years throughout the continent. It is thought to have reached the United States during the Slave trade. No wonder it so popular in the South especially with African Americans.
Growing up in West Africa, specifically Cameroon, I never had these beans whole – always masquerading in a pudding form and under the aliases : Koki Beans, ekoki, Haricots Koki, Koki de Niébé, Gateau de haricots, or Bean cake.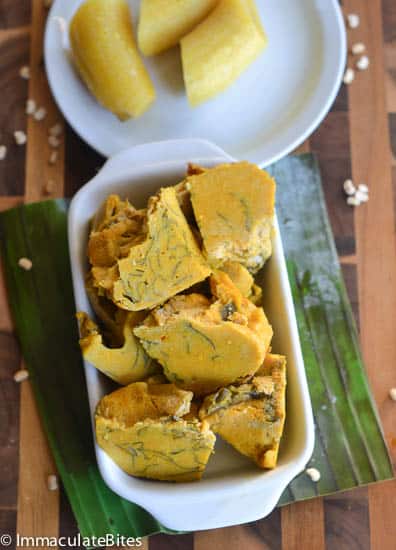 No wonder black-eyed peas are so popular in the South especially with African Americans.
These delectable bites are sold every in the Cameroon and are popular in restaurants, bars and have become some what become a street food, sold by women vendors to hungry pedestrian – myself included.
I would honestly say some of the best Koki beans I have had the pleasure of eating, have been from these street vendors. They sure know how to get the consistency right – spot on; moist and tasty.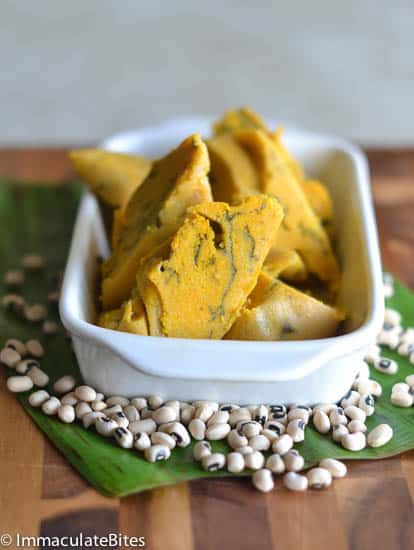 So why aren't these bean pudding cooked frequently? Because it can be time consuming: soaking, washing, peeling, grinding, pounding (whisking), and assembling the Koki beans are no easy task.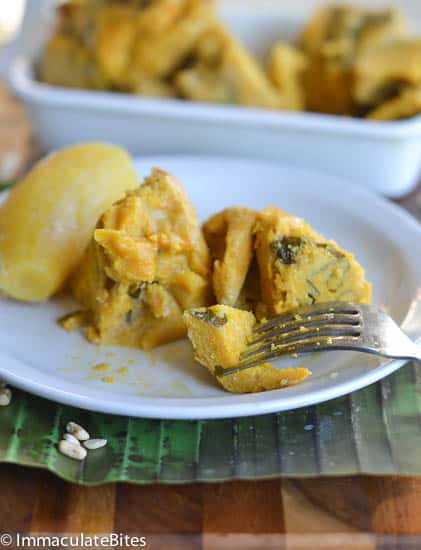 However, there are ways to cut down on this process; you can use peeled beans, they are sold in African Stores hat would cut your time in half . They do freeze well, so you can wash and peel the beans when you have the time and freeze , until the day of .
Serve this with any starchy side. My favorite is boiled ripe plantains.
Here a couple of tips to keep in mind when making Koki Beans
Do not grind your beans into a fine paste- They MUST be coarsely grinded – a little bit gritty (this makes a huge difference).
Include onions for some flavor.
Red oil does aid in getting a moist Koki. However, I always use half of the oil needed for Koki because ….you guessed right- calories. I would rather eat more than less. It does not take make these koki less appetizing
You can use plantain leaves, if you have some but it is not necessary
Recipe updated.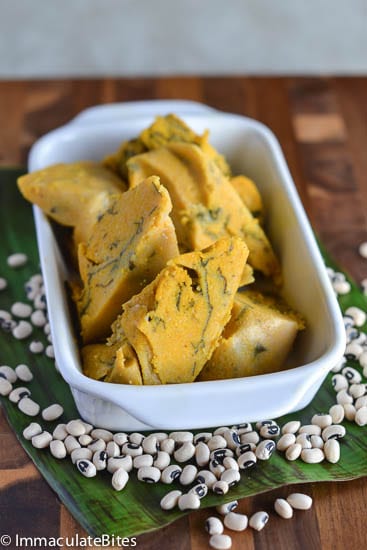 Print
Koki Beans
Koki Beans - moist, tasty pudding-like steamed treat made with coarsely grounded black-eyed peas and some spinach. Great as a meal on its own or with boiled plantains!
Total:
3

hours
30

minutes
Ingredients
2

cups

skinless black-eyed- peas

1/2

Scotch bonnet or habanero pepper

optional

1

cup

palm oil

3 1/2

cups

water

3

cups

chopped fresh spinach.

2

Maggie cubes OR 2 teaspoon bouillon

3

teaspoon

salt or more
Instructions
How to peel blacked-eyed beans
Soak them for about 15 minutes, pulse in the blender or food processor to break the peas (about 5- 10 times or about 10 to 15 seconds). You should do this in small quantities.

In a large bowl soak the beans with warm water for about 2 hours or up to 24 hours, cover with water until tender.

Rub the peas between your hands to take the skin off. The skins will float to the top. Pour off the skins into a colander; you may have to do this process several times.

Most of the skin will come off from the peas; Sort through the remaining peas to remove all the skin. You can do this ahead of time and freeze it, to save time.
Peeled Black Eyed Peas
Soak peeled beans in water for about an hour to overnight to tenderize the beans to facilitate blending.

Cut Aluminum foil paper about 6 and set aside.

Cut the banana leaves into rectangles, remove any ugly edges, submerge them in water to clean and drain pat dry. Use saran wrap, if banana leaves are not available.

The leaves must be heated and wilted over an open high flame to make them flexible.

Chop onions, habanero and set aside.

Lightly warm palm oil in a small skillet or saucepan for about a minute or two until completely melted.

In a food processor or blender puree beans, onions and habanero pepper with about a cup or more of water or until it has reached desired consistency (Do a test with your fingers) you might have to do this in two batches.

Pour the mixture into a large bowl; add palm oil, spinach. Mix everything together, then, season to taste with Maggie and salt. Make sure you have used up all the water.

Place the mixture of Koki-beans on the leaf about 2 cups. Then quickly fold the Koki together to form a little purse. Repeat the process and set them.

Line the bottom of a large stockpot with aluminum foil or remaining leaves or stalk on hand to create a steamer. Add enough water.

Steam cook koki for about an hour and 30 minutes, add water as necessary to prevent any burns.

Remove and let it cool for about 10 minutes, then serve.
Nutrition Information:
Calories:
126
kcal
(6%)
|
Carbohydrates:
16
g
(5%)
|
Protein:
5
g
(10%)
|
Fat:
4
g
(6%)
|
Saturated Fat:
2
g
(13%)
|
Sodium:
1423
mg
(62%)
|
Potassium:
307
mg
(9%)
|
Fiber:
5
g
(21%)
|
Sugar:
2
g
(2%)
|
Vitamin A:
1700
IU
(34%)
|
Vitamin C:
7.6
mg
(9%)
|
Calcium:
42
mg
(4%)
|
Iron:
2.2
mg
(12%)
Nutrition Facts
Koki Beans
Amount Per Serving
Calories 126
Calories from Fat 36
% Daily Value*
Fat 4g6%
Sodium 1423mg62%
Potassium 307mg9%
Carbohydrates 16g5%
Protein 5g10%
Vitamin A 1700IU34%
Vitamin C 7.6mg9%
Calcium 42mg4%
Iron 2.2mg12%
* Percent Daily Values are based on a 2000 calorie diet.