Burgoo is a rich, hearty, meaty stew slow-cooked to thick, tender perfection. It is a quintessential part of Kentucky cuisine, but you can experience it without leaving the house. It will be delicious no matter how you decide to put your burgoo together.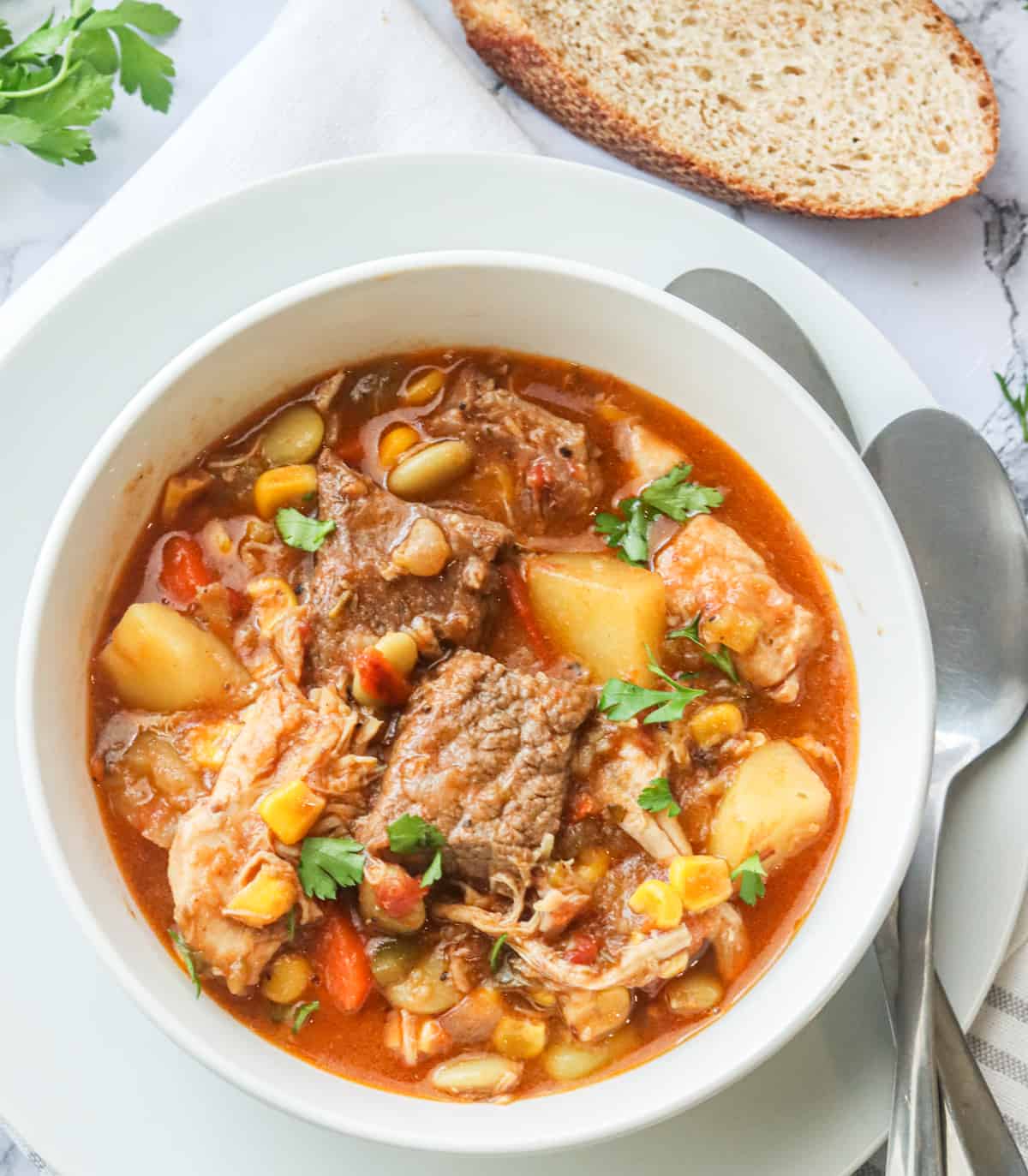 This amazing slow-cooked stew is so good people have written songs about it. When you make it for yourself, you'll be singing its praises too! It is a dish of the common people, but these days you can find it served to the fancy hats at the Kentucky Derby. It's also a mainstay at fall festivals and neighborhood cookouts.
I love making this dish for my family because I can cook it all day while my home fills with the mouthwatering aroma of meat and vegetables slow cooking. It has a lot of ingredients, but the execution is simple. Burgoo is a simple, tasty meal that you want in your rotation.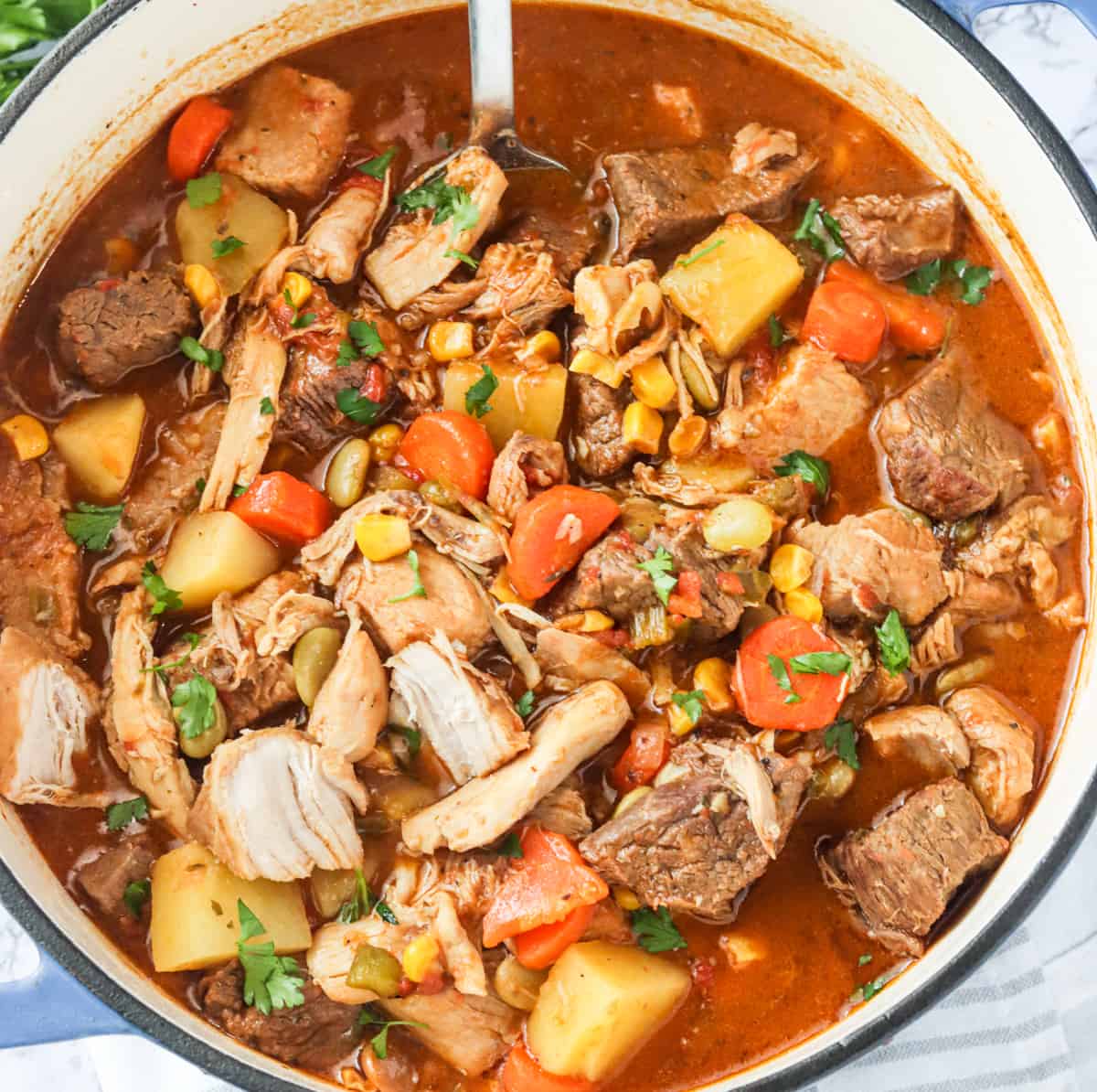 Burgoo vs. Irish Stew
Both stews are similar. In fact, burgoo is a version of Mulligan stew (Irish). Irish stew is typically made with lamb or mutton, while burgoo is throwing whatever meat you like and any vegetables you can find into an iron pot and letting it cook down. Each family's burgoo might be a little different, but ‌everyone agrees on a few ground rules: Use more than one type of meat, add a bunch of vegetables, and let it simmer.
Recipe Ingredients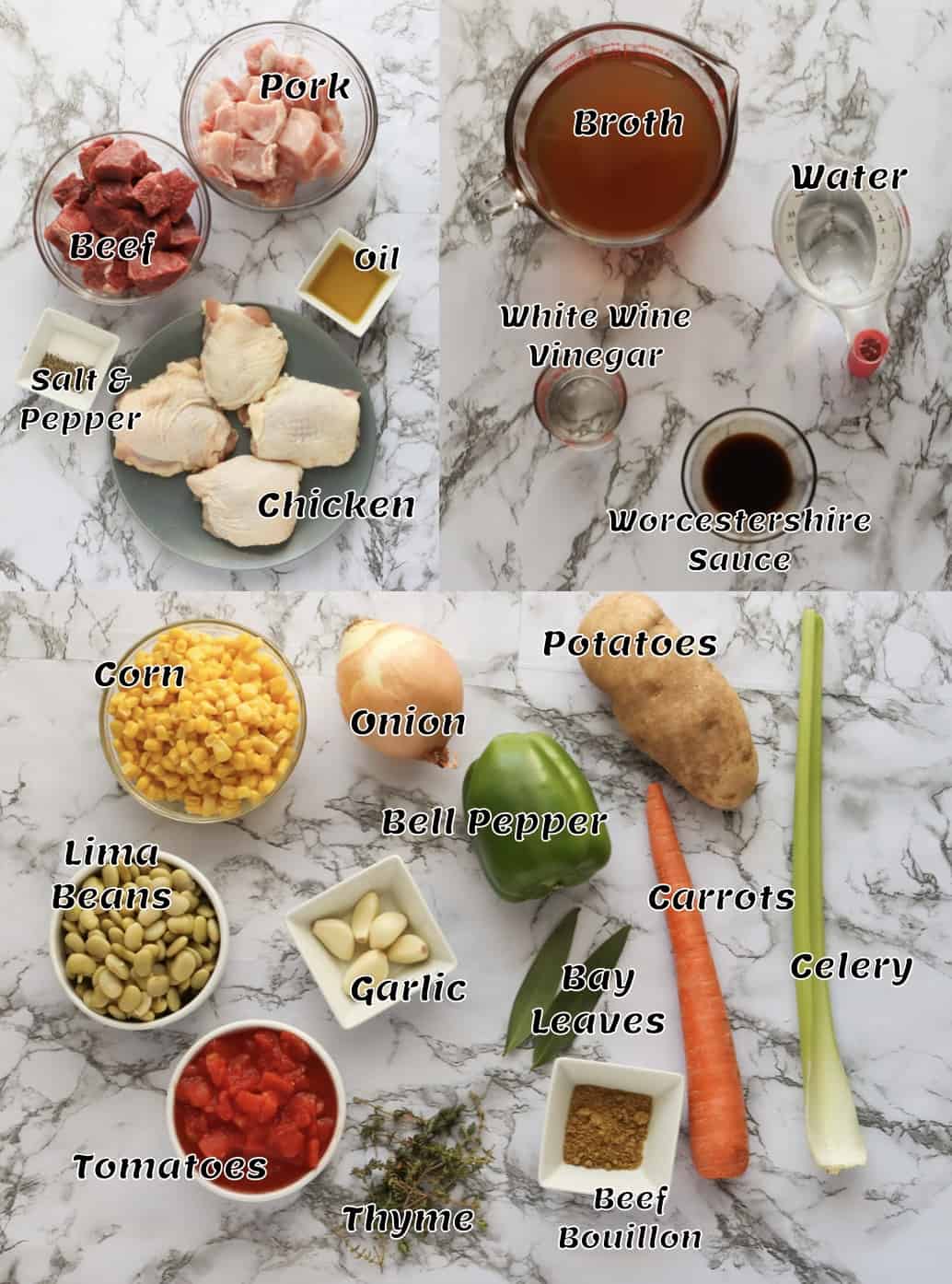 Pork– You can use any cut of pork, but the shoulder or butt works great for slow cooking.
Beef– This can be any kind of stew beef or a chuck roast. There's no need to get a pricy, fatty cut for this recipe because the meat will have plenty of time to tenderize as it cooks.
Chicken- Dark meat is king for this meal. Bone-in chicken thighs are perfect because they can cook for a long time without drying out.
Vegetables– Hearty vegetables work best in burgoo because of how long it cooks. Onion, green peppers, carrots, celery, potatoes, garlic, corn, lima beans, and a can of crushed tomatoes are a good start.
Stock– Beef stock, chicken stock, vegetable stock, or a mixture will add flavor to your burgoo as it cooks down.
Flavoring– Fresh thyme, bay leaves, beef or chicken bouillon, Worcestershire sauce, and vinegar will give the stew a good base of flavor you can get creative with.
How to Make Burgoo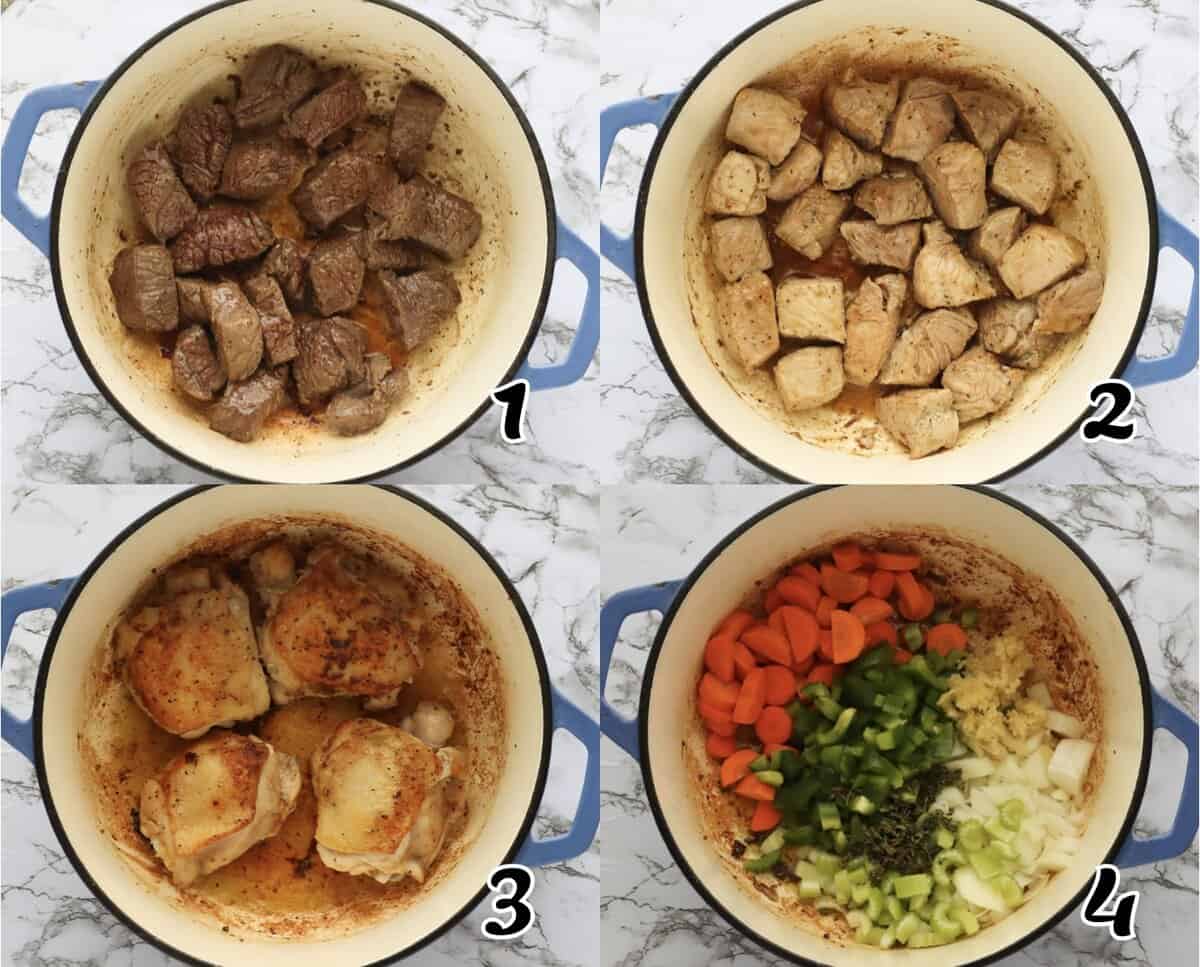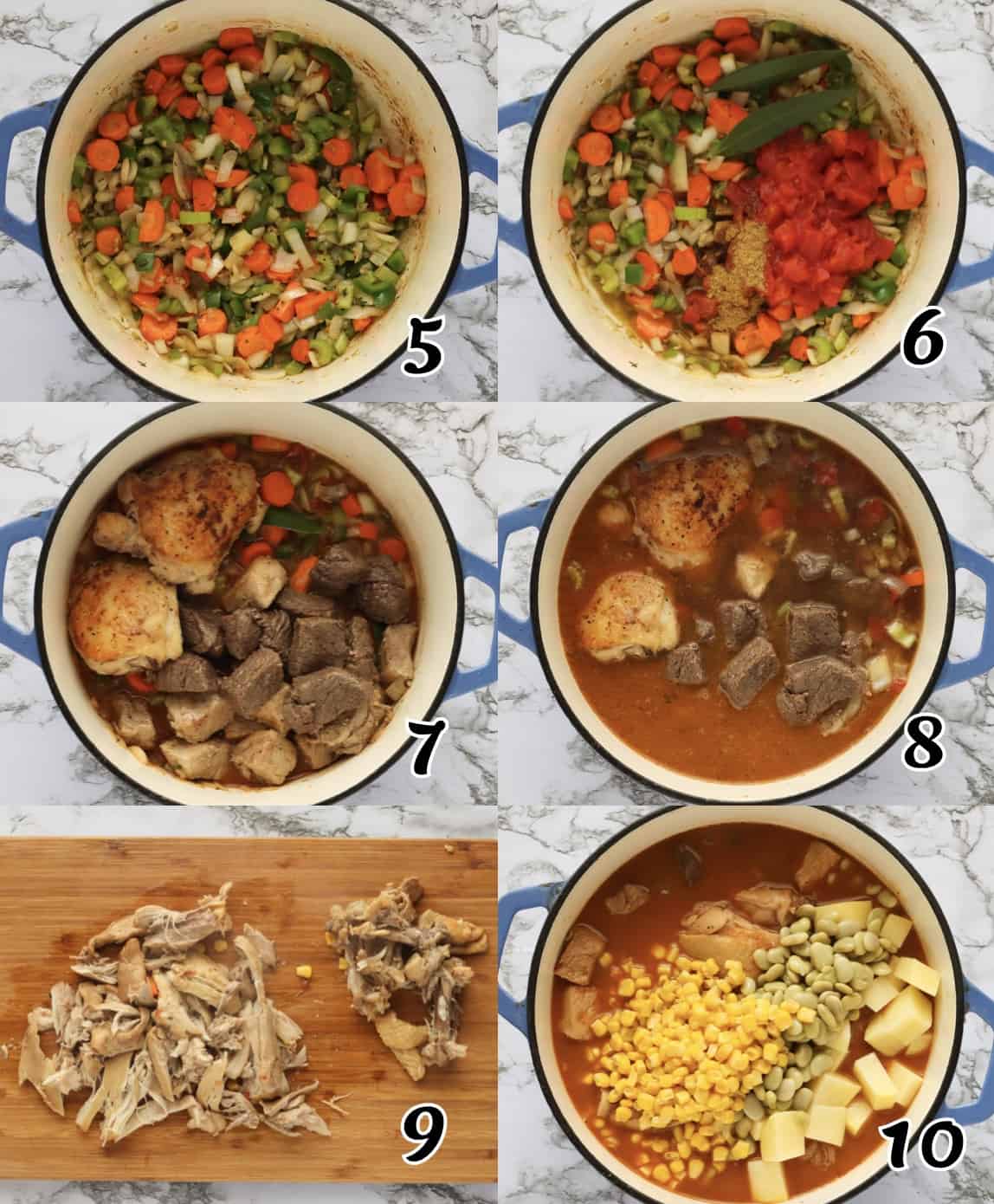 Brown the Meat – In a large, heavy-bottom pot on high heat, get some vegetable oil smoking hot, and, in batches, seer the meat on all sides. Season each batch as you go, and don't overcrowd the pot. Set aside the browned meat in a bowl or on a cutting board. Then repeat with the chicken thighs. If your chicken has the skin on, start browning it skin side down. (Photos 1-3)
Sautee Vegetables – After all the meat is browned, lower the heat to medium, and the onions, bell peppers, thyme, carrots, celery, and garlic. Cook until fragrant, about 3 minutes. Add a little oil as you need. (Photos 4-5)
Add Seasoning – Throw in your can of tomatoes, followed by bay leaves and bouillon powder. Stir to get everything combined for about 2 minutes. (Photo 6)
Add Meat – Once everything is well acquainted and smelling amazing, reintroduce the browned meat. (Photo 7)
Make the Stew – After you add the meat back in, pour in your broth, water, Worcestershire sauce, and vinegar. Stir the burgoo as it comes to a boil, then reduce the heat and let it simmer for a minimum of 2 hours. (Photo 8)
De-Bone Chicken – After the soup has simmered for 2 hours, remove the chicken and shred it off the bone and back into the burgoo. You can get rid of the skin if you want. (Photo 9)
Chunk the Meat – If you cook the meat in large pieces, they'll be more tender, then you can break them into smaller bite-sized chunks. You can do this right in the pot with a fork or wooden spoon.
More Vegetables – Now, you can throw in diced potatoes, corn, and lima beans. You can use canned or fresh corn here. Let it cook for at least another 40 minutes or until the potatoes have the texture you like. (Photo 10)
Season – Add more salt and pepper or embellish with other spices you want to flavor your burgoo.
Reduce – Depending on how you want to serve it, you can let it cook down until it's nice and thick or add more water to thin it out.
Serve it while it's hot.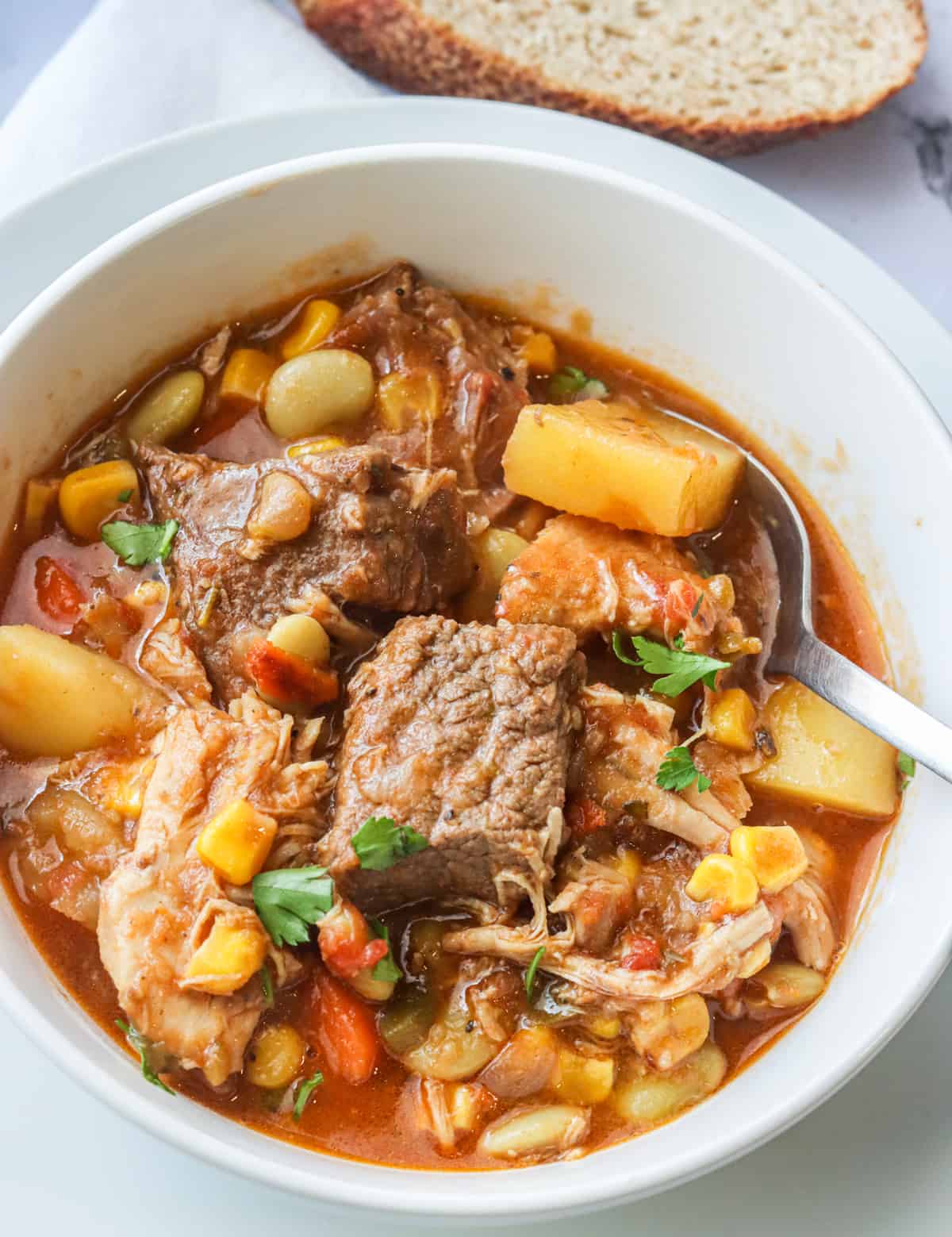 Recipe Variations
Play with different combinations of vegetables in your burgoo. Cabbage, green bean, and other root vegetables work great.
Make it spicy by adding some fresh jalapenos to your veggies or tossing in some adobo chilies.
Give it a Cajun flair by adding some Creole seasoning and chili powder. Add BBQ sauce when you add the tomatoes, and let that sweet, tangy flavor blow your burgoo-living mind.
You can give this a Mexican vibe by adding cumin or a pack of taco seasoning and finishing with some lime. Instead of browning the meats in the pot, use leftover smoked meats for added depth of flavor. The options to customize this dish for your taste are endless.
Tips and Tricks
Cut down on prep time and use frozen vegetables instead of chopping fresh.
Put your stew in the oven at 350℉/177℃ and let it simmer with the lid cracked. This will clear up stove space to make burgoo sides.
Make-Ahead Instructions
You can use the slow cooker for an even better burgoo. Just start the stew in the morning, and let simmer on low until dinner time.
Serving and Storage Instructions
Whether you serve it in a bowl or a styrofoam cup, this deliciousness is served hot. Some people enjoy burgoo with cornbread, but it's great on its own.
You can put the entire pot of burgoo in the fridge once it has cooled. Or you can portion the leftovers into separate airtight containers for easy access later.
Reheat your buroo in a bowl in the microwave or in a pot on the stove. You may want to add some water, so it stays thick, but not too thick.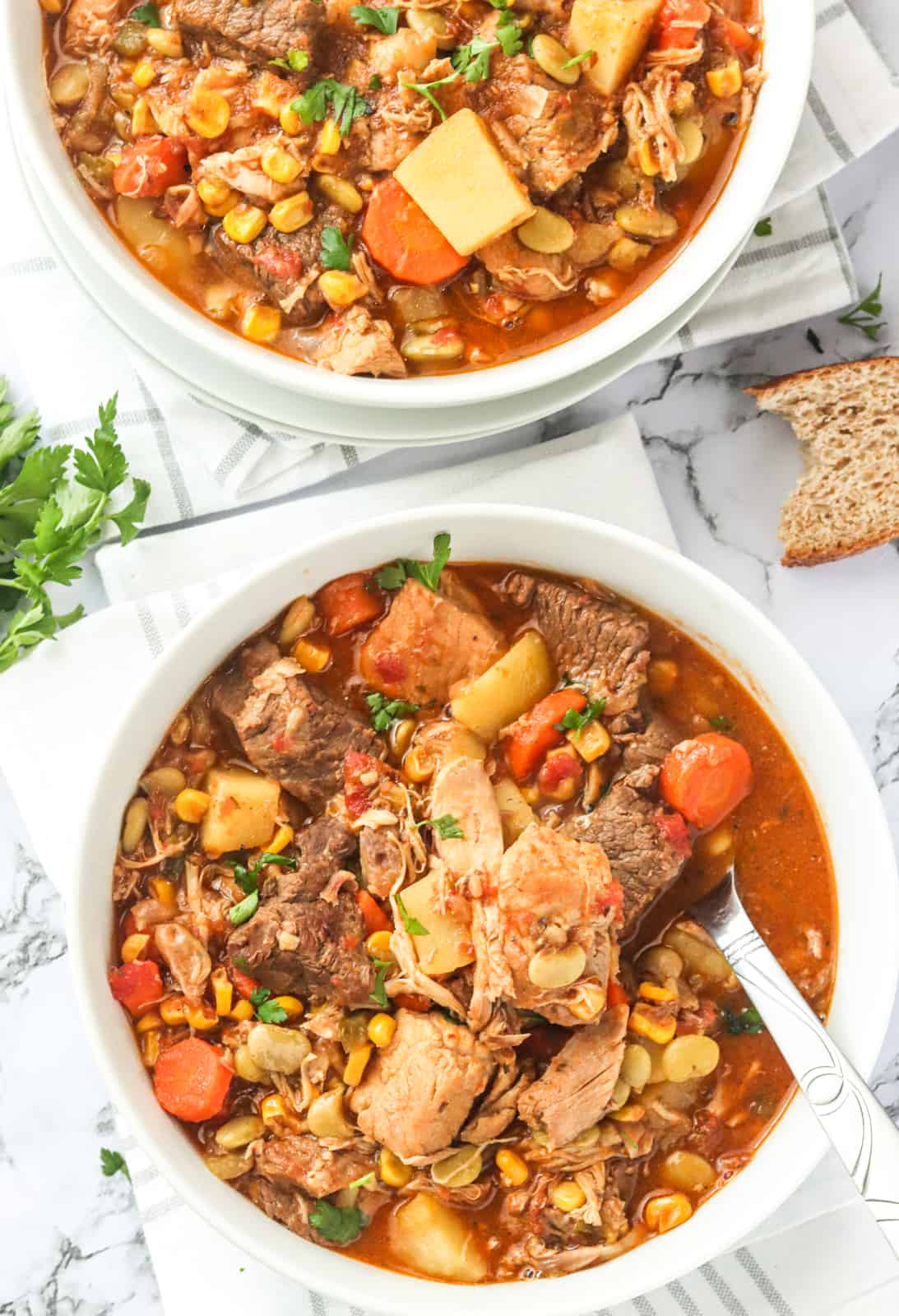 FAQs
How long does burgoo keep in the fridge?
You can safely eat burgoo for up to a week or freeze it for about 3 months. If you freeze it, it's best to reheat it on the stove instead of the microwave.
Where can I find the original burgoo?
Each family has a slightly different recipe that has been passed down, but you will find classic burgoo all across Kentucky where it originated. Davies county is probably your best bet.
Why is it called burgoo?
There are several stories about the word's origin. Some say it is a version of Ragu, and some say it's a mispronunciation of the word barbeque. I call it delicious.
What to Serve with Burgoo
A natural companion would be any kind of bread, especially cornbread. You could also make homemade crescent rolls or Texas Roadhouse Rolls.
If you want spicier bread, Mexican cornbread has cheese and jalapenos in it! Or, to keep things simple, you can make my 3-ingredient biscuits to pair with your burgoo.
More Fabulous Stew Recipes to try
Conclusion
Burgoo is a satisfying meal meant to be enjoyed as a community because the ingredients are easy to find and can it be cooked in huge batches. How do you plan on customizing the flavor of your burgoo? Let me know in the comments. ❤️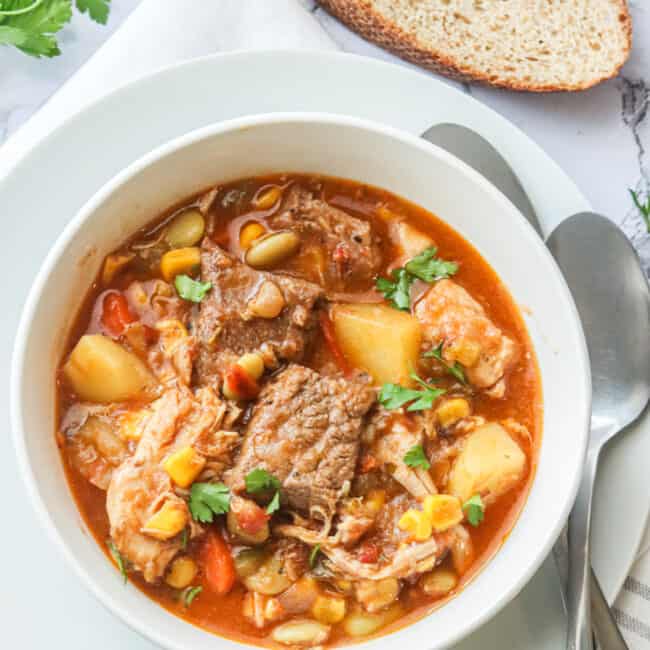 Print
Burgoo Recipe
Burgoo is a rich, hearty, meaty stew that is cooked down to thick, tender perfection. It is a quintessential part of Kentucky cuisine, but you can experience it without leaving the house. No matter how you decide to put your burgoo together, it will be delicious.
Total:
2

hours
55

minutes
Ingredients
¼

cup

vegetable oil

2

pounds

pork shoulder,

(or country-style ribs) cut into chunks

2

pounds

chuck roast,

(or other stew meat) cut into chunks

2

pounds

bone-in chicken thighs

1

onion,

chopped

1

tablespoon

fresh thyme,

minced

1

green pepper,

chopped

3

carrots,

peeled and chopped

1

stalk

celery,

chopped

5

cloves

garlic,

minced

1

28-ounce can

tomatoes,

crushed

2

bay leaves

2

teaspoon

beef bouillon

4

cups

beef stock

4

cups

water

1

tablespoon

Worcestershire sauce

¼

cup

white wine vinegar

1-2

Russet potatoes,

peeled and diced

1

12-ounce can

corn

(or fresh corn)

1

12-ounce can

lima beans

Salt and pepper to taste
Instructions
Heat vegetable oil over medium-high heat in a large soup pot (at least 8 quarts). When the oil is hot, working in batches, brown all the meat on each side for a few minutes. Season each batch with salt and pepper. Do not overcrowd the pan; the meat will steam and not brown nicely. Transfer the browned meat to a bowl and set aside. Repeat the same procedure for the chicken thighs.

Reduce the heat to medium, add the onions, thyme, bell pepper, carrots, celery, and garlic to the pot, and saute for 2-3 minutes until fragrant. If necessary, add a little more oil to the pot.

Next, add the tomatoes, bay leaves, and bouillon powder. Stir to combine and cook for two more minutes.

Add back the meat and chicken to the pot, followed by broth, water, Worcestershire sauce, and vinegar. Stir to combine. Bring to a simmer. Cover pot, reduce the heat, and simmer gently for 2 hours.

After about 2 hours of cooking, uncover the pot and remove the chicken, take it off the bones, shred it, and discard the skin if you want. Then return the chicken to the pot. Break the larger pieces of meat into smaller, more manageable pieces using a fork if desired.

Add the potatoes, corn, and lima beans, and continue to simmer for 30-40 more minutes until the potato is tender. Season with salt and pepper to taste.

Adjust your burgoo to your preferred thickness by adding more water if needed.
Tips & Notes:
Cut down on prep time by using frozen vegetables instead of fresh ones.
Bake your stew at 350℉/177℃ and let it simmer with the lid cracked for two or three hours. That will clear up stove space to make sides.
Please keep in mind that the nutritional information is a rough estimate and can vary significantly based on the products used in the recipe.
Nutrition Information:
Serving:
250
g
|
Calories:
290
kcal
(15%)
|
Carbohydrates:
6
g
(2%)
|
Protein:
27
g
(54%)
|
Fat:
17
g
(26%)
|
Saturated Fat:
6
g
(38%)
|
Polyunsaturated Fat:
2
g
|
Monounsaturated Fat:
8
g
|
Trans Fat:
1
g
|
Cholesterol:
110
mg
(37%)
|
Sodium:
259
mg
(11%)
|
Potassium:
655
mg
(19%)
|
Fiber:
1
g
(4%)
|
Sugar:
2
g
(2%)
|
Vitamin A:
2020
IU
(40%)
|
Vitamin C:
9
mg
(11%)
|
Calcium:
39
mg
(4%)
|
Iron:
2
mg
(11%)