Light Fruit Cake-  A Rich, Luscious Madeira cake ; Fluffy and moist texture with a  wonderful buttery taste. It  has a delicious blend of flavours that's perfect this time of the year .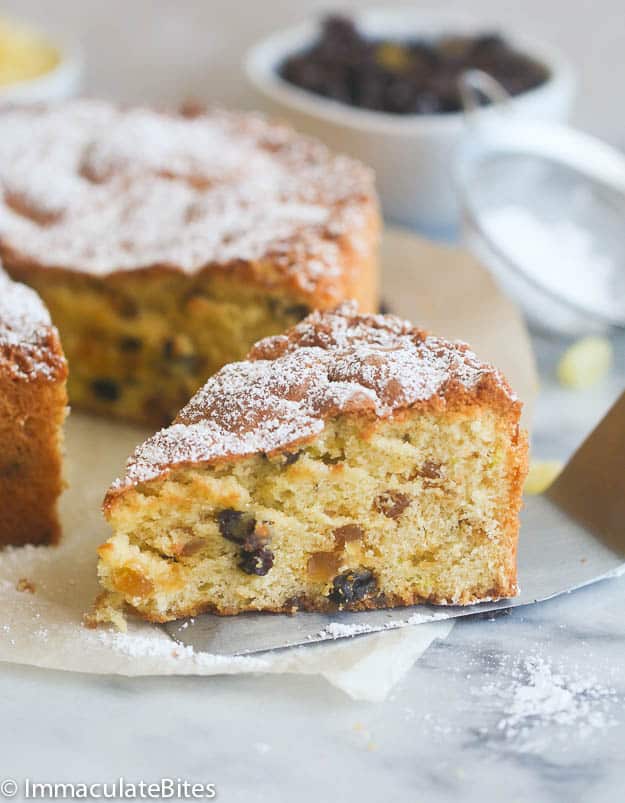 If you dislike fruit cake, perhaps you should try this light fruit cake. It will change your mind about your distaste for fruit cake .  It is loaded with fruit, not too heavy, not too sweet and makes a lovely snack  for a picnic.  It's an  ideal treat for breakfast or afternoon tea.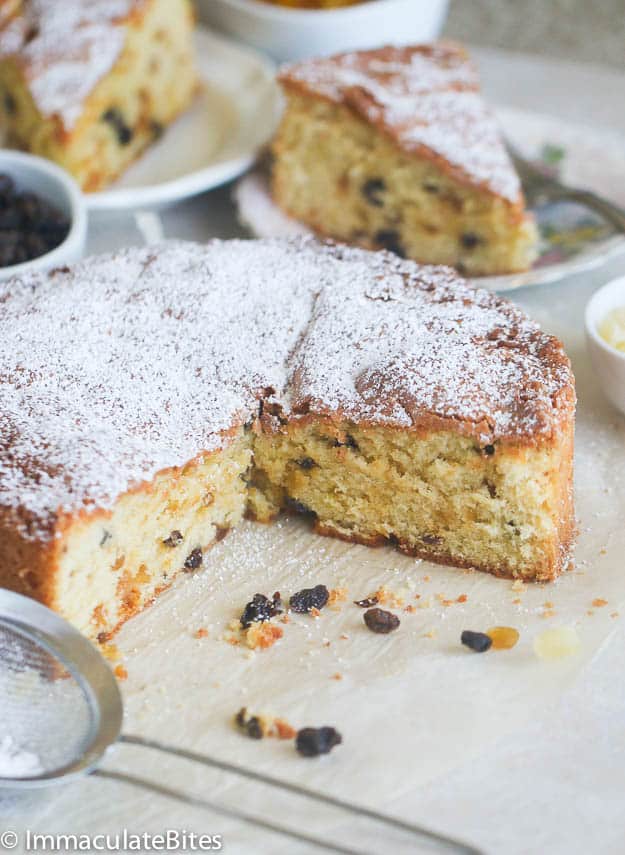 I made this cake to serve at an afternoon tea for a group of women and it never made  it to its destination…. the mistake was  I made it early in the morning , went out and by the time I got back, it was almost gone.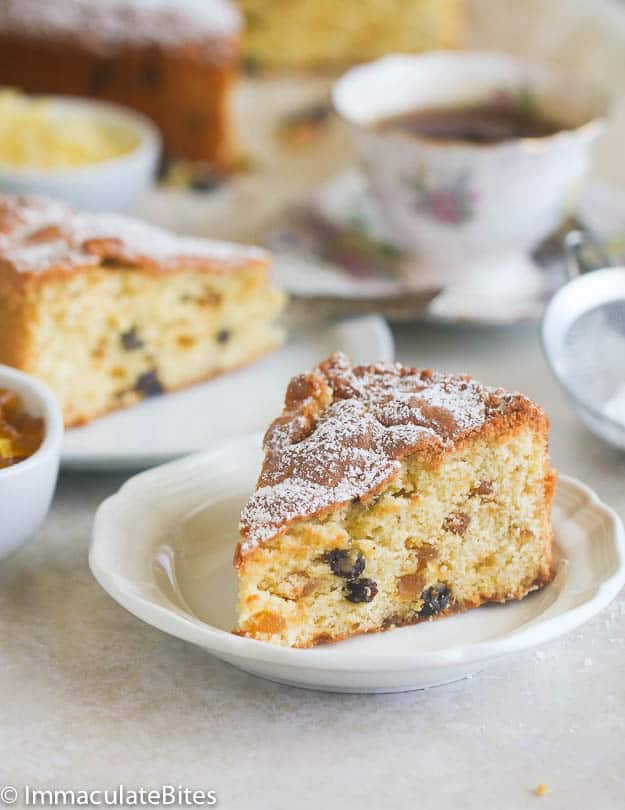 Yeah, I was really bummed, but you can't cry over spilled milk .  So I had to make another one, luckily for me, I had some left over ingredients and  it is not a time consuming cake with great attention to details.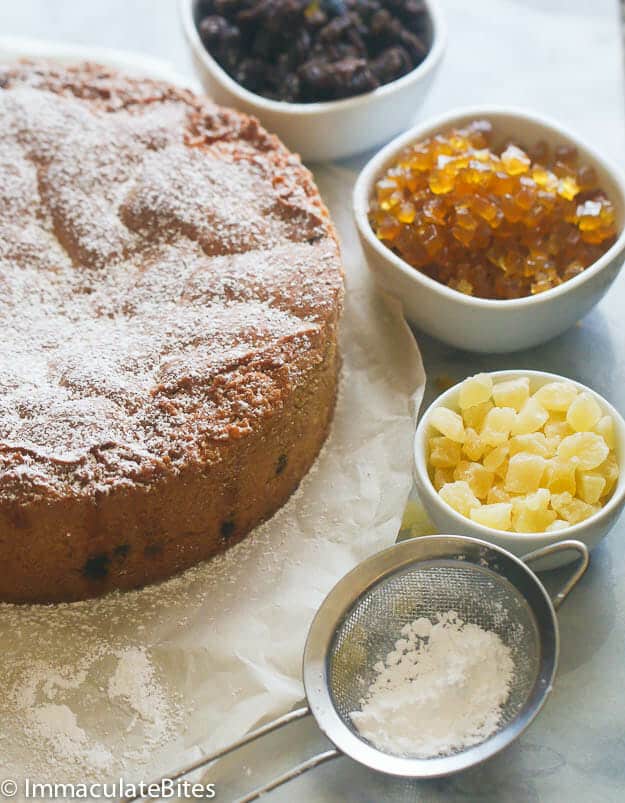 This recipe is basically a Madeira cake -a rich pound cake, studded with rum macerated raisins and Candied fruit . To make  this cake you have to cream the butter and sugar until the mixture is light and fluffy  to achieve a good structure .I remember as a teenager, whenever I was making a cake, without a mixer, I would cream the butter and sugar until I thought my hands would fall off – it was like running 5 miles…. but, I had to achieve the fluffiness by all means.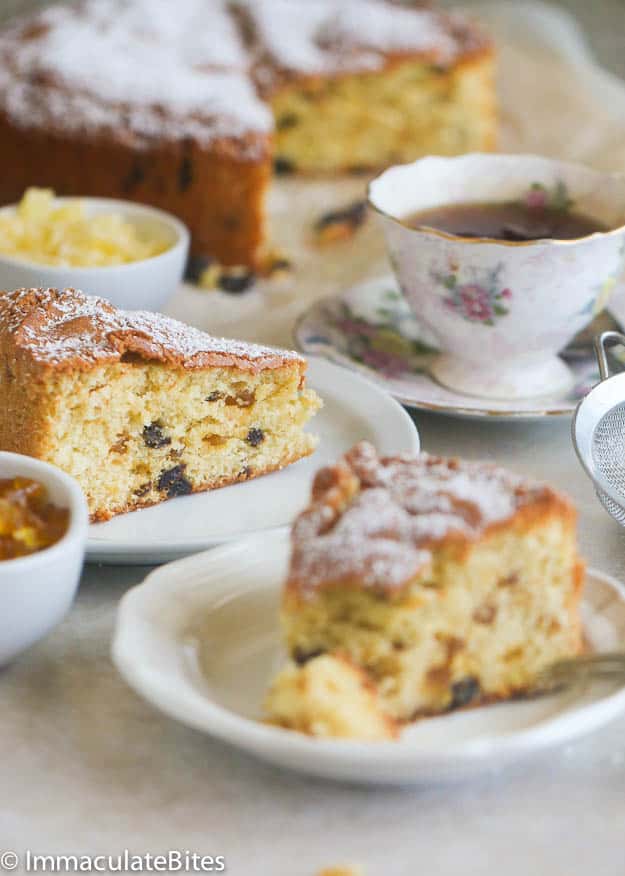 This tasty cake has a great texture for soaking up rum, syrup and sauces, and it does not get soggy when mixed with the aforementioned ingredients. It also freezes well and a good cake to ice.
Enjoy!!!
Recipe updated!!!
Notes!  
No soaking of fruits required ! Replace candied fruits with about a cup of  raisins.
Adjust flavoring with what you have on hand.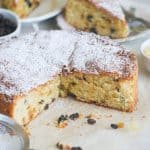 Light Fruit Cake
Ingredients
10

ounce

284grams unsalted butter

1 3/4

cup

sugar

350grams

6

Large eggs

3

cups

All purpose flour

360grams

1

Tablespoon

baking powder

1/2

teaspoon

salt

1

teaspoon

Almond flavor.

2-3

tablespoons

lime zest

1

teaspoon

Vanilla extract

1

teaspoon

nutmeg

1- 1 1/2

cup

golden raisins

1

cup

chopped mixed dried fruit

candied peel, cherries

2-3

Tablespoons

dark rum

optional

1/3

cup

milk
Instructions
Pre-heat the oven to 160°C/325°F. Grease and line the cake tin (pan) with baking parchment

Cream together the butter and sugar at high speed in a stand mixture until it's fluffy and starting to look white, about 5- 7 minutes.

Stir in the eggs, a one at a time, beating the mixture well between each one and adding a tablespoon of the flour with the last egg to prevent the batter from curdling.

Sift in the flour , baking powder into the batter. Pour in milk a little at at time , then add the fruits, Nutmeg , Lime Zest, rum, almond flavor and vanilla extract.

Stir well until everything is fully combined. Scrape down the sides of the mixing bowl.

Pour batter into a greased and floured Bundt or 10 inch cake pan

Bake at 325 until a tester inserted into the center comes out clean, 50–65minutes. Transfer to a wire rack. Let cake cool in pan for 10 minutes.

Serve with tea or whipped cream
Nutrition Facts
Light Fruit Cake
Amount Per Serving
Calories 605
Calories from Fat 234
% Daily Value*
Fat 26g40%
Cholesterol 159mg53%
Sodium 367mg16%
Potassium 443mg13%
Carbohydrates 88g29%
Protein 8g16%
Vitamin A 865IU17%
Vitamin C 1.6mg2%
Calcium 100mg10%
Iron 2.9mg16%
* Percent Daily Values are based on a 2000 calorie diet.