Salmon is one of my favorite quick weeknight meal to put together when am tired of eating chicken. It makes for a flavorful dinner. This is a nice change from my usual grill salmon.
Here salmon is seared in a pan about 2 minutes per side to ensure an even cooking. Then it is simmered in a spicy l tomato sauce consisting of, garlic, ginger parsley, paprika, onions, curry, white pepper and scotch bonnet or habanera pepper for an extra kick. If preparing this dish for kids you may omit the pepper completely.
I like to use skin-on salmon it helps keep the salmon, moist, in tact and is quite visually appealing and oh-so-tasty! You may remove the skin if you like.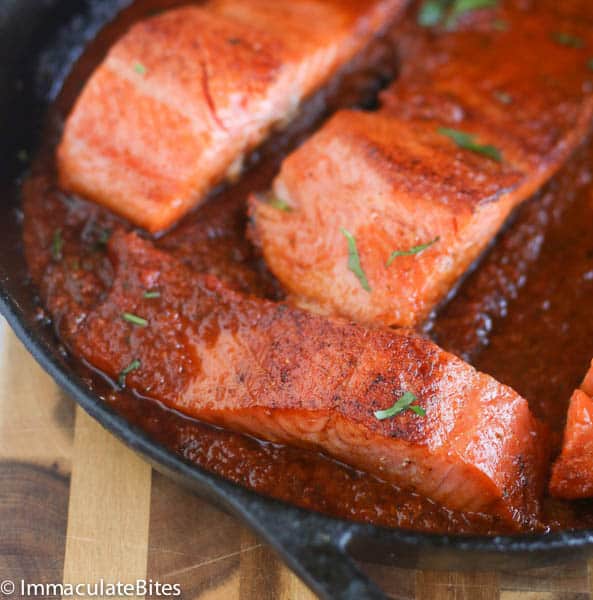 Serve with some crusty French bread ,rice and/or vegetables and everyone would enjoy a complete meal.
Salmon in Spicy Tomato Sauce
Ingredients
½ cup olive or canola oil
4 (6-8ounce) 2 pounds salmon.
salt and freshly ground black pepper
4 garlic cloves
2 teaspoons paprika
1teaspoons curry powder
1cup tomato sauce
1 teaspoons chopped ginger
½ small onion
½ scotch bonnet pepper or ½ teaspoon cayenne pepper
¼ cup parsley
Instructions
Heat about 2 tablespoons of olive oil in a large skillet over medium, heat oil until shimmering. Season the salmon with salt and pepper and add to the skillet, skin side down. Cook over high heat until the skin begins to brown, about 2 -3 minutes each side. Remove and set aside
In a food processor blend tomato sauce, onions, garlic, curry, white pepper, paprika, ginger, scotch bonnet pepper and parsley until puree with remaining oil.
Add puree tomato sauce to the skillet, using a wooden spoon scrape any bits of fish sticking to the pan, bring to a boil, let it simmer for about 5 minutes, add the salmon continue simmering until cooked through . This may take about 8-10 minutes.
Remove and serve with side of vegetables bread or rice.