Want to add another recipe to your overripe plantain repertoire? Does plantain bread fit the bill?
 There is nothing better than using up those funky, ugly looking plantains that look like they should be in the thrash already. Wouldn't it be cool if you make this, amazing delicious plantain bread?
No one would even tell the difference.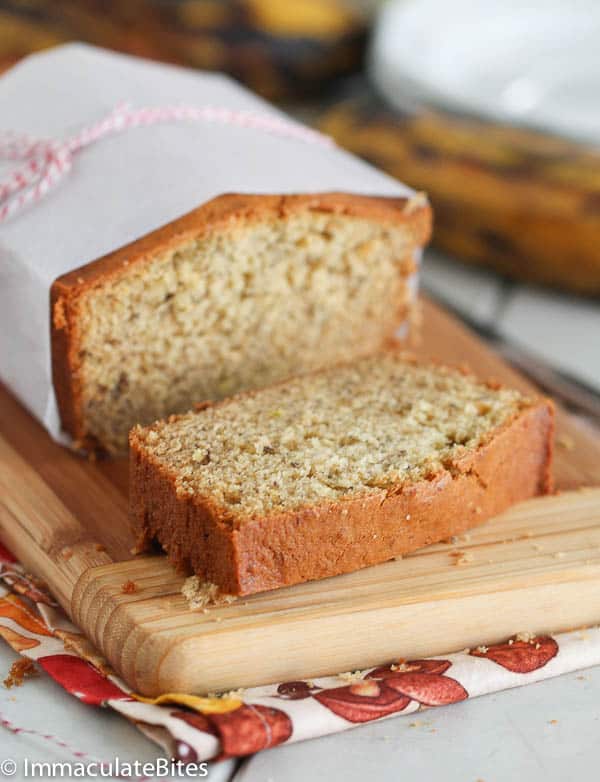 To be honest, I don't know if it is a cake or bread? Call it whatever you choose! One thing is for sure, you will love it! The first time, I made this; it was a complete disaster, more of a hard pudding than cake. But it tasted delicious- so I persisted!
 This is more of what I was going for, light and moist.  It quickly dries up when left out on the counter top, so beware! But I still enjoy it, even more. It serves as a great breakfast for me. Fresh from the oven it is moist and tender; you could eat the whole thing without realizing you have gone overboard.
This loaf here is a day old.
It comes together fairly quickly, I use a blender to blend my plantains you may use a food processor, or mash it up with a potato masher. However, when, it comes to plantains, I don't use a potato masher as much – cause it is a hit or miss depending on your plantains.
If you have nice and soft plantains then it works, other wise it is a disaster with big chunks of plantains everywhere.
This is a rule of thumb for me before I add overripe plantains to any recipe; I do a taste test first. If I can eat it then it is ok.
Enjoy!!!
Plantain Bread/Cake
Ingredients
2 large plantains
1-teaspoon baking soda
1-teaspoon baking powder
½ teaspoon salt
2 cups sifted cake flour
8 tablespoon unsalted butter
¾ cup granulated sugar plus 2 Tablespoons
⅓-cup yogurt or sour cream
2 large eggs
1 teaspoon grated nutmeg
1 tablespoon grated lime
¼ cup milk
Instructions
Pre-heat the oven to 160°C/325°F.
Grease a loaf pan generously with cooking spray and set aside.
Peel plantains, slice and puree in a food processor, or blender until puree. Set aside.
Combine flour, salt, baking powder and baking soda. Set aside.
Cream together the butter and sugar at high speed in a stand mixture until it's fluffy and starting to look white, about 3- 4 minutes. Then add yogurt and mix for another minute
Stir in the eggs, a little at a time, beating the mixture well between each addition. Then add plantain puree, mix until combine.
Sift in the flour mixture into the batter, mixing a little at a time and then add the grated lime zest, and nutmeg, followed by milk
Stir well until everything is fully combined. Scrape down the sides of the mixing bowl.
Pour batter into a greased cake pan. Tap pan on work surface to eliminate any large air bubbles.
Bake at 325 until a tester inserted into the center comes out clean, about 45–50minutes. Transfer to a wire rack.