Curry Channa and Aloo- Light Healthy Vegan and comforting meal, that comes together in about 30minutes.  So satisfying! You won't miss the meat.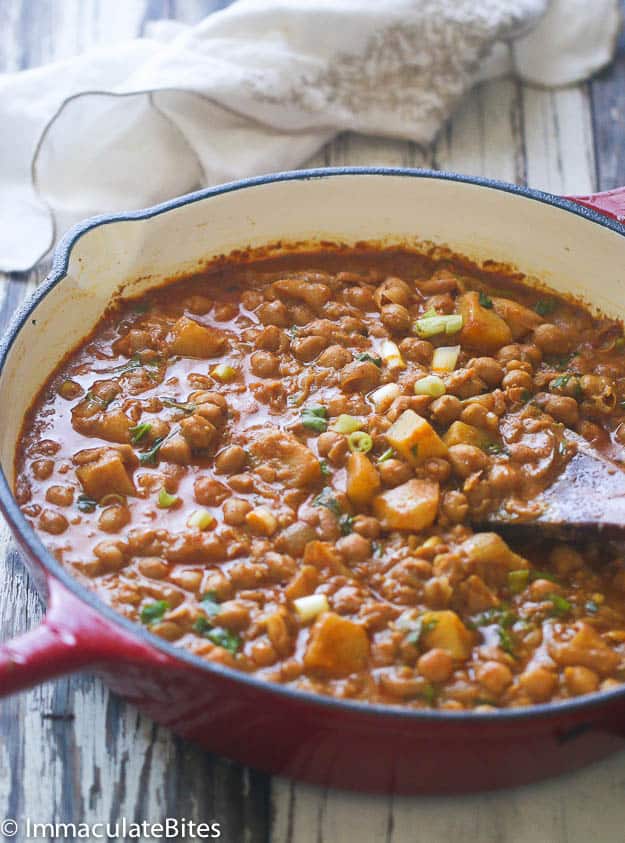 Happy Monday Guys! !! How was your 4th of July, did you do anything fun, watch the fireworks?
I did not do the usual, decided to switch things up a bit. No barbecue for us- we ended up eating out and watching the fireworks from one of my favorite places to hang, when I have out of town guests.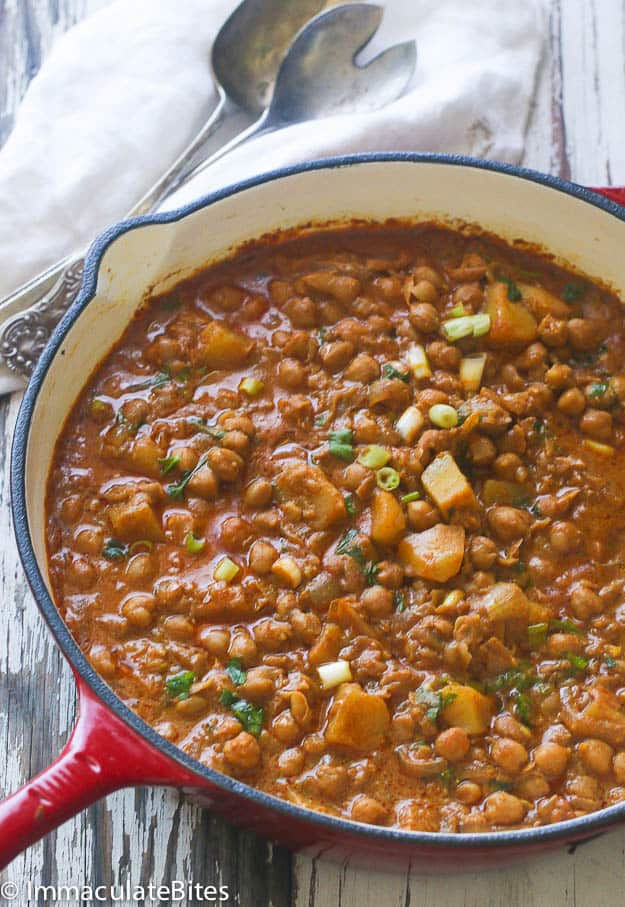 It offers a GREAT view of Los Angeles City, and I so wanted to appreciate this great city during this weekend-don't get to do it often. Watching the fireworks from there was spectacular and memorable. So is this Curry Chickpeas. 
A tasty meal that will rival any chicken meal including this  Trinidad roti chicken here. Throw in the scotch bonnet pepper without chopping if  you want the flavor not the heat, unless you are heat seeker then you can chop the heck out of it and throw it in.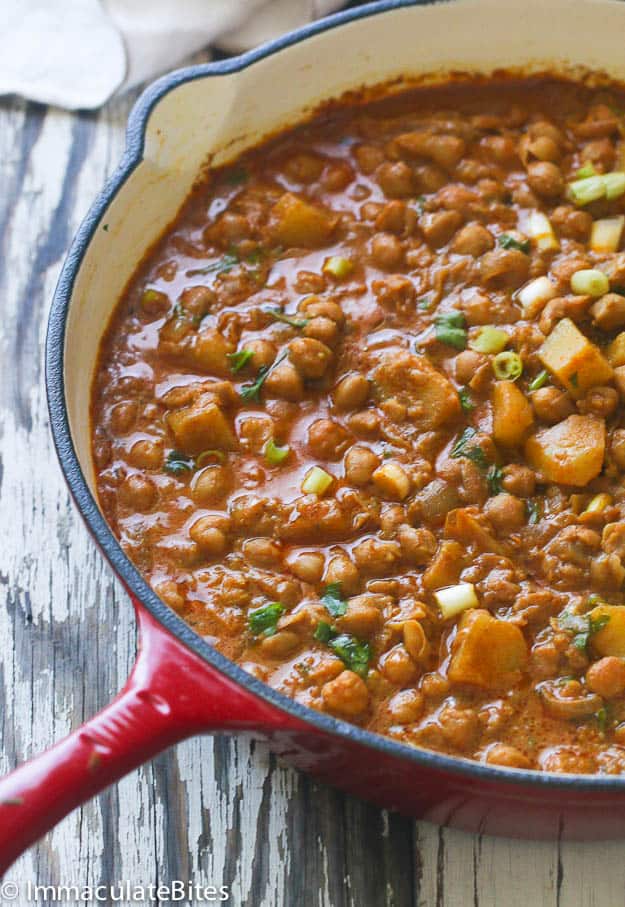 Do you know chickpeas are a great source of source of protein for  vegetarians and vegans; and also make for low calorie meals. Don't just go crazy with oil, it sure add some calories.
I know it is not curry season, yes, there is one – so have been told. Why wait? trust me, you don't want to wait for the fall or winter to make this. You are going to be miss out ! It's quick and easy anyways. You don't have to slave in the kitchen.  I used canned chickpeas for ease of preparation.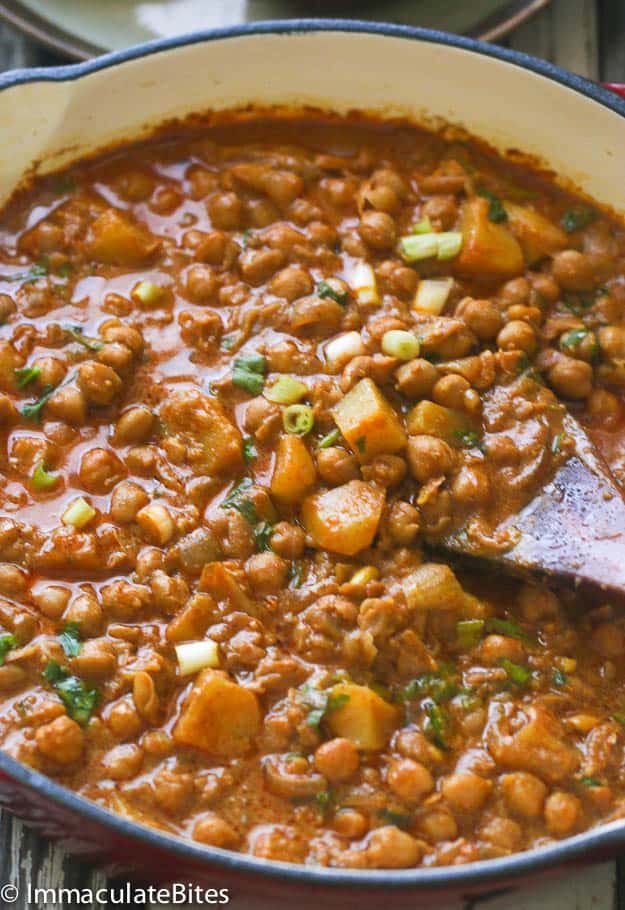 Am not a vegan or vegetarian but could eat this all the time without missing the meat. Chana is most often served with paratha , roti or some sort of rice dish. If you want to truly make this memorable make it with this chapati here. Or this paratha here.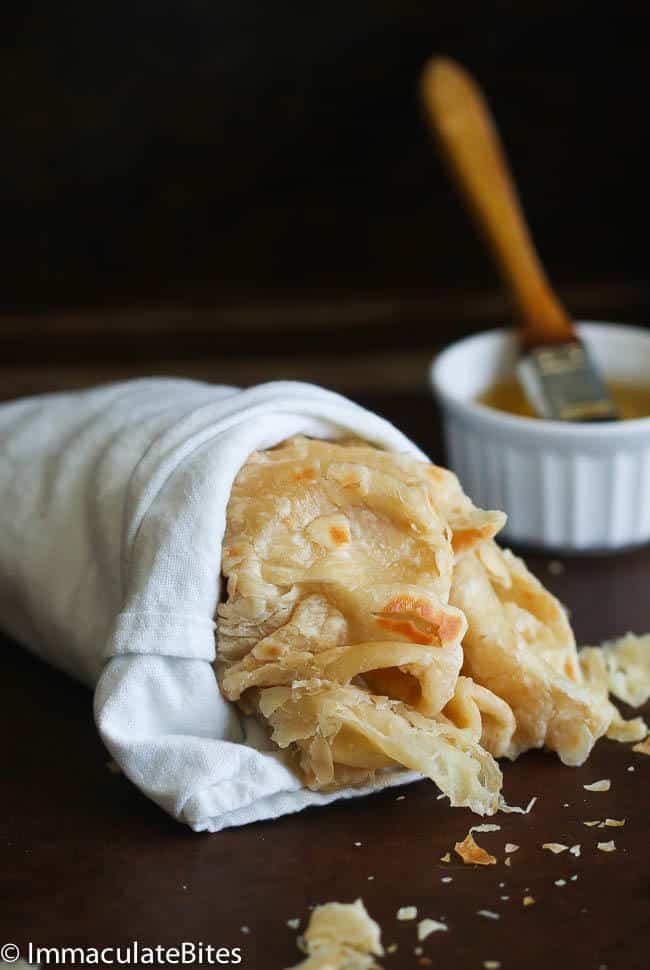 Enjoy! 

Curry Chana Aloo
Ingredients
¼ - ½ cup canola oil
2 -3 tablespoon curry powder
1 large onion diced
2 teaspoons minced garlic
1-teaspoon ground allspice
1-teaspoon ground nutmeg spice
1½ teaspoon smoked paprika
2 teaspoons fresh or dried thyme
1-teaspoon cumin spice
1-teaspoon white pepper.
2 cans of chickpeas, drained
1-2 cups of cubed potatoes
½ -tablespoon bouillon chicken powder (optional)
2 cups or more broth or water
½-1 teaspoon cayenne pepper (optional)
1 scotch bonnet or habanero pepper
2 green onions chopped
2 tablespoons or more chopped parsley
Salt to taste
Instructions
Heat up large sauce-pan with oil, and add onions, garlic, thyme, cumin spice, all spice, smoked paprika, nutmeg and curry powder, stir occasionally for about 2-3 minutes until onions is translucent.
Then add potatoes, stir and sauté for about 2-3 more minutes. Add stock / water if necessary to prevent any burns
Next add chickpeas, scotch bonnet pepper , green onion and broth. Bring to a boil and let it simmer until sauce thickens, it might take about 18 minutes. Throw in some parsley, adjust for salt, pepper and stew consistency.Serve warm
" style="display: none;">