Trinidad Chicken Roti- An incredible chicken meal that would excite your taste buds. Rich in spices, chickpeas and potatoes – So easy to make and comes together quickly.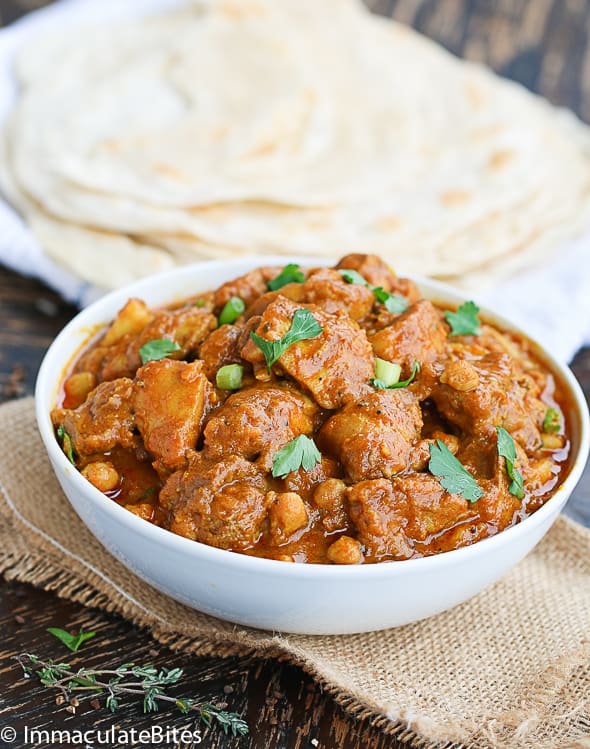 I am not going to deny that I somewhat have a love affair with Caribbean food. You name it, Jamaican curry chicken, Coconut buns/Cakes, Caribbean potato salad, salt fish fritters, not to mention Jerk Chicken, there is no denying it.
Can you believe I love Jerk Chicken so much that I have created three versions of it- Oven, Slow cooker and grilled? I could seriously live off all these tantalizing meals for the rest of my life. However, it would not be complete without throwing this Chicken Roti into the mix.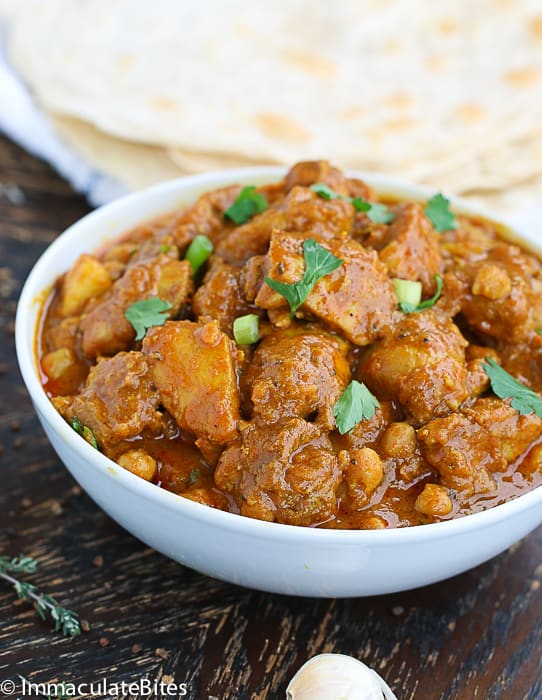 Out of all the Caribbean meals I have tried and cooked, this Roti Chicken is by far my favorite to date.
If you truly love Caribbean food then this is a must make! And if you don't, you still need to make it. Think healthy butter chicken, spiced up, without the copious amount of butter. Did I get you excited?
Oh Chicken Roti, How do I love thee? I wish I was eloquent enough, as a poet, to pay homage to you, but when it comes to chicken roti my mouth is full …with chunks of spicy goodness….You need to experience the spontaneous joy that this dish elicits. Hubby can't fathom my obsession with Caribbean food. But this orgasmic chicken made him fall head over heals. 
He pretty much ate the whole thing in one sitting and was at a loss for words. The only thing that came out of his mouth was, "this is the best meal I have eaten in six months". Really? Since then it is now part of our meal rotation. Give it a try!
 I usually add hot sauce and paprika (I love paprika) – to give it a slightly red color. I did not include this in the spice mix – only the heat seekers should go ahead with this procedure.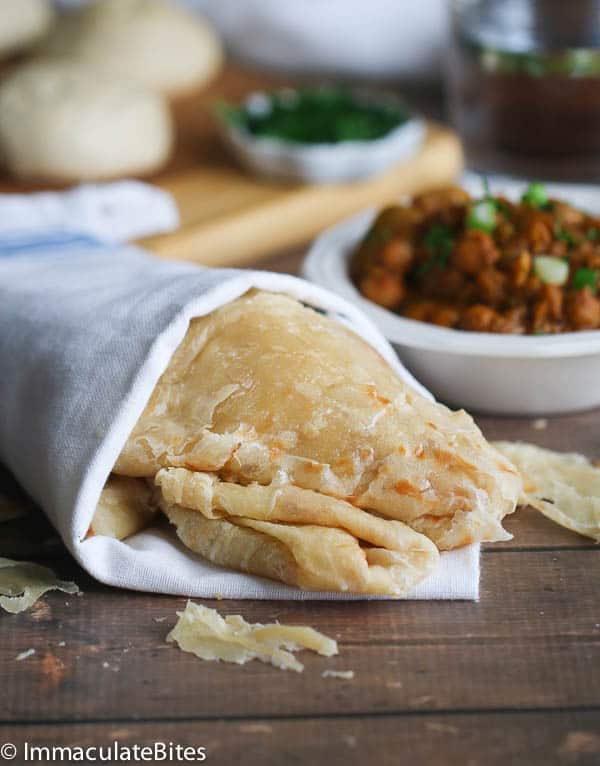 You may serve with roti , rice or  paratha featured here 
Enjoy!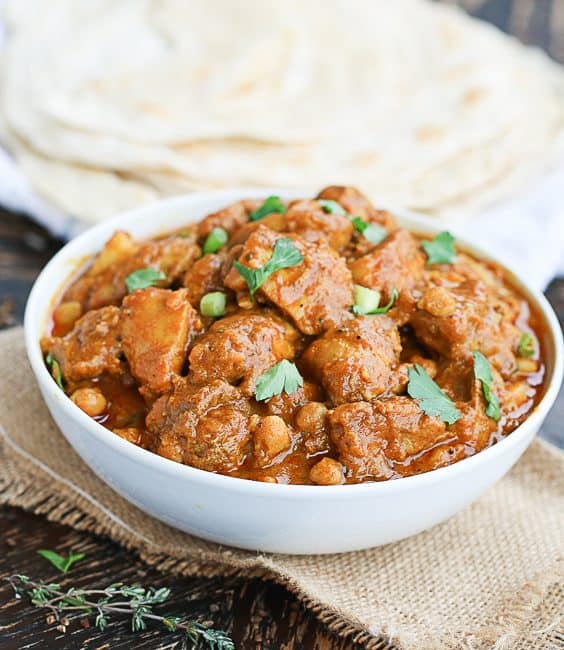 Print
Chicken Roti
Trinidad Chicken Roti- An incredible chicken meal that would excite your taste buds. Rich in spices, chickpeas and potato-So easy to make and comes together quickly.
Prep: 15 mins
Cook: 40 mins
Total: 55 mins
Caribbean
Ingredients
Chicken Marinate
2 1/2 -3 pounds chicken skinned thighs cut in bite-sized pieces
½ teaspoon white pepper
1 teaspoon minced garlic
½ teaspoon dried thyme
½ teaspoon salt
½ teaspoon curry powder
½ teaspoon chicken bouillon powder
Chicken Roti
½ cup canola oil
1 large onion diced
2 Teaspoons minced garlic
1 1/2 teaspoons fresh or dried thyme
1- teaspoon cumin spice
1 1/2 teaspoon smoked paprika
1 teaspoon ground allspice
2-3 tablespoon curry powder
1- teaspoon ground nutmeg spice
1 can of chickpeas drained
1- tablespoon bouillon chicken powder
2 cups of cubed potatoes
½-1 teaspoon cayenne pepper optional
1- teaspoon white pepper.
3-4 cups chicken broth/water
Salt to taste
Instructions
Place chicken in a large bowl or sauce pan

then add salt, garlic, thyme, white pepper and curry powder

Mix chicken with a spoon or with hands until they are well coated, set aside in the fridge and marinate for 30 minutes or overnight.

When ready to cook, heat up large sauce-pan with oil, and add onions, garlic, thyme, cumin spice, all spice, smoked paprika, nutmeg and curry powder, stir occasionally for about 2-3 minutes until onions is translucent.

Then add chicken, stir and sauté for about 2-3 more minutes. Add chicken stock if necessary to prevent any burns

Next add chickpeas, chicken bouillon, potatoes, cayenne ,white pepper, and chicken broth. Bring to a boil and let it simmer until sauce thickens, it might take about 20-30 minutes.

Adjust for salt, pepper and thickness with more more broth.
Nutrition Information:
Calories: 333kcal (17%)| Carbohydrates: 16g (5%)| Protein: 12g (24%)| Fat: 25g (38%)| Saturated Fat: 2g (13%)| Cholesterol: 43mg (14%)| Sodium: 580mg (25%)| Potassium: 561mg (16%)| Fiber: 4g (17%)| Sugar: 1g (1%)| Vitamin A: 720IU (14%)| Vitamin C: 11.6mg (14%)| Calcium: 62mg (6%)| Iron: 5mg (28%)
Nutrition Facts
Chicken Roti
Amount Per Serving
Calories 333 Calories from Fat 225
% Daily Value*
Fat 25g38%
Saturated Fat 2g13%
Cholesterol 43mg14%
Sodium 580mg25%
Potassium 561mg16%
Carbohydrates 16g5%
Fiber 4g17%
Sugar 1g1%
Protein 12g24%
Vitamin A 720IU14%
Vitamin C 11.6mg14%
Calcium 62mg6%
Iron 5mg28%
* Percent Daily Values are based on a 2000 calorie diet.