One Pot Caribbean Jerk Chicken & Rice – A flavor explosion in a pot! Comes together quickly- chicken thighs baked to crispy perfection on a bed of fragrant rice and beans.
 Guys meet the latest addition to my one-pot meal dinners, Yep! It was just a matter of time before this happened. And when it did it, I quickly fell in love …nah, am obsessed with this one-pot meal. Am thinking how long I could get away with this, before the rest of the gang start complaining.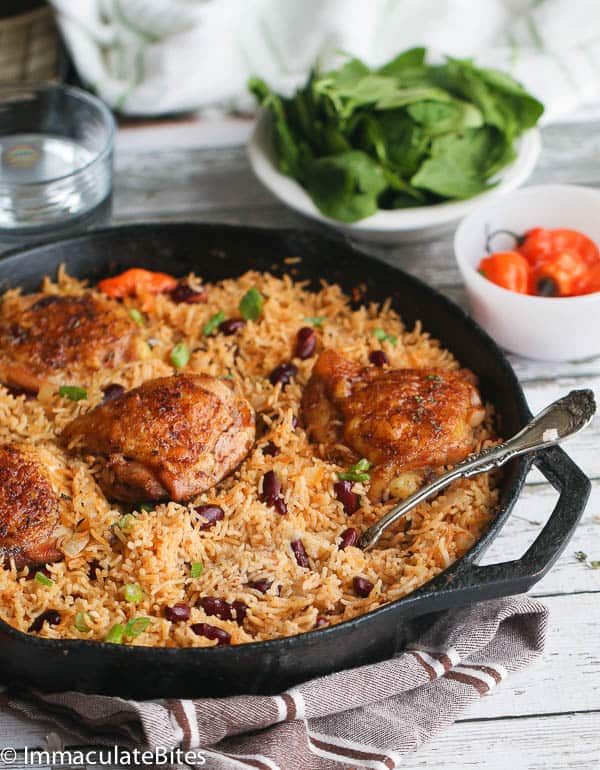 This recipe is a combination of my Caribbean rice and beans and my Oven baked Jerk Chicken. Both of which have been readers' favorite. And I thank you  immensely for giving it a go and providing feedback. If you love both recipes you are going to go crazy over this one. What's not to love about less prep, less cleaning, and it's on the table in about an hour.
Here would be a great addition to your list of one-pot meals. Most of the ingredients you have already and you can pick up a few at your neighborhood market. Use my Oh-So fabulous Jerk Spice Combination here or  store bought. Though am going to be honest and say store-bought doesn't  even come close to this homemade seasoning.   Just something to think about.
Here I used a 12-inch skillet – one of my favorite utensils in the kitchen — because it can go from stove top to oven. You can also use a Dutch oven for this too! First you spice up the chicken, and then sear to render the fat, get the rice started in the skillet and finish it off in the oven. The chicken comes out tender, and the rice is light and fluffy.  And because everything cooks together in just one pan, the rice is incredibly flavorful; the juicy of the chicken enhances the rice dish, making it really quite tasty. Enjoy!!!
One Pot Caribbean Jerk Chicken & Rice
Ingredients
¼ cup canola oil
2-garlic clove, minced
½ medium onion, diced
1½ -2 teaspoons creole spice(adjust to taste with salt)
2 small bay leaves
2 cups uncooked long grain rice
1 sprig fresh thyme or 1 teaspoon dried thyme
13.5 oz. can (1¾ cups) coconut milk
15.5 oz. can red kidney beans, rinsed and drained
1 teaspoon white ground white pepper
Salt and fresh ground pepper, to taste
2½ cups chicken broth or water
1-teaspoon chicken bouillon (optional)
1 whole scotch bonnet pepper (optional)
1 teaspoons paprika (optional)
Jerk Chicken Thighs
2½ -3 pound chicken thighs (about 5-6)
1½ -teaspoon salt
½-teaspoon chicken bouillon powder (optional)
2 Tablespoons Jerk Seasoning(Homemade here)
Instructions
Jerk Chicken Thighs
Wash chicken thighs, for faster cooking make a ½ " slit into chicken thigh meat on either side of the chicken wipe with a paper towel. Season with salt( about 1½ teaspoons)
Rub both sides with generous amount of the spice blend. Or your favorite spice mix
Place chicken skin side up in a skillet / Dutch oven or oven safe pot/pan for about 3 minutes each, be very careful with the chicken, it shouldn't burn. Remove from the pan and set aside
Preheat Oven to 350 degrees F
Meanwhile place t rice into a large bowl, cover with cold water and use your hands to wash the grains. Tip the water out then repeat twice until the water runs clear.
Wipe pan with paper towel or napkin to remove any burns from pan.
Add about 2 Tablespoons oil, followed by onions, thyme, garlic and sauté until soft but not golden, about 2-3 minutes. Then add rice, beans
And all the remaining ingredients, Chicken stock,Coconut milk, paprika, white pepper, salt and bouillon. Add chicken, bring to a boil.
Place in the oven and cook for about 30- 35 minutes or until chicken is fully cooked.
Remove let it cool and serve.